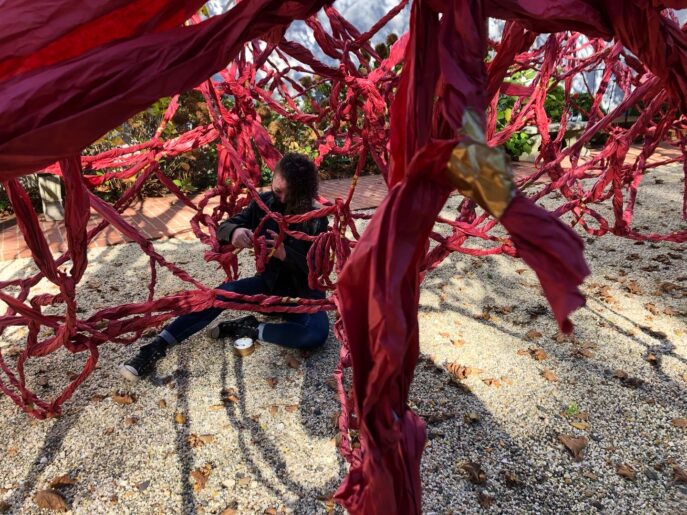 Applications are closed for the 2022 season.
Established in the Summer of 2020, Guild Hall's Community Artist-in-Residence (CAIR) program aims to support the creative economy, imagination, and civic life of the Hamptons through commissioning three regionally–based artists to develop, present, and collaborate on new works. CAIR program offers artists the opportunity to strengthen and expand their practice in socially engaged and/or participatory work. Artists are provided with creative and administrative support, a paid stipend, and an exhibition or performance platform.  
Residents will collaboratively work with Guild Hall's Senior Associate for Learning and Public Engagement and other Guild Hall Staff to realize and produce socially engaged work throughout the residency. This includes aiding in the concept of the work/project, connecting to community groups, curating or producing final products, and more.  
The program culminates with a public exhibition, performance, or presentation during Guild Hall's Summer season. The presentation can take the shape of a curated exhibition, a staged-reading or performance in our John Drew Theater, or an outdoor installation on the Guild Hall campus. 
OBJECTIVE
Guild Hall's CAIR program aims to expand and nurture creative curiosity and civic responsibility in the Hamptons through communal collaboration and experimentation. 
ABOUT GUILD HALL
Guild Hall, one of the first multidisciplinary centers in the country to combine a museum, theater, and education space under one roof, was established in 1931 as a gathering place for community where an appreciation for the arts would serve to encourage greater civic participation. For nearly nine decades, Guild Hall has embraced this open-minded vision and provided a welcoming environment for the public to engage with art exhibitions, performances, and educational offerings. Art and artists have long been the engine of Guild Hall's activities and the institution continues to find innovative ways to support creativity in everyone. 
FREQUENTLY ASKED QUESTIONS
Program Sponsors
Guild House Artist-in-Residence/ Community Artist-in-Residence:
Principal Sponsors: Lucy and Steven Cookson, and The Hearthland Foundation
Lead Sponsors: Bobbie Braun-The Neuwirth Foundation, Christina and Alan MacDonald, and Lynn and Bruce Surry
Co-Sponsors: Diamonstein-Spielvogel Foundation/Barbaralee Diamonstein-Spielvogel, and Judith Hope
Additional Support: Nina Gillman and Mary Heilmann
Learning & Public Engagement programming is supported by The Patti Kenner Arts Education Fellowship, The Hearthland Foundation, Stephen Meringoff, Susan and Stephen Scherr, and funding from the Lewis B. and Dorothy Cullman Endowment Fund, and The Melville Straus Family Endowment