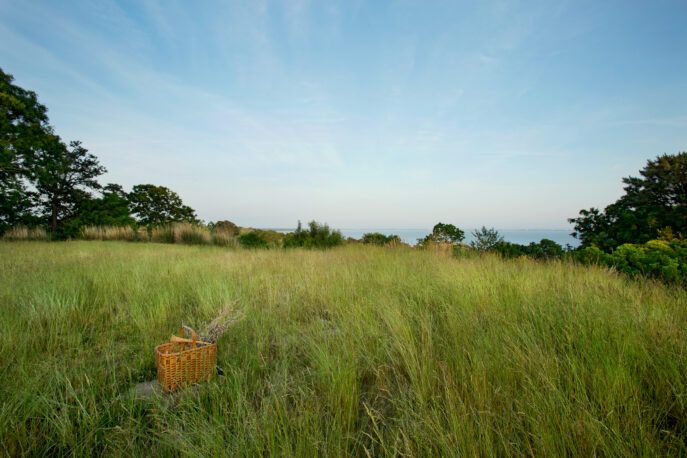 The Community Artist-in-Residence (CAIR) supports the creative economy, imagination, and civic life on the East End by commissioning regionally based artists to develop socially engaged or participatory work. Artists are provided with creative mentorships, administrative support, a commissioning fee, living space, and a shared studio/work space on the Guild Hall campus.
Artists collaboratively work with Guild Hall's Learning + New Works staff to realize and produce their projects. This includes aiding in the concept of the work/project, connecting to community groups, and the final presentation of work on the Guild Hall Campus.
2022-2024
COMMUNITY ARTISTS-IN-RESIDENCE
Wunetu Wequai Tarrant & Christian Scheider
The 2022-24 CAIR has been awarded to Linguist and Member of the Shinnecock Indian Nation, Wunetu Wequai Tarrant, and Filmmaker, Christian Scheider. With support from the competitive Creatives Rebuild New York grant, Tarrant and Scheider will spend the next two years developing the First Literature Project (FLP) work.
The FLP supports the preservation of Indigenous stories, culture, and language by utilizing immersive Virtual Reality (VR) technology to create virtual orations, one of which will be the first story ever to be translated into the Shinnecock language. The VR orations share treasured Shinnecock history and traditions from interviews with members of the Shinnecock Nation and Leaders of the Padoquohan Medicine Lodge.
Program Sponsors
Creatives Rebuild New York (CRNY), a project of the Tides Center, is a three-year, $125 million investment in the financial stability of New York State artists and the organizations that employ them. Guild Hall's collaboration with Wunetu Wequai Tarrant, Christian Scheider, and The Padoquohan Medicine Lodge, was made possible through support from CRNY's Artist Employment Program, with additional funding from the Library of Congress, and Kate Capshaw and Steven Spielberg.
Guild Hall's Learning + New Works programs are made possible by the New York State Council on the Arts with the support of the Office of the Governor and the New York State Legislature. Additional major support comes from The Patti Kenner Arts Education Fellowship, the Lewis B. and Dorothy Cullman Endowment Fund, and The Melville Straus Family Endowment.