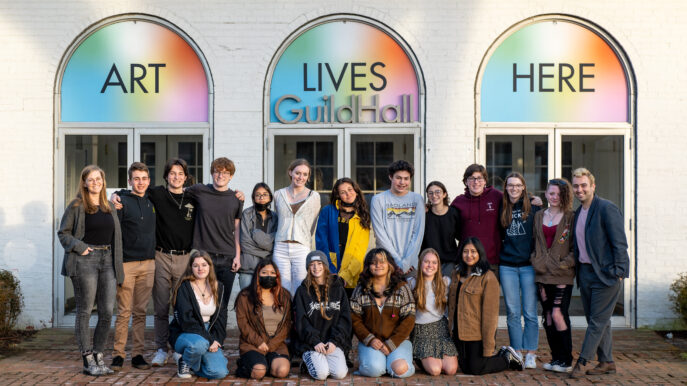 The Guild Hall Teen Arts Council (GHTAC) is the region's first paid teen arts program. As employees of Guild Hall, GHTAC members work to curate public programming, advance their creativity, increase Guild Hall's outreach to local teens, and learn through collaboration with Guild Hall staff.
The 2022-23 GHTAC will develop several public programs, including a bi-monthly Open Mic Night at The Clubhouse East Hampton and a Spring Fashion Show in collaboration with the Lieber Collection. Additionally, they will create a float for the 2023 East Hampton Pride Parade, produce their annual TEEN ZINE in the East Hampton Star, and work with resident artists at Guild Hall.
2023/2024 MEMBERS
TAYLOR ATWELL, FINNY DIANORA-BRONDAL, NATHAN FEYH, SASCHA GOMBERG, SONIA KONCELIK, KAILANI LEE BALDUCCI, WILLA LEVINE, SIENA LINK-MORSE, ALISON LLIVICURA-GOMEZ, ISLA MCLEAN, ANDREW MERKET, AVA POBLETE, DAKOTA QUACKENBUSH, KATIE REININGER, NATALIE REININGER, SOPHIE RIVA, LAUREN ROSARIO, SIENNA SALAMY, NICOLE SEITZ, SARAH SIRECI, AVA WALTERS
GHTAC GRADUATES
AMAIA ASTORR, KEIRA ATWELL, HARLAN BEETON, KIMBERLY BERMEO, KATHLEEN BERREZUETA, YANNI BITIS, BRIANNA CALLE, ALMA CHACON-ESPINOZA, NORA CONLON, GREER COSTELLO, VICTORIA DUDEK-TIPTON, TIFFANY FAREZ, MADELINE GRABB, GIANNA GREGORIO, SOFIE HEALY, LYNDA HERNANDEZ, SILAS JONES, NY KIEU, AMANDA KRAHE, GIGI LAMA, LOLA LAMA, SCARLETT LAVIN, HAN LE, LILLIAN MCGUIRE, CAMILA MOSCOSO, MILO MUNSHIN, LIAM MURRAY, SOFIA NAGLE, RACHEL OSBORNE, MIA PARDINI, DANIEL PIVER, ANNA RAFFERTY, ZANZY RICE-REEVES, DANIEL ROMERO, MATTHEW ROSARIO, EMILY RYAN, REILLY ROSE SCHOMBS, ANNI SPACEK, DELAINA SYKES, COLIN TYRRELL, FRANKIE VAUGHAN, JAMIE DANIELA VILLA, RIVE WEINER, ELI WOLF, LILAH YEKTAI, KWAME YIRENKYI, BRONTE ZUNIS
Program Sponsors
The Guild Hall Teen Arts Council is sponsored by the Meringoff Family Foundation, Clifford Ross and Nicolette Donen, and Julie Raynor Gross, with additional support from Dime Community Bank.
Guild Hall's

Learning

+

New Works

program

s are made possible by

the New York State Council on the Arts with the support of the Office of the Governor and the New York State Legislature

.

Additional

major

support

comes

from

The Patti Kenner Arts Education Fellowship

,

the Lewis B. and Dorothy Cullman Endowment Fund, and The Melville Straus Family Endowment

.