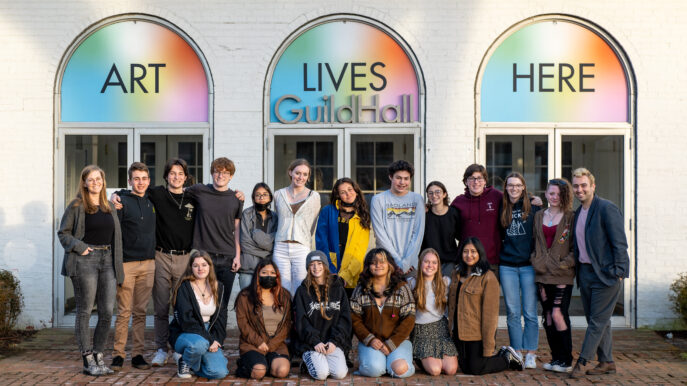 About Teen Arts Council
Founded in the Spring of 2017, the Guild Hall Teen Arts Council (GHTAC) is a collective of young creatives representing and celebrating a wide range of experiences, backgrounds, and perspectives. As employees of Guild Hall, GHTAC Members work within the institution to curate public programming, advance their own creativity, and progress Guild Hall's outreach and relationship to our local teen community.
Guild Hall was founded "to be a gathering place for the community where an appreciation for the arts would serve to encourage greater civic participation." As our community develops, and our social understandings evolve, Guild Hall knows that the best way to continually grow our mission is to incorporate and encourage young voices to lead the way.
Teens, age 14+, interested in developing skills related to contemporary art (visual, literary, and performing), leadership, community engagement, non-profit management, and museum/theater practices are encouraged to apply.
GHTAC is a paid academic-year-long position. Members must be available to meet every Tuesday from 3:30–5:30pm, and are eligible to participate in weekly apprenticeship & mentorship hours with Guild Hall Staff & Community members. Once accepted into the TAC, you are a welcomed member until your HS graduation.
For more information, please reach out to:
Anthony Madonna, The Patti Kenner Senior Associate for Learning and Public Engagement
amadonna@guildhall.org
TEEN ZINE
MISSION STATEMENT
The Guild Hall Teen Arts Council is a group of motivated and creative young people working to inspire their peers to develop a passion for and voice within the contemporary visual, literary, and performing arts, and to advance their own creativity through devising, producing, and participating in creative interactions, public programs, and special events.
2022/2023 MEMBERS
AMAIA ASTORR
KEIRA ATWELL
TAYLOR ATWELL
LEE BALDUCCI KAILANI
BRIANNA CALLE
ALMA CHACON-ESPINOZA
NATHAN FEYH
SILAS JONES
WILLA LEVINE
SIENA LINK-MORSE
ANDREW MERKET
SOFIA NAGLE
KIEU NY
DAKOTA QUACKENBUSH
NATALIE REININGER
SOPHIE RIVA
DANIEL ROMERO
EMILY RYAN
NICOLE SEITZ
COLIN TYRRELL
RIVE WEINER
ELI WOLF
MEMBERS EMERITUS
HARLAN BEETON
KIMBERLY BERMEO
KATHLEEN BERREZUETA
YANNI BITIS
NORA CONLON
GREER COSTELLO
VICTORIA DUDEK-TIPTON
TIFFANY FAREZ
MADELINE GRABB
AMANDA KRAHE
GIGI LAMA
LOLA LAMA
SCARLETT LAVIN
HAN LE
LILLIAN MCGUIRE
CAMILA MOSCOSO
RACHEL OSBORNE
DANIEL PIVER
ANNA RAFFERTY
KWAME YIRENKYI
GIANNA GREGORIO
SOFIE HEALY
LYNDA HERNANDEZ
MILO MUNSHIN
LIAM MURRAY
MIA PARDINI
ZANZY RICE-REEVES
MATTHEW ROSARIO
REILLY ROSE SCHOMBS
ANNI SPACEK
DELAINA SYKES
FRANKIE VAUGHAN
JAMIE DANIELA VILLA
LILAH YEKTAI
BRONTE ZUNIS
Program Sponsors
The Guild Hall Teen Arts Council is sponsored by the Meringoff Family Foundation.