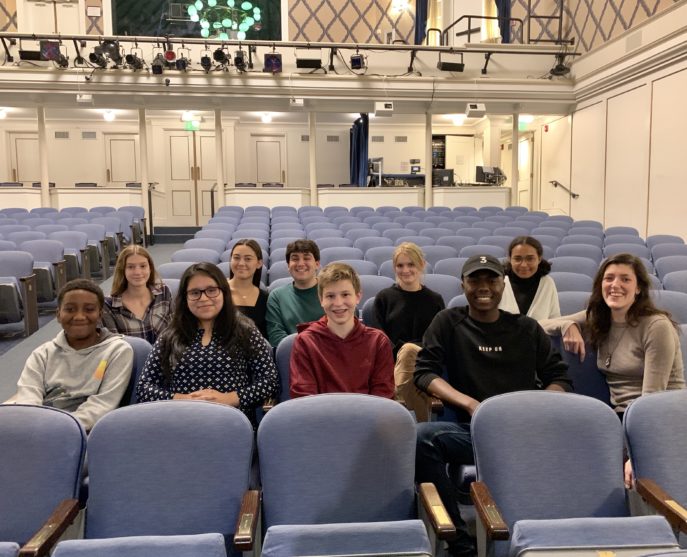 Applications are now closed. Please check back Fall 2019.
The Guild Hall Teen Arts Council (GHTAC) is a newly launched program that offers ten teenagers per year the opportunity to work for Guild Hall as content producers, curators, and programmers. Modeled after the Walker Art Center's pioneering program, the GHTAC meets weekly with a GH coordinator to generate programming for their peers. GHTAC members are chosen yearly by an application process and are paid for their work. Once on the council, they are members until they graduate. The Spring 2017 council represented students from all four local private and public schools, grades 9-12. They bubbled over with fresh ideas. They organized a program in the Guild Hall Gatherings networking series designed to connect interdisciplinary artists with local professionals and residents.
As we all know, and as many studies have proven, engaging adolescents adds value to any organization. Giving teens meaningful art experiences helps them relate better with their peers and adult mentors and helps them grow exponentially as individuals. We as an institution can also benefit from their energy, insights, and points of view. Nurturing young people is nurturing our future, and it is mandatory if we want the arts to survive and thrive.
The Teen Arts Council has defined its mission as building an immersive environment where teens can regularly create, making Guild Hall accessible and affordable to teens, and serving as a conduit for interaction among teens of all the town schools. The GHTAC is an important component of Guild Hall's mission to educate and inspire a diverse audience and to serve as a gathering place for members of the community.
Beyond the professional experience we can offer our Council members, we acknowledge the boundless creativity of teenagers and the value and relevance they bring to Guild Hall.
Some Previous Event Ideas by the GHTAC:
Student production with teens writing, directing, and acting.
Teen Member Show in the Gallery
Monologue contest
Teen open studio
Interactive Gallery Show
Master Classes and many more ideas under consideration for the Fall.
2018 Teen Arts Council Mission statement
Building an immersive environment where teens can regularly create content and programming while furthering positive interaction among students in our local schools.
GHTAC MEMBERS
Frankie Bademci
Harlan Beeton
Luke Bryan
Victoria Dudek-Tipton
Tiffany Farez
Madeline Grabb
Sofie Healy
Kellen Jeffries


Lola Lama
Rachel McKelvey
Rachel Osborne
Ella Patrick
Anna Rafferty
Zanzy Rice-Reeves
Kwame Yirenkyi
Bronte Zunis
GHTAC MEMBERS EMERITUS
Gianna Gregorio
Lynda Hernandez
Milo Munshin
Liam Murray
Reilly Rose Schombs
Lilah Yektai
Corey Jane Cardoso - GHTAC COORDINATOR
Program Sponsors
Sponsored by an anonymous donor, with additional support from Toni and Seth Bernstein, Linda Macklowe, Cheryl and Michael Minikes, Julie Spain, Bruce Wolosoff and Margaret Garrett.