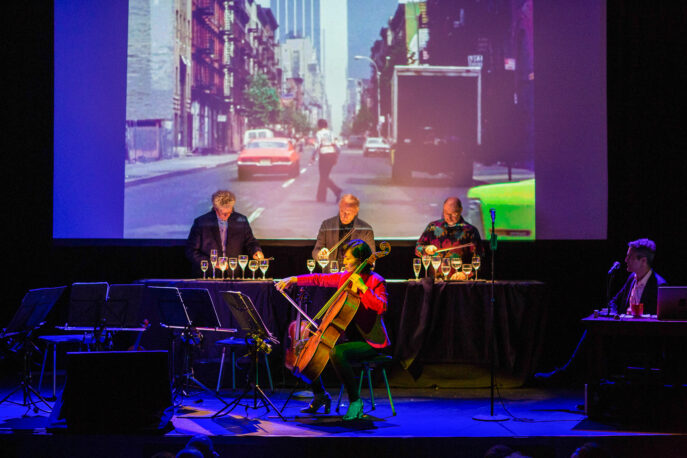 Guild Hall is home to the John Drew Theater (JDT), a 1931 jewel-box proscenium stage celebrating nearly a century of performing arts. In its early years, the theater served as a summer testing ground for productions en route to Broadway. Legendary playwrights such as Tennessee Williams and Eugene O'Neill credited Guild Hall with helping to establish their reputations, while others like Edward Albee and Terrence McNally had a lifelong relationship with the JDT, where he was an active member of the Guild Hall Academy of the Arts. The theater has evolved into a vital year-round institution with more than 100 presentations annually, including plays, opera, concerts, film, readings, comedy, dance, lectures, and symposia.
The roster of world-class performers who have made recent appearances at the Drew includes Academy, Emmy, Grammy, and Tony Award-winning luminaries Alec Baldwin, Matthew Broderick, Blythe Danner, James Earl Jones, Patti LuPone, Wynton Marsalis, Liza Minnelli, Leslie Odom, Jr., Audra McDonald, Laurie Metcalf, Steve Martin, and Marlo Thomas; dance companies Alvin Ailey, New York City Ballet, and Pilobolus; performance artists Laurie Anderson and Meredith Monk; directors Robert Wilson, Susan Stroman, Tony Walton, and Julie Taymor; comedians Jay Leno, Joy Behar, John Leguizamo, Jerry Seinfeld, Martin Short, and J.B. Smoove; and legendary musicians Mavis Staples, Patti Smith, and The Beach Boys.
Guild Hall is now entering a period of 21st century revitalization, embracing immediacy, fresh thought, new approaches, and explorations into what theater means today.
Guild Hall's founding mission—to provide a community gathering place and to encourage a finer type of citizenship through the arts—is fulfilled by making the theater accessible to local associations, schools, and other nonprofits. The Theater provides a professional environment for emerging to mid-career performing artists to experiment with their craft or develop new works while gaining access to consultation with professional theater staff and audience feedback. To enhance civic participation, the Hamptons Institute brings together top journalists, authors, and world analysts to encourage meaningful dialogue on politics and current events from both a local and global perspective.
PROGRAM SPONSORS
Theater Programming supported in part by Dr. Ralph Gibson, in memory of Andy Jacobyansky, who generously shared his passion, knowledge and support for the opera, The Schaffner Family Foundation, Straus Family Foundation, Michael Balmuth, Blythe Danner, and funding from The Ellen and James S. Marcus Endowment for Musical Programming and The Melville Straus Family Endowment