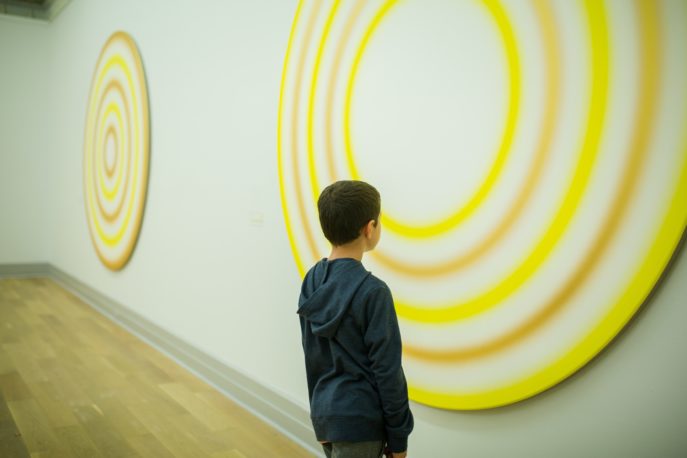 Guild Hall's exhibitions provide the perfect platform for learning about the arts through works on view and access to the artists who create and/or curate them. Guided museum tours & workshops are available for school & student groups, adult and senior groups, and businesses/organizations.
For details on tours offered, please see the information below, or contact the Programs Manager, Learning +New Works, Annika Smith, at asmith@guildhall.org.
SCHOOL & STUDENT GROUP TOURS
REGISTRATION: $250.00 PER VISITING GROUP
Curated specifically for teachers and students, this museum tour and adjoining workshop offer an intimate space to freely observe the work on view, discuss student observations and the history & craft of the specific artists, and immediately transfer that learning to an artist-led workshop. Visits last an hour to ninety minutes (depending on grade level and project), and are led by Learning staff and a guest Teaching Artist.
ADULT AND SENIOR GROUP TOURS
REGISTRATION: $250.00 PER VISITING GROUP
A guided tour of Guild Hall's exhibitions for up to 30 people. This led tour invites visitors to delve into our exhibits – looking closely and discussing works on view. Tours last about an hour, and are led by Guild Hall's Learning & New Works or Visual Arts staff.
BUSINESS/ORGANIZATION TOURS
REGISTRATION: $500.00 PER VISITING GROUP
Led by either the Director of Visual Arts or Guest Curator, this tour offers an in-depth tour for up to 30 people, providing a scholarly insight into the work and practice of each exhibiting artist and a history of the Guild Hall Museum.
PROGRAM SPONSORS
Guild Hall's

Learning

+

New Works

program

s are made possible by

the New York State Council on the Arts with the support of the Office of the Governor and the New York State Legislature

.

Additional

major

support

comes

from

The Patti Kenner Arts Education Fellowship

,

the Lewis B. and Dorothy Cullman Endowment Fund, and The Melville Straus Family Endowment

.