As a member, you have direct access to the highest caliber talent in visual, performing, and educational programming on the East End. All under one roof.
You can also expect unmissable programs in a variety of settings—from the beach to a ranch, artist studios, churches, and galleries—stretching from Montauk to Hudson Valley—to collectively enjoy imaginative art exhibitions, stirring talks, dance and opera, intimate receptions, and thought-provoking programs.
You, our members, are Guild Hall. Your participation and support allow our creative energies to be realized and bring our programs to life for all. Membership is one of the most critical and rewarding ways to support Guild Hall.
A community of art enthusiasts engaged with creative, compelling,
 innovative programming—and FUN—awaits you!
 We invite you to join the Guild Hall Membership Family at any of the levels below.
You can sign up easily here. If you have questions or require assistance, don't hesitate to contact membership@guildhall.org or call Eliza Rand at 631-324-0806 x 14.
---
1 – "Come On In"
If you're ready to dip your toes into the Guild Hall waters, there is a membership for you! You'll be the very first to know about programming, special discounts, and private member events.
Individual/Family​ – $55*/$85*
$55 Individual
$85 Family (Up to two adults and two children 18 and under)
● Advanced ticket sale notice
● 10% discount on tickets to Guild Hall-produced programs*
● Special invitations to select theater programs*
● Exclusive offers on merchandise and concessions**
● Mailing of season calendar
● Eligibility to enter Members-only initiatives
*Subject to availability. Membership does not guarantee ticket availability.
**Offers subject to change and availability.
NARM (North American Reciprocal Museum)​ – $125
$125 (Up to two adults)
Individual/Family level benefits plus:
● North American Reciprocal Museum (NARM) – Admission at over 1,000 institutions across North America
---
2 – "Stay Awhile"
Looking to find like-minded creatives with a special interest in the arts and entrepreneurship? Stick around for specially curated events, benefits, and invitations.
Contemporaries – $300/$500
$300 Individual
$500 Couple (Up to two adults)
NARM-level benefits plus:
● Curated visual and performing arts events in NYC and the East End
Visionaries ​– $1,000
$1,000 (Up to two adults)
NARM-level benefits plus:
● Access to select performances, previews, talks, and exclusive networking events
● Special pricing for Visionaries-only events*
*One per member on the membership
---
3 – "Stand By Us"
Our Chairman's and Director's Circle's serve as the pinnacle of our membership program and provide the foundation of support for the institution.
Director's Circle – $2,500
$2,500 (Up to two adults)
Contemporaries and Visionaries-level benefits plus:
● Private events hosted by the Executive Director
● Backstage access!
● Highest level of concierge ticket service with a personal liaison in the John Drew Theater
● Complimentary VIP ticket upgrades
Chairman's Circle – $5,000
$5,000 (Up to two adults)
Director's Circle-level benefits plus:
● Private events hosted by the Chairman, including a Private Season Preview
Photos credits (left to right, top to bottom):
Renee Cox Exhibition Tour and Talk at Hannah Traore Gallery, NYC
Brunch and Studio Talk with Laurie Anderson at Elaine de Kooning House
Day Trip and Private Founder-led Tour to Magazzino Italian Art, Cold Spring, NY
Members Tour of Frank Stella: Sculpture at The Ranch, Montauk
Private Reception following Guild Hall William P. Rayner Artist-in-Residence Showcase with artists Holland Andrews and Shayne Case
Hampton's Dance Project IV performance overlooking Gardiner's Bay
---
UPCOMING MEMBER EVENT – Visionaries & Up Private tour and working rehearsal at New York City Ballet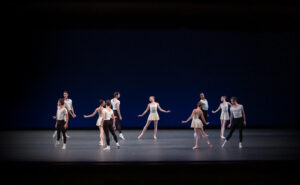 Tuesday, May 9, 2023
4-5:30 pm
David H. Koch Theater
20 Lincoln Center Plaza
New York City
Our intimate group will explore the behind-the-scenes operations at the David H. Koch Theater. The program will include a discussion of NYCB and its history, insights into the daily life of a dancer, a 30-minute observation of an onstage rehearsal, and an up-close look at costumes from some of the company's most beloved ballets.
This program epitomizes Guild Hall's mission to provide members with access to one-of-a-kind experiences with artists. We are excited to share this dazzling and memorable program with you.
Email erand@guildhall​.org to reserve your space early, as this event will fill quickly.
Is your Membership about to expire? Click HERE to renew now so you can join us!