Guitar Masters
David Broza, Badi Assad, and Brandon Ross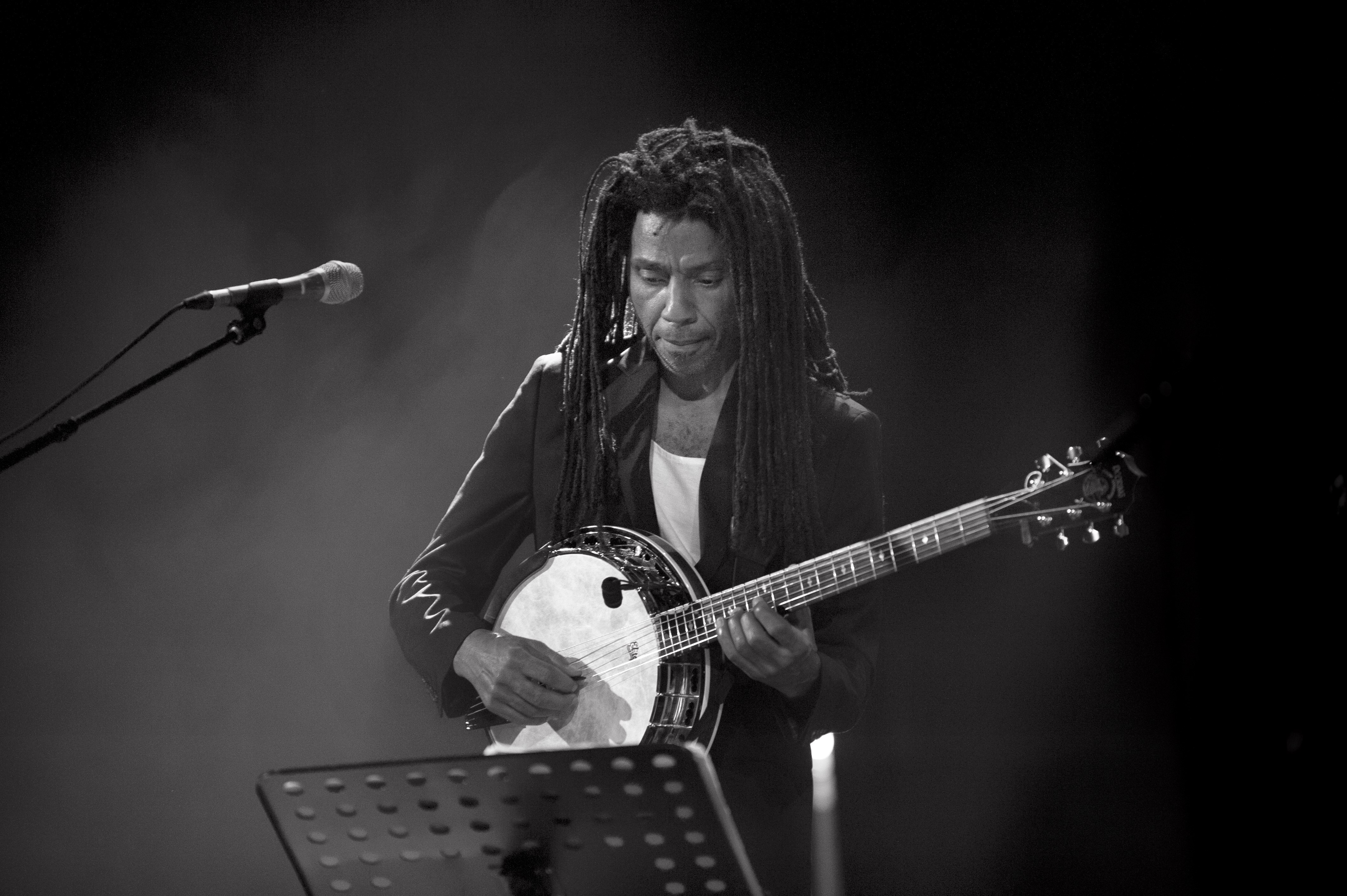 Overview
A concert evening featuring performances by Israeli superstar David Broza, considered one of the world's most dynamic and vibrant performers, world music virtuoso, Badi Assad, and the acoustic duo from For Living Lovers, with composer and jazz guitarist Brandon Ross and acoustic bass guitarist Stomu Takeishi.
---
Celebrating the artistry of the guitar with some of the music world's finest talents, Guild Hall introduces the first annual Guitar Masters festival. This three-day gathering is a celebration of music, summer, and exceptional musicianship, and features concerts, documentary films, and book signings.
The festival will take place from Thursday, July 5 through Saturday, July 7 and features performances by Andy Summers, Ralph Gibson, G.E. Smith, Richard Thompson, Teddy Thompson, David Broza, Badi Assad, and Brandon Ross; documentary films curated by director Mary Jane Marcasiano; a talk by Ken Parker, and book signing with Galadrielle Allman.
All Access Passes
All access passes for the full festival are $1,000 and include VIP seating and access to the catered VIP Lounge to all programs July 5-7, a launch party at a private home with a renowned guitarist, and entry to win a limited-edition Fender G.E. Smith Telecaster Guitar.
FILM SCREENINGS
Thursday, July 5 at 4pm
Can't Stand Losing You: Surviving the Police
Preceded by the short film: Music for Lens & Guitar
Tickets $14 ($12 for Members)
View Details    Buy Tickets

Friday, July 6 at 4pm
Badi (Presented in partnership with Cinema Tropical)
Preceded by the short film: History of the Electric Guitar
Tickets $14 ($12 for Members)
View Details    Buy Tickets 


Saturday, July 7 at 4pm
East Jerusalem / West Jerusalem
Tickets $14 ($12 for Members)
View Details    Buy Tickets 

CONCERTS
Thursday, July 5 at 8pm
Andy Summers and Ralph Gibson
Tickets $85–$200 ($80–$195 for Members)
View Details    Buy Tickets

Friday, July 6 at 8pm
G.E. Smith's PORTRAITS with Richard Thompson and Teddy Thompson
Tickets from $55–$150 GH ($53–$145 for Members)
View Details    Buy Tickets 


Saturday, July 7 at 8pm
David Broza
Badi Assad
Brandon Ross
Tickets $50–$150 ($45–$145 for Members)
View Details    Buy Tickets 

GUITAR TALK
Saturday, July 7 at 10:30am
Ken Parker, The Art of Guitar Making &
Galadrielle Allman, Please Be With Me: a Song for my Father, Duane Allman
Tickets $15 ($13 for Members)
View Details    Buy Tickets
Brandon Ross/For Living Lovers

As a performing and recording artist, guitarist and composer Brandon Ross has worked and collaborated with several innovative voices in modern music such as Henry Threadgill, Wadada Leo Smith, Cassandra Wilson, Jewel, Tony Williams, Lizz Wright, Arto Lindsay, The Lounge Lizards, Leroy Jenkins, Oliver Lake, Lawrence D. "Butch" Morris, Bill Frisell, Me'Shell N'degeocello, Arrested Development, Archie Shepp, Muhal Richard Abrams, Don Byron, Ron Miles and many others. For Living Lovers Ross leads For Living Lovers, his Chamber Music for Improvisors acoustic duo with acoustic bass guitarist Stomu Takeishi. The duo's debut album "Revealing Essence" was released to critical acclaim, and as a recipient of Chamber Music America's New Jazz Works grant, Ross was commissioned to compose the duo's new work titled "Immortal Obsolescence."

David Broza

Israeli superstar David Broza is considered one of the world's most dynamic and vibrant performers.  From his whirlwind finger picking to Flamenco percussion and rhythms, to a signature rock and roll sound, David Broza's charismatic and energetic performances have delighted audiences throughout the world.  Raised in Israel, Spain and England, Broza has been giving his charismatic and energetic performances worldwide since 1977, when his hit song "Yihye Tov" first hit the airwaves, promoting a message of peace. Broza is also known for his commitment and dedication to several humanitarian projects, especially a resolution to Israeli-Palestinian conflict through dialogue, culture, music and tolerance. Now, with a string of multi-platinum albums—in Hebrew, English and Spanish—he continues to hone his message. Broza was awarded a Spanish medal of honor by the King of Spain, Juan Carlos I, for his longtime contribution to Israel-Spain relations and his promotion of tolerance. A passionate peace advocate, he has also been named a UNICEF Goodwill Ambassador. Broza garnered widespread acclaim for his 2013 album East Jerusalem West Jerusalem, produced by GRAMMY Award-winner Steve Earle and Steve Greenberg, and recorded in its entirety in the Palestinian Sabreen Studio in East Jerusalem. The work, featuring a band of both Israeli and Palestinian musicians, resulted in a beautiful, intimate documentary of the same name. Vanity Fair called the documentary "extraordinary" and added "if no one else is going to try and heal the world, he will." East Jerusalem West Jerusalem is currently streaming on Netflix. Throughout 2015, Broza worked on another studio recording with the Andalusian Orchestra of Ashkelon and musical director/conductor Tom Cohen. The album, Andalusian Love Song, includes re-imaginations of some of Broza's greatest hits, as well as some of the greatest works of renowned Arab composers including Abed Al Wahab, among others. Broza's latest album, The Set List, captures his best-loved songs culled from studio recordings and live performances over the years. A powerful entertainer and industry innovator, David Broza awes and inspires audiences with his sincere message, energetic performances and musical allure.
Event Sponsors
Sponsored in part through the generosity of Michele and Marty Cohen, with additional sponsorship from Steve and Laura Riggio, James Schainuck, Suffolk County, Available Light New York and Green Mirror Corporation.
Media Sponsors: The Purist and WEHM. Media Partner: Rolling Stone.
VIP Lounge sponsored by Montauk Brewing Company, Fleurs de Prairie, Casa Dragones, Lamberti Prosecco from Frederick Wildman & Sons, and Food & Company. Design and décor donated by Julia Grayson of Grayson De Vere. This evening's concert is sponsored by the Jewish Center of the Hamptons Media & VIP Lounge Sponsors:
Become a Sponsor