Guitar Masters
Andy Summers with Ralph Gibson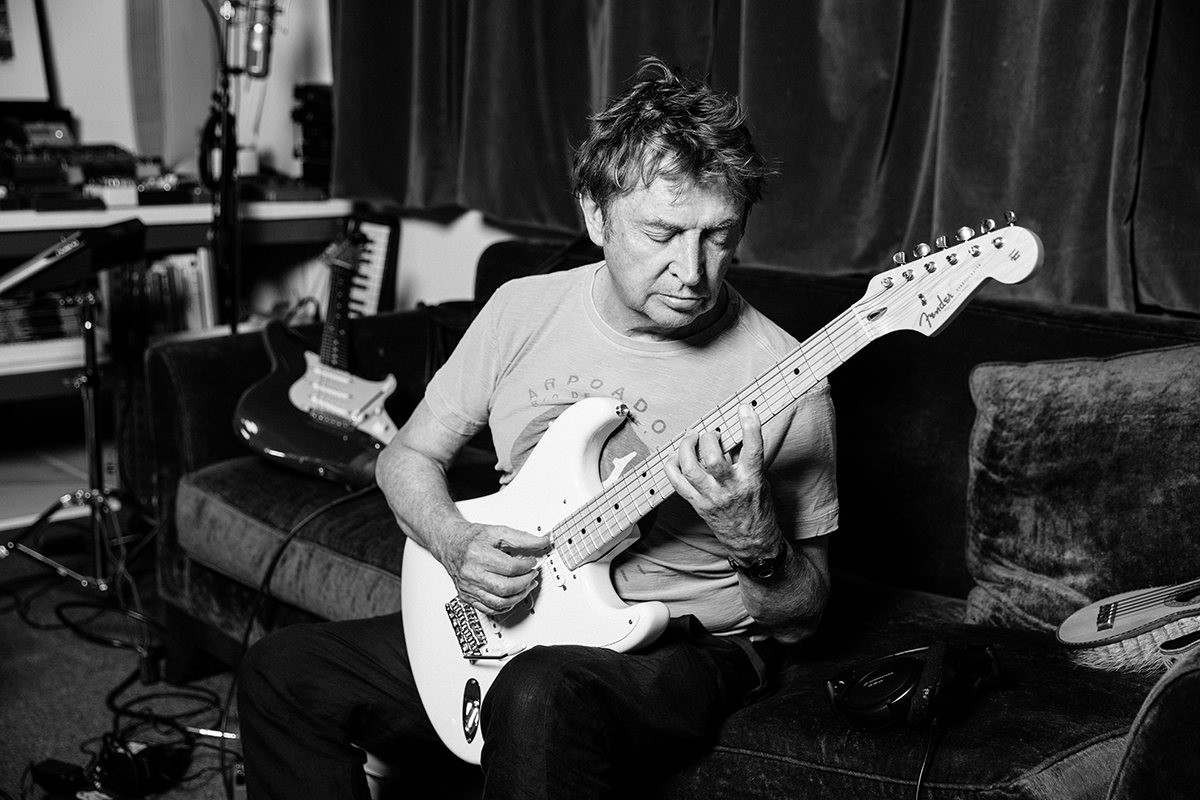 Overview
Celebrating the artistry of the guitar with some of the music world's finest talents, Guild Hall introduces the first annual Guitar Masters festival. This three-day gathering is a celebration of music, summer, and exceptional musicianship, and features concerts, documentary films, and book signings.
The festival will take place from Thursday, July 5 through Saturday, July 7 and features performances by Andy Summers, Ralph Gibson, G.E. Smith, Richard Thompson, Teddy Thompson, David Broza, Badi Assad, and Brandon Ross; documentary films curated by director Mary Jane Marcasiano; a talk by Ken Parker, and book signing with Galadrielle Allman.
All Access Passes
All access passes for the full festival are $1,000 and include VIP seating and access to the catered VIP Lounge to all programs July 5-7, a launch party at a private home with a renowned guitarist, and entry to win a limited-edition Fender G.E. Smith Telecaster Guitar.
FILM SCREENINGS
Thursday, July 5 at 4pm
Can't Stand Losing You: Surviving the Police
Preceded by the short film: Music for Lens & Guitar
Tickets $14 ($12 for Members)
View Details    Buy Tickets

Friday, July 6 at 4pm
Badi (Presented in partnership with Cinema Tropical)
Preceded by the short film: History of the Electric Guitar
Tickets $14 ($12 for Members)
View Details    Buy Tickets 


Saturday, July 7 at 4pm
East Jerusalem / West Jerusalem
Tickets $14 ($12 for Members)
View Details    Buy Tickets 

CONCERTS
Thursday, July 5 at 8pm
Andy Summers and Ralph Gibson
Tickets $85–$200 ($80–$195 for Members)
View Details    Buy Tickets

Friday, July 6 at 8pm
G.E. Smith's PORTRAITS with Richard Thompson and Teddy Thompson
Tickets from $55–$150 GH ($53–$145 for Members)
View Details    Buy Tickets 


Saturday, July 7 at 8pm
David Broza
Badi Assad
Brandon Ross
Tickets $50–$150 ($45–$145 for Members)
View Details    Buy Tickets 

GUITAR TALK
Saturday, July 7 at 10:30am
Ken Parker, The Art of Guitar Making &
Galadrielle Allman, Please Be With Me: a Song for my Father, Duane Allman
Tickets $15 ($13 for Members)
View Details    Buy Tickets
Andy Summers

Rose to fame in the early 1980's as the guitarist of the multi-million record selling rock band - The Police. The Police were the number one band of the time and dominated the music scene and the media in the 80s with several number one records. Summers' innovative guitar playing created a new paradigm for guitarists in this period and has been widely imitated ever since. Prior to the Police, Summers' played with various bands in the London scene, including The Animals, Soft Machine, Kevin Coyne and Kevin Ayers. After the bands dramatic exit from the stage – and after literally being the number one rock band in the world for several years , Summers continued a prolific career as a solo artist, with many solo albums, photographic exhibitions, extensive touring and composing for film (including 2010, Down and Out in Beverly Hill. Summers has never stopped recording, to date he has made many solo albums including tribute albums to both Thelonious Monk and Charles Mingus. 2015 was the release of Metal Dog. The enthusiasm and critical response for that record prompted Summers to work on Triboluminescence - in the  style that he now ironically refers to as the New exotic… Over the years Summers has collaborated with many fellow musicians as well as a number of fellow-guitarists, including Robert Fripp, John Etheridge, Victor Biglione, Benjamin Verdery, Roberto Menescal, Fernanda Takai, Rodrigo Santos and Joa Barone In March 2005, he made his debut at Carnegie Hall playing the premiere of Dark Florescense, a concerto written for him and Verdery by the composer Ingram Marshall. In 2006 his memoir One Train Later was released to great success and was voted the number one music book of the year in the UK by Mojo Magazine. The documentary film Can't Stand Losing You based on the book was produced by the Yari Film Group and was released in North America in 2015 by Cinema Libre Studio. In 2007/8 The Police reunited for a fantastically successful world tour and in fact was the third highest grossing tour of all time. Summers has been a dedicated photographer since the early days of The Police, and has published four books of his photographs many of which are featured in the film Can't Stand Losing You. Exhibitions of his photos have taken place across the globe and within the last year at the Leica gallery in Los Angeles, Paris/LA Photo Show, Kunst.Licht gallery in Shanghai, CCC gallery in Beijing and Photokina in Cologne Germany. Leica Sao Paulo in August 2015, Leica Milan April 2016, and Leica los Angeles in July/September 2016. In September 2016 Andy received the Prog Guiding Light award. Recent projects include: the album Circus Hero from his band Circa Zero, which was released in April 2014. During 2015 he composed the score for the Turkish film And the Circus Leaves Town and finished a new CD, as well as making several appearances in the US in support of the theatrical release of Can't Stand Losing You. 2017 was the Steidl publication of The Bones of Chuang Tzu – which featured Andy's photography from several journeys in China. In January 2017, he receive the Roland Corporation Life Time achievement award. This year Leica will release the Andy Summers Signature Leica camera and Fender will release a special edition guitar designed by Summers. Summers is in the Rock and Roll Hall of Fame, the Guitar Player Hall of Fame, has the keys to New York City, five Grammys an honorary doctorate and has been awarded the Chevalier De L'Ordre Des Arts et Des Lettres by the government of France. He lives in Los Angeles with his wife, Kate, and has three children, all of whom were able to finally see their father perform during the 2007/8 Reunion tour.

Ralph Gibson

Born in Hollywood, California in 1939. His father was assistant director to A. Hitchcock and as a young boy he would visit the set during filming. He also worked as an extra and acted in smaller parts. He was impressed by the power of the camera lens and the intensity of the lights. He studied photography while in the US Navy and then at the San Francisco Art Institute. He began his professional career as an assistant to Dorothea Lange and went on to work with Robert Frank on two films. Gibson has maintained a lifelong fascination with books and book-making. Since the appearance in 1970 of The Somnambulist, his work has been steadily impelled towards the printed page. To date his work has been published in over 40 monographs. His photographs are included in over one hundred and seventy museum collections around the world, and have appeared in hundreds of one-man exhibitions. He has lectured and led workshops in over 20 countries over the past 40 years. In 2013 he spoke in schools and museums in China, Brazil, Australia and Bali. Gibson's awards include fellowships from the John Simon Guggenheim Foundation and the National Endowment for the Arts, as well as the Leica Medal of Excellence, the Lucie Lifetime Award and the Silver Plumb Award. He is a Commandeur de l'Ordre des Arts et des Lettres of France, and holds honorary doctorates from the University of Maryland and Ohio Wesleyan University. In 2010 he collaborated with Lou Reed on the film RED SHIRLEY which was screened in 14 film festivals throughout Europe and North America. The High Museum of Art held a retrospective of his work entitled Quartet in 2012. He has maintained a relationship to the guitar since his earliest teens. Recently Gibson has incorporated his photographs and musical compositions into film and live performances. He has performed Typography and One Way with the wind instrumentalist Jon Gibson at Roulette and the Stone in New York. Recent performances in 2013 include the Burchfield-Penny Art Center Testify Festival in Buffalo NY and The Central China Academy of Fine Arts, Beijing. He also worked on composing music and video for the Jon Lehrer Dance Company that was presented in the fall of 2014. In Sept. 2014 the Goeun Museum in Busan, Korea presented a retrospective of his work. He recently endorsed a limited edition of the Leica Monochrom camera which bears his signature on the top plate His entire body of work can be seen and heard in depth at www.ralphgibson.com
Event Sponsors
Sponsored in part through the generosity of Michele and Marty Cohen, with additional sponsorship from Steve and Laura Riggio, James Schainuck, Suffolk County, Available Light New York and Green Mirror Corporation.
Media Sponsors: The Purist and WEHM. Media Partner: Rolling Stone.
VIP Lounge sponsored by Montauk Brewing Company, Fleurs de Prairie, Casa Dragones, Lamberti Prosecco from Frederick Wildman & Sons, and Food & Company. Design and décor donated by Julia Grayson of Grayson De Vere.
Media & VIP Lounge Sponsors:
Become a Sponsor