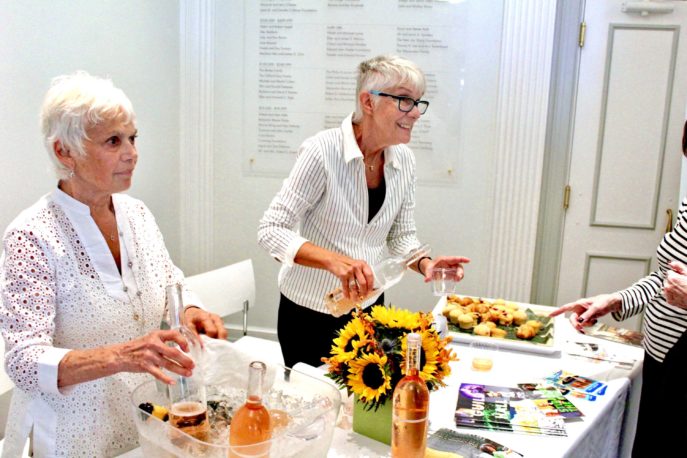 VOLUNTEERS OF GUILD HALL
The Volunteers of Guild Hall were founded in 1973 to support Guild Hall's mission of cultivating and nurturing the work of literary, visual, and performing artists with ties to the East End. Be a part of this non-profit group that supports the many facets of Guild Hall.
Volunteer opportunities:
Hosting Private Member Receptions for exhibition openings at the Guild Hall Museum

Ushering at John Drew Theater performances

Assisting with post-performance receptions during the summer season

Administrative help working alongside Guild Hall staff

Educational outreach

Special Events
Volunteer benefits:
Artist Studio Tours (past visits include: Donald Lipski, Mary Heilmann, Bastienne Schmidt, Philippe Cheng, Monica Banks, Connie Fox, Cornelia Foss, Eric Dever, Roy Nicholson, Dan Welden, Toni Ross)

Private tours of Guild Hall Museum exhibitions

First hand notice of all Museum and Theater special exhibitions and programs

Guided local excursions (past tours include: Bridgehampton Mushroom Farm, Tour of the Art Barge/Victor D'Amico Institute of Art, John Little Barn at Duck Creek, The Lieber Museum, guided tour of the Parrish Art Museum)
MEMBERSHIP
$55 – INDIVIDUAL (Volunteers of Guild Hall & Guild Hall Membership)
$75 – COUPLE (Volunteers of Guild Hall & Guild Hall Membership)
To join the Volunteers of Guild Hall and learn more about volunteering, please call 631-324-0806, email us, or visit the Volunteers of Guild Hall website.