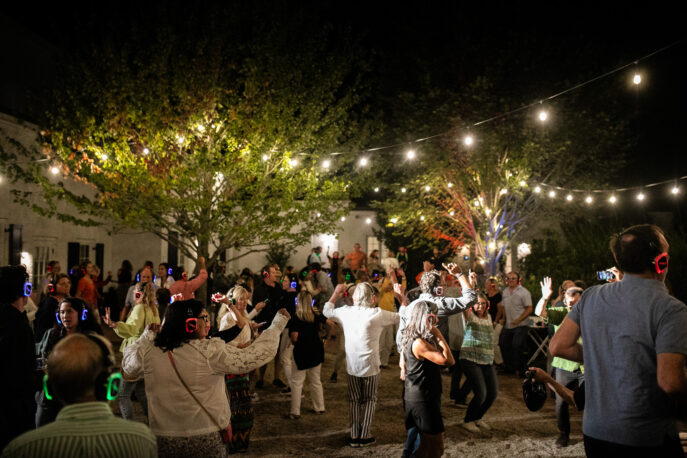 Hold Your Next Event at the Storied Guild Hall!
Guild Hall has been the heart of East Hampton for over 90 years. Located on Main Street at the entrance to the Village, our recently renovated campus is one of the most unique and in-demand event locations in the Hamptons, offering a truly one-of-a-kind experience. 
Events hosted at Guild Hall have included weddings, corporate retreats, reunions, cocktail parties, lectures, plays, film premieres, benefits, classes, meetings, camps, dance parties, and more – with an institution that has thrived for generations on developing art, the possibilities are endless.
Our many beautiful spaces, indoors and out, are available to host your next gathering – whatever it may be. For rates and availability and to learn more about renting space at Guild Hall, please contact Jennifer Brondo at jennifer@guildhall.org.
Available spaces include:
Minikes and Furman Gardens
These two lushly landscaped gardens flanking either side of the Guild Hall building can be host to cocktail parties, sit-down dinners, receptions, meetings, performances, or other events. Gardens include newly installed landscape speaker systems and twinkling string lights. 
SIZES AND CAPACITIES:
Minikes Garden: 65'x40' / 50 seated; 100 standing
Furman Garden: Approximately 80'x50' (irregular shape); 100 seated; 200 standing
Lobby, with optional Gallery Visit/Tour
Our newly renovated lobby is ideal for small receptions or cocktail parties. A Guild Hall staff-led or self-guided tour of our current museum exhibits, featuring incredible shows by artists of the East End, can be added to your rental package for a one-of-a-kind Hamptons art experience.
SIZE AND CAPACITY:
28'x17'
25 seated; 50 standing
Boots Lamb Education Center
Our Education Center has been revitalized technologically and is perfect for small meetings,  classes, or workshops. The room is equipped for art projects with a sink, an optional 6 tables and 40 chairs, and a wireless connection Smart Projector for brainstorming, notes, presentations, and films.
SIZE AND CAPACITY:
29'x16'
40 seated without tables
John Drew Theater
The jewel-box John Drew Theater renovation will be complete in 2024, reopening with up-to-date technical capabilities and roomier, more comfortable seating. The theater is a perfect space to rent for performances, concerts, private screenings, film shoots, and all other theatrical events. The backstage area houses a green room space, small area hospitality kitchen, and 6 dressing rooms. Technical equipment specs are available on request. 
STAGE DIMENSIONS:
Deck to House Floor: 3'
Apron to Proscenium: 5' 6 3/4"
Proscenium to Upstage: 28' 6 1/4"
Proscenium height: 15' 11 1/4"
CAPACITY:
299 seated
Marks Family Galleries North and South; and Marks Family Gallery North: Tito Spiga Exhibition Space
Our three gorgeous museum galleries are available on select dates for Weddings, large events, parties, and seated dinners. The. Two main soaring spaces including uncovered lay lights original to the building, and brand new integrated sound systems.
SIZES AND CAPACITIES:
Marks Family Gallery North: 
27'x52'
297 capacity (both North Galleries together)
140 seated at 66" round tables; 150 seated for theatrical presentation with Stage
Marks Family Gallery South: 
28'x35' 
151 capacity
80 seated at 66" round tables; 75 seated for theatrical presentation with Stage