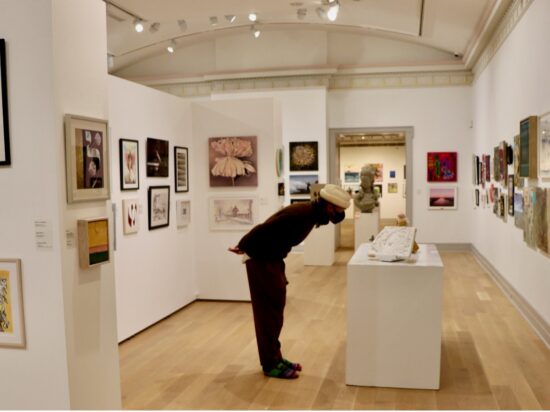 Guild Hall announced on Friday the winners of the 83rd Artist Members Exhibition, with eight awards selected from exactly 426 submissions. AME attracts remarkable art world professionals as jurors who assign awards in a wide variety of categories. This year, Guild Hall was thrilled to assign that role to Gagosian Curator and Director Antwaun Sargent, who spent Friday morning in the galleries reviewing the works and making his selections. The Top Honor was awarded to Linda Reville Eisenberg for her 2019 oil on canvas painting, Lee. Continuing the tradition, Eisenberg will be given a solo exhibition in the museum at a future date to be determined. AME galleries will be open to the public March 6 through April 10, Friday to Sunday, 12-5pm.
"I really appreciated, as a juror, being able to come into this community of artists to see their work," said Awards Juror Antwaun Sargent. "I think open submission exhibitions like these are so crucial because it allows for a wider group of artists to participate in the art world. One of the things we have learned this past year is the importance of supporting our communities, and I think an exhibition like this is one way we can support artists."
"It is so exciting to see the abundance of talent that comes out to celebrate at Guild Hall.  We are thrilled to have works in every media represented and to have had our distinguished Awards Juror, Antwaun Sargent, select works for special recognition. While installing the show I was continually impressed by the quality, innovation and energy of the works, which is a testament to the vitality of the arts community on the East End", said Christina Strassfield, Museum Director and Chief Curator.
AND THE WINNERS ARE…
Top Honors: Linda Reville Eisenberg, Lee, 2019, oil on canvas
Best Abstract: Irwin Weinbaum, Good Day Sunshine, 2019, acrylic on canvas
Best Representational: Doug Reina, Truck, 2019, oil and wax on panel
Best Photograph: Catherine Berclaz, Quintessence, 2019
Best Work on Paper: Mahbobe Ghods, Undo, 2019, print on paper
Best Sculpture: Julian Mardoyan-Smyth, Box #4, 2015, cone 10 stoneware, raku fired
Best Mixed Media: Bastienne Schmidt, Grids, 2019, mixed media on canvas
Catherine and Theo Hios Best Landscape Award: Jane Kastan, Amagansett Blues, 2019, photograph
Honorable Mentions:
Gina D'Orazio, Rogue, 2019, low fire clay and glaze
Karen Kemp, Two Boats, II, 2019, oil on board
Jean Mahoney, Morning Calm, 2019, oil
Mike McLaughlin, This Plaza, 2019, pigment ink print on Epson Legacy Fibre
Min-Myn Schaffner, Fire Place, 2019, oil on linen
Shi, Point of You, 2019, acrylic on canvas
Stuart Silverman, Torque 2, 2019, alabaster
John A. Stefanik, Twilight Bass Fishing, East Hampton, 2019, black and white photograph
The first Artist Members Exhibition took place in 1938, shortly after Guild Hall's inception in 1931. The exhibition is the oldest non-juried show on Long Island and one of the few non-juried exhibitions still running. Deeply rooted in the history of the East End artist colony, early participants included Jackson Pollock, Lee Krasner, Alfonso Ossorio, Perle Fine, Bill King, James Brooks, Charlotte Park, John Little and many more, showing their support of Guild Hall and its role as their community Museum, Theater, and Education Center.
A new tradition of creating an ecommerce website in conjunction with the exhibition continues this year with works available for purchase online ranging from $50 to $150,000, offering something for every collector, from beginners to experienced.
Gallery tours will be offered in person and virtually with Executive Director Andrea Grover, Museum Director/Chief Curator Christina Mossaides Strassfield, and Curatorial Assistant Casey Dalene, as well as a digital 360-degree self-guided tour for those who are unable to visit in person. In-person tours are limited capacity and reservations are required.
This fall Guild Hall will present the works of 2018 Top Honor winner Jeff Muhs, from October 30 through January 2.
For more information on viewing the exhibition visit www.guildhall.org.
About Antwaun Sargent
Antwaun Sargent is the newly appointed Curator and Director of Gagosian and a writer based in New York City. His writing has appeared in The New York Times, The New Yorker and various art publications. Sargent is the author of "The New Black Vanguard: Photography between Art and Fashion" (Aperture) and the editor of "Young, Gifted and Black: A New Generation of Artists" (DAP).
FREE ADMISSION is generously funded by Dime Community Bank and Landscape Details. 
The Artist Members Exhibition is supported, in part, by the Giuppy Nantista Fund and the Helen Hoie Fund.
Museum Programs are made possible by the New York State Council on the Arts with the support of Governor Andrew M. Cuomo and the New York State Legislature, the Helen Frankenthaler Foundation, an anonymous donor, Crozier Fine Arts, and funding from The Michael Lynne Museum Endowment, and The Melville Straus Family Endowment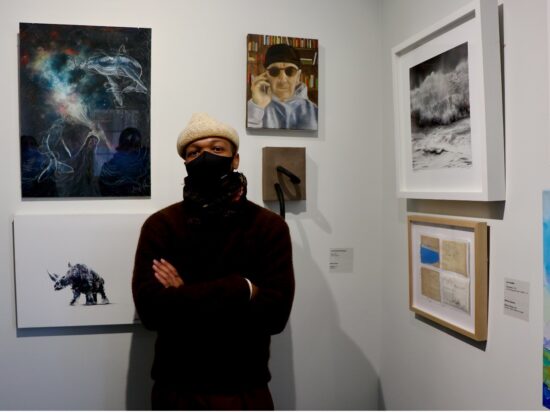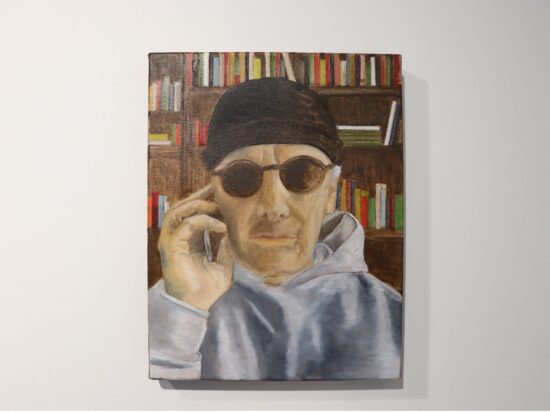 IMAGES
Important: By downloading images you are agreeing to the following permissions: Images are provided exclusively to the press, and only for purposes of the publicity of Guild Hall's current and upcoming exhibitions, programs, events, and special announcements. Permission to use images is granted only to the extent of Guild Hall's ownership rights relating to those images—the responsibility for any additional permissions remains solely with the party reproducing the images. The images must be accompanied by the credit line and any copyright information as it appears above, and the party reproducing the images must not modify the images in any way.
Username: GHpress | Password: 4media