Virtual Stirring the Pot
Pierre Thiam, hosted and interviewed by Florence Fabricant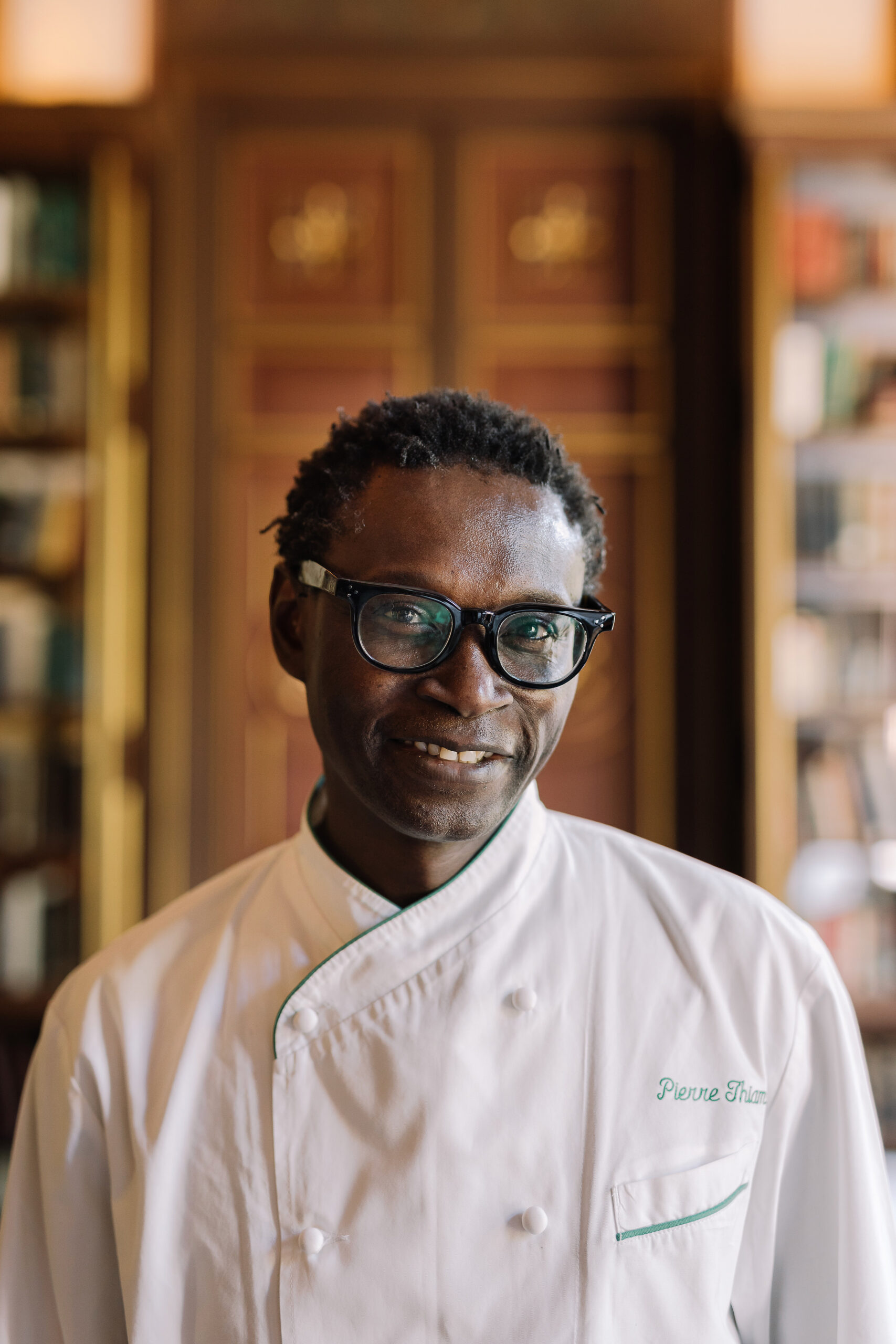 Overview
Join Florence and chef/restaurateur Pierre Thiam as they discuss African foods and the ancient grain, fonio.
An audience Q&A will follow.
More Virtual Stirring the Pot this Summer:
Dan Barber on July 25
Mark Bittman on August 1
Dorie Greenspan on August 15
---
We are excited to partner with our Stirring the Pot sponsor, Citarella, to offer a breakfast package option to enjoy while watching our Virtual Stirring the Pot conversations in the comfort of your home!
Each Citarella Breakfast Package ticket includes a virtual link for the program and breakfast for two. The package can be picked up on the Sunday morning of each talk at the Citarella store of your choice. More details will be arranged after purchase – you will be contacted by a Guild Hall representative to choose your store location and package type.
**Breakfast Package tickets can only be purchased until 10am on the Friday before each event.**
Pricing:
Virtual Ticket plus Citarella Breakfast Package for 2: $60
Member Virtual Ticket plus Citarella Breakfast Package for 2: $50
Package Options – Each packages serves 2:
The New Yorker features freshly baked bagels, signature Citarella Smoked Scottish salmon, scallion cream cheese, vine-ripened tomato, an assortment of Citarella handcrafted rugelach, hand-cut fresh fruit and Citarella watermelon cold-pressed juice.
The European boasts a freshly baked rustic baguette, imported Citarella prosciutto, Citarella Manchego and savory sundried tomato spread. It also included hand cut fresh fruit, handcrafted pistachio biscotti and Citarella watermelon cold-pressed juice.
The Continental contains Citarella imported preserves, creamy Devon butter, a signature selection from Citarella's expert cheese monger to enjoy with a baked-from-scratch baguette. Find hand cut fresh fruit, Citarella refreshing watermelon cold-pressed juice and homemade, lemon tea cake.
Pierre Thiam

Pierre Thiam is a chef, author, and social activist best known for bringing West African cuisine to the global fine dining world. He is the Executive Chef of the award-winning restaurant Nok by Alara in Lagos, Nigeria and the Signature Chef of the five-star Pullman Hotel in Dakar, Senegal. He is also the executive chef and co-owner of Teranga, a fast-casual food chain from New York City. His company Yolélé Foods advocates for smallholder farmers in the Sahel by opening new markets for crops grown in Africa; its signature product, Yolélé Fonio, is found in Whole Foods, Amazon, and other retailers across America. 

Born and raised in Dakar, Senegal, Thiam's cooking style is at once modern and eclectic, rooted in the rich culinary traditions of West Africa. His newest cookbook, The Fonio Cookbook, was published in October 2019. His first two cookbooks, Yolélé! Recipes From the Heart of Senegal and Senegal: Modern Senegalese Recipes from the Source to the Bowl were finalists for several awards including the Julia Child Cookbook Award, the Gourmand Award in Paris, and the James Beard Award for Best International Cookbook.

Thiam has cooked for the King of Morocco, French President Emmanuel Macron, and Former UN Secretary General Ban Ki Moon. Through his advocacy and many media appearances, he has become known as a culinary ambassador, dedicated to promoting West African cooking throughout the world. His TEDTalk, given at TEDGlobal 2017 in Arusha, Tanzania, has been viewed over one million times. Thiam sits on the board of directors of IDEO.org, SOS Sahel, Culinary Institute of America's African Cuisines Advisory Board and CorpsAfrica. He lives in El Cerrito, California with his wife Lisa,  their daughter Na'ia, and dog Malcolm. 

Florence Fabricant

Florence Fabricant, a food and wine writer for the New York Times, contributes the weekly Front Burner and Off the Menu columns, is a member of the wine panel and writes the pairings column for the wine tastings. She frequently writes features that appear in the Food section and also covers food and travel elsewhere in the Times. She has written 13 cookbooks. This spring, her latest, The Ladies Village Improvement Society Cookbook: Eating and Entertaining in East Hampton" to celebrate the 125th anniversary of LVIS was published by Rizzoli. Other books include Wine with Food, based on the New York Times pairings columns and written with Eric Asimov and The City Harvest Cookbook, both published by Rizzoli. She actually began her career as a food writer in East Hampton, contributing the column In Season to the East Hampton Star. A Phi Beta Kappa graduate of Smith College, she has an M.A. in French from New York University Graduate School of Arts and Sciences. She holds L'Ordre National du Mérite from the French government, is on the Board of Trustees of Guild Hall in East Hampton, N.Y., and is a member of Who's Who of Food and Beverage in America. (New York, NY). She and her husband, Richard, a retired lawyer, live in Manhattan and East Hampton, N.Y. They have two children and two grandchildren. 
Event Sponsors
Sponsored by Citarella. Media Partner: Edible East End

Theater Programming supported in part by the Helen Frankenthaler Foundation, Barbara Slifka, The Schaffner Family Foundation, 

Straus Family Foundation,

 Brown Harris Stevens, Michael Balmuth, Blythe Danner, Lang Insurance, and funding from The Ellen and James S. Marcus Endowment for Musical Programming and The Melville Straus Family Endowment

 
Become a Sponsor