Second Annual
Hamptons Pride Parade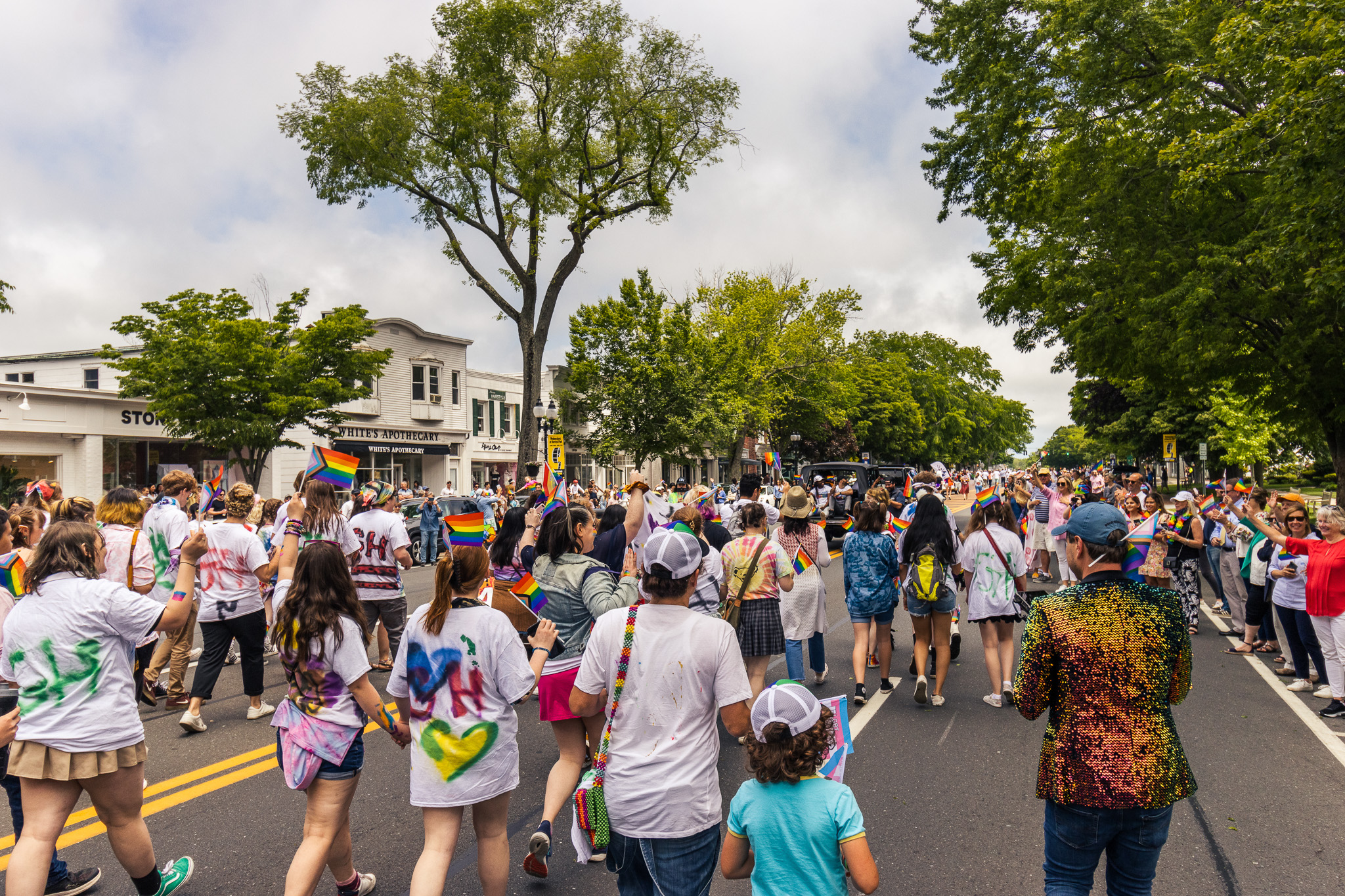 Overview
Join Guild Hall and the GH Teen Arts Council as we march in the Second Annual Hamptons Pride Parade!
Following last year's inaugural runaway success, Mayor Jerry Larsen has asked local nonprofit Hamptons Pride to continue organizing the parade, and the East Hampton Village Police to again expertly direct it. The lineup starts at 11 am on Main Street near Pondview Lane and Guild Hall, and the parade kicks off at noon. Registered participants will march east on Main Street to Newtown Lane, Railroad Avenue, and Lumber Lane, ending in Herrick Park, where there will be music and celebration with D.J. Karin Ward until 3 pm.
The Guild Hall Teen Arts Council (GHTAC) will participate in the parade with a "Pep Rally For Mental Health." Facilitated by queer Latin X installation artist, MAGO, GHTAC has spent the last few months discussing the hardships the teen and LGBTQ+ community face in the Hamptons, and the resources available to us to speak and combat them. In this way, GHTAC has collaborated and coordinated to form a simple message; one of the most complex issues we face in our community can be surmounted as long as we are willing to speak about it – loud and proud.
 The "Pep Rally For Mental Health" will include a student-led marching band, choreographed audience participation, and bright stunt cards bearing messaging and keywords centered around mental health and inter-community support. Patrons who want to march with Guild Hall can contact Anthony Madonna at amadonna@guildhall.org.
ABOUT GUILD HALL TEEN ARTS COUNCIL
The Guild Hall Teen Arts Council (GHTAC) is the region's first paid teen arts program. As employees of Guild Hall, GHTAC members work to curate public programming, advance their creativity, increase Guild Hall's outreach to local teens, and learn through collaboration with Guild Hall staff.
ABOUT HAMPTONS PRIDE
Hamptons Pride, Inc. is a not-for-profit public charity (tax exempt under Section 501(c)(3) of the Internal Revenue Code – EIN 86-3600121) that celebrates and commemorates the LGBTQ+ people and their allies on the East End of Long Island. Established by locals for the benefit of locals, the organization's founding goal is the creation of an historical marker and outdoor social area on the footprint of The Swamp (the last and longest-running gay club in the Hamptons) in what is now Wainscott Green, a park in the Town of East Hampton. Hamptons Pride's services, including the annual Hamptons Pride Parade on the first Saturday in June, are made possible by the generosity of individuals, foundations, and corporations. https://hamptonspride.org/