Robert Longo and Shirin Neshat in Conversation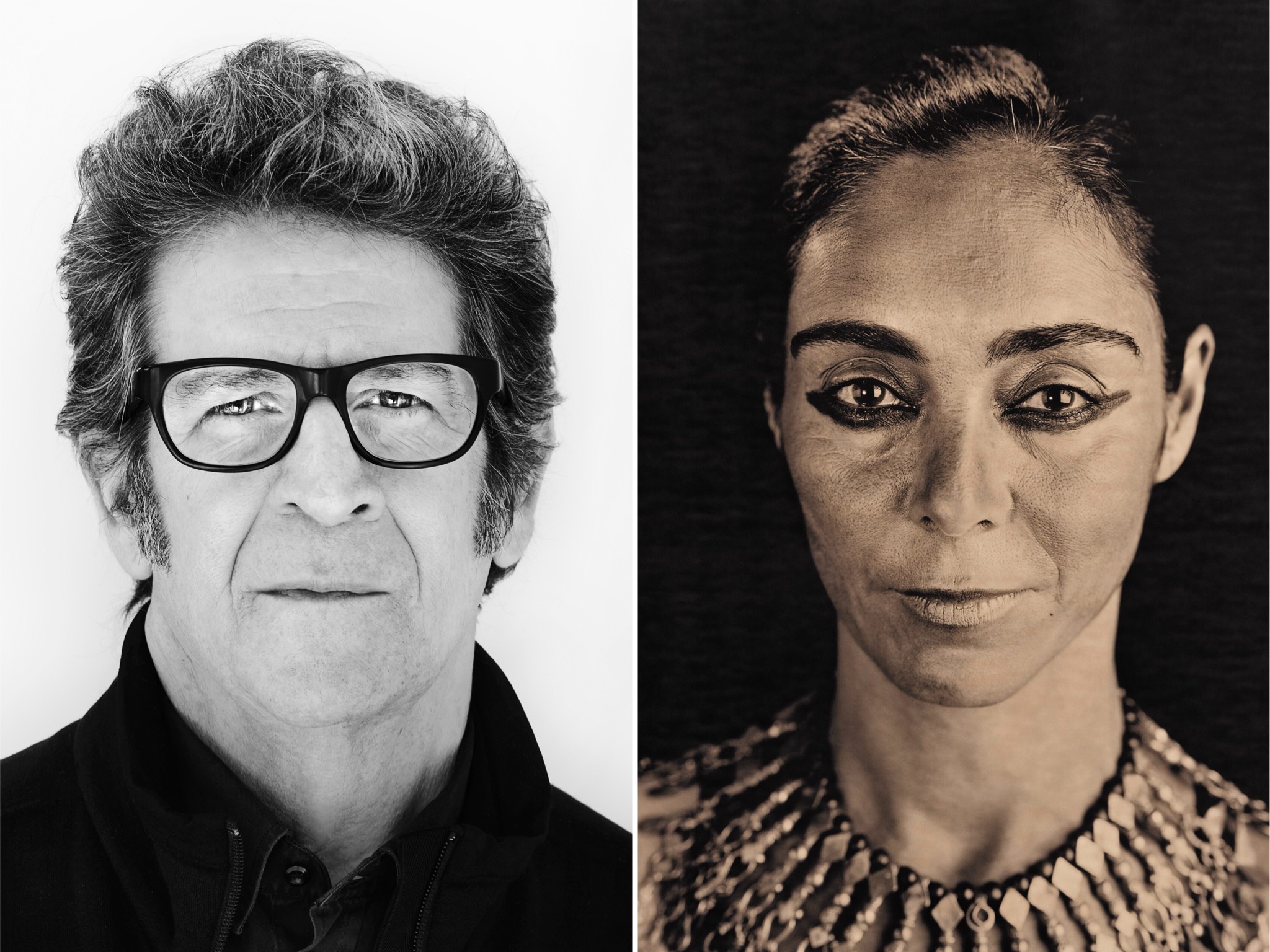 Overview
THIS PROGRAM WILL NOW TAKE PLACE INDOORS IN THE JOHN DREW THEATER. Guests attending any INDOOR John Drew Theater programs must show proof of FULL vaccination. At this time, only fully vaccinated guests are permitted to attend programs in the indoor theater.
Click HERE for full COVID-19 information to review prior to your visit.
---
Artists Robert Longo and Shirin Neshat will discuss process of visual artists making and directing films – how the approach is different, and what the advantages are of being an artist involved in creating cinema. Longo will also discuss his directorial debut with the film Johnny Mnemonic which celebrated its 25th Anniversary last year, and was transferred from color to black and white – the artist's original intention.
The conversation will be followed by a special screening of the black & white version of Johnny Mnemonic at 8:30PM. CLICK for more info.
Concessions are available at our new eAT Coffee Bar.
Robert Longo's exhibition, A History of the Present, is on view at Guild Hall through October 17.
Robert Longo

Robert Longo (b. 1953) is a New York-based artist, filmmaker, and musician. After attending Buffalo State University New York, he moved to New York City in 1977. That same year, he showed in Pictures curated by Douglas Crimp, the first exhibition to contextualize a young group of artists who were turning away from Minimalism and Conceptualism and instead towards image-making, inspired by newspapers, advertisements, film, and television. Longo became known as a leading protagonist of the "Pictures Generation," working across drawing, photography, painting, sculpture, performance, and film.

His work is represented in numerous major museums and private collections all over the world, including the collections of the Museum of Modern Art, the Guggenheim Museum, and the Whitney Museum of American Art, in New York; The Broad Collection, the Los Angeles County Museum of Art, and the Museum of Contemporary Art in Los Angeles; the Art Institute of Chicago; the Centre Georges Pompidou in Paris; and the Albertina in Vienna. Robert Longo lives and works in New York and is represented by Metro Pictures, NYC and Galerie Thaddaeus Ropac, London, Paris, Salzburg.

Shirin Neshat

Shirin Neshat's photographs and videos address individual freedoms under attack from or repressed by social ideologies. Throughout most of Neshat's career, she has been exiled from Iran, an outside observer of the increasing rigors of Islamic law's effect on the country's women and daily life. In 1990, Neshat visited Iran after twelve years. She was shocked to find women, following the 1979 Islamic revolution, forced to wear the chador, the traditional Islamic veil. Neshat returned to the United States to make the Women of Allah, 1994, a series of self-portraits in which she wears the chador. In the photographs, her face, feet, and hands (the only parts of the body allowed to be shown by Islamic law) are covered in Iranian poetry by Forough Farrokhzad and Tahereh Saffarzadeh. The poetry, placed in sharp contrast to the uniformity of the veil, suggests a personal depth and feeling that often goes unnoticed. The women of Allah are more than icons of oppression; they are complex individuals with desires and ambitions, moving between intense private thoughts and emotions and public political involvement.
 
The breadth of Neshat's work extends beyond identity politics, however. As cultural critic Eleanor Heartney observed, Neshat "makes art through her identities as an Iranian and as a woman, but reshapes them to speak to larger issues of freedom, individuality, societal oppression, the pain of exile, and the power of the erotic." Possessed, 2001, presents a woman without chador, roaming through the streets of an Iranian city. She is overcome with madness and is completely ignored until she takes a platform. Her private suffering then becomes public, and political, attracting a crowd that debates her mania. The mass of people subsequently takes on the traits of her madness, while the woman slips away unnoticed.
 
Rapture, 1999, is one part of a trilogy produced by Neshat that includes the other highly acclaimed works Turbulent, 1998, and Fervor, 2000. Rapture shows a divided world where architecture and landscape stand as metaphors for entrenched cultural beliefs about men and women. The men are trapped in a fortress while the women make a long journey through the desert to the sea. While the men wrestle and pray, the women eventually board small boats to leave the land entirely. As with Possessed, Rapture's poetic potential taps into the collective dreams, fantasies, and horrors confronting the Iranian people. 
Event Sponsors
Guild Hall's museum programs are made possible by the New York State Council on the Arts with the support of Governor Andrew M. Cuomo and the New York State Legislature, the Helen Frankenthaler Foundation, an anonymous donor, Peggy J. Amster, Crozier Fine Arts, and funding from The Michael Lynne Museum Endowment, and The Melville Straus Family Endowment. John Drew Backyard Theater
Special thanks to Marty and Michele Cohen, Ben Krupinski Builder, Hollander Design, and Groundworks Landscaping  ROBERT LONGO: A HISTORY OF THE PRESENT
Principal Sponsor: Lucio and Joan Noto 
Lead Sponsors: Susan and Olive Numeroff in memory of Marvin Numeroff, Fern and Lenard Tessler, Alison and Donald Weiss, and public funding provided by Suffolk County 
Co-Lead Sponsors: Bloomberg Philanthropies, Jacqueline Brody, Robert Lehman Foundation, Metro Pictures, Elin and Michael Nierenberg,

 

Dayna and Steve Novenstein, and Pace Gallery 
Additional support: Shari and Jeff Aronson, Carol and Arthur Goldberg, Agnes Gund, and Deborah and David Roberts
Special thanks to Saunders & Associates

Become a Sponsor