New Light Theater Project's Production of Hitler's Tasters by Michelle Kholos Brooks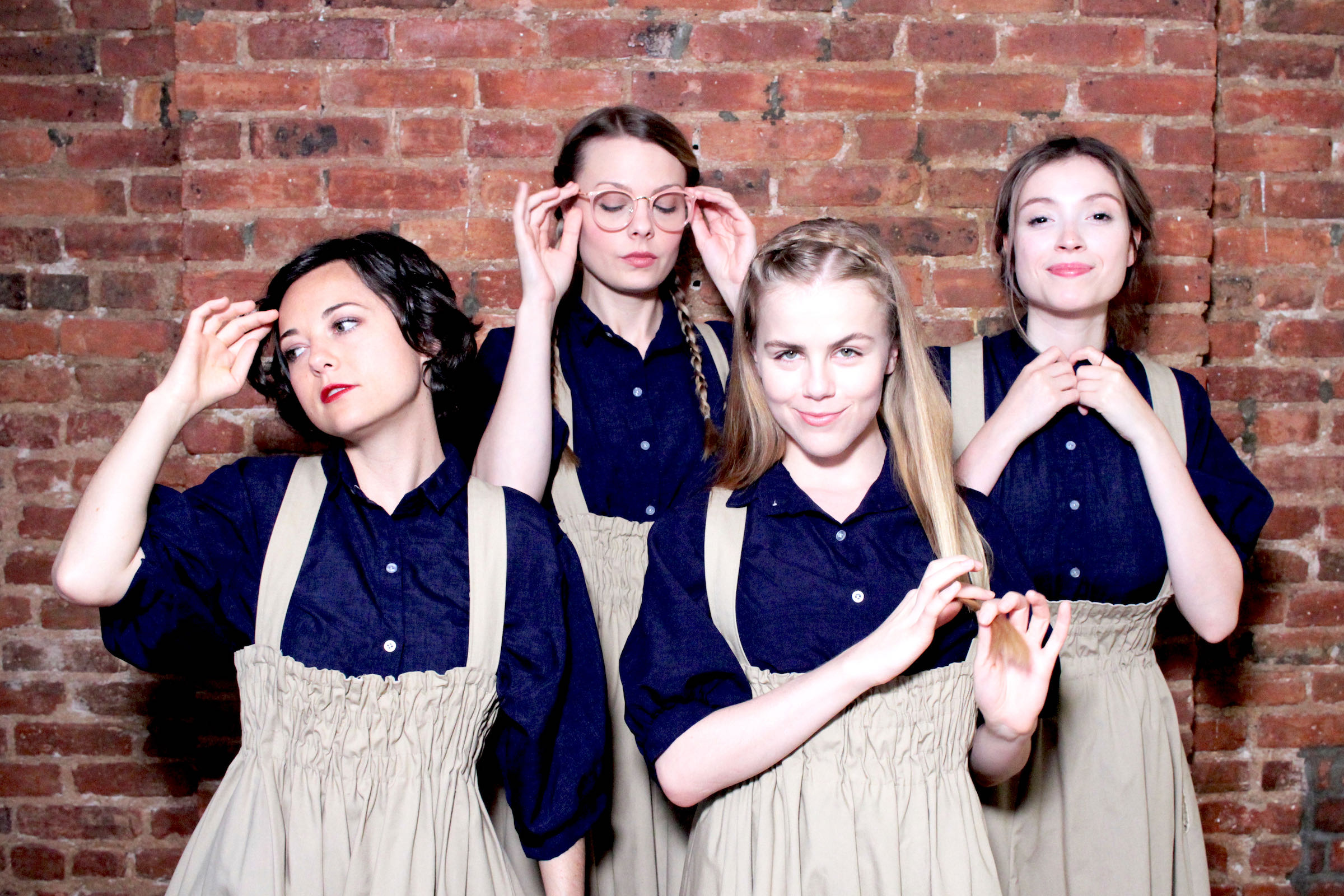 Overview
Members click HERE for discounted tickets!
An Award-Winning Play by Michelle Kholos Brooks
Directed by Sarah Norris
Featuring Hallie Griffin, MaryKathryn Kopp, Kaitlin Paige Longoria, and Hannah Mae Sturges
Inspired by true events.
Just because you align yourself with a dictator doesn't mean you get a pass. It's Germany in 1943 and three times a day, every day, a group of young German women have the opportunity to die for their country. They are Adolf Hitler's food tasters. And what do girls discuss as they wait to see if they will live through another meal? Like all girls, throughout time, they gossip and dream, they question and dance. They want to love, laugh, and above all they want to survive.
History has revealed that Margot Woelk was a German secretary who, among 15 young women in 1942, were selected to taste German leader Adolf Hitler's food at the Wolf's Lair in East Prussia for two-and-a-half years in order to confirm that it was safe to eat. She was the only one of the 15 to survive World War II, and her background as Hitler's food taster was not revealed until a newspaper interview on her 95th birthday in December 2012. (Wikipedia)
"One of the best evenings I've spent in the theater in a long time. It was interesting, entertaining, upsetting, and it made you think."- Susan Stroman, Legendary Director and Choreographer
Hitler's Tasters made its World Premiere on April 6, 2018 at Centenary Stage, Hackettstown, NJ, with Sarah Norris as the Director and Catherine Rust as the Producing Director. The play made its New York City premiere on October 5, 2018 with New Light Theater Project. It is the recipient of 2017 Women Playwrights Series, Susan Glaspell Award, named 'Best of Fringe' by The Stage UK and was a sell-out show at the Edinburgh Festival Fringe.
Hitler's Tasters premiere at Centenary Stage Co. was done so with additional developmental support from Pacific Resident Theatre, The Boston Court Theatre, Geffen Playhouse and Wordsmyth Theatre. New Light Theater Project's production of Hitler's Tasters was originally presented at IRT Theater in the fall 2018, followed by limited runs at The North Shore Center for the Performing Arts (Skokie, IL), The E2E Festival at 59E59 Theaters (NYC) and the Edinburgh Festival Fringe, all in the summer of 2019.
Concessions are available at our new eAT Coffee Bar.
---
THIS PROGRAM WILL NOW TAKE PLACE INDOORS IN THE JOHN DREW THEATER. Guests attending any INDOOR John Drew Theater programs must show proof of FULL vaccination. At this time, only fully vaccinated guests are permitted to attend programs in the indoor theater.  Face coverings are required indoors for all guests over the age of two, regardless of vaccinated status.
Click HERE for full COVID-19 information to review prior to your visit.
Michelle Kholos Brooks

Michelle Kholos Brooks is an award-winning playwright with productions staged internationally. Awards and distinctions include the Susan Glaspell Award for Hitler's Tasters, the Reva Shiner Comedy Award for Kalamazoo, co-written by Kelly Younger. Hitler's Tasters was also named Best of Fringe at the Edinburgh Festival Fringe by Stage Magazine. Hostage was a finalist for the Woodward/Newman Drama Award, The Fratti-Newman Political Play Contest and a Showcase finalist for the National New Play Network. Chair received second place in the Firehouse Theatre Festival of New American Plays.

Plays have been produced and/or developed at Arena Stage, Skylight Theatre (World Premiere, Hostage), Centenary Stage (World Premiere, Hitler's Tasters), Pacific Resident Theatre, Adirondack Theatre Festival, Bloomington Playwright's Project (Rolling World Premiere, Kalamazoo), The Colony Theatre (World Premiere, Family Planning) Florida Repertory Theatre, Boston Court Theatre, The Road Theatre Company, Wordsmyth Theatre, The Barrow Group, Bay Street Theatre, Venue 9 Theatre, Wings Theatre, Laurel Grove Theatre Company, Drama West, Vox Humana Theatre Ensemble, iTheatre Collaborative, New Light Theatre Project, 59E59th St. Theatre, Olive Theatre; Greenside at the Edinburgh

Festival Fringe; and the Adobe Rose Theatre. Publications include Dramatists Play Service, Room literary magazine and The Daily Beast. Brooks earned a B.A. from Emerson College and an M.F.A. in Fiction from Otis College of Art and Design. She is a member of The Dramatists Guild of America, The Playwright's

Center and Pacific Resident Theatre. In addition, she is a Nonresident Senior Fellow at the Atlantic Council, Scowcroft Center for Strategy and Security.

Sarah Norris

Sarah Norris is a multidisciplinary artist based in NYC. Her work has been seen around the country (New York, Los Angeles, Chicago, San Francisco, Fresno, Las Vegas, Minneapolis, all over New Jersey, Maine & Alaska) & around

the world (Scotland, Australia, England, Ireland). Select NYC credits: Playwrights Horizons, Theatre Communications Group (TCG), LAByrinth, Disney Theatrical Productions, Working Theater, BAMA Theatre Company, The Flea Theater, Primitive Grace (Paul Calderon & David Zayas), The Gallery Players. She has an MFA in Directing from the University of Nevada, Las Vegas and a BA in Theatre from the University of Alabama, Tuscaloosa. She has had the privilege of serving as the Artistic Director of Access Theater, the Associate Producer of Bisno Productions (Broadway: Hughie starring Forest Whitaker), and served on

the Artistic Advisory Board of The Artist Co-Op. She is a volunteer with i-Mentor and serves on the Program Evaluation Working Group for NNPN (National New Play Network). Proud member of SDC and AEA and Founding Artistic Director of New Light Theater Project.

Hallie Griffin

Hallie Griffin (Liesel) is a New York based actor, singer, social media maven and content creator. Select theater: Folk City: The Musical (Broadway World Regional Awards: Best Actress), Edelweiss Pirates, [title of show]. TV/Film: Cafe Society. For NLTP: The Jackson C. Frank Listening Party w/ Special Guests (Film & Sound Editor), Metropolis (Film Editor), This Wrestling Place (Ensemble), Hitler's Tasters (NYC, Edinburgh, Chicago, & LA), Our Prospects for the Coming Season (Ensemble), Motel 60 (Mary), In the Soundless Awe (Ensemble), REX (Ismene). For more info: halliegriffin.com and follow her: @bucketosunshine

MaryKathryn Kopp

MaryKathryn Kopp (Hilda) is a NYC based actor, writer, and film producer. Recent theater: Hitler's Tasters (NLTP). Recent film: Slip and Potion Masters. Upcoming film: It's Not You, It's Her and The Goodbye Tour. Training: Sarah Lawrence College (2018); Moscow Art Theatre School; Prague Film School. Founder of La Loba Films. For NLTP: Invincible Ones (Natasha), DIRTY DIRTY (Layla), The Great Novel (Charlotte), Hitler's Tasters (NYC, Edinburgh, Chicago, & LA). For more info:  marykathrynkopp.com and follow her: @marykathrynkopp

Kaitlin Paige Longoria

Kaitlin Paige Longoria (Anna) is a Texas born and raised actress and mixed media painter, who moved to New York to cultivate her technique at William Esper Studio with the guidance of William Esper and Bruce McCarty. She's worked extensively in film and stage, and also spends her creative time painting for her collection of work, titled "Waking up to Burnt Sienna". For NLTP: Pastel Color Ripples (Creative Producer), Invincible Ones (Director), Promesa Promesota (Director), Hitler's Tasters (NYC, Edinburgh, Chicago, & LA). For more info: kaitlinpaige.com

Hannah Mae Sturges

Hannah Mae Sturges (Margot) is a California native with a BFA Acting degree from California State University Fullerton where she played the title role in The Diary of Anne Frank. Other NY credits: "Miss Mitchell" and "Validation" with Ensemble Studio Theatre. Hannah Mae has performed at Gulfshore Playhouse in Naples, FL, as well as multiple west coast/world premiers with The Road Theatre Co, where she was a member for six years in North Hollywood, CA. Additionally training at the British American Drama Academy. For NLTP: Hitler's Tasters (NYC, Edinburgh, Chicago, & LA). For more information: hmsturges.com 

New Light Theater Project

New Light Theater Project (NLTP) nurtures a Collective of artist-practitioners through the presentation of compelling stories across theatrical genres.

Led by Artistic Director Sarah Norris and Producing Director Michael Aguirre, NLTP believes in the strength of ensemble-work and fostering our Collective composed of writers, actors, directors, stage managers, and designers from diverse backgrounds. At least 50% of NLTP productions utilize our Collective while the rest of the production team consists of innovative artists that we hope to

cultivate deeper relationships with. We are committed to providing sustained opportunities for our Collective. What started as a weekly Sunday gathering of friends over pancakes, coffee, and plays has evolved into a company of artists who care about the work we are contributing to the theatrical make-up of New York City, and ultimately, seek to ensure a work environment that encompasses a communal spirit. NLTP is a company of and for the community, committed to Diversity, Equity, Inclusivity, and Accessibility (IDEA). We believe that engaging in the arts is crucial to the human experience, therefore, we will continue to support artist participation and audience engagement by breaking down barriers based on race, gender, ability, and economics that get in the way of opportunity and attendance. Amplifying voices that have been historically under-represented and under-resourced by the field will be centered in our organization as we continue to grow.
Event Sponsors
Theater Programming supported in part by the Helen Frankenthaler Foundation, Barbara Slifka, The Schaffner Family Foundation, 

Straus Family Foundation,

 Brown Harris Stevens, Michael Balmuth, Blythe Danner, Lang Insurance, and funding from The Ellen and James S. Marcus Endowment for Musical Programming and The Melville Straus Family Endowment

  John Drew Backyard Theater
Special thanks to Marty and Michele Cohen, Ben Krupinski Builder, Hollander Design, and Groundworks Landscaping  Play in the Garden Print Media Partner: James Lane Post
Become a Sponsor