Private Member Reception
Laurie Anderson Exhibition Opening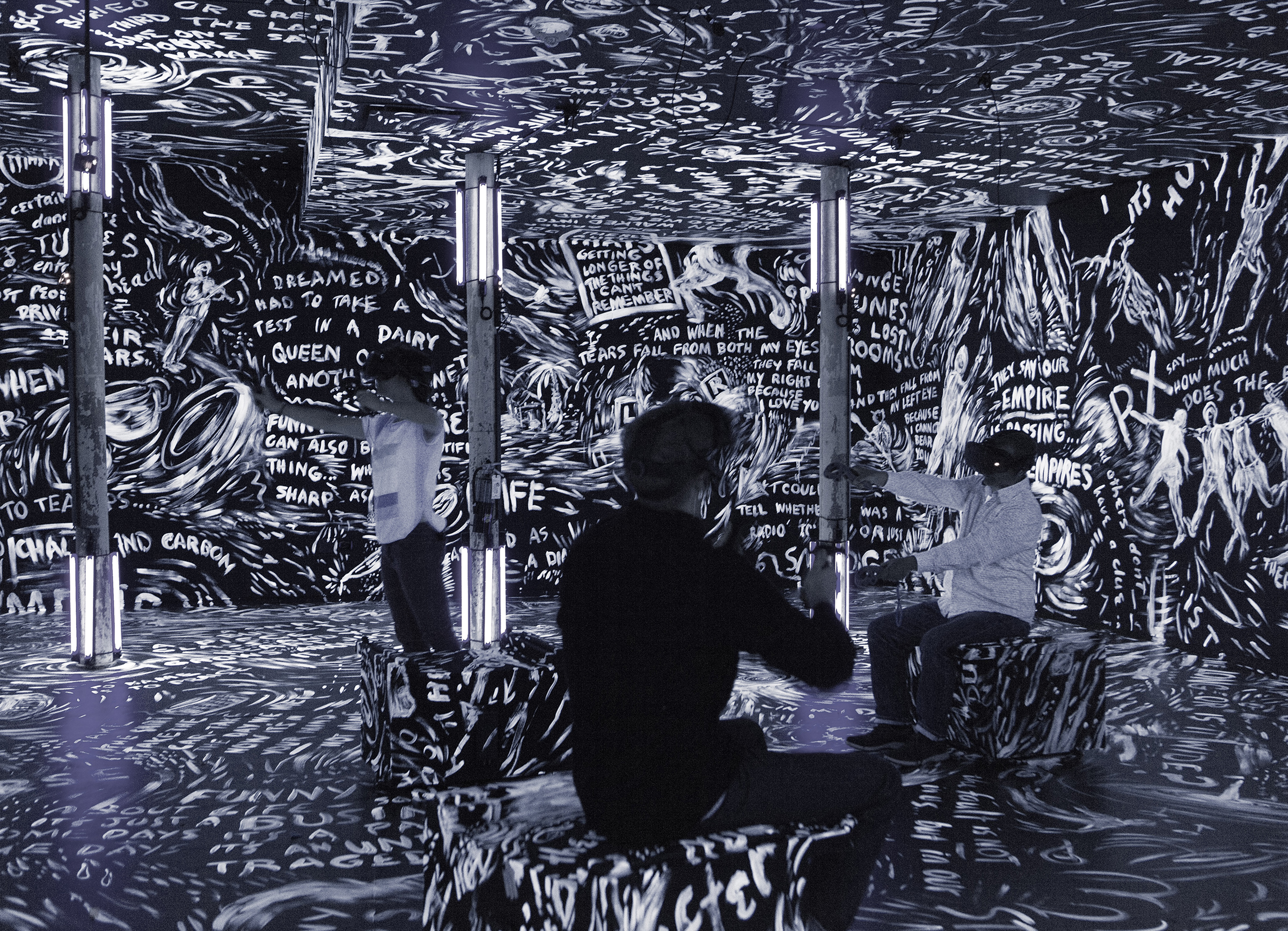 Overview
The Laurie Anderson Exhibition at Guild Hall will be divided into three components that will highlight various media that Anderson works in, allowing the visitor to experience the genius of this unique artist. The three components will be: Virtual Reality, Video Performance and drawings. Come and meet and mingle with your fellow members and enjoy exclusive access to the exhibition.  Refreshments will be served.  Reservations are strongly encouraged.  If you are a current member and did not receive a private RSVP link in your email, please contact our Membership Associate.
Virtual Reality Experiences
There is plenty to see in the Laurie Anderson exhibition without a reservation, however, if you would like to reserve a 15 minute virtual reality slot for either ALOFT or CHALKROOM, please reserve below. Note: you must make separate reservations for ALOFT and CHALKROOM. Each reservation is for one individual.
Laurie Anderson

Laurie Anderson is one of America's most renowned and daring creative pioneers. Best known for her multimedia presentations, innovative use of technology and first-person style, she is a writer, director, visual artist and vocalist who has created groundbreaking works that span the worlds of art, theater, and experimental music.

Her recording career, launched by "O Superman" in 1981, includes many records released by Warner Records and Nonesuch, among them "Big Science" (1982), the soundtrack to her feature film "Home of the Brave"(1986) "Strange Angels" (1989) "Life on a String" (2001) "Homeland" (2008) the Grammy winning "Landfall" (2018) and the Grammy nominated "Songs from the Bardo" (2019) on Smithsonian Folkways.

Other recordings include numerous works for podcast and radio including the most recent "Party in the Bardo" series for WESU Middletown.  She has performed music and toured worldwide with many of her own groups and bands and composed orchestra works "It's Cold Outside" (1982) and" Songs for A.E." for the American Composers Orchestra (2000), the Stuttgart Chamber Orchestra and in 2019 for the Brno Philharmonic Orchestra  conducted by Dennis Russell Davies.

Anderson's live shows range from spoken word works to multi- faceted multimedia stage performances such as "United States Parts 1-4" (1982) "Stories from the Nerve Bible" (1992)  "Songs and Stories for Moby Dick" (1999) "Delusion" (2010) and "Language of the Future" (2017). Anderson continues to collaborate with Christian McBride, Brian Eno and Philip Glass as well as improvising with Bill Laswell and John Zorn.

In 2002, Anderson was appointed the first artist-in-residence of NASA which culminated in her 2004 solo performance "The End of the Moon", the second in a series of three "story" performances along with "Happiness" (2001) and "Dirtday" (2012) all of which toured extensively internationally.

Anderson has published eight books. Her most recent release - "All The Things I Lost In The Flood" (Rizzoli) – is a series of essays about pictures, language and codes. She is currently writing and compiling "The Art of the Straight Line" a series of essays and interviews about tai chi in the work of her late husband Lou Reed who she lived with and collaborated with for twenty-one years.

Anderson's visual work has been presented in museums around the world. Major audio-visual installations include "The Record of the Time- Sound in the Work of Laurie Anderson" (2003), World Expo 2005 in Aichi, Japan and "Habeas Corpus" (2015) a collaboration with Guantanamo detainee Mohammed el Gharani  at the Park Avenue Armory in New York City for which she was awarded, for the second time,  Yoko Ono's "Courage Award for the Arts".

Anderson's films include numerous music videos and installation works as well as "Carmen" (1992), the high definition "Hidden Inside Mountains" (2005) and Arte-commissioned  "Heart of a Dog" (2015) which was chosen as an official selection of the 2015 Venice and Toronto Film Festivals.

Her series of paintings have been exhibited widely.  She has been an artist in residence at many places among them Princeton Atelier (2008 and 2019) and at EMPAC in Troy, New York from (2012-2015) as Distinguished Artist in Residence. She has long term exhibition at Mass MoCA. Her digital and VR collaborations with Hsin-Chien Huang have won awards at both the Venice Film Festival and Cannes Film Festival.

The recipient of numerous honorary doctorates and awards among them Guggenheim Fellowship (1982) and the Dorothy and Lillian Gish Prize (2007) she continues to experiment with many different forms and contexts for her work.

As an activist Anderson has participated in many groups including Women's Action Coalition and Occupy Art. As a Buddhist she is an active  She lives and works in New York and Springs Long Island.