GUILD HALL: OFFSITE
Singing Beautifully: The Roots and Fruits of Bel Canto Style
Guild Hall & Bel Canto Boot Camp Resident Artist Series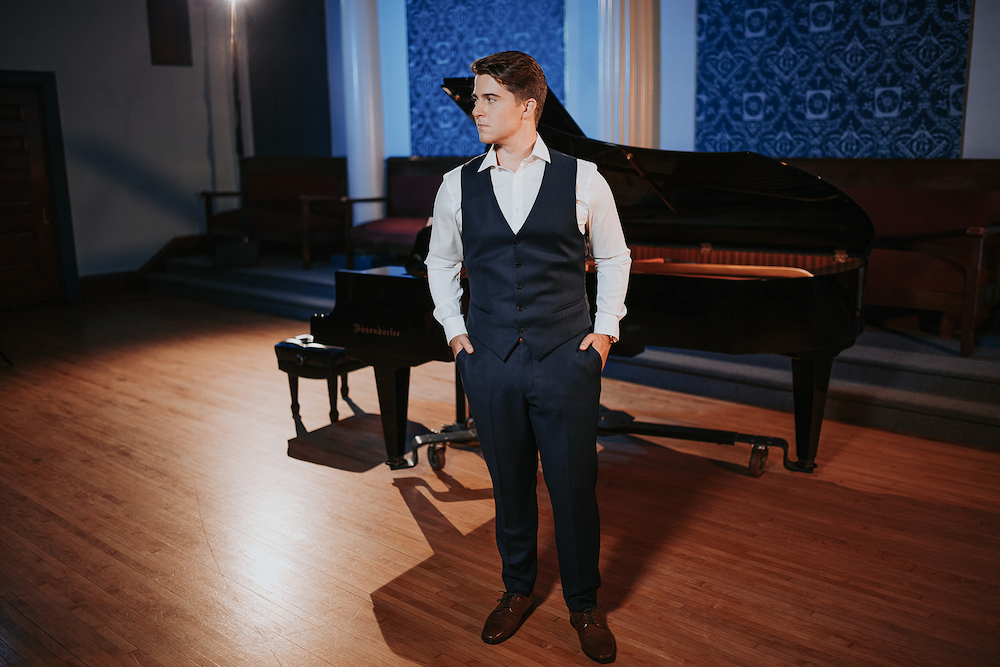 Overview
Singing Beautifully: The Roots and Fruits of Bel Canto Style
with Jack Swanson and Katherine Henly
Rachelle Jonck and Derrick Goff, pianists

Guild Hall and Bel Canto Boot Camp's new Resident Artist Series kicks off with tenor Jack Swanson and soprano Katherine Henly, and BCBC's Rachelle Jonck and Derrick Goff at the piano in a program of opera, film, musical theater, and song.
The recital features a solid dose of bel canto classics, including excerpts from Donizetti's L'elisir d'amore and Don Pasquale, as well as songs by Rossini and Bellini. Gilbert and Sullivan afford us a stroll through bel canto in English with excerpts from their much beloved Pirates of Penzance. We explore the use of the classically trained voice in music from the 40s and 50s – we visit American opera (Kurt Weill's Street Scene), music theater (Kiss Me, Kate and My Fair Lady) and cinema (The Toast of New Orleans).
With a wide range of repertoire, this program is sure to please lovers of coloratura and crooning alike, while emphasizing the application of the bel canto style of singing in various genres – encouraging us all to tune our ears to the finesse and power of the unamplified voice which the Italians aptly call "beautiful singing."
ABOUT GUILD HALL & BEL CANTO BOOT CAMP RESIDENT ARTIST SERIES
The Guild Hall & Bel Canto Boot Camp Resident Artist Series is a collaboration between the Learning + Public Engagement department at Guild Hall of East Hampton and Bel Canto Boot Camp. With the shared values of creative authenticity, artistic development, and community engagement, the Series supports an emerging generation of opera singers. By providing individualized training from Bel Canto Boot Camp mentors and masterclasses with international artists, the series aims to support a new generation of emerging opera singers and to increase awareness and appreciation of the unamplified voice. 
The 2022 Season will include intimate recitals with tenor Jack Swanson, a program of scenes and arias in collaboration with Cape Town Opera South Africa, and baritenor Michael Spyres in concert, featuring his favorite bel canto arias and songs. He invites Resident Artists who will be in training at Guild Hall to join him in operatic ensembles giving our audiences the opportunity to see the stars of today and tomorrow in performance together.
COVID-19 Protocol: All guests over the age of 12 must provide proof of full vaccination.
Jack Swanson


Stillwater, Minnesota native Jack Swanson is quickly becoming one of the most sought-after young tenors in the opera world. His distinctive high lyric voice is known for singing the acrobatic arias of Rossini and the legato melodies of Donizetti.

This season, Jack Swanson will debut with a number of European companies: first with the Teatro Regio in Torino as Almaviva in Il Barbiere di Siviglia, then with the Opéra National de Lorraine in Nancy as Tamino in Die Zauberflöte (a role debut) and finally at the Opéra National du Rhin in Strasbourg as Ferrando in Così fan Tutte (a role he will have just debuted in his return to the Oper Frankfurt).  He will sing a concert of Mozart, Bel Canto, and Romantic Italian songs in Beirut, Lebanon. Future engagements include a stage debut with the Houston Grand Opera and returns to the Santa Fe and the Minnesota Operas.

Also known for his concert work, Mr. Swanson's credits include Handel's Messiah, Dubois' The Seven Last Words of Christ, Mozart's Requiem and Carl Orff's Carmina Burana. Other engagements include Holiday Favorites with the Arizona Opera and Birmingham Opera, and the Houston Grand Opera's 60th anniversary gala where Mr. Swanson performed alongside HGO's studio artists and world-renowned mezzo-soprano, Joyce DiDonato.  Swanson made his Kennedy Center debut singing selections from Schumann's Dichterliebe. 

Mr. Swanson is the competition winner and recipient of several prestigious awards including first place in Florida Grand Opera's Young Patroness Competition, The San Antonio Music Club Competition, The National Opera Association Competition and The Hal Leonard Art Song Competition.  He twice received the Richard Tucker Memorial award from the Santa Fe Opera.  He was a finalist in both Houston Grand Opera's Eleanor McCollum competition and Fort Worth Opera's McCammon Competition. Recently, Mr. Swanson was featured on National Public Radio's Young Artist in Residence program, Performance Today. https://www.jackswansontenor.com/

Katherine Henly

Praised worldwide for her captivating and affecting portrayals in genres ranging from opera to musical theater, jazz, and pop, American soprano Katherine Henly has performed with Los Angeles Opera, Washington National Opera, The Muscat Royal Opera House, Hawaii Opera Theatre, Charlottesville Opera, Virginia Opera, The New York Musical Theatre Festival, The New York International Fringe Festival, and The O'Neill National Music Theater Conference. For her eleventh-hour debut with Oper Köln in Kurt Weil's, Street Scene, Resmusica raved "Finally, in Sam Kaplan and Rose Maurrant, we discover two of the most promising American singers... Radiant physically and vocally, very moving also in the farewell scene, Katherine Henly, is not to be outdone in that of her beloved - a performance all the more impressive under the circumstances. The very young American soprano, passing through Cologne, had indeed replaced in the last minute a suffering colleague during several rehearsals - without having yet sung the role on stage before. The Cologne Opera thanked her with a performance that marked both her European debut and her acting debut. A career definitely to follow."

In the current season, Ms. Henly debuts the role of Musetta in Peter Rothstein's critically acclaimed production of La bohème with Theater Latté Da in Minneapolis, with performances running through February 2022. This summer, she returns to Charlottesville Opera as Valencienne in The Merry Widow. The 2020-2021 season saw her role debut as

Clorinda in Rossini's La cenerentola, conducted by Gavriel Heine for the Northern Lights Music Festival. In the fall of 2020, Ms. Henly performed as a soloist in Preludes: Lyrics & Lyricists, a five-part online series filmed on the historic stage of the 92nd Street Y.

Additional recent performances include the world premiere of Maria Thomson Corley's The Sky Where You Are commissioned by An Opera Theatre and streaming online as a part of Decameron Opera Coalition's Tales From A Safe Distance; and as a soloist in Glad Jul, a holiday concert produced by Motarbeider, the Støttet av Kulturrådet Norsk kulturfund, and the Nord-Odal Kommune, filmed in the historic Sand Kirke in Nord-Odal, Norway, December

of 2020. She made her off-Broadway debut as Elsa in Sheldon Harnick's musical Dragons at The York Theatre Company, and can be heard on the studio recording with Tony Award-winner Michael Cerveris. Ms. Henly has also seen solo performances with Utah Lyric Opera, Utah Valley Symphony Orchestra, Grand Junction Symphony Orchestra, The Ramsey Wind Symphony, Palisades Virtuosi, Worcester Symphony Orchestra, Camerata New York, and in concert at Mechanics Hall and Carnegie Hall.

Ms. Henly has completed Young Artist residencies with Utah Festival Opera, Charlottesville Opera, and The Glimmerglass Festival. She is a graduate of Ithaca College (B.M.) and Brigham Young University (M.M.). www.katherinehenly.com

Derrick Goff

Derrick Goff is an alumnus of the Metropolitan Opera's Lindemann Young Artist Development Program and has returned as member of the MET music staff. He has enjoyed many years of collaboration at Teatro Nuovo, a continuation of the young artist program of Bel Canto at Caramoor, where he is resident as a coach, chorusmaster, and Italian teacher. In addition to his work as a pianist, coach, and conductor, Derrick holds degrees in organ and voice from Westminster Choir College, and is on the faculty of the Manhattan School of Music.

Photo: Jiyang Chen

Rachelle Jonck

Rachelle Jonck received her musical training at the Conservatory of the University of Stellenbosch in South Africa. In her native country she was awarded a FNB/Vita award for her contribution to opera in South Africa and the Nederburg Opera Prize – South Africa's premier opera award.

Rachelle moved to New York City as Head Vocal Coach and Assistant Conductor of Bel Canto at Caramoor. Her private coaching studio includes established professionals whose careers take them to the largest opera houses of the world, and younger singers still on the verge of a professional career. Her master class topics, while related to her main study field of bel canto, explore the wider application of the bel canto way of singing. rachellejonck.com

Photo: Lisa-Marie Mazzucco

Bel Canto Boot Camp

BEL CANTO BOOT CAMP

Bel Canto Boot Camp was born during the pandemic when we reached out to singers around the world – singers who had no place and seemingly no reason to sing. To be honest, we needed to find a way to feed our own souls as well while we were cut off from music making – something we never even considered could possibly happen. We created The Vaccai Project – a unique online training course for singers. Just short of two thousand singers from America to South Africa, from Columbia to Russia practiced together for the day when stages would be open to them again and theaters would be filled with audiences. We discovered a beautiful new way to support singers – beautiful in its inclusivity, its expansion of the richness of the New York opera community to artists all over the world, the breaking of often prohibitive barriers of distance, cost, time and audition-only programs.

Now, as the world continues to emerge from Covid-19, Bel Canto Boot Camp strives to support artists in the physical world as we did (and continue to do) virtually. Our ability to work in person with singers is now supported by an online platform allowing us to stay in contact when we cannot be there physically. Additionally BCBC allows singers, teachers, and presenters to network effectively with each other in the ever growing BCBC community. belcantobootcamp.com
Event Sponsors
Principal Sponsor: V. Atkins Foundation

Additional support: Dr. Ralph Gibson, in memory of Andy Jacobyansky, who generously shared his passion, knowledge, and support for the opera 

Learning & Public Engagement programming is supported by The Patti Kenner Arts Education Fellowship, The Hearthland Foundation, Stephen Meringoff, Susan and Stephen Scherr, and funding from the Lewis B. and Dorothy Cullman Endowment Fund, and The Melville Straus Family Endowment.

Theater Programming supported in part by The Schaffner Family Foundation, Straus Family Foundation, Michael Balmuth, Blythe Danner, and funding from The Ellen and James S. Marcus Endowment for Musical Programming and The Melville Straus Family Endowment.
Become a Sponsor