STAGED READING
DESIRE CAUGHT BY THE TAIL Presented by the Pollock-Krasner House and Study Center and Guild Hall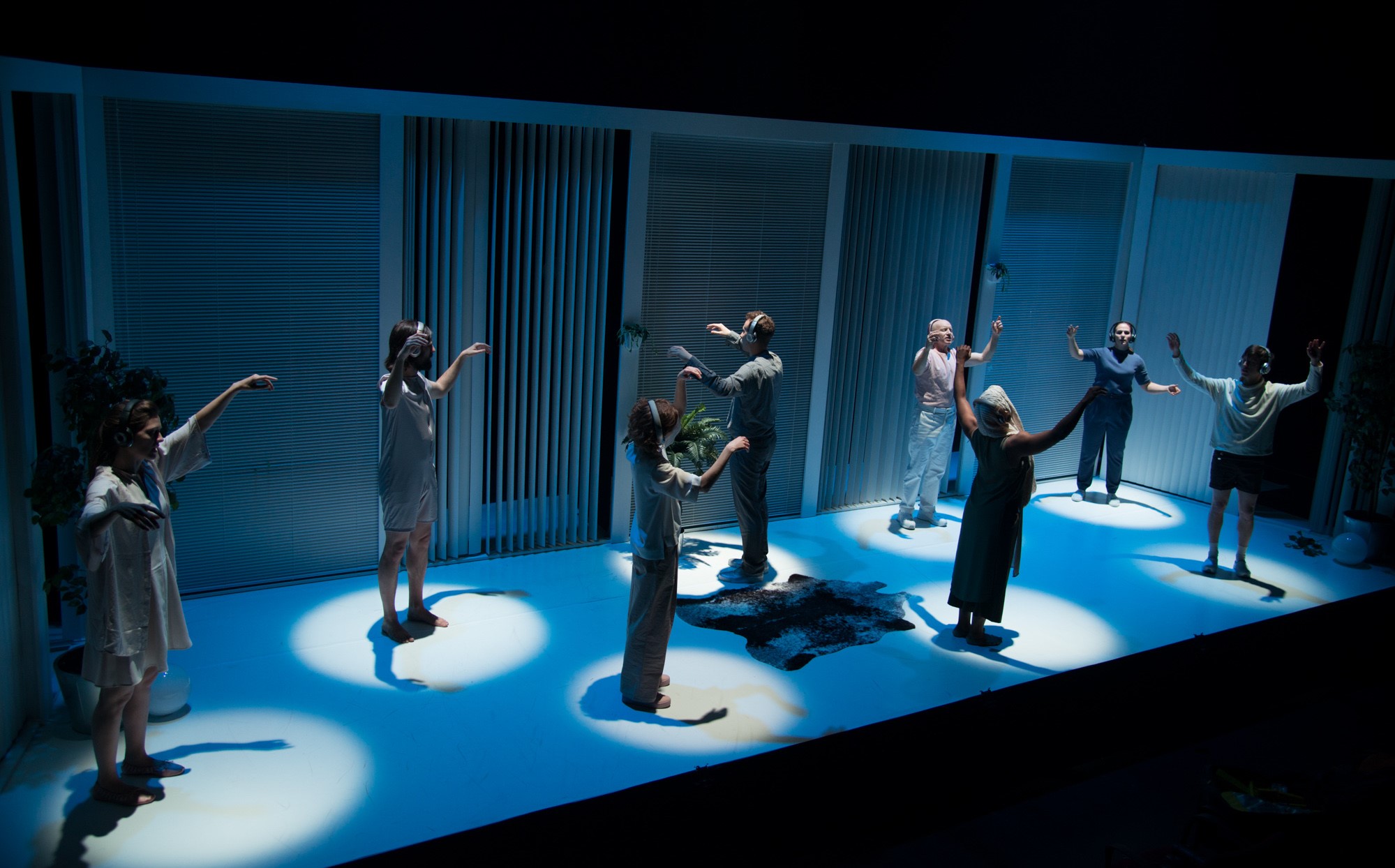 Overview
The Pollock-Krasner House and Study Center and Guild Hall present
A Staged Reading of
DESIRE CAUGHT BY THE TAIL
by Pablo Picasso
Directed by Scott Sheppard
Featuring members of Lightning Rod Special: Alex Bechtel, Melanye Finister, Fernando Gonzalez, Lee Minora, Matteo Scammell, Terran Scott, and Jacinta Yelland.
In the winter of 1941, soon after the Germans had occupied Paris, Picasso spent three days writing a play entitled Le Désir attrapé par la queue, which translates literally to "Desire caught by the tail." It was first presented at a reading in the Paris apartment of Michel Leiris in 1944. The parts were read by such local literati as Simone de Beauvoir, Jean-Paul Sartre, Valentine Hugo, Raymond Queneau, and Picasso himself. Albert Camus directed.
While the narrative is nonlinear and the meaning nearly impossible to decipher, the work has been praised despite (and sometimes for) its lack of message. According to legend, when Picasso showed it to Gertrude Stein, she advised him to go back to painting. Described as "surrealistic" and "simply weird," this short play is rarely produced due to sheer incomprehensibility.
In 1984 a production by the Eye and Ear Theater, directed by Taylor Mead, was presented at the John Drew Theater in conjunction with the Guild Hall exhibition, "Artists in the Theater." Now, in homage to this 1984 presentation and in continued celebration of Guild Hall's 90th Anniversary, we revisit this aesthetic curiosity – presented as a one hour staged reading at the John Drew Theater in partnership with The Pollock-Krasner House and Study Center as an element of their current exhibition Picasso in Pollock.
Directed by Scott R. Sheppard – an OBIE-Award winning theater artist, Co-Director of the Philadelphia-based performance ensemble Lightning Rod Special, and alumnus of Guild Hall's Artist In Residence Program – who will bring members of his gifted ensemble out to be in residence again at Guild Hall, where they will revisit and recreate the strange poetry and magic of the play for this live, one-time-only, ephemeral matinee. A must-see for all theatrical adventurers and students of the curious and the odd!
The eAT Coffee Bar will be open for drinks and refreshments!
---
Guests attending programs indoors in the John Drew Theater must show proof of full vaccination. Click HERE for full  COVID-19 protocol for guests.
Pollock-Krasner House and Study Center

Jackson Pollock (1912-1956) is regarded as the undisputed leader of the Abstract Expressionist movement. In 1945, Pollock married fellow artist Lee Krasner (1908-1984) and moved from New York City to Long Island's East End. With a loan from art dealer Peggy Guggenheim, they purchased a small homestead on one and a quarter acres overlooking Accabonac Creek in The Springs, near East Hampton.

The property is a  National Historic Landmark, a federal designation that recognizes its significance as one of the nation's most important cultural monuments. It is also a member of the Historic Artists' Homes and Studios program.

Lightning Rod Special

Lightning Rod Special is a Philadelphia-based performance company that creates raucous and contemplative works of original theater to ask questions of ourselves, the audience, and the world at large. Creators of Best of 2019 (NyMag, Time Out NY, NYTimes) The Appointment and Obie Award-winning Underground Railroad Game, Lightning Rod Special makes live performance from the ground up.

Scott R. Sheppard

Scott R. Sheppard is an Obie award-winning theater artist and a Founding Co-Director of the Philadelphia-based theater company Lightning Rod Special (2019 Barrymore Award for Evolving Theatre Company). Recent credits: Writer of Blood Meal for Theater in Quarantine (NY Times Critics' Pick); Lead Writer/Performer in Lightning Rod Special's The Appointment at New York Theatre Workshop's Next Door Series (Best of 2019 Time Out NY, NY Mag, NY Times Critics' Pick). He was also the co-creator and performer of Underground Railroad Game, which he toured to 10 cities in 5 countries earning an Edinburgh Fringe First Award, Edinburgh Stage Award and was named by the NYTimes as one of the 25 Best Plays of the past 25 Years. Scott graduated from Pig Iron's School for Advanced Performance Training and has collaborated on several works with Pig Iron. Scott was an Independence Foundation Fellow, a Guild Hall Resident Artist, a Bric Lab Resident, and is currently a member of Page 73's Interstate 73 Writer's Group.

Alex Bechtel

Alex Bechtel is a composer, actor, sound designer, writer, director, and multi-instrumentalist. He is the recipient of an Independence Fellowship in the Arts and three Barrymore Awards: Outstanding Original Music, Leading Actor in a Musical, and Music Direction. Bechtel is the composer of The Appointment, The West, Philadelphia Nocturne, Cheer Up Dostoevsky, and Penelope. You can listen to his music on Spotify and Apple Music. See and hear more at alexbechtel.com

Melanye Finister

Melanye Finister is a 30 year member of the Philadelphia theater community. In 1991 she joined the resident acting company at People's Light & Theatre where she appeared in over 30 productions. Some recent favorites include Shakespeare In Love, Our Town, Skeleton Crew (2018 Barrymore Outstanding Lead Performance), All My Sons and Fences. In 2018 Melanye joined the Hothouse company at the Wilma Theater where she appeared in Don Juan Comes Home From Iraq, When the Rain Stops Falling, Dionysus Was Such A Nice Man, There, and Is God Is.  Melanye holds a BFA from Carnegie Mellon University. She is a 2018 Lunt-Fontanne Fellow and a Board Member for New Normal Rep.

Fernando Gonzalez

Fernando Gonzalez is a Brooklyn-based actor/deviser, science enthusiast, ne'er-do-well, rascal, scamp, and synonym fan! Credits include: "Skinnamarink" (Next Door/New York Theatre Workshop), "Minor Character" (UTR/The Public Theater), "Red Emma & the Mad Monk" (The Tank), "Play On!" (Classic Stage Company), "Omega Kids" (NLTP), sundry works at Soho Rep, MCC, The Drama League, & New Dramatists, along with a smattering of audio & web projects. He also translated & adapted "Bohemian Lights" for Live Source's production at HERE Arts Center. BFA from NYU Tisch/Playwrights Horizons. Follow him @uniqueid... if you've a strong stomach for puns. fernando-gonzalez.com

Lee Minora

Lee Minora is a writer, performer, and theater-maker living in Philadelphia. Her 4th-wall-smashing solo shows, Cheeks and White Feminist, have been presented at Ars Nova, The Wilma Theater, Edinburgh Fringe, London's Sick of the Fringe, Philly Fringe, Z-Space, Good Good Comedy and UMS's No Saftey Net. As a creator/performer she has worked with The Berserker Residents, It's So Learning, Applied Mechanics Vainglorious, Theater in Quarantine, Blood Meal (New York Times Critics Pick) and Lightning Rod Special, The Appointment (Best of Theater 2019: New York Times,Time Out New York and New York Magazine). As an actor she's been seen in over 20 productions. She is a Barrymore nominee, a Haas Finalist and the two time recipient of The Jilline Ringle Performance Grant. She is a performer and co-writer of Nosejob.

Matteo Scammell

Matteo Scammell is a multi-disciplinary, Barrymore award-winning artist based in Philadelphia. He is a current company member of The Wilma Theater's ensemble, HotHouse. Matteo is a 7 year company member of Obie Award-winning experimental theater company New Paradise Laboratories, contributing to 4 original works as a deviser/performer: 27, The Adults, O Monsters, Hello Blackout!. Matteo was co-writer, vocalist, and guitar player with Red 40 & The Last Groovement (Ars Nova, FringeArts). Other Credits: Pig Iron Theatre Company: Gentlemen Volunteers (performer); George & Co.'s Holden (co-creator/performer); Wilma Theater, Arden Theatre, PTC, Walnut St. Theater, Theatre Horizon, Theatre Exile, EgoPo. University of the Arts alumnus. Matteo is the recipient of the 2020 Independence Fellowship.

Terran Scott

Terran Scott is an actor, singer, and multidisciplinary creative based in New York City. Select credits include Sarah in Ragtime (Arden Theatre Company), Jonas Fogg/Johanna u/s in Sweeney Todd (Hangar Theatre), and various new musical workshops with MTF, NYSAF, and others. She is a lead actor, production designer, music coordinator, and creative collaborator on a new, queer, comedy web series, Big Egg (bigeggseries.com) and an ensemble member for SPEECH, a show in development with Lightning Rod Special. terranscott.com @vegeterran

Jacinta Yelland

Jacinta Yelland is an Australian theatre performer, creator and teacher based in Philadelphia. Jacinta has collaborated with companies across Australia and America including David Gordon, Quintessence Theatre Group, Philadelphia Asian Performing Artists, Philadelphia Artists' Collective, Tribe of Fools, Almanac Dance Circus Theatre, and Visual Expressions. She holds a Master of Fine Arts in Devised Performance from University of the Arts/Pig Iron Theatre Company, a Bachelor of Creative Industries: Drama from Queensland University of Technology, and was supported by Arts Queensland to study at École Philippe Gaulier, Paris. Jacinta is co-artistic director of inFLUX Theatre Collective, whose debut show, The Choice, won the Philly Fringies Award for Theatre at the 2021 Philadelphia Fringe Festival. Her projects have been supported by Australia Council for the Arts, Network of Ensemble Theaters, City of Philadelphia, and American Australian Association.
Event Sponsors
This reading of "Desire Caught by the Tail" is made possible by a grant from the New York State Council on the Arts, with the support of Governor Kathy Hochul and the New York State Legislature.

Theater Programming supported in part by Barbara Slifka, The Schaffner Family Foundation, Straus Family Foundation, Brown Harris Stevens, Michael Balmuth, Blythe Danner, Lang Insurance, and funding from The Ellen and James S. Marcus Endowment for Musical Programming and The Melville Straus Family Endowment.
Become a Sponsor