Christine Sciulli
Phosphene Dreams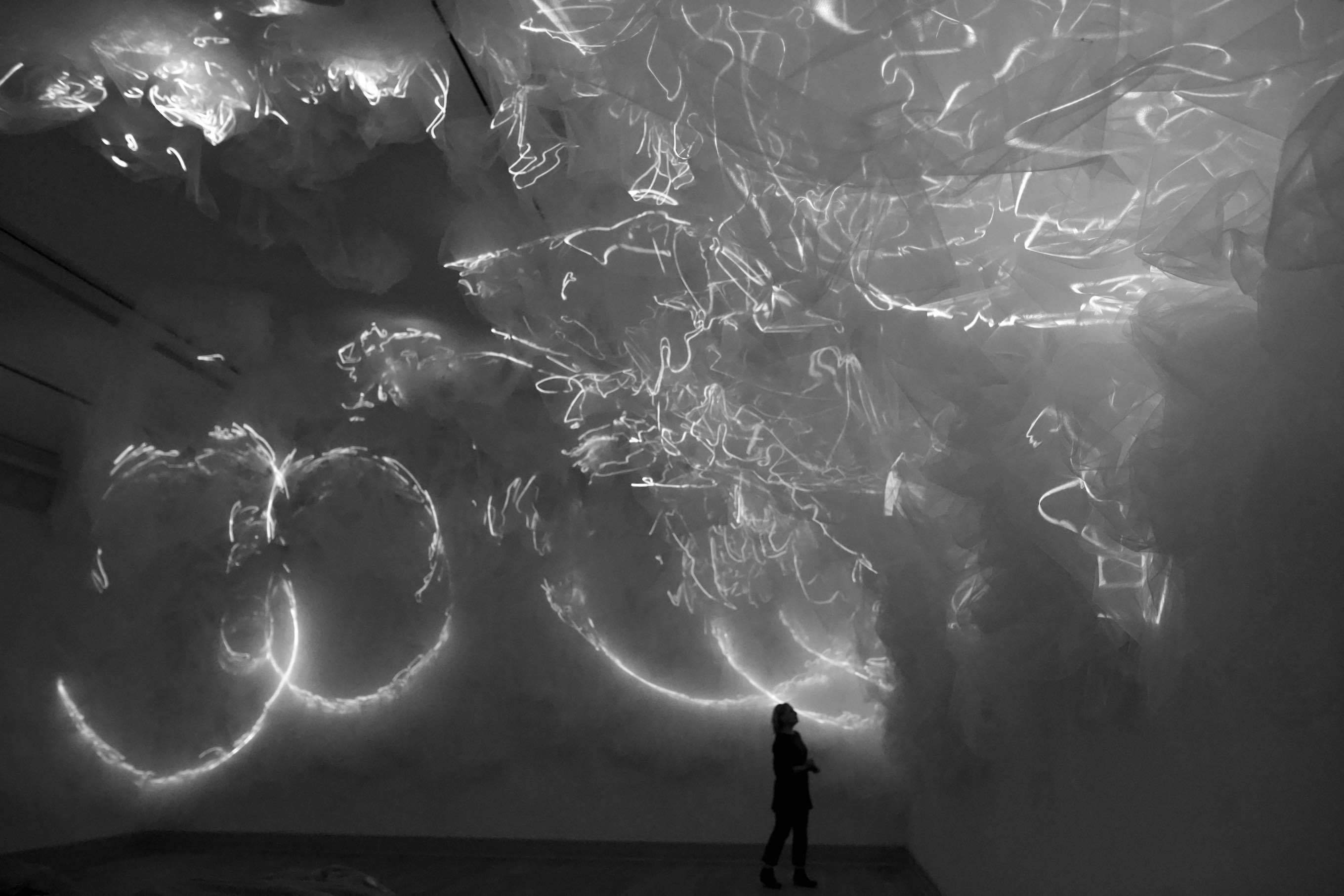 Overview
April 20–May 27
Private Member Reception: April 20, 5–7pm
Gallery Talk with Christine Sciulli: May 4, 2–4pm
Vocal Soundscapes with Jolie Parcher of Mandala Yoga: May 15, 6pm
Woodhouse Gallery
Christina Strassfield, Curator
Christine Sciulli's primary medium is light. Sciulli allows the architecture of a room to dictate the composition of her work and then transforms the space to that vision. In Phosphene Dreams, a site-specific installation in Guild Hall's Woodhouse Gallery, Sciulli will explore qualities of rigidity and fluidity by projecting light onto suspended fabric forms to create an illuminated and voluminous sculpture. Viewers are invited to be immersed in the environment and choose from a variety of perspectives and places to sit, linger, play, and interact with the work, as atmospheric shapes appear to grow and dissolve around the gallery.
Christine Sciulli

Christine Sciulli is a visual artist whose primary medium is projected light. Her projection installations have been shown in the US and abroad including the American Academy of Arts and Letters 2014 Invitational Exhibition, Guild Hall Museum, Shirley Fiterman Art Center, Parrish Art Museum, Islip Art Museum, South Fork Museum of Natural History, Edward Hopper House Art Center, and Cologne's MAKK (part of 2018 Collumina Light Festival), as well as in International light and music festivals (Responsive/Halifax Canada and Evi Lichtungen/Hildesheim Germany.)  In 2019 Sciulli mounted SUBSUME at the Herron Art Gallery; Phosphene Dreams at Guild Hall Museum; and was commissioned by Dalhousie Art Gallery and NSCAD to create the site-specific large scale work Breath of the Sea with funding from the Canada Council for the Arts. Sciulli took part in Warren Neidich's  2020 "Drive-By-Art" festival. Sciulli's solo show ROIL was shown at Brooklyn's Smack Mellon Gallery in early 2016. Her  site specific projection installation onto an old ice barn, Tomsens Ishus, on the coast of the Kattegat  Sea took place in 2013 in Denmark as part of  the Fjellerup i Bund og Grund festival curated by Anna Lise Jensen.  She is the recipient of awards from Illuminating Engineering , AIANY and the IALD, for her lighting design work on the Samsung Rodin Sculpture Pavilion, and a Lower Manhattan Cultural Council Grant for her public art project Intercepting Planes X . Sciulli was commissioned by the Global Poverty Project to create Expanding Circles, projected from above onto 2,500 people, for the 2013 Global Citizen Festival. Sciulli's theatrical credits include light-video artist for the Mabou Mines "Song for New York: What Women Do While Men Sit Knitting", directed by Ruth Maleczech. Sciulli produced a weekend of theater, panel discussion and installation events  for Jeffrey Colvin's "Present Tense: Black Lives Matter(ed)" which took place at Guild Hall's John Drew Backyard Theater, The Church Sag Harbor and Arts Center at Duck Creek. She has worked with Phantom Limb at Dartmouth College and Mass MoCA. Her video-electroacoustic collaborations with composer Doug Geers have been shown widely at European and American festivals. She holds MFA and BFA degrees from Hunter College and a Bachelor of Architectural Engineering from Penn State University. www.christinesciulli.net
Event Sponsors
All Museum Programming supported in part by Crozier Fine Arts, Hess Philanthropic Fund, The Lorenzo and Mary Woodhouse Trust, The Melville Straus Family Endowment, Vital Projects Fund, and public funds provided by New York State Council on the Arts with the support of Governor Andrew M. Cuomo and the New York State Legislature, and Suffolk County. Free admission is generously funded by BNB Bank and Landscape Details. Exhibition support provided in part by Linda and Gregory Fischbach and public funding provided by Suffolk County.
Corporate Sponsor: Available Light of New York.
Media Sponsor: Hamptons Art Hub.
Become a Sponsor