Gallery Talk with Christine Sciulli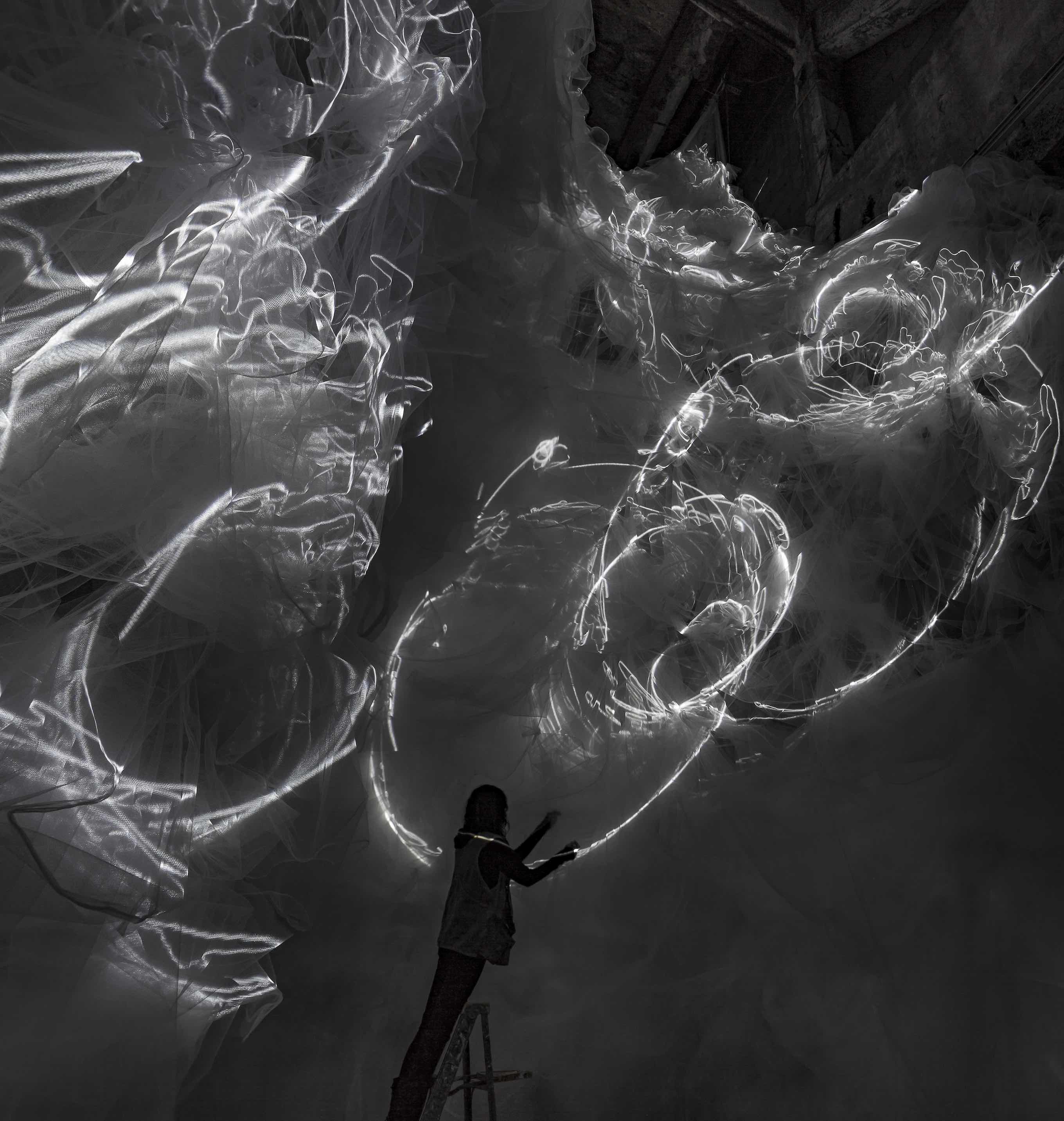 Overview
Christine Sciulli's primary medium is light. Sciulli allows the architecture of a room to dictate the composition of her work and then transforms the space to that vision. In Phosphene Dreams, a site-specific installation in Guild Hall's Woodhouse Gallery, Sciulli will explore qualities of rigidity and fluidity by projecting light onto suspended fabric forms to create an illuminated and voluminous sculpture. Viewers are invited to be immersed in the environment and choose from a variety of perspectives and places to sit, linger, play, and interact with the work, as atmospheric shapes appear to grow and dissolve around the gallery.
Christine Sciulli

Christine Sciulli has exhibited internationally for almost two decades. She was included in the American Academy of Arts and Letters 2014 Invitational Exhibition of Visual Arts. Her installations have been shown at the Parrish Art Museum, Water Mill, NY; Frederieke Taylor Gallery, New York; Edward Hopper House Museum & Study Art Center, Nyack, NY; Annmarie Sculpture Garden & Art Center, Dowell, MD; Shirley Fiterman Art Center, New York; Duke University, Durham, NC; Smack Mellon, Brooklyn; and the Southampton Art Center, Southampton, NY. She was awarded a Lower Manhattan Cultural Council Grant to produce an outdoor video installation in Tribeca's Duane Park, and was commissioned by the Global Poverty Project to create Expanding Circles, a projection onto 2,500 people attending the 2013 Global Citizen Festival in Central Park, New York. Most recently, her work was presented in a major site-specific installation at the Heilig Kreuz Church, Hildesheim, Germany as part of Evi Lichtungen, an international art biennial.
Event Sponsors
All Museum Programming supported in part by Crozier Fine Arts, Hess Philanthropic Fund, The Lorenzo and Mary Woodhouse Trust, The Melville Straus Family Endowment, Vital Projects Fund, and public funds provided by New York State Council on the Arts with the support of Governor Andrew M. Cuomo and the New York State Legislature, and Suffolk County. Free admission is generously funded by BNB Bank and Landscape Details. Exhibition support provided in part by Linda and Gregory Fischbach and public funding provided by Suffolk County.
Corporate Sponsor: Available Light of New York.
Media Sponsor: Hamptons Art Hub.
Become a Sponsor