Phosphene Dreams
Vocal Soundscapes with Jolie Parcher of Mandala Yoga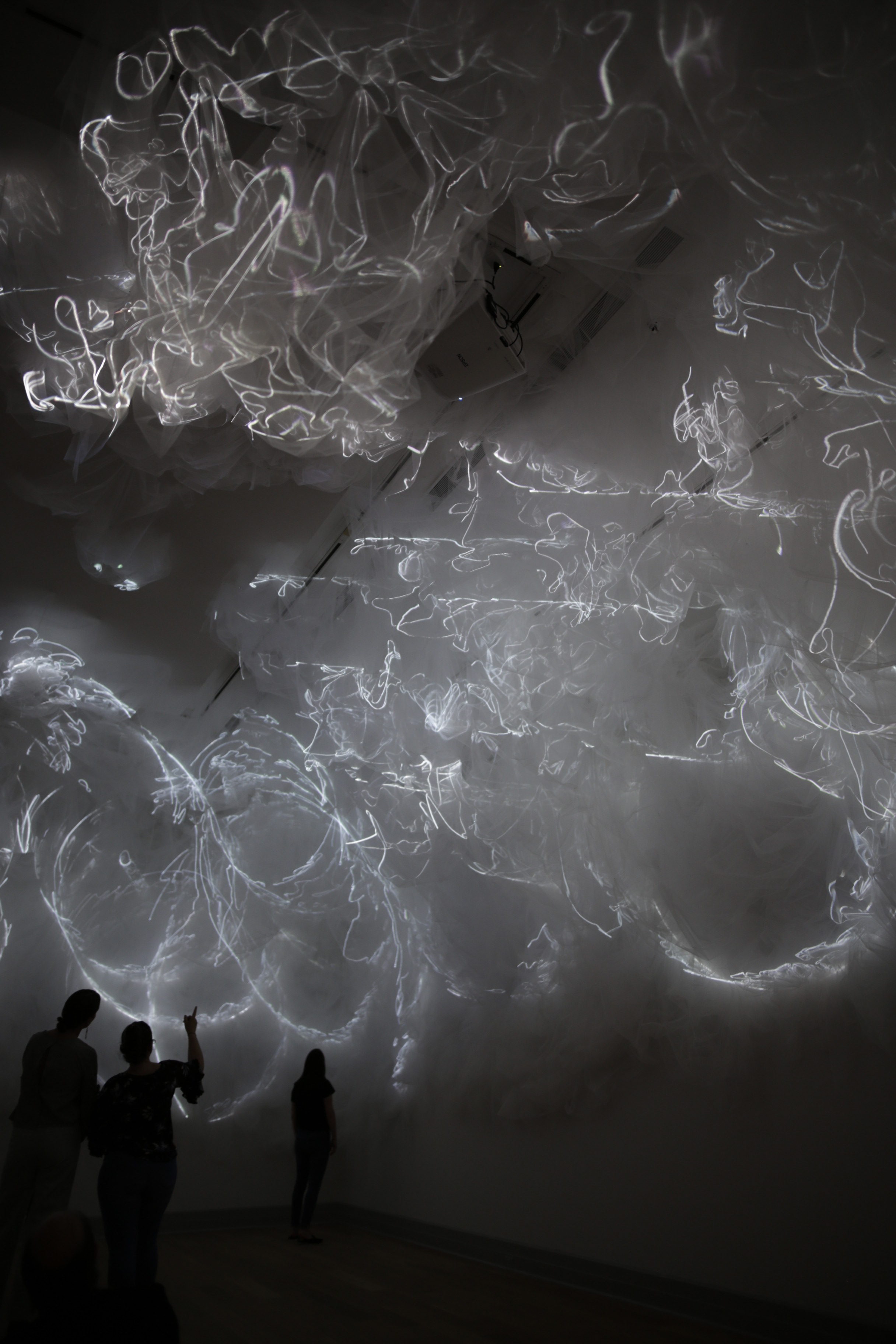 Overview
Join artist Christine Sciulli and yogi Jolie Parcher from Mandala Yoga for an experience of light and sound. Using breath as a pathway for sound within Sciulli's immersive projection work, Jolie will guide participants through vocalizations woven together to create a unique sound environment within Phosphene Dreams. 
Limited seating will be available. Please bring cushions to sit on the floor. 
Christine Sciulli

Christine Sciulli is a visual artist whose primary medium is projected light. Her projection installations have been shown in the US and abroad including the American Academy of Arts and Letters 2014 Invitational Exhibition, Guild Hall Museum, Shirley Fiterman Art Center, Parrish Art Museum, Islip Art Museum, South Fork Museum of Natural History, Edward Hopper House Art Center, and Cologne's MAKK (part of 2018 Collumina Light Festival), as well as in International light and music festivals (Responsive/Halifax Canada and Evi Lichtungen/Hildesheim Germany.)  In 2019 Sciulli mounted SUBSUME at the Herron Art Gallery; Phosphene Dreams at Guild Hall Museum; and was commissioned by Dalhousie Art Gallery and NSCAD to create the site-specific large scale work Breath of the Sea with funding from the Canada Council for the Arts. Sciulli took part in Warren Neidich's  2020 "Drive-By-Art" festival. Sciulli's solo show ROIL was shown at Brooklyn's Smack Mellon Gallery in early 2016. Her  site specific projection installation onto an old ice barn, Tomsens Ishus, on the coast of the Kattegat  Sea took place in 2013 in Denmark as part of  the Fjellerup i Bund og Grund festival curated by Anna Lise Jensen.  She is the recipient of awards from Illuminating Engineering , AIANY and the IALD, for her lighting design work on the Samsung Rodin Sculpture Pavilion, and a Lower Manhattan Cultural Council Grant for her public art project Intercepting Planes X . Sciulli was commissioned by the Global Poverty Project to create Expanding Circles, projected from above onto 2,500 people, for the 2013 Global Citizen Festival. Sciulli's theatrical credits include light-video artist for the Mabou Mines "Song for New York: What Women Do While Men Sit Knitting", directed by Ruth Maleczech. Sciulli produced a weekend of theater, panel discussion and installation events  for Jeffrey Colvin's "Present Tense: Black Lives Matter(ed)" which took place at Guild Hall's John Drew Backyard Theater, The Church Sag Harbor and Arts Center at Duck Creek. She has worked with Phantom Limb at Dartmouth College and Mass MoCA. Her video-electroacoustic collaborations with composer Doug Geers have been shown widely at European and American festivals. She holds MFA and BFA degrees from Hunter College and a Bachelor of Architectural Engineering from Penn State University. www.christinesciulli.net

Jolie Parcher

Jolie Parcher is the Founder and Director of Mandala Yoga Center for Healing Arts since 2001.  She is a certified yoga teacher from The Patanjali Yoga Center in Khatmandu, Nepal since 1990 where she first began chanting in the yogic and hindu traditions. Jolie is also an Ayurvedic Practitioner, body worker and aromatherapist. She created Mandala Yoga as a space to practice and learn the full yoga experience and a variety of other healing modalities.  At Mandala community joins together for classes, kirtan chanting, reiki training, spiritual book clubs, ayurvedic lunches, philosophy studies and so much more.  Her personal yoga classes incorporate sanskrit chanting, essential oils and guidance from Ayurvedic daily wisdom into a more traditional vinyasa flow. As a student of the classic Ashtanga system she returns to that particular sequencing to shape her classes. It's a practice that celebrates a vibrant life both on and off the mat.
Event Sponsors
All Education Programming supported by The Patti Kenner Arts Education Fellowship, with additional funding by an anonymous donor, Kate W. Cassidy Foundation, Lewis B. and Dorothy Cullman Endowment Fund, and The Melville Straus Family Endowment. All Museum Programming supported in part by Crozier Fine Arts, Hess Philanthropic Fund, The Lorenzo and Mary Woodhouse Trust, The Melville Straus Family Endowment, Vital Projects Fund, and public funds provided by New York State Council on the Arts with the support of Governor Andrew M. Cuomo and the New York State Legislature, and Suffolk County. Free admission is generously funded by BNB Bank and Landscape Details. Exhibition support provided in part by Linda and Gregory Fischbach and public funding provided by Suffolk County.
Corporate Sponsor: Available Light of New York.
Media Sponsor: Hamptons Art Hub.
Become a Sponsor