Education & Art in the Garden - Aurelio Torres: Valparaíso, 2021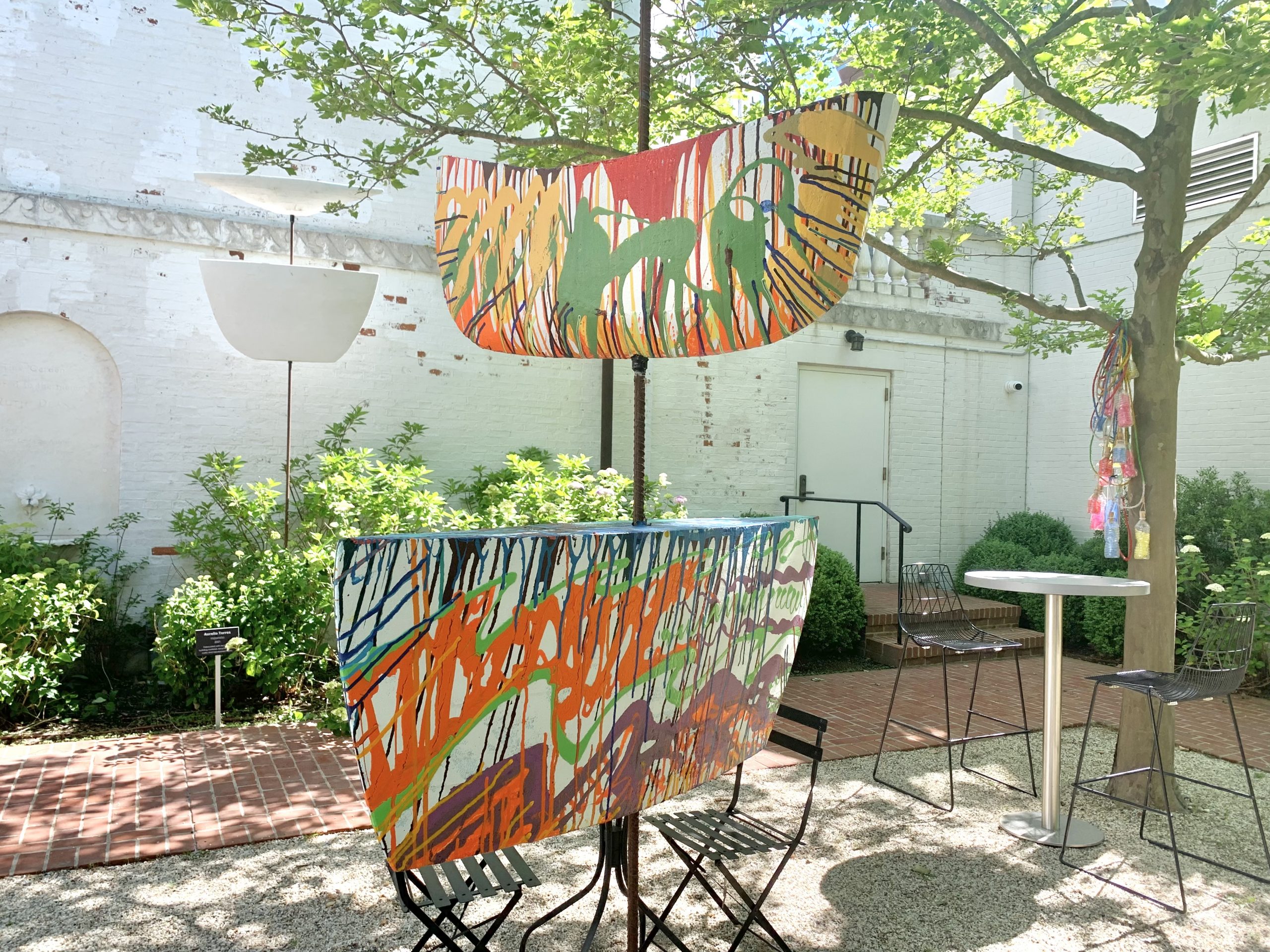 Overview
A Guild Hall Education Initiative
Valparaíso by Aurelio Torres is on view in the Minikes Garden, June 13–July 5, during Museum hours.
For the first Guild Hall After Hours immersive event, Artist, Aurelio Torres, brought us a new participatory installation allowing visitors to contribute in the creation of one of his largescale sculptures. The sculpture, Valparaíso, is reflective of Aurelio's larger body of work which references ships, sailboats, and other maritime symbols. Chosen as a complement to the exhibition within the museum galleries, Alexis Rockman: Shipwrecks, Aurelio's piece is made up of 4 main 'totems' or 'masts' with attached abstract hull-shaped elements consisting of repurposed building materials. The sculpture was located at the front of Guild Hall during the After Hours event on June 12, where patrons were invited to contribute by creating and attaching a message-in-a-bottle. The bottles consisted of recycled water bottles, wine corks, and a piece of brightly colored fabric. Visitors were prompted to write or illustrate a response to the question: If you could tell the plastics industry something what would it be? The assembled bottle was then attached with twine to the rope system of the sculpture.
The sculpture will be on view in Guild Hall's Minikes Garden, just off of Dunemere Lane, from June 13–July 5 during Museum hours. Enjoy refreshments from our newly expanded eAT Coffee Bar while you sit and view the installation.
Aurelio Torres

Born in Montevideo, Uruguay, to a family of artists, Aurelio Torres was raised in New York City. His father, Horacio Torres, was an accomplished classically trained artist who died when Aurelio was a young teen in New York. His artistic training was in Barcelona, Spain, where he studied for several years with his uncle, Augusto Torres, another classically trained painter in the family and his father's eldest brother. Aurelio's grandfather, was the acclaimed Modernist, Joaquin Torres-Garcia. 

Aurelio's work infuses the aesthetic principles of classicism within contemporary settings. His painting typically depicts scenes from nature or portraits, and his sculptures most often interpret the simple, clean lines of wooden ships. 

From a young age, Aurelio has travelled extensively around the world. This has inspired his determination to create much of his work in natural, outdoor settings. His aesthetic sensibility, as evidenced in his work, is one of essential simplicity and natural, uncontrived beauty. 

He currently works and resides in East Hampton, New York. 

 
Event Sponsors
Education Programming supported by The Patti Kenner Arts Education Fellowship, Lucy and Steven Cookson, The Hearthland Foundation, the Helen Frankenthaler Foundation, Milton and Sally Avery Arts Foundation, Susan and Stephen Scherr, and funding from the Lewis B. and Dorothy Cullman Endowment Fund, and The Melville Straus Family Endowment. Guild Hall's Museum programs are made possible by the New York State Council on the Arts with the support of Governor Andrew M. Cuomo and the New York State Legislature, the Helen Frankenthaler Foundation, an anonymous donor, Crozier Fine Arts, and funding from The Michael Lynne Museum Endowment, and The Melville Straus Family Endowment.
Become a Sponsor