Alexis Rockman
Shipwrecks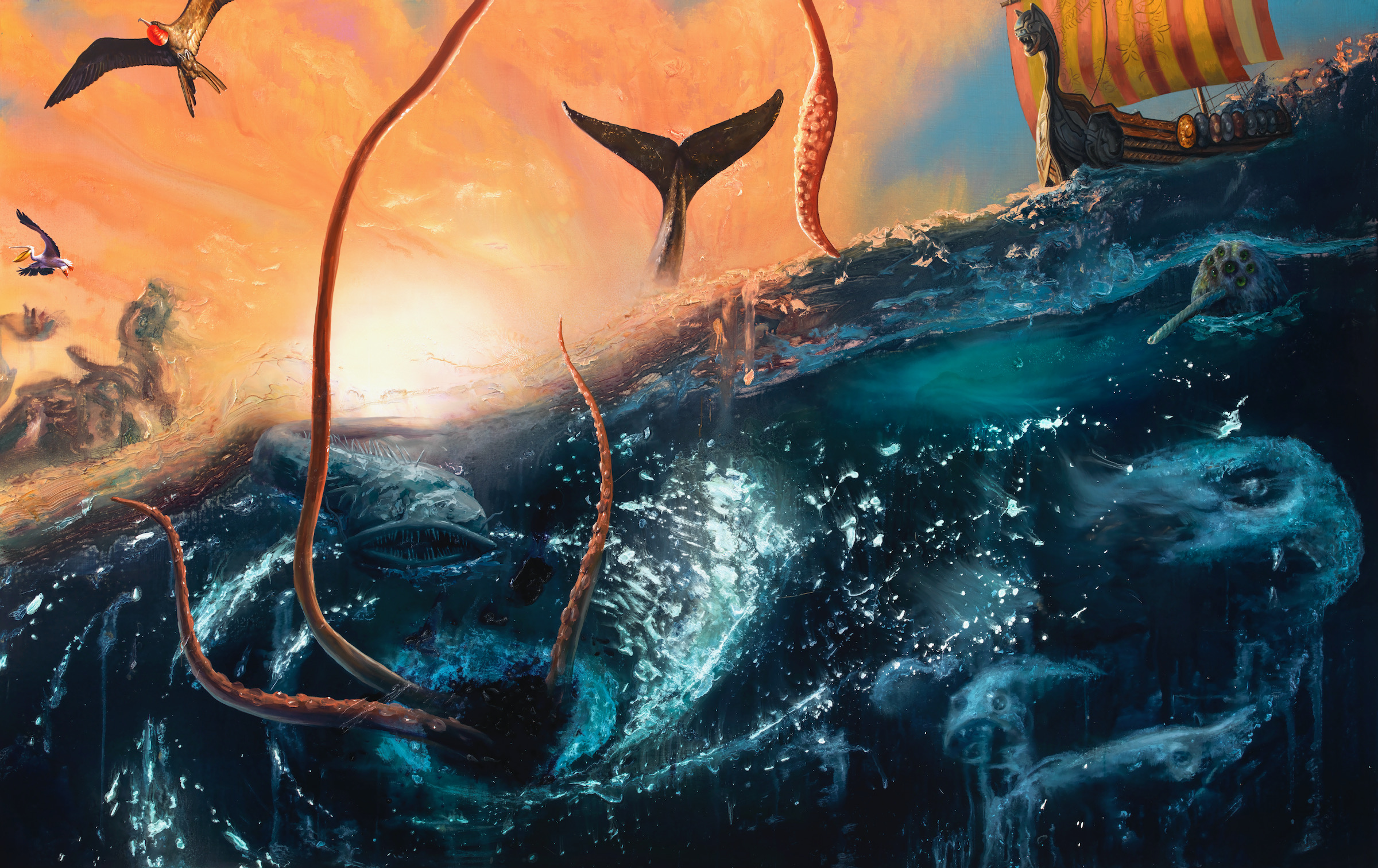 Overview
Guild Hall is proud to present Alexis Rockman: Shipwrecks. This exhibition of new paintings and works on paper by American artist Alexis Rockman looks at the world's waterways as a network by which all of history has traveled. The transport of language, culture, art, architecture, cuisine, religion, disease, and warfare can be traced along the routes of seafaring vessels dating back to and in some cases predating the earliest recorded civilizations. Through depictions of historic and imagined shipwrecks and their lost cargoes, Alexis Rockman addresses the impact—both factual and extrapolated—that the migration of material culture, people, plants, and animals has on the planet. The artist's virtuosity with paint and his appreciation for the marine landscape genre connect this body of work to maritime art history and its abundant sociological themes. This timely exhibition is propelled by impending climate disaster and the current largest human migration in history, which is taking place in part by water.
An excellent platform for the discussion of the 2020 global pandemic, Alexis Rockman: Shipwrecks examines the long history leading up to globalization, including the exploitation of humans, animals, and natural resources, and the ways in which all parts of the planet are now inextricably connected.
Inclusive of non-Western depictions of waterborne vessels and journeys, Alexis Rockman: Shipwrecks departs from traditional euro-centric maritime images associated with the Age of Exploration and embraces other periods and global regions that contributed to the history of seafaring.
Curator
Andrea Grover, Executive Director of Guild Hall
March 6 to May 31, 2021: Peabody Essex Museum, Salem, MA
June 12 to July 26, 2021: Guild Hall, East Hampton, NY
Per CDC and state guidelines, people who are not fully vaccinated must continue to wear face coverings while indoors.
Alexis Rockman

Born in 1962 in New York, where he lives and works, Alexis Rockman has depicted an uneasy vision of the collision between civilization and nature – often apocalyptic scenarios on a monumental scale – for over three decades. Notable solo museum exhibitions include Alexis Rockman: Manifest Destiny at the Brooklyn Museum (2004), which traveled to several institutions including the Wexner Center for the Arts (2004) and the Rhode Island School of Design (2005). In 2010, the Smithsonian American Art Museum organized Alexis Rockman: A Fable for Tomorrow, a major touring survey of his paintings and works on paper. Concurrent with Rockman's 2013 exhibition at Sperone Westwater, the Drawing Center mounted Drawings from Life of Pi, featuring the artist's collaboration with Ang Lee on the award-winning film Life of Pi. His series of 76 New Mexico Field Drawings was included in Future Shock at SITE Santa Fe (2017-18). Alexis Rockman: The Great Lakes Cycle, a major touring exhibition of large-scale paintings and watercolors, as well as Field Drawings, of the Great Lakes was organized by the Grand Rapids Art Museum and opened in January of 2018. It is currently on view at the Haggerty Museum of Art at Marquette University until May 19th, 2019. Its tour to other institutions in the Great Lakes region includes the Museum of Contemporary Art, Cleveland; The Chicago Cultural Center; The Weisman Art Museum and the Flint Institute of Arts. Rockman's work is represented in the collections of the Baltimore Museum of Art; Brooklyn Museum; Grand Rapids Art Museum; Los Angeles County Museum of Art; Museum of Fine Arts, Boston; New Orleans Museum of Art; San Francisco Museum of Modern Art; Smithsonian American Art Museum; Solomon R. Guggenheim Museum; and Whitney Museum of American Art.
Event Sponsors
Lead Sponsor: Angela Westwater, Sperone Westwater
Co-Lead Sponsors: Robert Lehman Foundation, Fiona and Eric Rudin, and The James Dicke Family
Additional support: Philip Aarons and Shelley Fox Aarons, James E. Cottrell and Joseph F. Lovett, and Hall Art Foundation  Guild Hall's museum programs are made possible by the New York State Council on the Arts with the support of Governor Andrew M. Cuomo and the New York State Legislature, the Helen Frankenthaler Foundation, an anonymous donor, Peggy J. Amster, Crozier Fine Arts, and funding from The Michael Lynne Museum Endowment, and The Melville Straus Family Endowment.

Free admission is generously funded by

Dime

Community

Bank

and Landscape Details
Become a Sponsor