Artist Talk
The Tile Club, Then and Now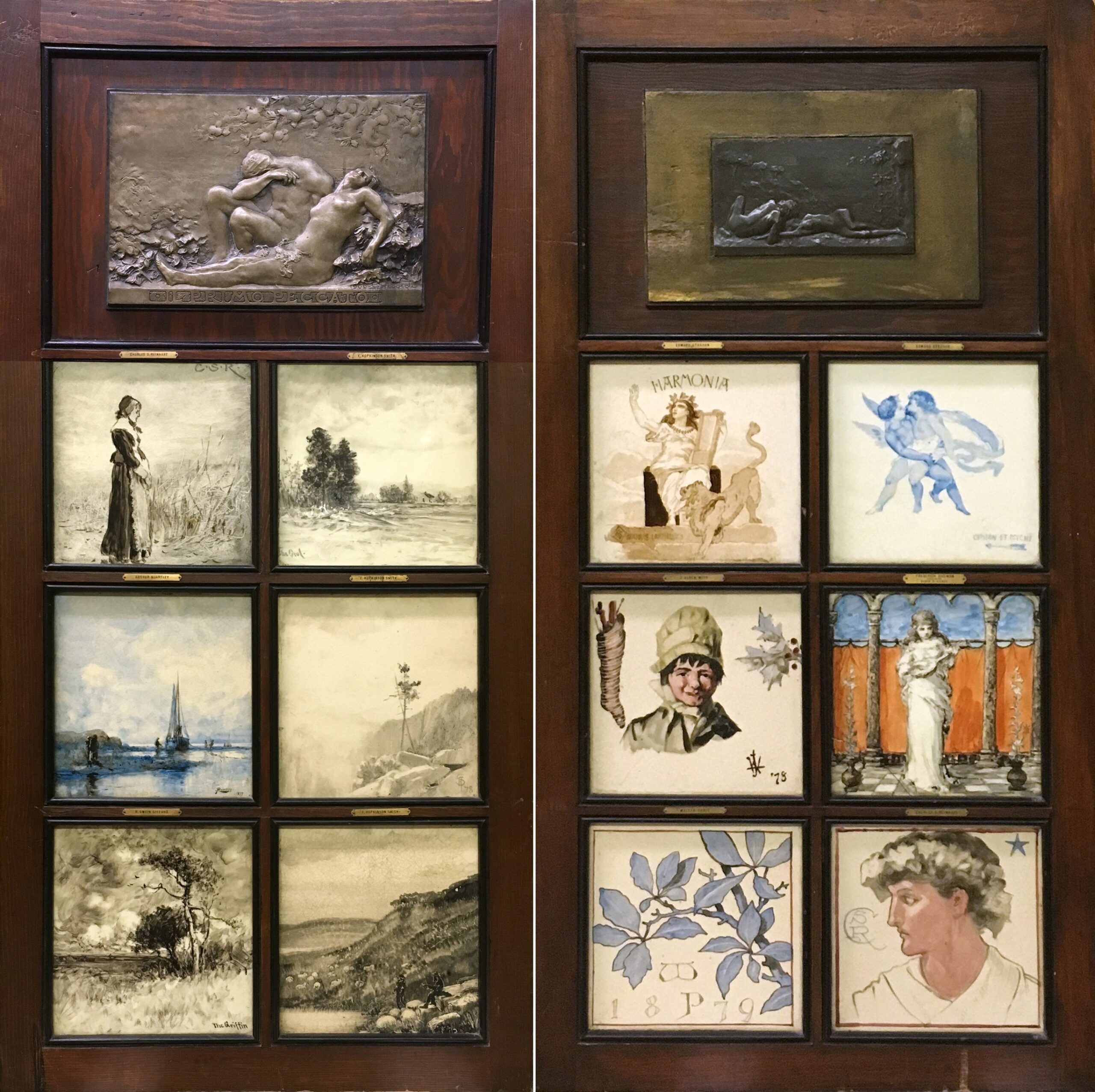 Overview
Featuring Richard Barons, Chief Curator of the East Hampton Historical Society; Scott Bluedorn, Artist, Illustrator and Designer; and Christina Mossaides Strassfield, Guild Hall Museum Director/Chief Curator
Guild Hall is pleased to present an evening Artist Talk: The Tile Club: Then and Now with Richard Barons, Chief Curator of the East Hampton Historical Society; Scott Bluedorn, Artist, Illustrator and Designer; and Christina Mossaides Strassfield, Guild Hall Museum Director/Chief Curator. The talk will include insights into the history of the original Tile Club founded in 1872 as well as a discussion of the contemporary re-imagination of this club, The Neo-Tile Club, conceived by Scott Bluedorn for his 2021 Guild Hall Community Artist-In-Residence project.
The galleries and eAT Coffee Bar will be open before and after the talk.  Visitors can view the Museum exhibition, 90 Years: Selections from the Permanent Collection, which includes 12 tiles from the original Tile Club of the 1870s, and also the 2021 Neo-Tile Club: Community Exhibition installed in our Education Corridor.
---
Fitted face masks are required for all guests over the age of 2 indoors regardless of vaccination status, except when eating or drinking. Click HERE for full COVID-19 protocol.
Richard Barons

Richard Barons is an author and historian who lives in Spring with his wife Rosanne.  He retired from the East Hampton Historical Society as Ex. Director after 12 years, and is now their Chief Curator.  He is presently at work on a book dealing with the story of the beginnings of historic preservation in East Hampton Town.

Scott Bluedorn

Artist, illustrator and designer Scott Bluedorn works in various media, including painting, drawing, print process, collage and found object assemblage. Drawing inspiration from cultural anthropology, primitivism, and nautical tradition, Bluedorn distills imagery that speaks to the collective unconscious, especially through myth and visual story-telling - a world he conjures as "maritime cosmology". 

Born Southampton, NY 1986

Lives and works in East Hampton, NY 
BFA School of Visual Arts, NYC 2009 

 

Christina Mossaides Strassfield

Christina Mossaides Strassfield is the Museum Director/Chief Curator of Guild Hall Museum in East Hampton, New York. This title was given to her in January 2009.  She had been the Curator at Guild Hall Museum from 1990-1996 and returned in 2002.  One of her standout achievements while overseeing the artistic leadership and overall management of the Museum has been the exemplary Museum Exhibition schedule which she has either curated herself or directly oversaw as program manager. During her tenure she has transformed what was once a small sleepy museum into a vital Mecca for the visual arts which has been recognized by reviews in The New York Times, Art in America, Art News, New York Magazine, The New York Sun, Newsday and many other publications. The mission statement of the museum is to showcase the artists who have an affiliation with Eastern Suffolk County. Close proximity to NYC has made the Hampton's the summer home for most of the New York Art world. This has allowed Strassfield to forge close relationships with the artist's, dealers and collectors who shape the New York Art World.  She has been instrumental in coordinating exhibitions which have received acclaim from art critics as well as the general public. At Guild Hall she is charge of curating the collection of over 2500 objects, works of art by artists associated with the Eastern Long Island including acquisitions and collections care. Strassfield launched the Guild Hall Collector's Circle and has cultivated many gifts for the collection, oversees the acquisitions and loan process, and guides the Museum Committee on collections in addition to organizing the traveling exhibition of works from the collection which has traveled cross-country since 2007 and continues to be booked.  In 2009 she Co-Chaired a Symposium at Hofstra University on the artist Perle Fine. In 2010 she was appointed Professor at Dowling College where in 2011 the Museum Studies Minor was launched under her leadership.  She currently teaches as an Adjunct Professor at the State University of New York, Suffolk Community College, Eastern Campus.

She is in charge of all aspects of administrating Guild Hall Museum and all exhibition related work. Management responsibilities for the museum include budgeting, fundraising, grant writing, major gift cultivation, marketing, publicity, research, conservation, education, exhibition design, AAM Museum accreditation as well as disaster, long range and strategic planning.  She has been published in catalogues, articles and has participated in symposiums, scholarly talks and on numerous panels.  She has appeared on News 12, NPR on WLIW, Plum TV, Cablevision, and LTV and on the radio.  She continues to be involved in the arts and has served on the art board of the LongHouse Foundation and has been on the executive board of the Long Island Museum Association and is a member of the prestigious ARTTable which recognizes leadership roles by women in the Arts.  

Her community involvement includes being elected to two 5 years terms on the Southampton School Board where she co-chaired the Budget Committee that oversaw the school districts then 62 million dollar budget.  She also served on the Finance and Audit, Academic Advisory and Academic Enrichment Committees.  Since 2019 she has served on NYFA's Nominating Committee.

She has also served on her church's Parish council and was the President of their Philanthropic Society.
Event Sponsors
Education Programming is supported by The Patti Kenner Arts Education Fellowship, Lucy and Steven Cookson, The Hearthland Foundation, Stephen Meringoff, Milton and Sally Avery Arts Foundation, Susan and Stephen Scherr, and funding from the Lewis B. and Dorothy Cullman Endowment Fund, and The Melville Straus Family Endowment. Guild House Artist-in-Residence/Community Artist-in-Residence:
Principal Sponsors: Lucy and Steven Cookson, and The Hearthland Foundation
Lead Sponsors: Bobbie Braun-The Neuwirth Foundation, Christina and Alan MacDonald, and Lynn and Bruce Surry
Co-Sponsors: Diamonstein-Spielvogel Foundation/Barbaralee Diamonstein-Spielvogel, and Judith Hope
Additional Support: Nina Gillman and Mary Heilmann
Become a Sponsor