2018 Academy of the Arts Benefit Dinner
Ticket sales are now closed. Please join us next year.
Buy Tickets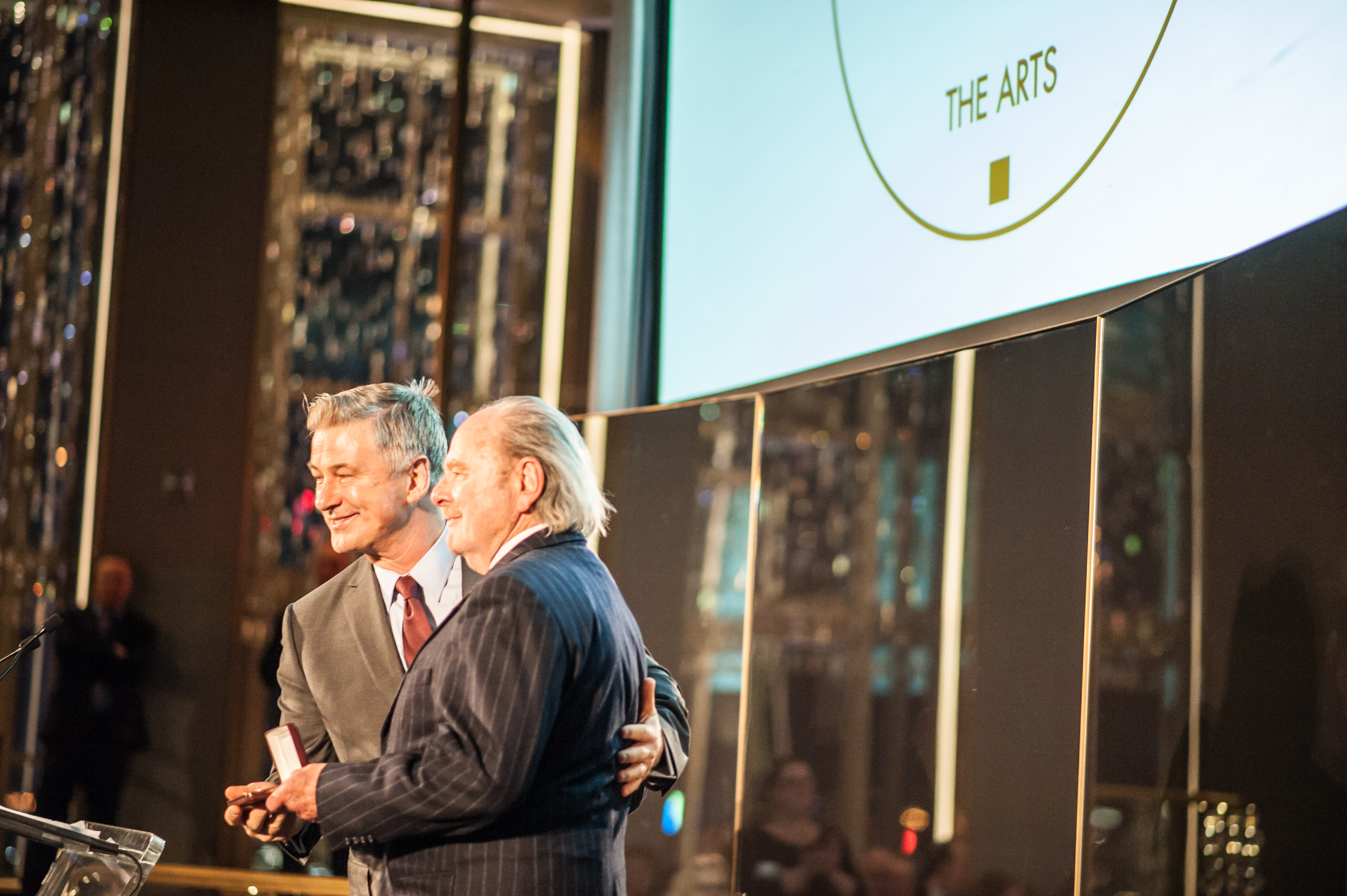 Overview
Guild Hall congratulates our latest Lifetime Achievement Award winners: Audrey Flack, Visual Arts, presented by David Brigham; Gail Sheehy, Literary Arts, presented by Tom Wolfe; Harris Yulin, Performing Arts, presented by Alec Baldwin; and Sheri Sandler, Special Award, presented by Andrea Grover.  The evening co-hosts are Eric Fischl and Iris Smyles.  Special performances by G.E. Smith and Audrey Flack and the History of Art Band.
For ticket and journal ad questions, information, or phone purchases, please contact the Special Events Department at 631-324-0806, ext. 13 or 21.
Audrey Flack

Artist

Audrey Flack is an internationally recognized painter and sculptor and a pioneer of Photorealism. As the only woman in the ground-breaking group, Flack enjoys the distinction of being the first Photorealist painter whose work was purchased by the Museum of Modern Art for its permanent collection. Her work is in the collections of The Metropolitan Museum of Art, the Solomon R. Guggenheim Museum, the Whitney Museum of American Art, the National Museum of Women in the Arts, and the Canberra Museum, Australia, etc. Additionally, she is the first woman artist, along with Mary Cassatt, to be included in Janson's History of Art text.  Audrey Flack graduated from Cooper Union and was awarded a scholarship to study under Josef Albers at Yale. She is a Professor of drawing and anatomy and has taught and lectured extensively both nationally and internationally. She has received several honorary doctorates, written several books, and is a banjo player in Audrey Flack & the History of Art Band. Among her public commissions are Civitas, A Monumental Gateway to the City of Rock Hill in South Carolina, consisting of four, twenty-foot high bronze female figures on granite pedestals; Veritas et Justitia, a fifteen-foot high figure of Justice for the Thirteenth Judicial Courthouse in Tampa, Florida; Islandia, "Justice" for the Howard Baker Courthouse in Knoxville, and a nine-foot high bronze sculpture for the New York City Technical College in Brooklyn, New York.

Sheri Sandler

Sheri Sandler founded the Reba Judith Sandler Foundation in 1997 to honor the memory of her mother. The foundation initially focused on small community based organizations providing services to women and girls in the areas of safety and economic independence. Over the last 30 years, the foundation has grown to include grantees engaged in a wide range of social justice issues and the arts. Sheri founded the American Friends of the JCC in Krakow and has served on numerous boards including The New York Women's Foundation, The Sister Fund and Goddard Riverside Community Center. She is currently on the board of the Ackerman Institute for Family Therapy, Legal Information for Families Today, Amagansett Food Institute, Broadway Housing Communities and Sugar Hill Children's Museum of Art and Storytelling. Sheri has organized several collaborative efforts for seemingly disparate nonprofits to work together. She believes strongly that joint programs serve to deepen focus and broaden mission while increasing support. Most recently she planted the seed and supported Aperture Foundation's "Prison Nation" publication and exhibition, bringing attention to the powerful role photography can play in creating awareness of the impact of incarceration on individuals, families and our nation. At Guild Hall, Sheri initiated and hosted a screening and discussion of The Hunting Ground, a film about sexual assault on college campuses with producer Amy Ziering.  She also organized and supported an evening with Gloria Steinem, a roundtable discussion with three young women from East Hampton High School that focused on the many difficulties faced by young women in our community.  The evening also included a performance by the Thunderbird Sisters who highlighted the richness of our community and shared history. Sheri is an Alumna of the Business School at the University of Wisconsin in Madison and attended the MA Program in the History of Decorative Arts and Design at the Cooper-Hewitt National Museum where she worked on numerous exhibitions.

Gail Sheehy

Author

Gail Sheehy is the author of seventeen books, including the classic New York Times bestseller Passages, named by the Library of Congress as one of the ten most influential books of our time. As a literary journalist, Sheehy was one of the original contributors to New York magazine and has been a contributing editor to Vanity Fair since 1984. She is a seven-time recipient of the New York Newswomen's Club Front Page Award for distinguished journalism and three-time winner or finalist for National Magazine Awards. A popular lecturer, she was named AARP's Caregiver Ambassador in 2009. In 2013, she was given a Lifetime Achievement Award by Books for a Better Life. As a journalist, Sheehy dared to blaze a trail in a "man's world," taking on assignments when she had no experience, traveling to war zones, often going undercover. She dared to suspend her tempestuous romance with Clay Felker, her mentor and editor at New York magazine, to devote herself to writing Passages. She invented psychological character portraits of national and world leaders—the Clintons, both Bushes, Margaret Thatcher, Mikhail Gorbachev, Saddam Hussein and more. Sheehy continued to break social taboos, writing bestselling books to support her life as a divorced single mother, waiting until middle age to remarry and start over in her Second Adulthood—a term she invented. Perhaps Sheehy herself describes best what compelled her to write a memoir: "After I wrote Passages, I spent the next four decades interviewing thousands of women and men, from teens in Harlem to Benazir Bhutto days before her assassination. Suddenly, woah!, I found myself thrust into the passage to my seventies. My husband was slowly dying. What did my life add up to?  The theme of my life only emerged after three years of excavation: DARING, but only as the antidote to my fears. Daring is what allowed me to outwit gender barriers. Daring is what enabled me to struggle for years as a single mother. And after the death of my beloved husband of 24 years, I dared to love again."  In 2017, Sheehy joined with top psychiatrists as co-authors of the New York Times bestseller: THE DANGEROUS CASE OF DONALD TRUMP: 27 Psychiatrists Assess a President. She is immersed in research for her 18th book, about millennials. "It's delightful to revisit the earliest stages of adulthood and follow the paths of the pathfinders of tomorrow's world."

Harris Yulin

After studying in Los Angeles with the splendid, black-listed actor Jeff Corey, Yulin spent 20 months living in Europe and Israel, dubbing films into English, and performing a night club show with William Burroughs at the Club Montparnasse in Paris.

He made his New York debut in 1963 in James Saunders' Next Time I'll Sing To You, with James Earl Jones and Estelle Parsons at the Phoenix Theatre. Many plays, Broadway, off-Broadway and elsewhere followed.

Recent appearances: Long Day's Journey into Night at the Court Theatre, Chicago; Death of a Salesman at the Gate Theatre, Dublin; Cat on a Hot Tin Roof at the Chautauqua Festival, and ever trying to get it right, his third try at Claudius in Hamlet at the Classic Stage Company in New York.

He has appeared in and presented many evenings at Guild Hall including the initial production after the renovation in 2009, The Glass Menagerie with Amy Irving, and last September Are You Now or Have You Ever Been.

His production of Horton Foote's The Trip to Bountiful with Lois Smith and Hallie Foote played an extended run at the Signature Theatre in New York, receiving four Lucille Lortel Awards (Outstanding Lead Actress, Outstanding Featured Actress, Outstanding Production, Outstanding Director), and subsequently moved to The Goodman Theatre, Chicago.

His first film was in 1968, an adaptation by Terry Southern of John Barth's End of The Road, directed by Adam Avakian with longtime friends James Earl Jones and Stacy Keach. Other fondly remembered but not necessarily widely seen efforts include Candy Mountain directed by Robert Frank and Rudy Wurlitzer; Short History of Decay script by Michael Maren; 75% In July by Hyatt Bass; and more widely seen production including Clear and Present Danger directed by Philip Noyce; and Scarface directed by Brian de Palma.

He has many TV appearances including WIOU, about a CBS newsroom where he played a troubled anchorman; and Mister Sterling, set in the U.S. Senate, written by Lawrence O'Donnell.

He has taught, acted and directed at the Juilliard School for ten years.

He has narrated many films for PBS and others and done extensive work on radio including dramatizations of Ross MacDonald detective novels with casts of fifty subsequently released as audio books as was Norman Mailer's last novel, The Castle and
the Rock.

He has worked in all the venues and mediums available to him, even singing and dancing in John Osborne's The Entertainer, in which his efforts in these disciplines were properly third-rate.