Virtual Reading
A Land Without Weather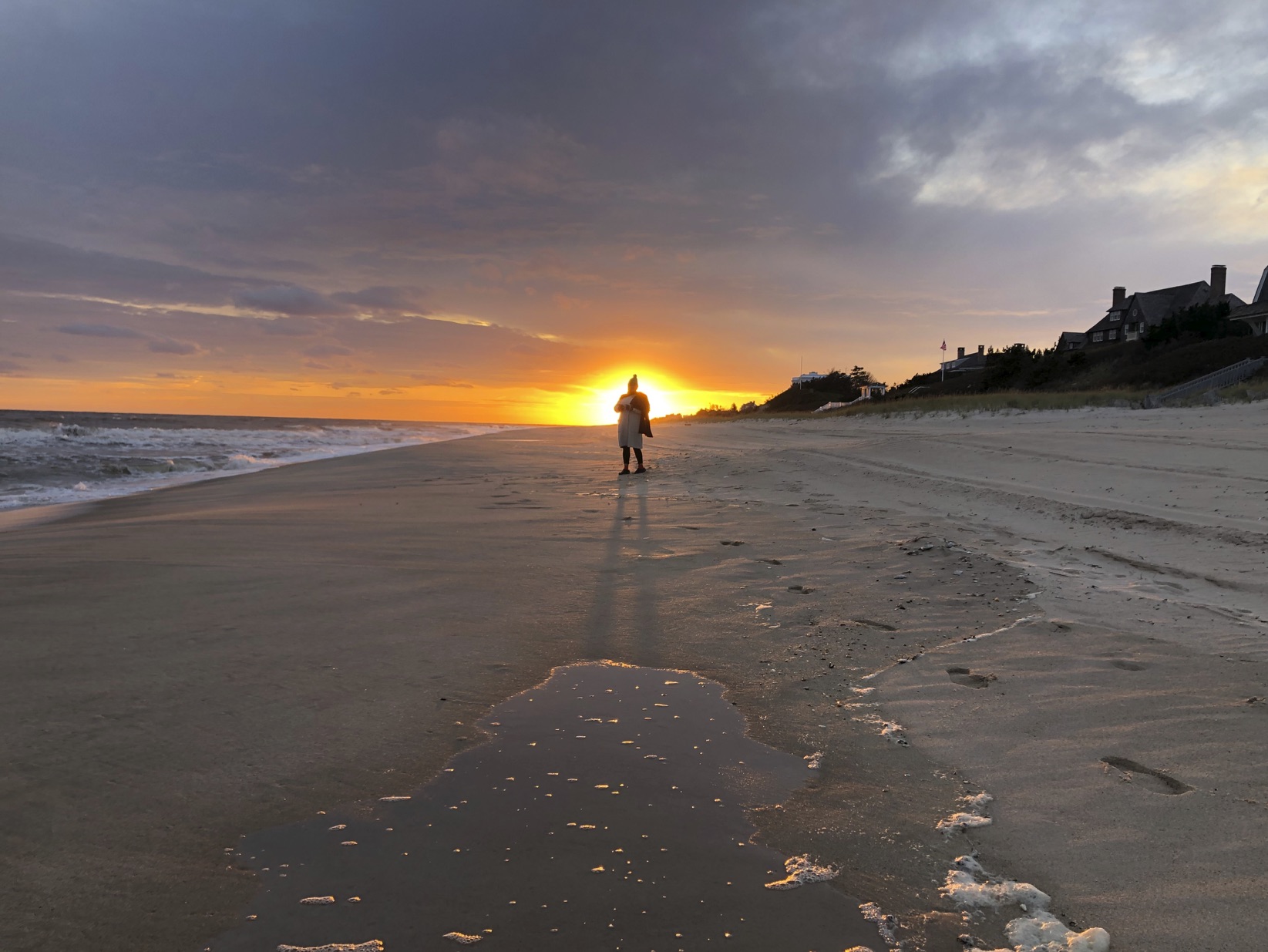 Overview
I'm swinging on a pendulum between pointless and purposeful. One day, I'm thinking this pandemic is a cosmic call to action and the next, I've got my hand in a bag of Ruffles… anyone else feel like this?
A Land Without Weather is a new collection of fictional stories from playwright, and former Guild Hall Artist-in-Residence Dipti Bramhandkar. Weaving together tales of the everyday, from the patient care of a Rosarian to a speculative first homeowner, the stories reveal intimate moments of nostalgia, fear, desire and recalibration amid one of the greatest health crises of our time.
Specially commissioned by Guild Hall, A Land Without Weather creatively stems from interviews with both New York City residents and members of the East End Communities, expanding the playwright's Quarantheater series; and features a gifted ensemble cast comprised of close collaborators to both the playwright and director.
A link to the broadcast will be emailed to ticket holders 24 hours in advance. If you purchase a ticket after that, the link will be emailed automatically in your ticket receipt.
CAST 
David Anzuelo
Purva Bedi
Rajesh Bose
Nat Cassidy
Scott Hudson
Julia Knippen
Chris McGarry
Eric T. MillerKelley Rae O'Donnell
Rahoul Roy
Sidney Williams
Martha Wollner
David Zayas 
CREATIVE 
Dipti Bramhandkar, Playwright
Padraic Lillis, Director
Patrick Dawson, Virtual Technical Director
Anthony Madonna, Producer
Josh Gladstone, Executive Producer
Dipti Bramhandkar

Dipti Bramhandkar is a Mumbai born, NYC based writer. Her first play, The Accident, won Best Drama at the Frigid Festival, which inspired her to explore the interstices between prose and dramatic performance in her work. She was the playwright-in-residence at Guild Hall in 2019. Her autobiographical solo show, American Rookie, received a full production at Luna Stage in January 2020; the run was sold out and extended. She presented her play Islands of Contentment by invitation at LAByrinth Theater's Barn Series in January 2020. Currently, she is developing a new play titled Feet in the Forest Leave No Mark and a feature-length screenplay titled Three. She is writing episodes for Quarantheater, a collection of audio stories inspired by the pandemic, which was showcased on WNYC earlier this year. She is in post-production on her first short film, The Choice, starring Bobby Daniel Rodriguez and directed by Adam Valencia. And in pre-production on another short, Pretty Ricky and the Seclusion. In addition, she is invited to write for Long Distance Affair, an immersive, online theater event in October.  Dipti received her B.A. from Cornell and M.A. from Cambridge in English literature.
Instagram: @superdiptiwrites

Padraic Lillis

Padraic Lillis is the Founding Artistic Director of The Farm Theater whose mission is the cultivate early career artists through workshop, production, and mentoring. Earlier this year he directed Dipti Bramhandkar's solo show American Rookie at Luna Stage, A Peregrine Falls at the Wild Project, and was a guest artist at Shenandoah University. Last fall Padraic was The Humana Visiting Scholar and Artist in Residence at Centre College. As a director Padraic's been awarded: New York Innovative Theatre Outstanding Director, NY International Fringe Festival's Overall Excellence in directing, and Best Short film at the Milan International Film Festival for his film Hand Over Hand which he wrote and directed. His plays are published with Dramatists Play Services. Padraic is the host of The Farm Theater's Bullpen Sessions podcast. He is a member of the LAByrinth Theater Company and a lifelong Yankee fan. 

Chris McGarry

Film and television credits include Lawless, Unthinkable, HBO's Barry (recurring), Showtime's Happyish (Philip Seymour Hoffman pilot), The Good Fight, American Horror Story, Casual, The Sopranos and Mad Men, among others. He made his Broadway debut in Salome with Al Pacino, directed by Estelle Parsons. At Chicago's Goodman Theater, he starred opposite Tom Hardy in Brett C. Leonard's The Long Red Road, directed by Philip Seymour Hoffman. Other collaborations with Mr. Leonard include roles in The Bronx to the 'Bu: Bruce Leonard – Warts and All for LAByrinth Theater Company's LAB25 festival at Cherry Lane Theater and Bobo N' Spyder An' A Girl From Down Under for The Production Company, NYC. In addition to his work with Mr. Leonard, he has also worked extensively with John Patrick Shanley. He appeared in Shanley's Prodigal Son, opposite Timothee Chalamet and Robert Sean Leonard, at Manhattan Theater Club and DOUBT - National Broadway Tour opposite Cherry Jones. He also directed Shanley's Drama Desk nominated Sailor's Song for LAByrinth Theater Company at New York's Public Theater. Chris is a member of LAByrinth Theater Company and a lifetime member of The Actor's Studio.

David Anzuelo

Off-Broadway: Halfway Bitches Go Straight To Heaven (Atlantic Theater). Fish Men (Intar Theater). Intimacy (New Group). Regional: Mother Road (Arena); The Motherf#cker With the Hat (Kitchen Theater). Frost/Nixon (Geva). Our Town (Northern Stage). Oedipus El Rey (Woolly Mammoth). Film: A Walk Among the Tombstones; Remember Me; A NY Christmas Wedding. TV: Succession; Strangers; The Americans; Elementary; Blue Bloods; White Collar; Deadbeat; Mercy.

Eric T. Miller

Eric T. Miller is an NYC based actor. His theater credits include Mope (EST) rogerandtom (HERE Arts Center), Ever So Humble (Hangar Theatre), The Last Seder (Mint Theater), Safe Home (Royal Family Productions), Sweet Storm (LAByrinth/Alchemy Theatre Co.), Broken Hands (Fringe and Fringe Encore) and Betrayed (The Culture Project) with workshops and readings at New York Theater Workshop, New Georges, LARK, New York Stage and Film, LAByrinth, the Public, EST/Youngbloods and Rattlestick.  Television and Film include The Unusuals (ABC), Kings (NBC), Law & Order (NBC), Shame (Dir:  Steve McQueen), Reaching Home, Brewsie and Willy, Pieces, My Secret Friend and the upcoming Home (Dir:  Jono Oliver).

Julia Knippen

Julia Knippen is primarily a voice actor, acting off-camera behind a microphone. Her voice can be heard in television and radio commercials across the country and in a long list of industrial videos that live on internal and external corporate websites. She has narrated several audiobooks, and has enjoyed recording some of Dipti's previous Quarantheater pieces.

Kelley Rae O'Donnell

Member of LAByrinth Theater Company and The Actors Center. Theatre: Occupied Territories (59E59 Theatre NYC), 10x10 (Barrington Stage Company), The Trouble with Nicole (Dorset Theatre Festival), Holy Laughter (Denver Center), The Discarded (BAM), Clown Bar (Pipeline Theatre NYC), The Atmosphere of Memory (LAByrinth), Heal Me Television (Southern Rep.), Fight Girl Battle World (HERE NYC). Recent Film/TV: The Irishman (Netflix), Tommy (CBS), The Blacklist(NBC), Shades of Blue (NBC), Signs of Aging (Amazon). www.kellrod.com

Nat Cassidy

Nat Cassidy is an award-winning actor, writer, and musician based in NYC. Credits include: "The Good Fight" (CBS), "Blue Bloods" (CBS), "Bull" (CBS), "Quantico" (ABC), "The Following" (Fox), "The Affair" (Showtime), "Red Oaks" (Amazon) "High Maintenance" (HBO), "Law & Order: SVU" (NBC), "The Iliza Shlesinger Sketch Show" (Netflix), as well numerous productions and workshops Off- and Off-Off-Broadway. As a writer, his plays have been nominated for a combined total of 17 New York Innovative Theatre Awards, including 3 times for Outstanding Full-Length Script (which he won in 2009, and in 2011 for Outstanding Solo Performance) and he was commissioned by The Kennedy Center to write the libretto for a world-premiere opera. He wrote the novelization of the hit podcast Steal the Stars (NPR Best Reads of 2017). His next novel, MARY, is coming in 2022 from Tor/Macmillan Books. www.natcassidy.com

Purva Bedi

Theatre: Wives, Dance Nation (Playwrights Horizons, Drama Desk Award), India Pale Ale (MTC), Ordinary Muslim (NYTW), Uncommon Sense (Tectonic), IDIOT! (HERE), Veil'd (WP), Rise of Dorothy Hale (St. Luke's). Target Margin as Associate Artist: Reread Another, Tempest, Second Language, Ten Blocks on the Camino Real, Old Comedy, 5 Hysterical Girls Theorem. Co-creator Assembled Identity (HERE Arts). Recent Film/TV: Shrinkage (Amazon), Assistant, Sully, Equity, Kumare, High Maintenance, Billions, The Code, She's Gotta Have It Too. www.PurvaBedi.com

Rahoul Roy

Rahoul Roy loves being a professional-amateur actor in New York. With a decade of experience performing in various stages across New York,  Rahoul most recently played Sir Andrew Aguecheek, in Hamlet Isn't Dead's production of 12th Night.   Rahoul also nearly had his Off-Broadway debut as an extremely stoic, liquor-store delivery man, who had to enter a  scene, nod his head vigorously for a few very critical seconds and leave, but narrowly lost out to an actor with more vigor.  Rahoul is also a practicing attorney, a performance that has been dubbed by many as "particularly lifelike".  Rahoul finds it strange to be talking about himself in the third person, but recognizes the inherent privilege in being able to do so. Also, Black Lives Matter.

Rajesh Bose

Rajesh Bose is an actor based in New York City -- regional and Off-Broadway favorites include: The Crucible (Bedlam), Henry VI (NAATCO), Pygmalion (Bedlam Theatre), Against The Hillside (Ensemble Studio Theatre), Indian Ink (Roundabout), Oslo (St. Louis Rep), Mary Stuart (Folger Theatre), Guards at the Taj (Capital Stage), Disgraced (Playmakers Rep, Huntington Theatre, Long Wharf Theatre – Connecticut Critics Circle Award, IRNE Nomination), The Who & The What (Gulfshore Playhouse), and The Invisible Hand (Westport Country Playhouse, Hartford TheaterWorks). Film & Television: "Quantico", "Blue Bloods", "Elementary", "Blacklist", "Damages", "Nurse Jackie", "Madame Secretary", "The Good Wife", "Law & Order: SVU", "Criminal Minds", the series finale of "The Sopranos", and the Academy Award nominated film Frozen River. 

Sidney Williams

Sidney Williams is a life time member the Actors Studio and member of LAByrinth Theatre Company. With LAByrinth: Stephen Adley Guirgis' Little Flower of East Orange, Craig muMs Grant's Paradox of the Urban Cliche, Andrea Ciannevei's Pretty Chin Up, and David Bar Katz' Atmosphere of Memory. At the Actors Studio: W.B. Yeats' translation of Sophocles' Oedipus, the King, and the Weinstein/Bolcolm Opera, Dynamite Tonite!. Off-Broadway and New York Theatre: (OB) Robert Glaudini's The Identical Same Temptation, (OB) Michael Puzo's The Dirty Talk, Ibsen's The Wild Duck, Horvath's Judgement Day, the Rabinowitz/Weisman Opera Darkling at Classic Stage. (Film) Jack Goes Boating, Handsome Harry, Up to the Roof, Fear of Falling, and Eye Contact. (TV) Royal Pains, Sopranos, Louie, Law & Order, and Ghost Stories.

Scott Hudson

Scott Hudson originated roles in Stephen Adly Guirgis's Our Lady of 121st Street, directed by Philip Seymour Hoffman at Union Square Theatre, Julia Chow's BFE, directed by Gordon Edelstein at Playwrights Horizons and Robert Glaudini's Dutch Heart of Man directed by Charles Goforth at The Public. He has performed at The Long Wharf Theatre and La Jolla Playhouse. As a director, he originated the production of John Patrick Shanley's short one act, Banshee, at The New Ohio Theatre, and Stephen Adly Guirgis's first public workshop reading of Between Riverside and Crazy with the original cast of the Pulitzer Prize-winning script. He has directed several original plays as a collegiate collaborator with The Farm Theater. His play Sweet Storm was produced off-Broadway and is published by Dramatists Play Service Inc. The play continues to be produced in regional and college theatres. He is Associate Professor at Shenandoah University and a member of LAByrinth Theater Company.
Event Sponsors
Theater Programming supported in part by Marders, Barbara Slifka, and funding from The Ellen and James S. Marcus Endowment for Musical Programming, Hess Philanthropic Fund, The Melville Straus Family Endowment, The Schaffner Family Foundation, and with additional support from Brown Harris Stevens, Saunders & Associates, and Lang Insurance.  Education Programming supported by The Patti Kenner Arts Education Fellowship, Lucy and Steven Cookson, and The Wunderkinder Foundation, with additional funding by Kate W. Cassidy Foundation, Lewis B. and Dorothy Cullman Endowment Fund, and The Melville Straus Family Endowment. 
Become a Sponsor