ugo rondinone: sunny days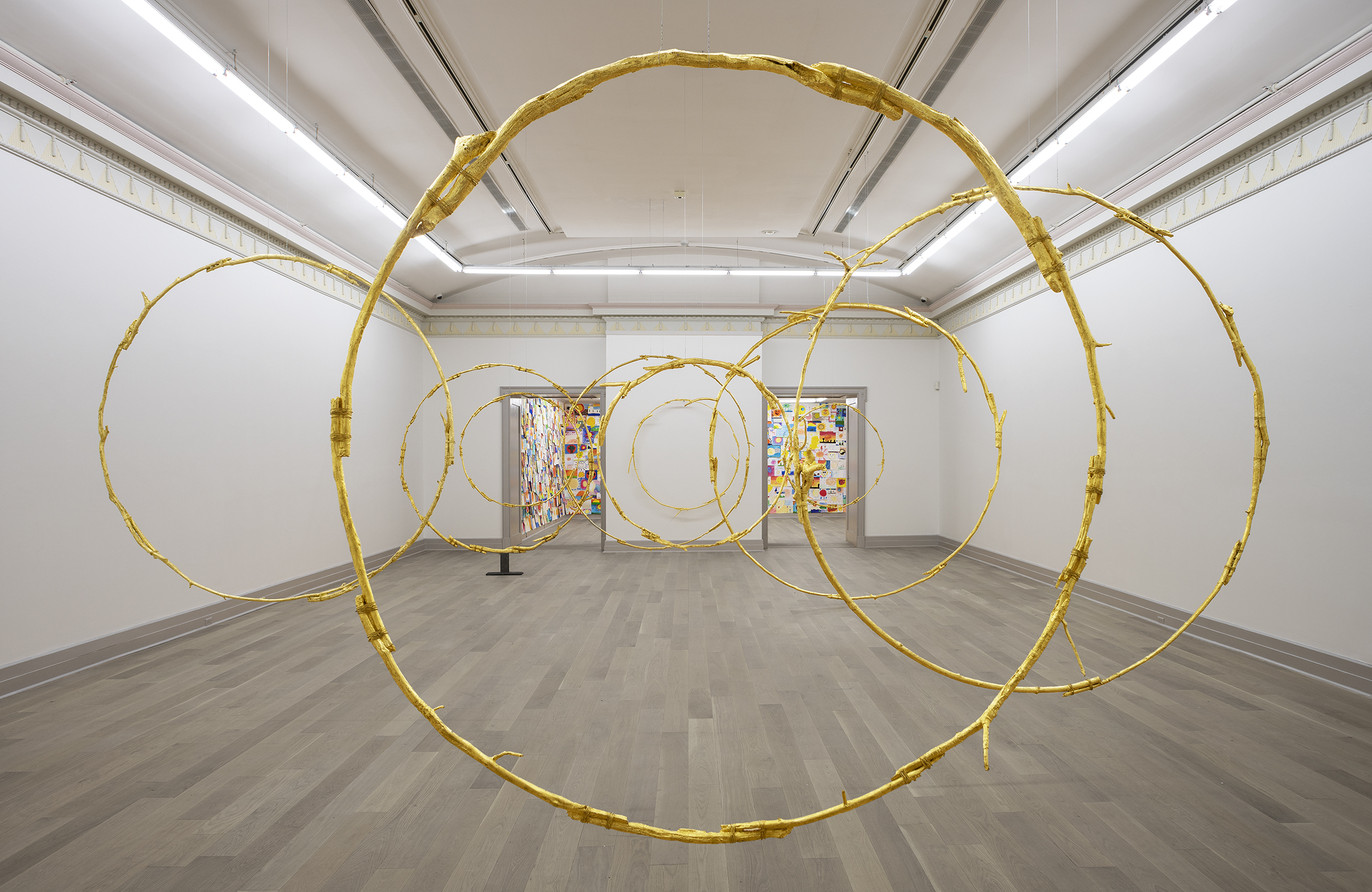 Overview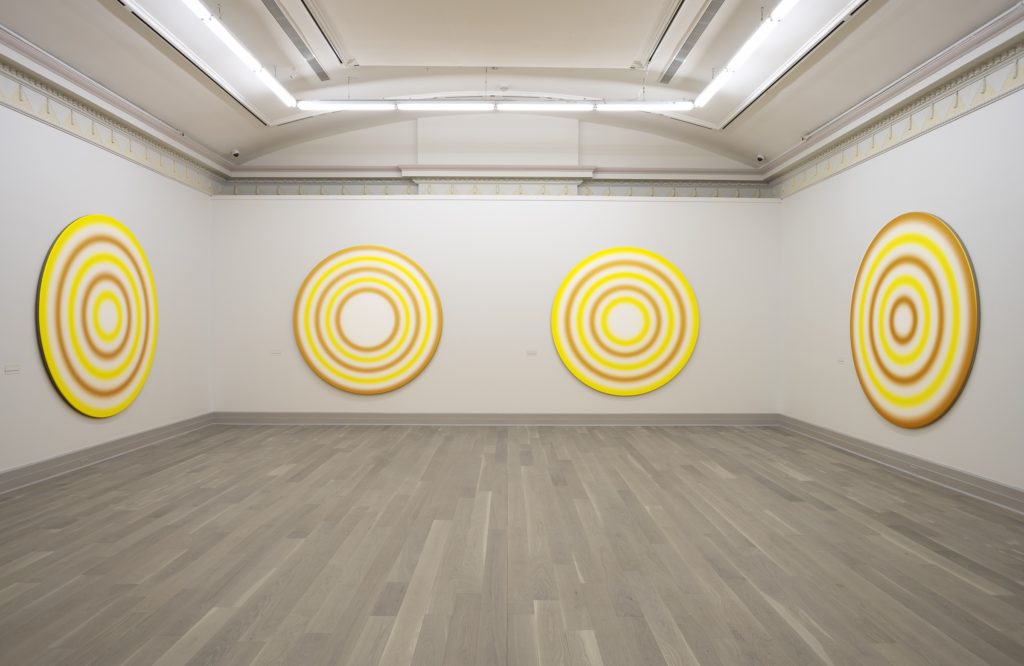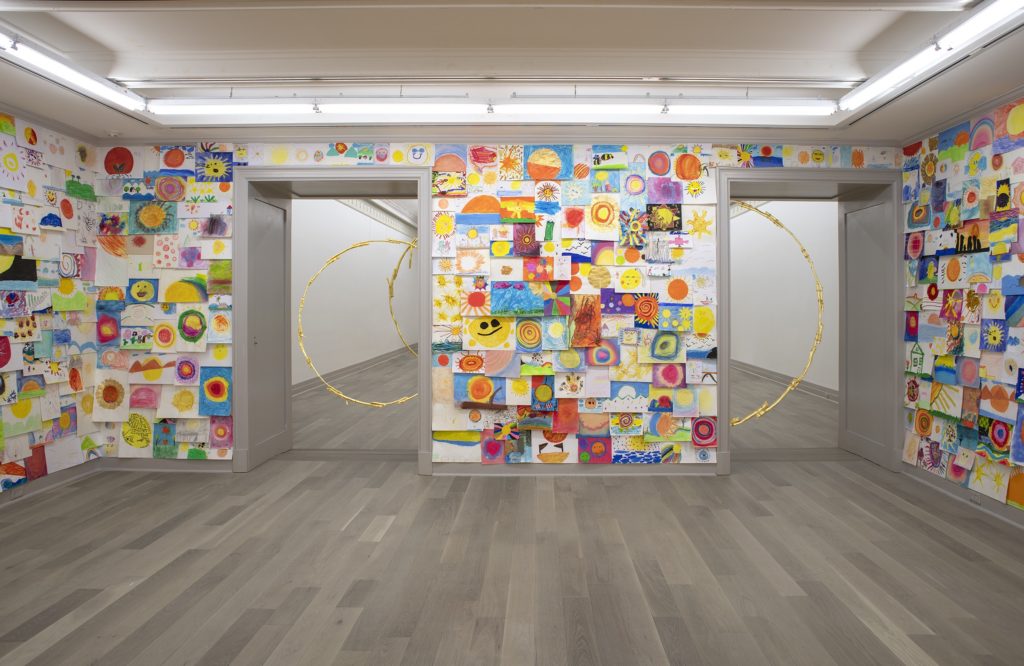 All Galleries
Christina Mossaides Strassfield, Curator
Private Member Reception – August 10, 2019
Conversation with Ugo Rondinone and Bob Nickas – August 10, 2019
Guild Hall is delighted to be presenting works by the renowned Swiss artist Ugo Rondinone in the exhibition, sunny days, featuring sun-themed sculpture and paintings, as well as a collaboration with area school children. The exhibition, which explores the sun as a motif and metaphor, is divided into three parts: paintings, sculptures, and a community art project.
In a new series of eight "sun paintings," Rondinone references the radiance and universal symbolism of the sun. He has incorporated this imagery in his work since 1991, and uses canvas spray-painted with soft concentric yellow rings as a representation of the sun and the impossibility of seeing its form with the naked eye. These eight paintings will be installed in Guild Hall's Woodhouse Gallery.
A selection of large sun sculptures will be placed at alternating angles in Guild Hall's Moran Gallery. These large-scale circular rings are made from vine branches which were cast in aluminum and then gilded. The artist chose to depict the vine as a symbol of renewal because of its life cycle from growth to dormancy and rebirth to a fruitful state every year—reminiscent of the solar cycle.
Following similar projects that Rondinone has carried out in Rotterdam, Shanghai, Rome, Berkeley, Cincinnati and Moscow, the artist has invited children from the East End to help him create a gallery of sun drawings. Students from local schools, daycare centers and afterschool programs will participate and create depictions of the sun to be displayed salon style in the Spiga Gallery.
Rondinone, who has a home on the North Fork, is a New York-based, Swiss-born mixed-media artist who has spent the last 25 years working in a diverse range of mediums, including painting, drawing, photography, video, installation, and sculpture. Whether trance-inducing mandala paintings, large-scale drawings from nature, moody multi-channel video environments, painted stone sculptures, or full-scale clown figures, Rondinone moves fluidly between figuration and abstraction. Rondinone often incorporates the theme of time and space in his work and explores the emotional and psychic understanding found in the most basic elements of everyday life; in this exhibition it is the Sun and its radiance.
Ugo Rondinone has been the subject of recent solo exhibitions at institutions, including Bass Museum of Art, Miami; Berkeley Art Museum and Pacific Film Archive, Berkeley; Contemporary Arts Center, Cincinnati; Garage Museum of Contemporary Art, Moscow; Place Vendôme, Paris; MACRO and Mercati di Traiano, Rome; The Institute of Contemporary Art, Boston; Museum Boijmans van Beuningen, Rotterdam; Museum Anahuacalli, Mexico City; Rockbund Art Museum, Shanghai; Museum of Cycladic Art, Athens; Kunsthistorisches Museum Wien, Vienna; and Museum Dhondt-Dhaenens, Deurle, Belgium. In 2016, Rondinone's large-scale public work seven magic mountains opened outside Las Vegas, co-produced by the Art Production Fund and Nevada Museum of Art. In 2017, Rondinone curated a city-wide exhibition, Ugo Rondinone: I ♥ John Giorno, which honored the artist's life partner in thirteen venues throughout Manhattan.
Event Sponsors
All Museum Programming supported in part by The Melville Straus Family Endowment, The Michael Lynne Museum Endowment, Vital Projects Fund, Hess Philanthropic Fund, Crozier Fine Arts, The Lorenzo and Mary Woodhouse Trust, and public funds provided by New York State Council on the Arts with the support of Governor Andrew M. Cuomo and the New York State Legislature, and Suffolk County. Free admission is generously funded by BNB Bank and Landscape Details. Lead Sponsors: Dorothy Lichtenstein, Fern and Lenard Tessler, and public funds from the Swiss Arts Council Pro Helvetia.
Sponsors: Ziel and Helene Feldman
Co-Sponsors: Bloomberg Philanthropies, and Ophelia and Bill Rudin
Special thanks to Gladstone Gallery
Become a Sponsor