INSTALLATION
Neo–Tile Club: Community Exhibition - 2021 Guild Hall Community Artist-In-Residence: Scott Bluedorn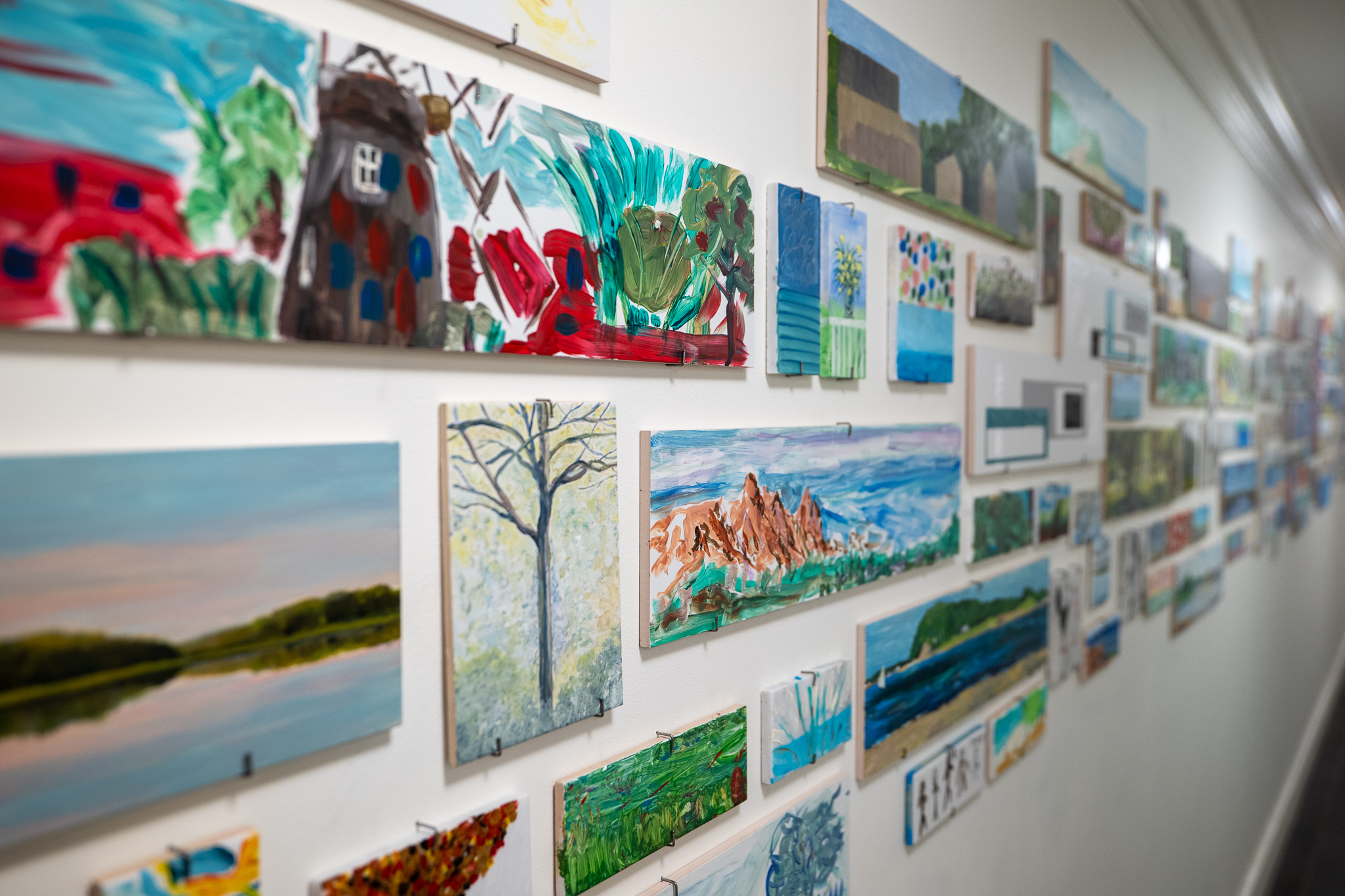 Overview
The historic Tile Club, founded in 1872, was a group of artists in New York City who met regularly to paint on tile, a popular surface of the coinciding decorative arts movement. Among the artists in the club were William Merritt Chase, Winslow Homer, and architect Stanford White. When the Long Island Railroad expanded to Montauk in the late 1870s, The Tile Club was invited to ride to the eastern-most tip of Long Island and paint what they saw, making these western artists some of the first to visit the East End, initiating the long history of art in the area.
Inspired by this club, Scott Bluedorn focused his 2021 Guild Hall Community Artist-in-Residence project on the history, practice, and revitalization of The Tile Club. Throughout the 2021 summer season, Scott led 6 free workshops, some en plein-air, during which ceramic tiles were given to participants along with a demo and discussion of the history of the Tile Club. Participants were asked to donate at least one completed tile to the Education Corridor Exhibition. The exhibition and project are in tandem with Guild Hall's current exhibition, 90Years: Selections from the Permanent Collection that includes original Tile Club paintings c. 1875, on view in the education corridor from October 30 through January 2, 2022.
We are extremely thankful to all those who participated in this project and contributed their artwork to this exhibition. We would also like to thank the East Hampton Historical Society for the use of Mulford Farm as a plein-air painting site, and to the local builders Wirth & Company, Lori and Roy Dalene, and Andrew Fetherston for donating tiles.
Community participants included Leo A., Sofia Abboud, Labbeb Abboud, Pamela Abrahams, Michele Abramsky, Paul Abramsky, Casey Chalem Anderson, Cassandra Bajan, Rachael Barash, Beth Barry, Jim Bergesen, Scott Bluedorn, Ivy Brondo, Jen Brondo, Joe Brondo, Tanessa Cabe, Lisa Claisse, Bonnie Comley, Donna Corvi, Casey Dalene, Barbara Dayton, Elaine Dia, Mare Dianora, Ollie Dianora Brondal, Nova D'Innocenza, Gina D'Orazio, AG Duggan, Andrew Fetherston, Kurt Ghie, Kimberly Goff, Laurie Hall, Gizella Harte, Janet Jennings, Miren Kova, Frankie Lane, Lenny Lane, Stewart Lane, Teresa Lawler, Alexandra Lopez, Setha Low, Sara McLaughlin, Kathleen McLaughlin, Rich Mothes, Jamie Pancella, Mark Perry, Dalton Portella, Luca R., Gabriele T. Raacke, Guilia Ratto, Adrienne Ratto, Tina Ripperger, Nora Ripperger, Caroline Scherr, Andréa Sher, Karen Solimando, Sabina Streeter, Rebecca Sullivan, Sean Sullivan, Deborah Walley, and ZSG.
---
Fitted face masks are required for all guests over the age of 2 indoors regardless of vaccination status, except when eating or drinking. Click HERE for full COVID-19 protocol.
Scott Bluedorn

Artist, illustrator and designer Scott Bluedorn works in various media, including painting, drawing, print process, collage and found object assemblage. Drawing inspiration from cultural anthropology, primitivism, and nautical tradition, Bluedorn distills imagery that speaks to the collective unconscious, especially through myth and visual story-telling - a world he conjures as "maritime cosmology". 

Born Southampton, NY 1986

Lives and works in East Hampton, NY 
BFA School of Visual Arts, NYC 2009 

 
Event Sponsors
Education Programming is supported by The Patti Kenner Arts Education Fellowship, Lucy and Steven Cookson, The Hearthland Foundation, Stephen Meringoff, Milton and Sally Avery Arts Foundation, Susan and Stephen Scherr, and funding from the Lewis B. and Dorothy Cullman Endowment Fund, and The Melville Straus Family Endowment. Guild House Artist-in-Residence/Community Artist-in-Residence:
Principal Sponsors: Lucy and Steven Cookson, and The Hearthland Foundation
Lead Sponsors: Bobbie Braun-The Neuwirth Foundation, Christina and Alan MacDonald, and Lynn and Bruce Surry
Co-Sponsors: Diamonstein-Spielvogel Foundation/Barbaralee Diamonstein-Spielvogel, and Judith Hope
Additional Support: Nina Gillman and Mary Heilmann
Become a Sponsor