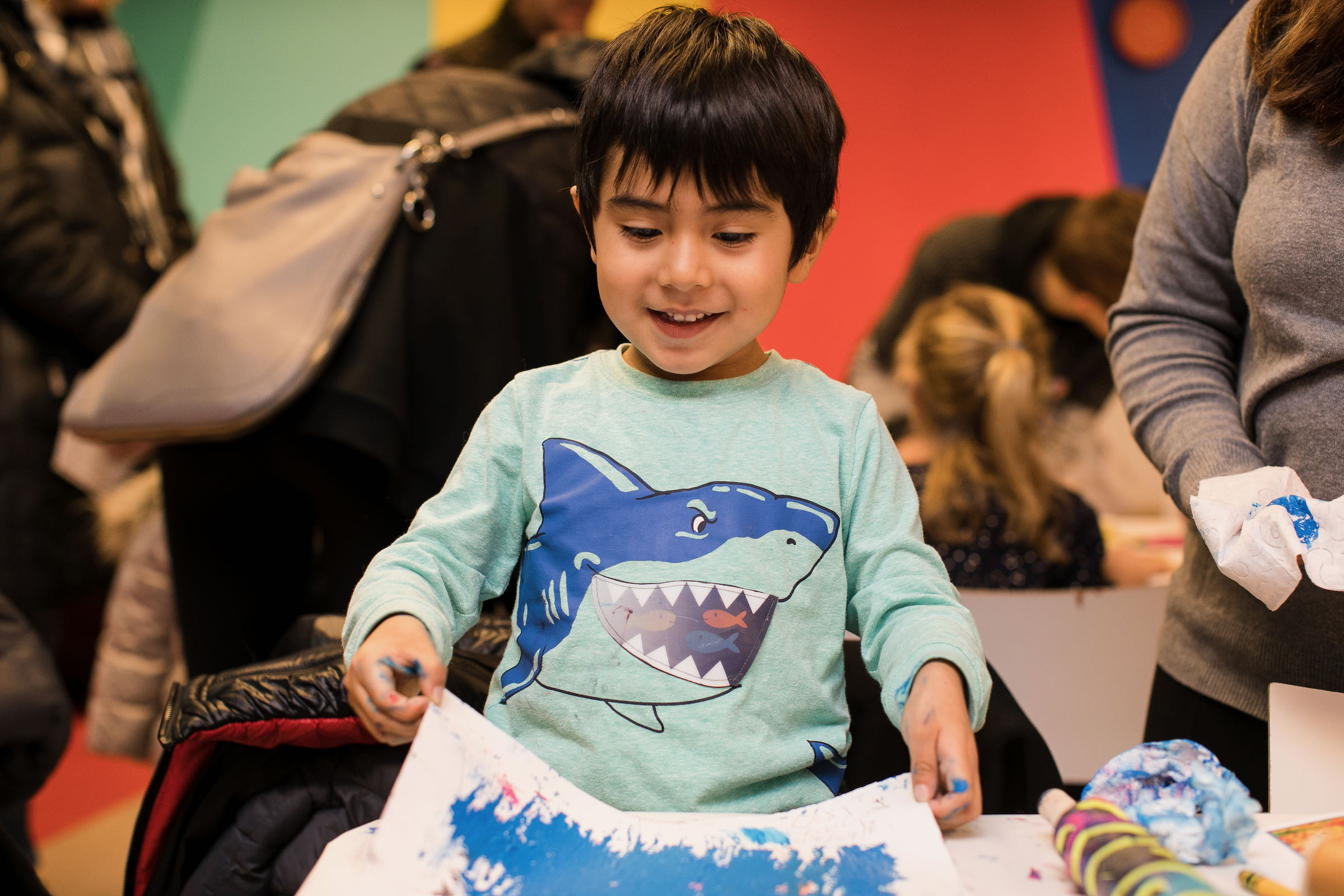 Overview
Recommended for children ages 3+ 
Join storytellers and creatives from Guild Hall for a family hour of stories, gallery tours, and art workshops. At each session we will be reading a children's book in response to the current Guild Hall exhibit, followed by a hands-on workshop. 
This series is produced in tandem with the exhibition Robert Longo: A House Divided. 
Sessions are held in-person at Guild Hall with a maximum of 15 people. When registering, please be sure to register both adults and children.  
Each session is a hybrid of indoor and outdoor activity. Gallery tours occur in the Museum and the adjoining workshop in Guild Hall's Minikes Garden. Masks are required at all times. 
Anthony Madonna

As an interdisciplinary collaborative artist, educator, and administrator, Anthony strives to construct experiences that both critically challenge our individual beliefs and bring awareness to our responsibility as a community.  

This ambition has led him to work in various roles and context: a workshop-leader of original music and theatre pieces amongst diverse age groups and learning developments, a music practitioner within elderly communities, a concert and festival producer, a composer/performer of experimental vocal works, and a collaborative installation artist. Anthony has worked within institutions such as The McCarter Theatre Center, The Juilliard School, and the Barbican Centre. His projects have been showed and/or performed as part of the Tate Modern: Tate Exchange (London), the Barbican Centre's Dialogue, UnFinished, and Curious festivals (London), Guild Hall of East Hampton (Long Island, NY), Duck Creek Arts Center (Long Island, NY), and other community focused centers.   

Anthony currently serves as the Patti Kenner Director of Learning & New Works at Guild Hall of East Hampton. The role aims to support the next generation of artists, theater makers and creative professionals through the development and creation of high quality, inventive and pioneering educational offerings.  

Anthony is a graduate of the Guildhall School of Music & Drama (M.M. Music Leadership), The Juilliard School's Professional Apprenticeship Program, and Westminster Choir College (B.M. Music Education & Vocal Performance). Tutors, Mentors, and Coaches include Zehava Gal, J.J. Penna, Dr. Amanda Quist, Kirstin Ek, Natasha Zielazinski, Sigrun Saevarsdottir-Griffiths, Nell Catchpole, and Dinah Stabb. 
Event Sponsors
Education Programming supported by The Patti Kenner Arts Education Fellowship, Lucy and Steven Cookson, The Hearthland Foundation, the Helen Frankenthaler Foundation, Milton and Sally Avery Arts Foundation, Susan and Stephen Scherr, and funding from the Lewis B. and Dorothy Cullman Endowment Fund, and The Melville Straus Family Endowment.
Become a Sponsor