Live Performance
Social Fabric: In the Public Square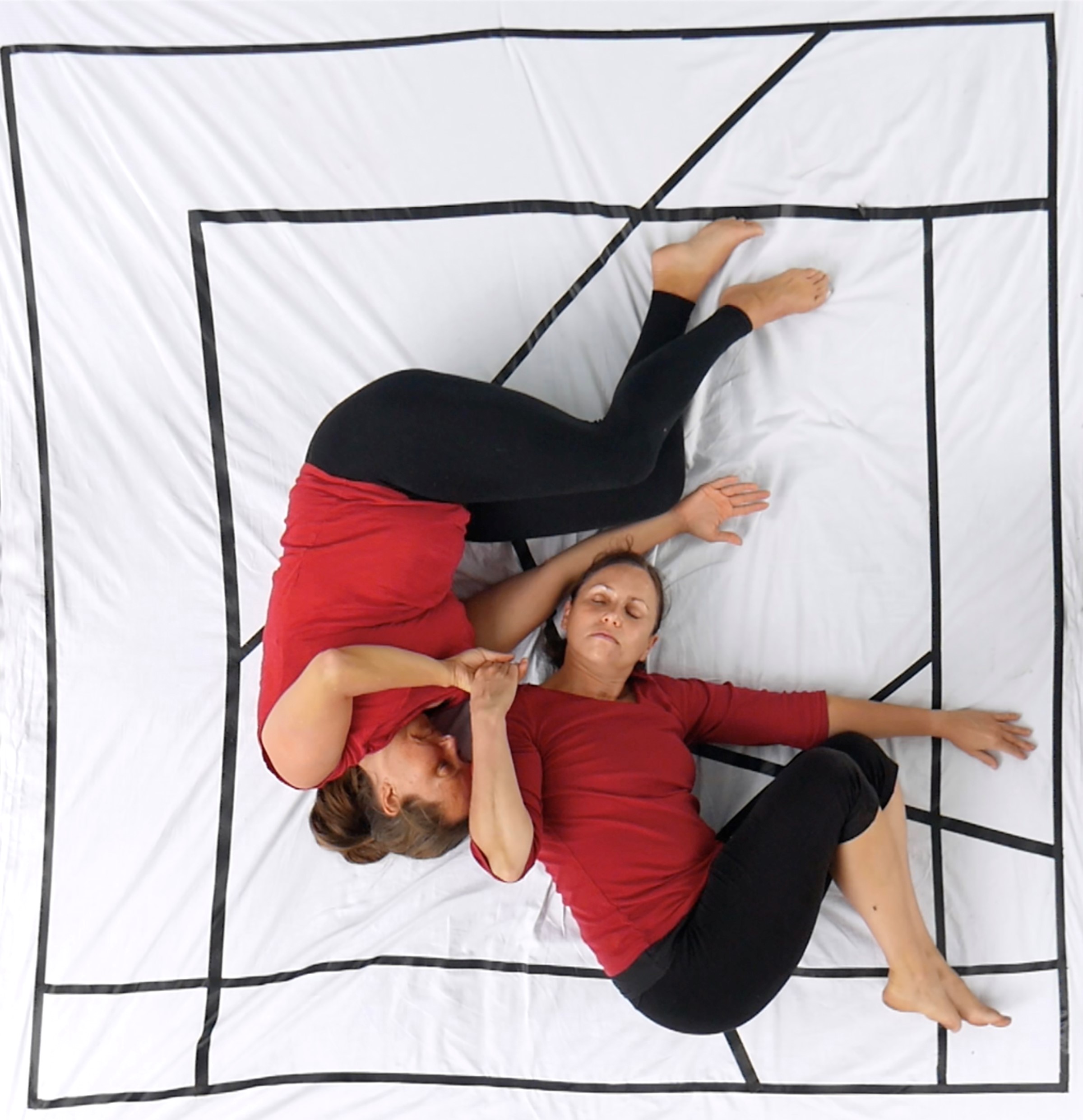 Overview
Interdisciplinary artist Andrea Cote and choreographer Ann Robideaux will activate the Minikes Garden as a place to gather amid a video installation accompanied by live sound by Chris Jones, and curated by Christina Mossiades Strassfield, Museum Director and Chief Curator.
The project explores how we embody personal and communal movement languages, through containment and connection in domestic and public spheres. The artists invited both professional dancers and recreational movers to explore movement inside six-foot square sheets delineated with geometric forms and cosmological patterns. As we occupy this present liminal zone, the artists create a place for visitors to inhabit that is at once intimate and communal.
Reservations are not required. Simply drop in over the course of their time in the garden!
The eAT Coffee Bar will be open for drinks and refreshments!
Andrea Cote

Andrea Cote is a multi-disciplinary artist living in New York. She has exhibited her work in North and South America at venues including The Philadelphia Museum of Art, Islip Art Museum, Delaware Art Museum, Rotunda Gallery, Abrons Arts Center, The Print Center, The Moore Gallery, and PanAmerican Art Projects. Her performances have been presented at The Watermill Center, The Neuberger Museum, The Philadelphia Fringe Festival, The Peekskill Project, Chashama, Scope Art Fairs, The Dumbo Arts Festival, and Photo Buenos Aires. Her work has been reviewed in The New York Times, The Miami Herald, The New Times, Newsday, and Artinfo.com, with featured profiles in Wynwood Art Magazine, The East Hampton Star,  The Southampton Press, and The Suffolk Times. She is the recipient of grants from the Robert Blackburn Printmaking Workshop and the Barbara Deming Memorial Fund, as well as two SOS grants from the New York Foundation for the Arts and NYSCA Creative Individuals Grants in 2014 and 2018.

In the spring of 2012 she had a 13-year survey of her work, "Body of Evidence," at Dowling College. In the summer of 2013 she presented "Eyes on Main Street," a large-scale multimedia community public project for downtown Riverhead. In 2015 her temporary site-specific public project for Greenport, NY  "A Port of Views," was installed in Mitchell Park. "The Radiance Project," supported by a residency at Southampton Arts Center, was a community-centered year-long project in 2018 for the East End of Long Island involving collective dance & printmaking with a final installation in the SAC Theater.

A passionate educator, she currently holds a position as the Educational Program Coordinator at The Watermill Center, an interdisciplinary laboratory for the arts in Watermill, New York. She lives in Hampton Bays, NY with her husband and son.

Ann Robideaux

Ann Robideaux is a choreographer, dance film maker, presenter, curator and educator.  She has shown original and commerical work through out the U.S.A, Latin America, Europe and Asia.  As a dance film-maker, her interest lies in exploring biographical improvisation in response to unusual or historic sites--most recently in the project "NYC Dances", for the "Cornell Lab of Ornithology" and on the streets of Rosario, Argentina for Rave de Danza Mestizas. As a co-artistic director of Ann And Alexx Make Dances, she has presented site-specifc work at the Frying Pan and Lilac Steamships on the Hudson River, the theater seats of Dance New Amsterdam, and the historic Eldridge Street Synogogue.  Ann is currently a choreographer and dance teacher for Princeton Day School and the associate director of the Outlet Dance Project Festival at the Grounds for Sculpture in New Jersey dedicated to providing opportunities for female dance artists. Apart from her unique collaborations, Ann has choreographed numerous straight plays and musicals. The founder of Asana Alphabet yoga for kids and teacher training certification, she has served as a guest teaching artist around the globe. She holds an MFA in dance/choreography from Mills College and undergraduate degrees in psychology and journalism.   Scroll down for more! 

Chris Jones

Chris Jones is a composer and sound designer for television and film. His music has appeared in American Idol, Saturday Night Live, The Sopranos, Keeping Up With The Kardashians, Vice, and Mr. Robot as well as ads for brands like McDonald's, Adidas, Nissan, Mont Blanc, Samsung, and Intel. He has created sound design pieces for over 150 movie trailers including Quentin Tarantino's The Hateful Eight.

As a musician, Chris is classically trained in both bass and percussion, studying with Steve Reich/Philip Glass ensemble percussionist Frank Cassara and jazz bassists Bruce Gertz and Rufus Reid. He has performed everything from jazz standards to 20th Century classical to surf-punk noise to African drumming to DJing at venues as disparate as The Waldorf Astoria Hotel to CBGB's to The Roxy (LA) to Merkin Concert Hall.
Event Sponsors
Guild Hall's museum programs are made possible by the New York State Council on the Arts with the support of the Office of the Governor and the New York State Legislature, the Helen Frankenthaler Foundation, an anonymous donor, Peggy J. Amster, Crozier Fine Arts, and funding from The Michael Lynne Museum Endowment, and The Melville Straus Family Endowment.
Become a Sponsor