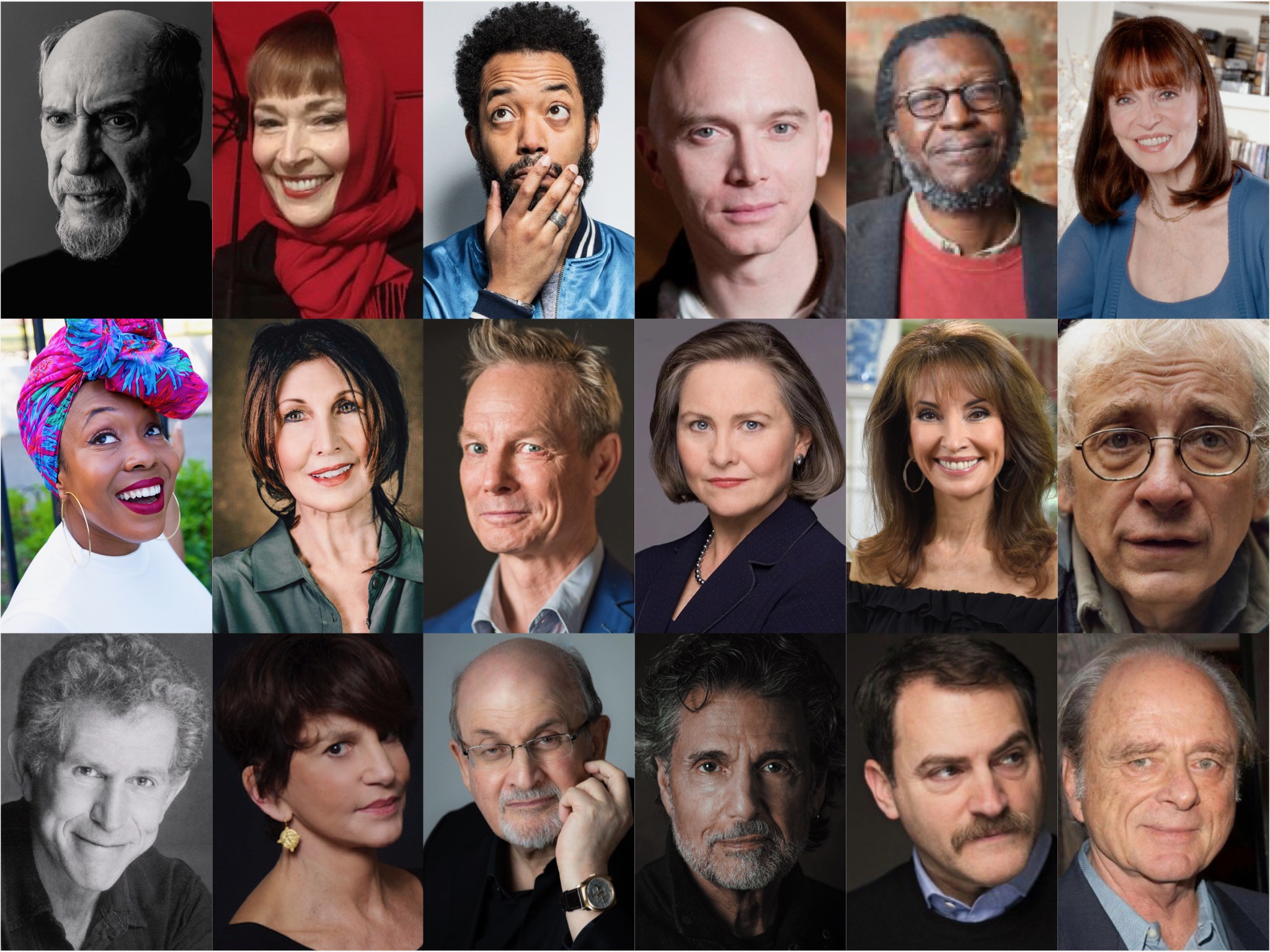 Overview
Or click HERE to watch.
---
Conceived and Curated by Paul Hecht
On the occasion of the 90 Years: Selections from the Permanent Collection, we are delighted to re-release this virtual program from Spring 2021.
Tony Nominated actor Paul Hecht, in conjunction with Guild Hall's Chief Curator Christina Mossaides Strassfield and Amanda Kate Joshi, curated a celebration of spring and the arts as poems of rejuvenation, rebirth and creativity are read in the spirit of hopefulness for a new season by a celebrated cast of artists.  These voiceovers from some of America's greatest actors will be read and superimposed over a survey of images of some of America's greatest art from Guild Hall's Permanent Collection. A true marriage of the visual and performing arts, the evening will feature many luminaries from Guild Hall's storied Academy of the Arts, complete with the music of guitar virtuoso Ralph Gibson. Featuring F. Murray Abraham, Karen Akers, Wyatt Cenac, Michael Cerveris, Cornelius Eady, Barbara Feldon, Lynnette R. Freeman, Joanna Gleason, Bill Irwin, Cherry Jones, Susan Lucci, Austin Pendleton, Tony Roberts, Mercedes Ruehl, Salman Rushdie, Chris Sarandon, Michael Stuhlbarg, and Harris Yulin.
Paul Hecht

Paul Hecht has been an actor for quite a long time. He made his debut as the Player in Rosencrantz & Guildenstern are Dead (Tony nomination 1968).Other Broadway appearances include :  Night & Day  with Maggie Smith and Invention of Love. (Tom Stoppard), 1776 (original company), the Rothschilds, Shaw's Caesar & Cleopatra and Pirandello's Henry IV ( both with Rex Harrison). Off Broadway: Harold Pinter's Moonlight,(American Premiere) the title role in Pirandello's Henry IV (Obie award 1990). Humble Boy at the Manhattan Theater Club, and also in the National Theatre of Great Britain tour. Around the country: Cyrano at the Guthrie (world premiere Antony Burgess translation). Marc Antony, (Julius Caesar & Antony and Cleopatra) American Shakespeare Festival, and in plays by Shaw, Shakespeare, Chekhov, Turgenev, Harwood, Kaufman-Ferber,, at the McCarter (Princeton), Canada's Shaw festival, N.Y Shakespeare Festival, John Drew East Hampton, Bay Street Sag Harbor, and the Berkshire Theater Festival.

He has been  in several episodes of Law and Order, the first episode of the original Miami Vice, and in films with Bette Davis, Chris Rock,  and Howard Stern.

He has appeared in many literary/musical programs: Every Good Boy Deserves Favour (Stoppard-Previn) and Façade (Walton-Sitwell) with the Philadelphia Orchestra, Histoire du Soldat conducted by Bob Kraft, the Vertical Repertory  in Brooklyn, the Newberry  Consort (Chicago), the Allentown Symphony, Dryden players (Princeton). With the early music group Parthenia , he performs a program of Shakespeare and Donne sonnets. He has recorded dozens of books (www.recordedbooks.com).

He served as the  NY Branch President of the Screen Actors Guild from 1991- 1995 and is a graduate of the first class of the National Theatre School of Canada. He is a regular volunteer at ARF and lives in the Springs with the lighting Designer Peggy Eisenhauer.

Ralph Gibson

Born in Hollywood, California in 1939. His father was assistant director to A. Hitchcock and as a young boy he would visit the set during filming. He also worked as an extra and acted in smaller parts. He was impressed by the power of the camera lens and the intensity of the lights. He studied photography while in the US Navy and then at the San Francisco Art Institute. He began his professional career as an assistant to Dorothea Lange and went on to work with Robert Frank on two films. Gibson has maintained a lifelong fascination with books and book-making. Since the appearance in 1970 of The Somnambulist, his work has been steadily impelled towards the printed page. To date his work has been published in over 40 monographs. His photographs are included in over one hundred and seventy museum collections around the world, and have appeared in hundreds of one-man exhibitions. He has lectured and led workshops in over 20 countries over the past 40 years. In 2013 he spoke in schools and museums in China, Brazil, Australia and Bali. Gibson's awards include fellowships from the John Simon Guggenheim Foundation and the National Endowment for the Arts, as well as the Leica Medal of Excellence, the Lucie Lifetime Award and the Silver Plumb Award. He is a Commandeur de l'Ordre des Arts et des Lettres of France, and holds honorary doctorates from the University of Maryland and Ohio Wesleyan University. In 2010 he collaborated with Lou Reed on the film RED SHIRLEY which was screened in 14 film festivals throughout Europe and North America. The High Museum of Art held a retrospective of his work entitled Quartet in 2012. He has maintained a relationship to the guitar since his earliest teens. Recently Gibson has incorporated his photographs and musical compositions into film and live performances. He has performed Typography and One Way with the wind instrumentalist Jon Gibson at Roulette and the Stone in New York. Recent performances in 2013 include the Burchfield-Penny Art Center Testify Festival in Buffalo NY and The Central China Academy of Fine Arts, Beijing. He also worked on composing music and video for the Jon Lehrer Dance Company that was presented in the fall of 2014. In Sept. 2014 the Goeun Museum in Busan, Korea presented a retrospective of his work. He recently endorsed a limited edition of the Leica Monochrom camera which bears his signature on the top plate His entire body of work can be seen and heard in depth at www.ralphgibson.com

Christina Mossaides Strassfield

Christina Mossaides Strassfield is the Museum Director/Chief Curator of Guild Hall Museum in East Hampton, New York. This title was given to her in January 2009.  She had been the Curator at Guild Hall Museum from 1990-1996 and returned in 2002.  One of her standout achievements while overseeing the artistic leadership and overall management of the Museum has been the exemplary Museum Exhibition schedule which she has either curated herself or directly oversaw as program manager. During her tenure she has transformed what was once a small sleepy museum into a vital Mecca for the visual arts which has been recognized by reviews in The New York Times, Art in America, Art News, New York Magazine, The New York Sun, Newsday and many other publications. The mission statement of the museum is to showcase the artists who have an affiliation with Eastern Suffolk County. Close proximity to NYC has made the Hampton's the summer home for most of the New York Art world. This has allowed Strassfield to forge close relationships with the artist's, dealers and collectors who shape the New York Art World.  She has been instrumental in coordinating exhibitions which have received acclaim from art critics as well as the general public. At Guild Hall she is charge of curating the collection of over 2500 objects, works of art by artists associated with the Eastern Long Island including acquisitions and collections care. Strassfield launched the Guild Hall Collector's Circle and has cultivated many gifts for the collection, oversees the acquisitions and loan process, and guides the Museum Committee on collections in addition to organizing the traveling exhibition of works from the collection which has traveled cross-country since 2007 and continues to be booked.  In 2009 she Co-Chaired a Symposium at Hofstra University on the artist Perle Fine. In 2010 she was appointed Professor at Dowling College where in 2011 the Museum Studies Minor was launched under her leadership.  She currently teaches as an Adjunct Professor at the State University of New York, Suffolk Community College, Eastern Campus.

She is in charge of all aspects of administrating Guild Hall Museum and all exhibition related work. Management responsibilities for the museum include budgeting, fundraising, grant writing, major gift cultivation, marketing, publicity, research, conservation, education, exhibition design, AAM Museum accreditation as well as disaster, long range and strategic planning.  She has been published in catalogues, articles and has participated in symposiums, scholarly talks and on numerous panels.  She has appeared on News 12, NPR on WLIW, Plum TV, Cablevision, and LTV and on the radio.  She continues to be involved in the arts and has served on the art board of the LongHouse Foundation and has been on the executive board of the Long Island Museum Association and is a member of the prestigious ARTTable which recognizes leadership roles by women in the Arts.  

Her community involvement includes being elected to two 5 years terms on the Southampton School Board where she co-chaired the Budget Committee that oversaw the school districts then 62 million dollar budget.  She also served on the Finance and Audit, Academic Advisory and Academic Enrichment Committees.  Since 2019 she has served on NYFA's Nominating Committee.

She has also served on her church's Parish council and was the President of their Philanthropic Society.

Amanda Kate Joshi

Amanda Kate Joshi is a NYC-based director, producer, and stage manager, who is thrilled to be directing again at Guild Hall after her 2019 staged readings of The Violin-Maker by Stephen Dickman and Kingdom of the Spirits by JZ Holden.  Additional directing selections include: Sell Me: I Am From North Korea by Sora Baek (Jersey City Theatre Center); Inch by Inch by Rachel Graf Evans (Theatre for a New City at Producers' Club); Craig McNulty's Welcome Home Steve (Players Club); Wilde's Importance of Being Earnest (14th Street Y); Michelle Markowitz's Hookups & Hang-ups (Abingdon Theatre); Jay Hanagan's Softly Sara Falls (Lookinglass Theatre).  Previous Guild Hall productions as Associate Director to Tony Walton: Noel Coward's Tonight at 8:30, Sir Peter Shaffer's Equus and The Gift of the Gorgon.  She was also his Associate on Stephen Sondheim's Evening Primrose (John Jay Theatre).  As Associate to Don Stephenson:  Frank Loesser's Guys & Dolls, The Roar of the Greasepaint, The Smell of the Crowd; The Will Rogers Follies (all Goodspeed Musicals); The Producers (Paper Mill Playhouse); Cabaret (Manhattan School of Music).  Amanda has spent the last 15 years working on new and developing plays, as a director and an independent producer.  She sat on the Lark Play Development Company's Literary Wing, has been a reader for the Princess Grace Award in Playwrighting, and spent two years as the Colony Coordinator at for the Johnny Mercer Writers' Colony at Goodspeed, which develops 30+ new musicals annually.  In 2005 she founded Wizard Oil Productions and was their Artistic Director until 2010, before spending two years as the General Manager of Abingdon Theatre Company.  She has additionally partnered with New Georges as a Line Producer, producing close to 20 productions for the three companies.  New Georges' A Beautiful Day in November on the Banks of the Greatest of the Great Lakes won an OBIE in 2015, and Wizard Oil's Empire of the Tree was nominated for an Innovative Theatre Award in 2010.  Amanda has been an evaluator for the SDC Observership Program, as well as nominated for both a National Directors Fellowship and an SDC Mike Ockrent Directing Fellowship.  www.amandakatejoshi.net. 
Event Sponsors
Theater Programming supported in part by the Helen Frankenthaler Foundation, Barbara Slifka, The Schaffner Family Foundation, 

Straus Family Foundation,

 Brown Harris Stevens, Michael Balmuth, Blythe Danner, Lang Insurance, and funding from The Ellen and James S. Marcus Endowment for Musical Programming and The Melville Straus Family Endowment

  Guild Hall's museum programs are made possible by the New York State Council on the Arts with the support of the Office of the Governor and the New York State Legislature, an anonymous donor, Peggy J. Amster, Crozier Fine Arts, and funding from The Michael Lynne Museum Endowment, and The Melville Straus Family Endowment. 90 Years: Selections from the Permanent Collection exhibition is funded in part by William L. Bernhard, and Barbara F. Gibbs.

Free admission is generously funded by 

Dime

 Community

 Bank

 and Landscape Details.

The digitization of Guild Hall's Permanent Collection was made possible by a generous grant from The Robert David Lion Gardiner Foundation and The Gerry Charitable Trust.
Become a Sponsor