Philip Glass
Works for Piano – Program B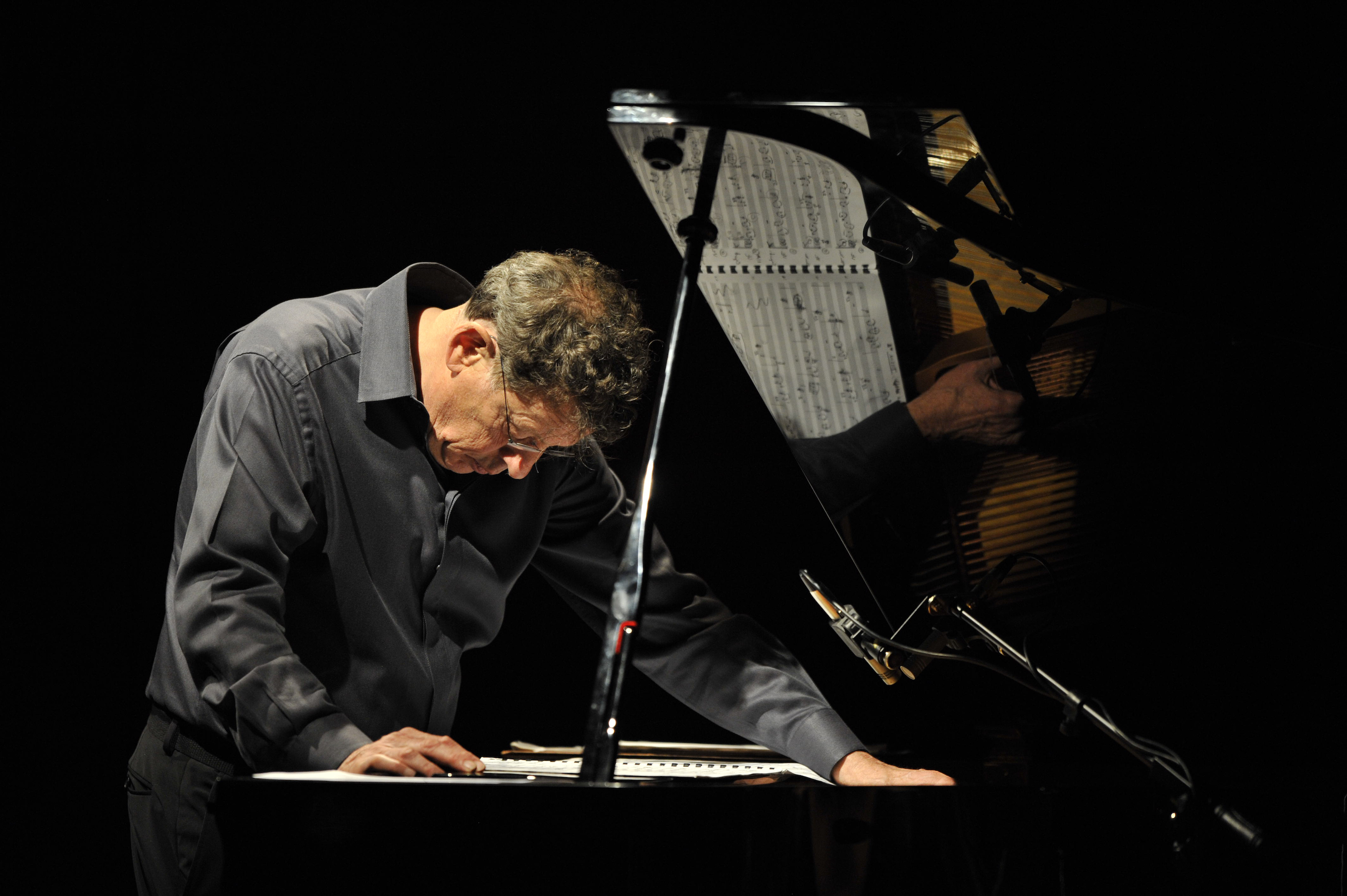 Overview
Composed by Philip Glass
Performed by Philip Glass, Anton Batagov, and Jenny Lin
An all-Glass program performed by Philip Glass and two guest pianists featuring recent composition for solo piano and new arrangements of classic Glass works.
PROGRAM B
(SUBJECT TO CHANGE)
Mad Rush (1979) 
Composed and performed by Philip Glass
Mad Rush was adapted from an earlier organ piece, Fourth Series Part 4, commissioned by Radio Bremen for the Holland Festival. Mad Rush was created as entrance music for the Dalai Lama on his 1979 visit to St. John The Devine Cathedral in New York. The Dalai Lama's arrival time was uncertain, so Mad Rush was created as a piece that could be stretched for an indefinite period of time without the audience realizing that any delay was occurring. Mad Rush has since been adapted for solo piano.
Etude No. 8 (2007), No. 18 (2012) and No. 10 (1996)
Composed by Philip Glass
Performed by Jenny Lin
There were a number of special events and commissions that facilitated the composition of the Etudes by Philip Glass. The original set of six was composed for Dennis Russell Davies on the occasion of his 50th birthday in 1994. These Etudeswere later renumbered as Nos. 2, 3, 4, 5, 9 and 10. Etude No. 6 was commissioned in 1994 by WNYC for John Schaefer's new music program under the original title 'Now So Long After That Time'.  Etude No. 7 was commissioned by the Sydney Festival in 1996. Etudes 12 and 13 were commissioned by Bruce Levingston in 2007 and premiered in New York at Lincoln Center's Alice Tully Hall. Etude No. 17 was commissioned for the 25th Anniversary of the Menil Collection in Houston, TX, and premiered in 2012. The final three works, Etudes Nos. 18, 19 and 20, were commissioned by the Perth Festival in 2012 in honor of Glass's 75th birthday, and premiered on 16 February 2013. 
Distant Figure, Passacaglia For Piano (2017)

Composed by Philip Glass
Performed by Anton Batagov
This piece was commissioned by Aarhus, Denmark and written for Anton Batagov. It premiered at the Musikhuset Aarhus in November of 2017.
The Trial (1976)
Composed by Philip Glass
Performed by Anton Batagov
This piece was originally composed for the Philip Glass and Robert Wilson opera, Einstein on the Beach.
Intermission
Metamorphoses 2 & 3 (1989) 
Composed and performed by Philip Glass
Metamorphosis is set of piano pieces composed from 1988-1989 drawn from both Errol Morris' film A Thin Blue Line and a staging of Kafka's The Metamorphosis, part of The Kafka Trilogy (The Process) by Gerald Thomas, first performed in São Paulo, Brazil. As both projects were undertaken at the same time, the music seemed to lend itself well to a synthesis of this kind.
Four Movements for Two Pianos (2008) 
Composed by Philip Glass
Performed by Anton Batagov & Jenny Lin
This piece was commissioned by the Klavier-Festival Ruhr, and was premiered in Essen, Germany in July of 2008. 
Opening (1981)
Composed by Philip Glass
Performed by Philip Glass, Anton Batagov and Jenny Lin
Glassworks was originally written as a commission for CBS Records in 1981 (the first CD of mine recorded for that company). Besides work for my ensemble, it contained several unusual pieces including Opening for solo piano and Façadesfor solo soprano saxophone. Some of this music later formed the basis of Jerome Robbins' dance piece at the New York City Ballet in 1983. Opening was the beginning of a series of music for solo piano, which I am still adding to, to this day.
Philip Glass

Born in Baltimore, Maryland, Philip Glass is a graduate of the University of Chicago and the Juilliard School. In the early 1960s, Glass spent two years of intensive study in Paris with Nadia Boulanger and, while there, earned money by transcribing Ravi Shankar's Indian music into Western notation. By 1974, Glass had a number of innovative projects creating a large collection of new music for The Philip Glass Ensemble and for the Mabou Mines Theater Company. This period culminated in Music in Twelve Parts and the landmark opera Einstein on the Beach, for which he collaborated with Robert Wilson. Since Einstein, Glass has expanded his repertoire to include music for opera, dance, theater, chamber ensemble, orchestra and film. His scores have received Academy Award nominations (Kundun, The Hours, Notes on a Scandal) and a Golden Globe (The Truman Show). In the past few years several new works were unveiled including an opera on the death of Walt Disney, The Perfect American (co-commissioned by Teatro Real, Madrid and the English National Opera), a new touring production of Einstein, the publication of Glass's memoir, Words Without Music, by Liveright Books, and the premiere of the revised version of Glass' opera Appomattox, in collaboration with librettist Christopher Hampton, by the Washington National Opera in November 2015.

Glass celebrated his 80th birthday on January 31, 2017 with the world premiere of Symphony No. 11 at Carnegie Hall. His 80th birthday season featured programming around the globe, including the U.S. premieres of operas The Trial and The Perfect American, and world premieres of several new works, including Piano Concerto No. 3 and String Quartet No. 8.

In 2015, Glass received the U.S. National Medal of Arts and the 11th Glenn Gould Prize. He was honored with the Richard and Barbara Debs Composer's Chair from Carnegie Hall for the 2017-2018 season. Glass received the 41st Kennedy Center Honors in December 2018.

On January 10th, 2019, the Los Angeles Philharmonic will present the world premiere of Glass' Symphony No. 12, based on David Bowie's album Lodger and a completion of three symphonies based on Bowie's Berlin Trilogy. Glass continues to perform solo piano and chamber music evenings with world renowned musicians, and regularly appears with the Philip Glass Ensemble.

Anton Batagov

Anton Batagov is a Russian composer and pianist, who is one of the most influential Russian musicians of our time. 

As a performer, Batagov introduced the music of John Cage, Morton Feldman, Steve Reich, and Philip Glass to Russian audiences. His debut CD, a 160-minute recording of Messiaen's Vingt regards sur l'Enfant Jesus (1990), became a major sensation. Three years later Richard Kostelanetz characterized his 1993 recording of Bach's "The Art of the Fugue" as "the most stunning interpretation of Bach since Glenn Gould."  In 1997 Batagov stopped performing live, and since then, he had been focusing on composition and studio recordings for 12 years.  

As a composer, Batagov has his own unique voice. The post-minimalist language of his compositions is rooted in the harmonic and rhythmic patterns of Russian church bells and folk songs seamlessly mixed with the spirit of Buddhist philosophy and the dynamic pulse of early Soviet avant-garde.  His discography includes over 40 albums. Batagov is the author of several movie soundtracks, and original music for major Russian TV channels. 

In 2009, after twelve years of seclusion, he returned to live performances. Since then, he has been performing a series of unique solo piano programs. The critics and audiences call his recitals "a revelation", "a work of enlightened person".

Anton Batagov has been performing works of Philip Glass for over 25 years. Three albums are available on Orange Mountain Music: Prophecies (his piano arrangements of scenes from Einstein on the Beach and Koyaanisqatsi); The complete Etudes; The Hours/Distant figure (music from The Hours and a composition written by Philip Glass for and premiered by Anton Batagov.

Jenny Lin

Jenny Lin is one of the most respected young pianists today, admired for her adventurous programming and charismatic stage presence. She has been acclaimed for her "remarkable technical command" and "a gift for melodic flow" by The New York Times. The Washington Post praises "Lin's confident fingers… spectacular technique… ", "…surely one of the most interesting pianists in America right now…" and Gramophone Magazine has hailed her as "an exceptionally sensitive pianist". Her orchestral engagements have included the American Symphony Orchestra, NDR and SWR German Radio orchestras, and Orchestra Sinfonica Nationale della RAI. Her concerts have taken her to Carnegie Hall, Avery Fisher Hall, Kennedy Center, MoMA, and National Gallery of Art, appearing at Festivals such as Mostly Mozart, BAM's Next Wave, Spoleto/USA, Kings Place London, Chopin Festival Austria, and Schleswig-Holstein Festival Germany.

Since 2000, Jenny's celebrated discography includes more than 30 recordings on Steinway & Sons, Hänssler Classic, eOne, BIS, New World and Albany Records. She is also the central figure in "Cooking for Jenny" by Elemental Films, a musical documentary portraying her journey to Spain. Other media appearances include CBS Sunday Morning, NPR Performance Today, and "Speaking for Myself", a film about Manhattan as seen through the eyes of eight contemporary artists by filmmaker Bert Shapiro. Born in Taiwan and raised in Austria, Jenny studied at the Hochschule für Musik in Vienna, the Peabody Conservatory in Baltimore and the Fondazione Internazionale per il pianoforte in Como, Italy. She holds a bachelor's degree in German literature from The Johns Hopkins University. 

Highlights of the 2017/18 season include tours throughout North America, Europe, and Latin America; her debut in Lincoln Center's Great Performers Series; and the release of Melody's Mostly Musical Day, an illustrated album for children, the complete piano Etudes of Philip Glass, and the piano music of Sergei Prokofiev and Kirill Zaborov. Since 2014, she has joined Philip Glass in his ongoing world tour of his complete Piano Etudes. Jenny is a Steinway Artist. www.jennylin.net 
Event Sponsors
All Theater Programming is supported in part by Ellen Myers, Marders, the Daryl & Steven Roth Foundation, and funding from The Ellen and James S. Marcus Endowment for Musical Programming, The Harold and Mimi Steinberg Charitable Trust, Hess Philanthropic Fund, The Melville Straus Family Endowment, The Schaffner Family Foundation, and Vital Projects Fund, with additional support from Brown Harris Stevens, Saunders & Associates, and public funds provided by Suffolk County. All Musical Programming supported in part by The Ellen and James S. Marcus Endowment for Musical Programming. This program is supported by Galia and Axel Stawski, with additional support by Sandy and Stephen Perlbinder.
Become a Sponsor