Open Studio for Teens
Upcycled Fashion with Jade Ford-Jathan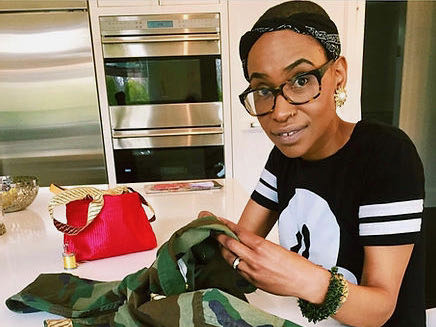 Overview
Grab your friends and get creative. Join the Guild Hall Teen Arts Council for a free drop-in art making program! Occurring on the second Tuesday of every month, each open studio will feature and a different visiting artist who will share their practice, lead us through projects, and help us create something entirely new.    
All supplies are provided and no previous experience is necessary – all are welcome.
SCHEDULE & VISITING ARTIST
Tuesday, March 16: Creative Writing & Spoken Word with Andrina Wekontash Smith (virtual)
Tuesday, April 20: Freak Candle Making with A Charde (in-person)
Tuesday, May 11: Upcycled Fashion with Jade Ford-Jathan (in-person)
Tuesday, June 15: Songwriting & Live Looping with Gian Carlo Feleppa (in-person) 
ABOUT GHTAC 
The Guild Hall Teen Arts Council is a group of motivated and creative young people working to inspire their peers to develop a passion for and voice within the contemporary visual, literary, and performing arts, and to advance their own creativity through devising, producing, and participating in creative interactions, public programs, and special events. 
Jade Ford-Jathan

I'm Jade, a self-taught seamstress and creative designer. Fashion design dates back for me watching my grandmother perfectly piece her "look of the day" together which was always full of color. Her bold love for prints and patterns would later be my foundation and love, influencing my career and outlook in life. My love for vintage clothing and reworking items is what lead me down my creative path in fashion. Working with many big and small designers and brands as a stylist and visual merchandiser began my fixation on how garments come together but it was truly living in Brooklyn, NY, 13 years, that fine-tuned my eye and openly gave me permission to create and cultivate my own design space and rules in this massive industry. 

I have been in the fashion industry 15 years & working independently for 4 years. I operate a creative design company Citizens & Heirs, where I design custom camouflage & denim jackets, up-cycle items, & service local boutiques by fulfilling their unique sewing needs.  My love for vintage clothing allows me to work with vintage boutiques and shoppers doing alterations and repairs on their much-cherished items. I truly understand the need of personalization and really thread that into all my projects.  

Currently, I am residing with my husband Elvis and creating in East Hampton, NY. Being here has offered me the opportunity to expand Citizen's & Heirs, birth my baby Sew You Right, while working with the flourishing boutiques in the area in need of alterations, tailoring services, and more. 
Event Sponsors
Education Programming supported by The Patti Kenner Arts Education Fellowship, Lucy and Steven Cookson, The Hearthland Foundation, the Helen Frankenthaler Foundation, Milton and Sally Avery Arts Foundation, and funding from the Lewis B. and Dorothy Cullman Endowment Fund, and The Melville Straus Family Endowment The Guild Hall Teen Arts Council is sponsored by Clifford Ross and Nicolette Donen
Become a Sponsor