Leo Villareal in conversation with Kathleen Forde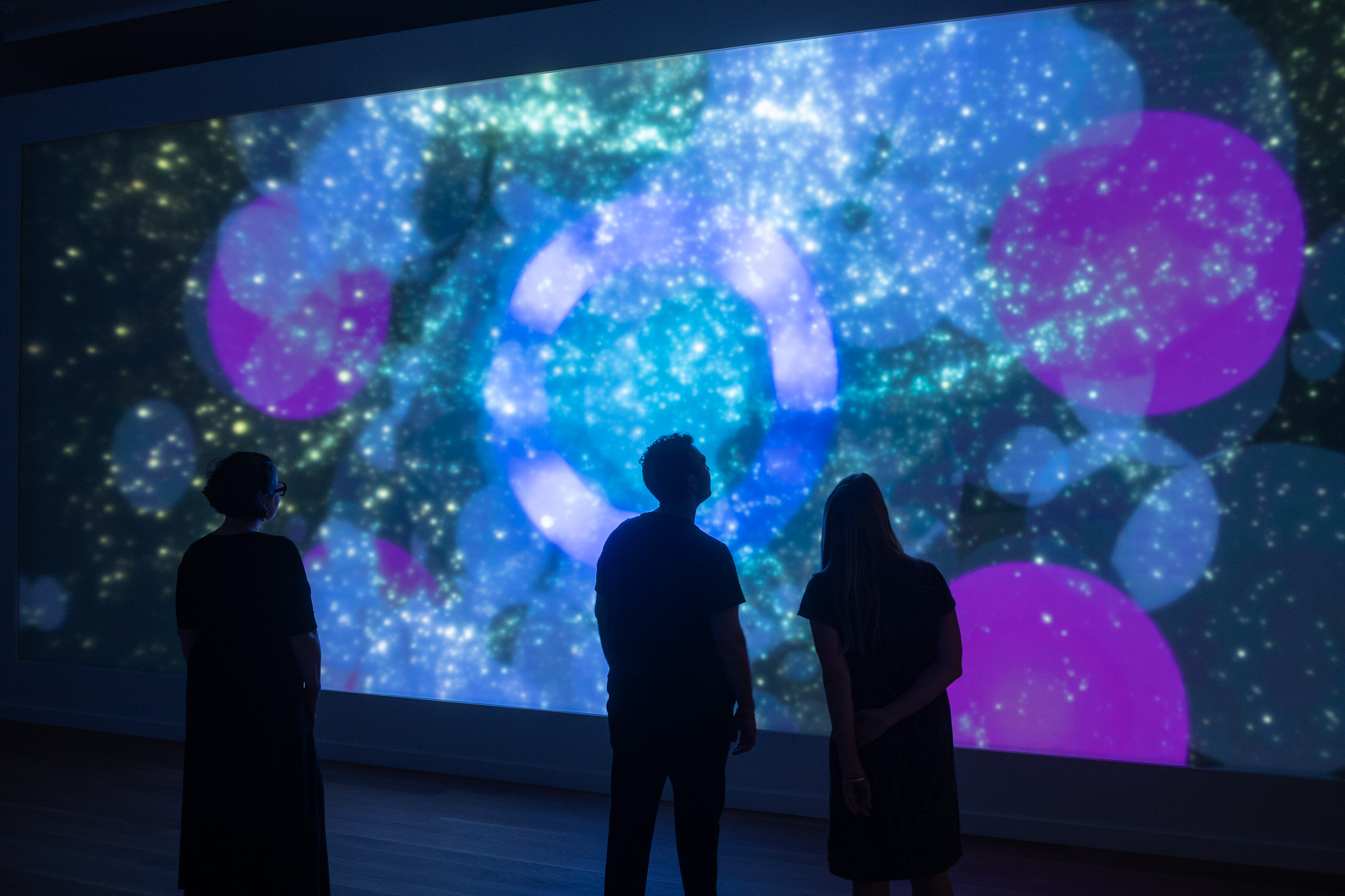 Overview
Join artist Leo Villareal and Kathleen Forde, inaugural Senior Curator for Superblue, as they discuss Leo's work and large-scale immersive installations, in conjunction with Guild Hall's exhibition of Villareal's Celestial Garden. This engaging conversation with take place in the Marks Family Gallery North, and seating is limited, so get your tickets today.
---
Leo Villareal's Celestial Garden features a never-before-exhibited monumental LED artwork accompanied by a soundscape and artist-designed furniture. The new light sculpture is composed of an array of LEDs over ten feet high and twenty-eight feet wide that is encased in a vinyl membrane. The artwork comes alive with perpetually evolving forms created by using custom software that orchestrates the compositions. An audio soundscape accompanies the visual display.
Villareal's abstract compositions, inspired by nature's intricate patterns, unfold in real-time and envelop the viewer in a dynamic interplay of light and sound where space and time intertwine.
Leo Villareal

Leo Villareal is a light artist based in New York City. Over the last 20 years, he has exhibited widely in the United States and abroad. His work is in the permanent collections of museums, including the Albright-Knox Art Gallery, Buffalo, NY; The Museum of Modern Art, New York, NY; Naoshima Contemporary Art Museum, Kagawa, Japan; and the National Gallery of Art, Washington, D.C. In addition to being represented by Pace Gallery, Villareal also creates permanent, site-specific works including: Fountain (KCI), Kansas City International Airport, Kansas City, MO; Light Matrix (Houston), Tilman J. Fertitta Family College of Medicine, University of Houston, Houston, Texas; Volume, Dallas Cowboys Headquarters, Frisco, Texas; Buckyball, the Exploratorium, San Francisco, California; Light Matrix, MIT, Cambridge, Massachusetts; Volume (Renwick), Renwick Gallery at the Smithsonian, Washington, D.C.; Radiant Pathway, Rice University, Houston, Texas; Cosmos, Johnson Museum, Cornell University, Ithaca, NY; Multiverse, National Gallery of Art, Washington, D.C.; Diagonal Grid, Borusan Center for Culture and Arts, Istanbul, Turkey; Stars, The Brooklyn Academy of Music, Brooklyn; and Hive, for the Metropolitan Transportation Authority at the Bleecker Street subway station in Manhattan. In March 2013, Villareal inaugurated The Bay Lights, a monumental 1.8-mile installation of 25,000 white LED lights on San Francisco's Bay Bridge. In April 2021, Villareal completed Illuminated River, which unites 9 bridges in central London into a single, monumental work of public art.

Villareal was born in Albuquerque, New Mexico and grew up in El Paso, Texas and Juarez, Chihuahua. He attended Portsmouth Abbey School in Portsmouth, Rhode Island and went on to receive his BA in sculpture from Yale University in 1990 and finally his master's degree in Interactive Telecommunications from New York University in 1994. After graduating from NYU, Villareal moved to San Francisco to work for 3 years at Paul Allen's private research lab, Interval Research, in Palo Alto. Since 2004, Villareal has served on the board of the Ballroom in Marfa, Texas, a dynamic, contemporary cultural arts space and in 2011, Villareal joined the board of the Burning Man Project. He currently lives in downtown Manhattan with his wife Yvonne Force Villareal and his two children, Cuatro and Lux.

Photo courtesy of the artist.

Kathleen Forde

For over 20 years, Kathleen Forde's career as a time-based arts curator has intersected with the spheres of exhibition, performance and technology, with a specific focus on ambitious projects in which she works with artists on new commissions from first sketch to final presentation. She is currently Senior Curator for Superblue, a company dedicated to the meaningful presentation of large-scale experiential art, as well as an independent curator and producer. She has collaborated with numerous institutions including The Shed (NYC), Borusan Contemporary (Istanbul), the Experimental Media & Performing Arts Center (Troy, NY),The Eyebeam Center for Art & Technology (NYC), The University of Michigan Museum of Art, Audemars Piguet, Transmediale (Berlin) and the San Francisco Museum of Modern Art.

Photo: Christine Ann Jones
Event Sponsors
Leo Villareal: Celestial Garden Sponsors
Lead Sponsors: Bloomberg Philanthropies, Estrellita and Daniel Brodsky, Amanda and Donald Mullen, Pace Gallery, and an anonymous donor 
Additional Support: Shelley Fox Aarons and Philip Aarons, Jacqueline Brody, and Deborah and David Roberts 

Museum programs are supported by Crozier Fine Arts, and funding from The Michael Lynne Museum Endowment, and The Melville Straus Family Endowment.  

Free gallery admission is sponsored, in part, by Landscape Details. 
Become a Sponsor