Leo Villareal: Celestial Garden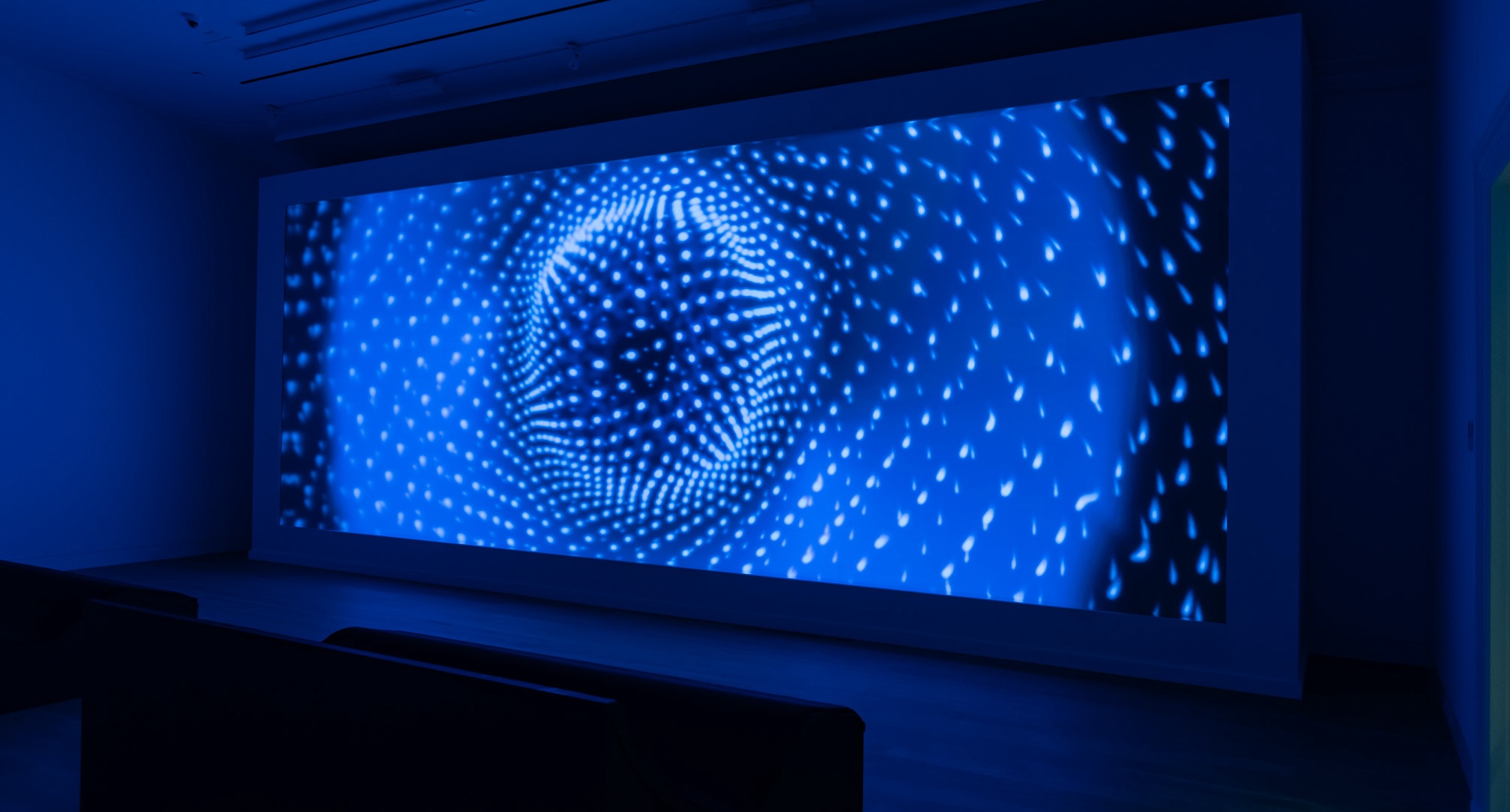 Overview
ON VIEW AUGUST 5-OCTOBER 16, 2023
Marks Family Gallery South
Leo Villareal's Celestial Garden (2023) is a monumental light sculpture composed of an array of LEDs diffused through a vinyl membrane and accompanied by a soundscape and artist-designed furniture. Villareal utilizes custom software to orchestrate compositions of perpetually evolving abstract forms inspired by the intricate patterns found in nature.
The artist grew up along the US-Mexico border, and his early interest in Mexican muralism is reflected in the historical references to mark-making in his large-scale works. Although his immersive light installations employ sophisticated technology to generate random sequences that recombine in infinite variations, his focus is on reducing systems to their essence—simple elements such as pixels or the zeros and ones of binary code—to better understand the underlying structures and rules that govern their workings.
Leo Villareal has created light works for museums and public spaces around the globe, including Westminster Bridge in London, the Bay Bridge in San Francisco, the Bleecker Street subway station in New York, and the facade of the Brooklyn Academy of Music.
---
Gallery Hours:
Friday to Monday, 12-5 PM
FREE
Louise & Howie's Coffee Bar featuring Tutto Caffè is open in the lobby during gallery hours. Refreshments are not allowed in the galleries but may be enjoyed in the lobby and in our gardens.
Leo Villareal

Leo Villareal is a light artist based in New York City. Over the last 20 years, he has exhibited widely in the United States and abroad. His work is in the permanent collections of museums, including the Albright-Knox Art Gallery, Buffalo, NY; The Museum of Modern Art, New York, NY; Naoshima Contemporary Art Museum, Kagawa, Japan; and the National Gallery of Art, Washington, D.C. In addition to being represented by Pace Gallery, Villareal also creates permanent, site-specific works including: Fountain (KCI), Kansas City International Airport, Kansas City, MO; Light Matrix (Houston), Tilman J. Fertitta Family College of Medicine, University of Houston, Houston, Texas; Volume, Dallas Cowboys Headquarters, Frisco, Texas; Buckyball, the Exploratorium, San Francisco, California; Light Matrix, MIT, Cambridge, Massachusetts; Volume (Renwick), Renwick Gallery at the Smithsonian, Washington, D.C.; Radiant Pathway, Rice University, Houston, Texas; Cosmos, Johnson Museum, Cornell University, Ithaca, NY; Multiverse, National Gallery of Art, Washington, D.C.; Diagonal Grid, Borusan Center for Culture and Arts, Istanbul, Turkey; Stars, The Brooklyn Academy of Music, Brooklyn; and Hive, for the Metropolitan Transportation Authority at the Bleecker Street subway station in Manhattan. In March 2013, Villareal inaugurated The Bay Lights, a monumental 1.8-mile installation of 25,000 white LED lights on San Francisco's Bay Bridge. In April 2021, Villareal completed Illuminated River, which unites 9 bridges in central London into a single, monumental work of public art.

Villareal was born in Albuquerque, New Mexico and grew up in El Paso, Texas and Juarez, Chihuahua. He attended Portsmouth Abbey School in Portsmouth, Rhode Island and went on to receive his BA in sculpture from Yale University in 1990 and finally his master's degree in Interactive Telecommunications from New York University in 1994. After graduating from NYU, Villareal moved to San Francisco to work for 3 years at Paul Allen's private research lab, Interval Research, in Palo Alto. Since 2004, Villareal has served on the board of the Ballroom in Marfa, Texas, a dynamic, contemporary cultural arts space and in 2011, Villareal joined the board of the Burning Man Project. He currently lives in downtown Manhattan with his wife Yvonne Force Villareal and his two children, Cuatro and Lux.

Photo courtesy of the artist.
Event Sponsors
Lead Sponsors: Bloomberg Philanthropies, Estrellita and Daniel Brodsky, Amanda and Donald Mullen, Pace Gallery, and an Anonymous Donor 

Additional Support: Shelley Fox Aarons and Philip Aarons, Jacqueline Brody, and Deborah and David Roberts 

Free gallery admission is sponsored, in part, by Landscape Details.

Museum programs are supported by Crozier Fine Arts, and funding from The Michael Lynne Museum Endowment, and The Melville Straus Family Endowment.
Become a Sponsor