Laurie Anderson & Christian McBride with special guest Rubin Kodheli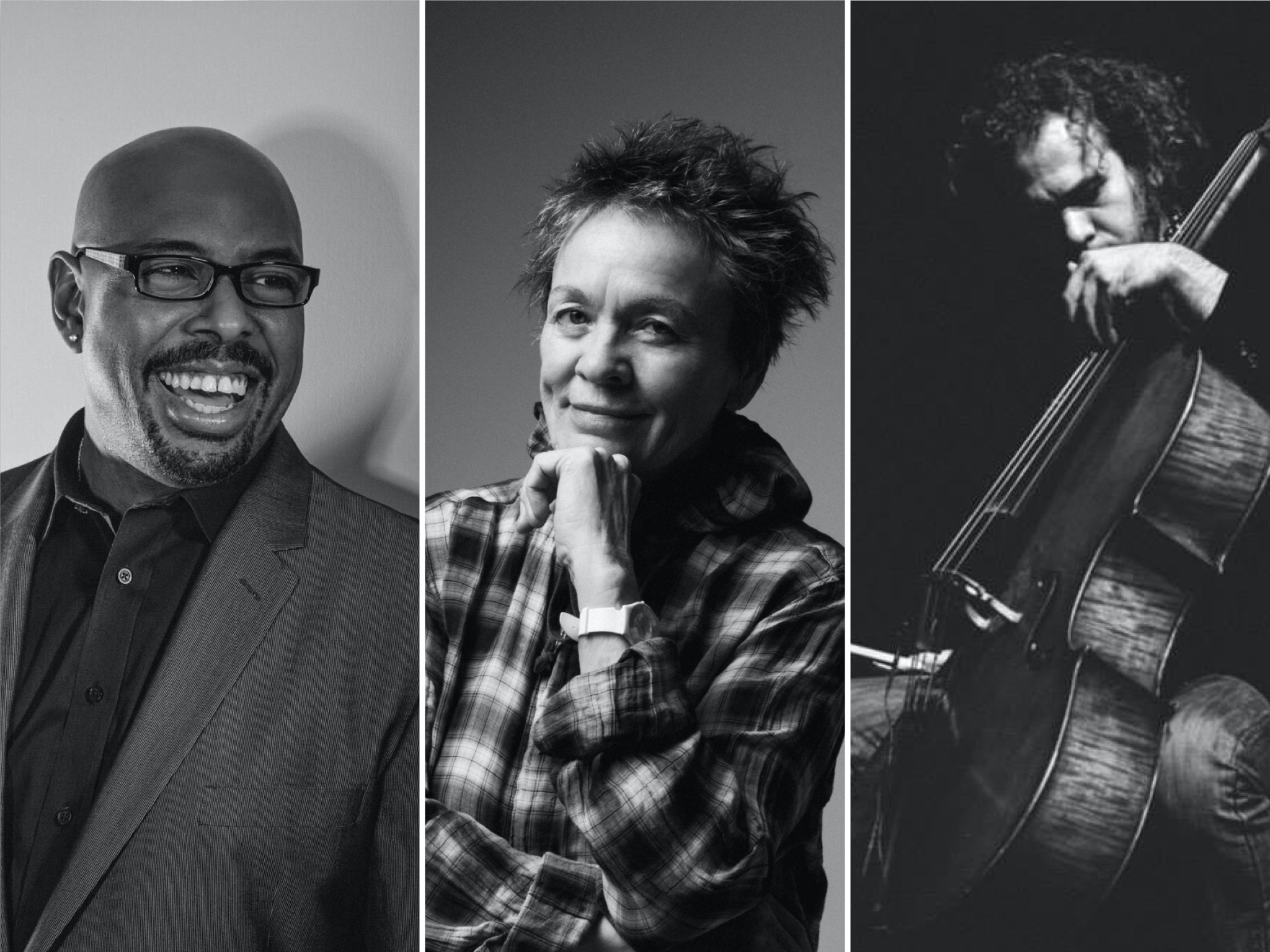 Overview
THIS EVENT IS NOW SOLD OUT. FOR LIVESTREAM TICKETS PLEASE CLICK HERE.
Two legendary artists come together in a showcase for their respective versatility and the pliability of jazz and the avant-garde.
Laurie Anderson, violin and synthesizers
Christian McBride, bass
Rubin Kodheli, cello
Individually, Laurie Anderson and Christian McBride are titans in their respective fields: Anderson as an award-winning visual artist and innovative musician working in pop's avant-garde and McBride as a Grammy®-winning jazz polymath equally adept at leading anything from small ensembles to big bands. Together, complemented by cellist Rubin Kodheli, Anderson's violin and synthesizers and McBride's bass form a unique and unexpected combination, leading The New York Times to call their 2017 concert at Town Hall one of the best live jazz performances of the year.  This string-based trio blends the sound of several different worlds into a harmonious whole.
*Your purchase of one ticket is for one Lawn Circle, which can sit a party of up to two people. All lawn circles are 6 ft. in diameter and are distanced 6 ft. away from other parties. Please bring your own blankets and/or beach chairs. For more information, visit the Theater FAQ page.
Laurie Anderson

Laurie Anderson is one of America's most renowned and daring creative pioneers. Best known for her multimedia presentations, innovative use of technology and first-person style, she is a writer, director, visual artist and vocalist who has created groundbreaking works that span the worlds of art, theater, and experimental music.

Her recording career, launched by "O Superman" in 1981, includes many records released by Warner Records among them "Big Science" (1982), the soundtrack to her feature film "Home of the Brave"(1986) "Strange Angels" (1989) "Life on a String" (2001) "Homeland" (2008) and "Landfall" (2018) released on Nonesuch which recently won a Grammy Award in 2019 for Best Chamber Music/Small Ensemble Performance.

In 2002, Anderson was appointed the first artist-in-residence of NASA which culminated in her 2004 solo performance "The End of the Moon", the second in a series of three "story" performances along with "Happiness" (2001) and "Dirtday" (2012) all of which toured extensively internationally.

Anderson has published eight books. Her most recent release - "All The Things I Lost In The Flood" (Rizzoli) – is a series of essays about pictures, language and codes.

Anderson's films include numerous music videos and installation works as well as "Carmen" (1992), the high definition "Hidden Inside Mountains" (2005) and Arte-commissioned  "Heart of a Dog" (2015) which was chosen as an official selection of the 2015 Venice and Toronto Film Festivals.

In 2017 Anderson joined four other artists in Mass MoCA's Building 6 inaugurating a fifteen year rotating exhibition of work.  Anderson will show pieces from her archive as well as new work. Included in the first exhibition cycle are her virtual reality collaborations with Hsin-Chien Huang "Chalkroom" and "Aloft".  "Chalkroom" has been featured in film festivals all over the world including the Venice Film Festival where it won the award for "Best VR Experience" under its Italian title "La Camera Insabbiata". Along with their most recent VR piece "To the Moon," all three were presented at the 2019 Directors' Fortnight in Cannes.

Christian McBride

Christian McBride is a six-time GRAMMY Award winning bassist/composer and the host of NPR's Jazz Night in America. Since the early 1990's Christian McBride has recorded on over 300 dates as a sideman. However, he's been a leader from his debut recording in 1995. Aside from various stints with Sting, Chick Corea, Pat Metheny, Roy Haynes, Freddie Hubbard and George Duke, McBride has been artist-in-residence and artistic director with organizations such as Jazz House Kids, Los Angeles Philharmonic, The Jazz Museum in Harlem, Jazz Asoen and NJPAC (New Jersey Performing Arts Center -- Newark). McBride manages to tour consistently with his quartet, the New Jawn. He also fronts the GRAMMY-winning Christian McBride Big Band, whose Mack Avenue recordings, The Good Feeling and Bringin' It won the GRAMMY® Award for Best Large Jazz Ensemble Album in 2012 and 2017, respectively. In addition, McBride hosts "The Lowdown: Conversations With Christian" on Sirius/XM and DJs at clubs as DJ Brother Mister. McBride was recently named the artistic director of the historic Newport Jazz Festival, taking over the reins from the festival's longtime artistic director and founder, George Wein. 

Rubin Kodheli

Composer Rubin Kodheli (ko-thé-lee) is a celebrated, versatile, genre-transcending creative rebel. The inspirational tapestry of his work is intentionally woven from blended threads of rock, jazz and classical influences, a stylistic trademark that has afforded Kodheli a career rich in its diversity of output. From his compositions appearing in feature films such as Precious (2009), to his original symphonic rock compositions, to his collaborations as a performer with genre defining artists - including Philip Glass, Henry Threadgill, Christian McBride, Meredith Monk, Joan Jett, Tom Harrell, and Snoop Dogg.

Recently Mr.Kodheli has been performing Letters to Jack, created by the amazing and legendary writer, composer, filmmaker Laurie Anderson.

Kodheli's eclectic work amounts to an intriguing sonic collage able to enrapture and captivate audiences.

Kodheli began his musical journey as a cellist in Albania, where, as a child, he would stay up into the night absorbing celebratory performances of traditional Albanian folk music or spend days attending numerous rehearsals with his mother, singer and actress Justina Aliaj (a-lee-i). By age fifteen, he moved to Belgium to pursue formal studies at l'Académie d'Uccle and later to Germany to attend the Richard Strauss Konservatorium. In the 1990s Kodheli received a scholarship to The Juilliard School, where he studied as a pupil of cello visionary Fred Sherry.

Post-Juilliard Kodheli's own musical improv and work with dancers as well as with other improviser composers compelled him to learn composition. In 2013 choreographer Elisa Monte hired him to write a fifteen-minute piece for which they won a grant from New Music U.S.A.

Creating instrumental alchemy in his compositions and performances, Kodheli deftly molds the cello to emulate the timbre of a guitar, a drum, or a human voice; his rhythmic aptitudes and intuition for percussion enable him to play piano as well. His compositions teem with nuance, providing the opportunity to listen repeatedly, each time ripe with the possibility of hearing something that previously went unnoticed. Immersing audiences in honest musical explorations, Kodheli pushes listeners to engage, question and contemplate. Similarly, his compositional work empowers directors to drive home the emotional anchoring of their films.

This panoply of unique musical experiences, from childhood through the present, continues organically to guide and mold his work with filmmakers, rap artists, dancers, choreographers, fellow composers, and various other creative professionals in New York City, and around the world.
Event Sponsors
Special thanks to Marty and Michele Cohen, Ben Krupinski Builder, Hollander Design, and Groundworks Landscaping. All Theater Programming supported in part by Marders, Barbara Slifka, and funding from The Ellen and James S. Marcus Endowment for Musical Programming, The Melville Straus Family Endowment, The Schaffner Family Foundation, and with additional support from Brown Harris Stevens, and Lang Insurance.
Become a Sponsor