AME 2018 WINNER
Jeff Muhs: The Uncanny Valley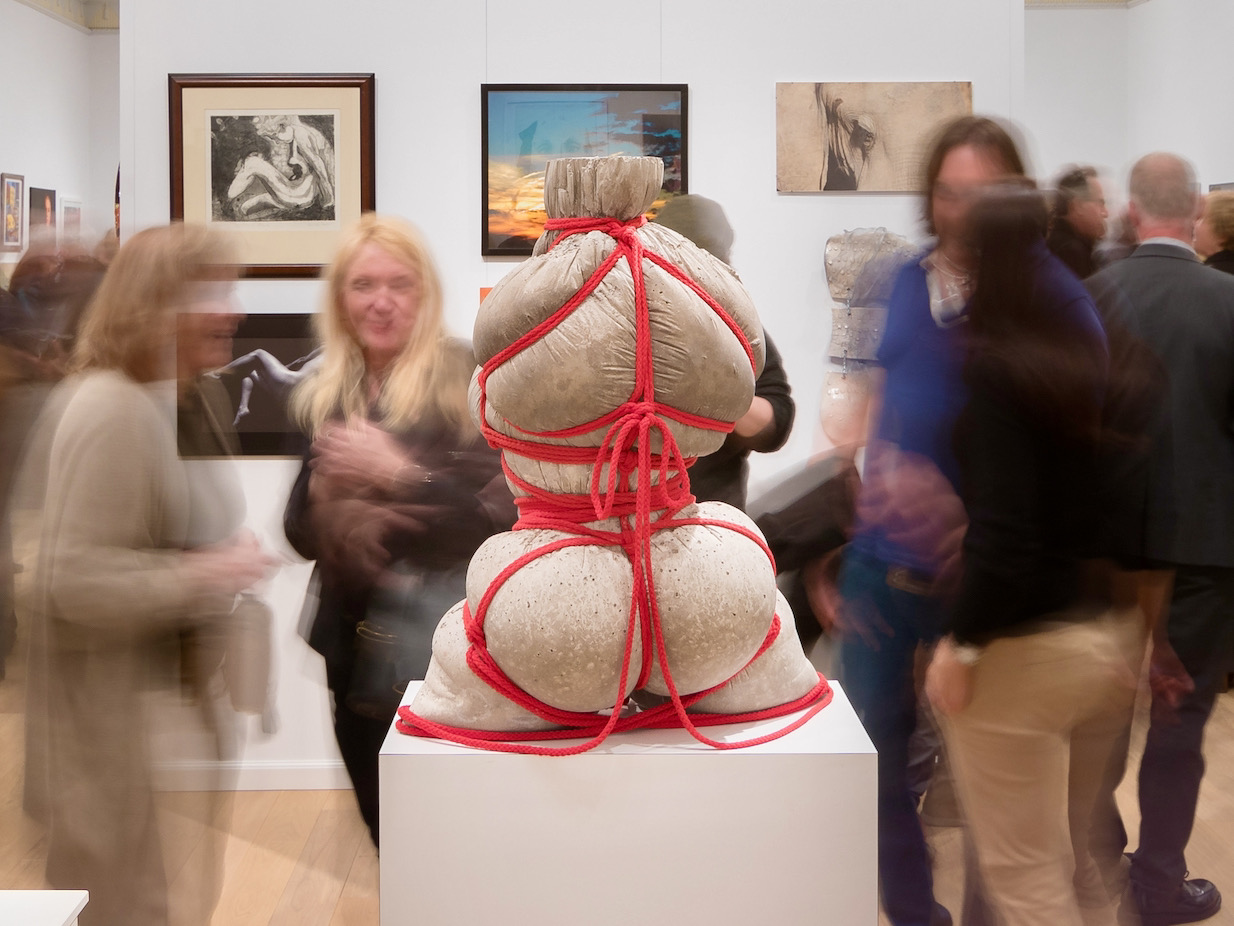 Overview
Winner of the 2018 Annual Guild Hall Artist Members Exhibition
Jeff Muhs: The Uncanny Valley will open on October 30 in tandem with the Permanent Collection exhibition. As a local multidisciplinary artist, Jeff Muhs has worked in a variety of mediums and genres and this exhibition will feature both his sculptural works as well as his paintings. In 2018, Muhs participated in Guild Hall's annual Artist Members Exhibition where he received the Top Honors award for his concrete sculpture Callipyge, selected by Connie Choi, Associate Curator at The Studio Museum of Harlem. The prize for the recipient of the top honor is a solo exhibition in the Spiga Gallery.
The Uncanny Valley originates from a sculptural process the artist calls "Dynamic Free Casting." By discovering this method, the artist has developed new means for forming concrete, all while embracing its inherent fluidity and weight. By pushing the physical limits of the materials as well as his own ability to manipulate, he has discovered a personal source of infinite creativity.   
"The Uncanny Valley is a hypothesized relationship between the degree of an objects' resemblance to a human being and the emotional response to such an object," shared artist Jeff Muhs. "For me, The Uncanny Valley was the moment when I first saw the results of my concrete sculpture as flesh. What had previously been an exploration of more architectural forms, by manor of my process, presented itself as flesh-like. I have been participating in the Guild Hall Artist Members Exhibition for about 25 years. I see it as a great focal point for our creative community. An opportunity for camaraderie and to share our artistic expressions with one another. It is a great honor to have been chosen as the Top Honors recipient for my sculpture and to be awarded the opportunity to exhibit at this cultural institution, so rich in the history of our local artistic community and 20th century art."
Spiga Gallery
---
Fitted face masks are required for all guests over the age of 2 indoors regardless of vaccination status, except when eating or drinking. Click HERE for full COVID-19 protocol.
Jeff Muhs

Jeff Muhs is a contemporary American artist known for both his paintings and sculptures. Engaged in exploring art history as well as using found materials, the artist's practice includes blurred versions of paintings, expressive abstractions based on the Long Island landscape, and concrete sculptures of female torsos tightly bonded in various materials. Born in Southampton, NY in 1966, Jeff's father was a sculptor who taught Muhs wood carving at a young age. Going on to attend the School of Visual Arts in New York during the mid-1980's, Muhs directed his focus towards painting before returning to sculpture later in his career. The artist's works are held in the collections of Guild Hall, the Los Angeles County Museum of Art, and the Hunter Museum of American Art in Chattanooga, TN, among others. Muhs continues to work from his studio in Southampton.
Event Sponsors
Guild Hall's museum programs are made possible by the New York State Council on the Arts with the support of the Office of the Governor and the New York State Legislature, an anonymous donor, Peggy J. Amster, Crozier Fine Arts, and funding from The Michael Lynne Museum Endowment, and The Melville Straus Family Endowment.

Free admission is generously funded by

Dime

Community

Bank

and Landscape Details.
Become a Sponsor