JDT Lab
The Tragedie of King John Falstaff by Michael C. O'Day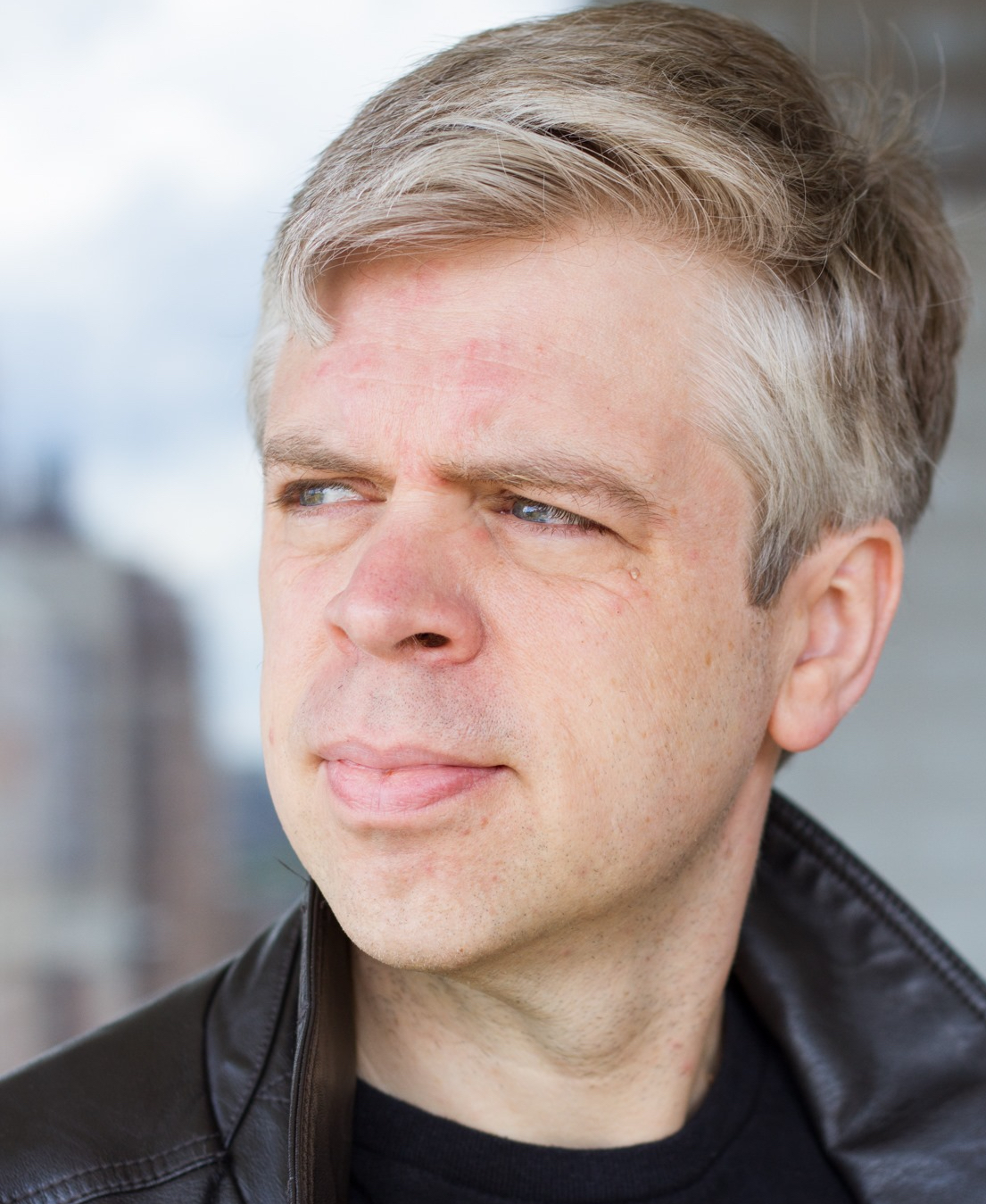 Overview
Defeated by the forces of Henry IV, the fearsome Welsh sorcerer seeks his revenge by magically shunting England into a terrifying alternate timeline.  In this parallel-universe version of Shakespeare's Henriad, Prince Hal is reduced to a mere footnote, and it's Sir John Falstaff – fat, drunken, boastful, cowardly, irrepressible Falstaff – who becomes king of England.  Can the Lord of Misrule overcome his innumerable vices to lead his nation, and put things back to rights?  And if he can't – or won't – then is there anybody who can?
Michael C. O'Day

Michael C. O'Day is a theatre artist based in New York City. He made his playwriting debut with Dragon's Breath, which was produced as part of the 2014 New York International Fringe Festival. Other short plays of his have been performed at the Kraine Theater (Trumpets Sounding Over Harrisburg) and received public readings from Core Artist Ensemble (Morningside Heath) and Naked Angels (Gun Safe, Fond Pageant, Coming Soon to the Dowling Bookstore). Also an actor, he was a company member of the Obie award-winning Classical Theatre of Harlem, appearing in eight of their productions as well as their installment of Suzan Lori-Parks' 365 Days/365 Plays at the Public Theater. A graduate of Colgate University, he currently resides in Brooklyn.

He is the co-Creative Director of Naked Angels' Tuesdays at Nine reading series.

Josh Gladstone

Josh Gladstone has served as the Artistic Director of the John Drew Theater since 2000 where in recent seasons he directed Stage Fright, Romeo & Juliet and Extinction by Gabe McKinley. Responding to the pandemic, he produced last year's John Drew Backyard Theater and John Drew Virtual productions, including Same Time, Next Year starring Julianne Moore and Alec Baldwin, and A Totally Disrespectful Evening of Short Plays by Joy Behar. At the Drew he's produced such plays as Steve Martin's The Underpants, All My Sons starring Laurie Metcalf and Alec Baldwin; Clever Little Lies starring Marlo Thomas; Tony Walton's productions of Tonight at 8:30 starring Blythe Danner, Equus starring Alec Baldwin and Moby Dick Rehearsed starring Peter Boyle; The Glass Menagerie directed by Harris Yulin starring Amy Irving; Robert Wilson's KOOL and Persephone; and The Exonerated starring Mia Farrow. Regional credits: Children's Theatre Co., Minneapolis; Shakespeare Theatre, DC; Classic Theater International, Germany; The Neo-Political Cowgirls; and four seasons as co-founding Artistic Director of Hamptons Shakespeare Festival. Josh studied at Circle in the Square where he met his wife Kate Mueth.

Susan Stout

Susan was last seen in the staged concert reading of ECO at the Southampton Arts Center, and will be back in Love, Loss and What I Worethis October. Last summer she appeared at Guild Hall in The Summit. Favorite roles include Montigue in Romeo & Juliet, Joyce in Body Awareness and Lyubov in The Cherry Orchard. Recent film credits includeLincoln In The Bardo and Silver.

She is the Education Director for the Neo-Political Cowgirls, which allows her to work/create/play and be inspired by this beautiful East End community in such a variety of ways. She also works as a Therapy Dog Team with her furry Ambassador of Love, Indiana Jones. And always, much love to T~

Ariana Johns

Ariana Johns is the Producing Artistic Director of Vampingo Productions (vampingoproductions.com). As a writer, lyricist, actor, singer, producer and director, she has worked professionally both on and off stage. She's recently written the book and lyrics for a new musical, Glamour & Grit, with composer Darryl Curry, after writing the lyrics for the musical comedy BUZZ, Son of a Bee...an actor's life for me (book: Andrew Johns, music: Darryl Curry), produced at A.T.A. as a 9 performance benefit for pollinator preservation organizations. Her play Moonbite...a montage of radiant lunacy was featured in the Woodstock Fringe Festival (Playwright in Residence), and she performed her solo play, Vampingo...a comedy with bite at the NY International Fringe Festival. She's acted in numerous plays and comedy revues across the country. Dramalogue award: The Midnight Court, A.D.A award: Baby with the Bathwater. In 2018, Ariana was selected by the Dramatists Guild Foundation as one of three playwrights to have work presented as a part of the Women's Voices Theatre Festival, sponsored by the National New Play Network. Current work includes: the mother/daughter cabaret with Evangeline Johns, VANGARI; Glamour & Grit reading, sponsored by the DGF and Climate Change Theatre Action; readings of Shakespeare with Erik Ransom's Dead Playwrights Society, and co-producer of the short film, Bliss, starring Louise Lasser and Greg Mullavey.

Rebecca Hoodwin

Rebecca began her professional career as 21-year-old 'mom' Mrs. Eggleston to Harvey Korman in LITTLE ME, continuing this 'motherly' tradition as Golde in FIDDLER ON THE ROOF, including productions with Theodore Bikel and Harvey Fierstein. Favorites include DRIVING MISS DAISY; CABARET; PAJAMA GAME with Hal Linden; LORELEI with Carol Channing; and a memorable day as Guenevere opposite Rock Hudson; She recently played Coral Starkey in the World Premier Series of Doublewide by Stephen Spotswood at Vermont Stage, Ouiser in Stomping Ground Theatre Company's STEEL MAGNOLIAS, Clairvoyant Madam Romonovitch in NYMFs Night Tide, and the title role in KILLING MOM at ACT of CT. On camera credits include NURSE JACKIE; ESPN w/David Ortiz; AS THE WORLD TURNS; and ARTHUR with Dudley Moore. www.rebeccahoodwin.com

Ariel Estrada

Off-Broadway: A PERSISTENT MEMORY, MBL Productions (Jessi D. Hill, dir.); DOUBLE FALSEHOOD, Letter of Marque (Andrew Borthwick-Leslie, dir.); FAR EAST, Lincoln Center Theater (Daniel Sullivan, dir.); SHOGUN MACBETH, CAMBODIA AGONISTES, Pan Asian Repertory Theatre. Selected Off-Off/Regional: TARTUFFE (NYITA Nominee), Phoenix Theatre Ensemble; MADE IN CHINA (NYT Critics Pick), Wakka Wakka (Gwen Warnock, dir.); ALL WE HAVE LEFT, Eugene O'Neill Theatre Center, Jim Henson Foundation Puppetry Residency; THE IMBIBLE (FringeNYC Encore Award); DISORIENTED, Theater C; HONOR, Prospect Theater Company; MISS SAIGON, Merry-Go-Round Playhouse; 90 NORTH, Kennedy Center, ASCAP/In the Works Program; TWO GENTLEMEN OF VERONA, TWELFTH NIGHT (Colorado Shakespeare Festival). TV/Film: No Loss Here (upcoming), Title VII, Future Folk, Don't Let Me Drown; "Occupy White House Sprites", "Tell Me A Story", "Blue Bloods", "The Americans", "One Life to Live", "Another World". New York Foundation for the Arts has designated Ariel as an 2019 Emerging Arts Leader, and Theatre Communications Group designated Ariel as a 2018 Rising Leader of Color for his work in arts advocacy. www.arielestrada.com

Beth Dzuricky

Beth Dzuricky is an actor, writer, and producer based in New York City.  Her most recent work includes appearances in the new Fox series Almost Family and the FX Emmy-nominated mini-series Fosse/Verdon.  Other television credits include: Bull, Broad City, Law & Order, Law & Order: SVU, and Blue Bloods.   Film work includes The Accidental Husband and King Kelly.  Beth stars opposite Lois Smith in the short film Two Altars and a Cave which she also co-wrote. Off-Broadway, she originated the role of Ondine Ozzupacci in the popular farce My Big Gay Italian Funeral and she appeared in Mrs. Packard at the McCarter Theatre in Princeton and at the Kennedy Center in Washington DC.  Beth recently completed three productions of her one woman show Bed, Beth and Beyond and took home the Humorist Award for that show in the SaraSolo Festival in Sarasota, Florida.

Scott Brieden

Scott is an Alum of The Maggie Flanigan Studio. Favorite credits: Scott in Orion(Theater Row NYC) Male Greek Chorus in How I Learned to Drive(Nuance Theater NY) Adam in The Shape of Things (Bergen PAC NJ) Jefferson in Come + Take it (Ruddy Productions NYC) Scott served as line producer on  the Independent Feature film Happy Yummy Chicken with Love Drunk Life Productions, starring Orange is the New Black's Taryn Manning, Emma Myles and Diane Guerrero. www.ScottBrieden.com

Ellen Dolan

Ellen Dolan has been a LUCKY working actress for 37 years, primarily in television. Her debut was as Maureen Bauer on Guiding Light, 1982- 1986. The next three years were full of several Made for TV movies (remember those?) and various guest spots on various series. In 1989 she accepted a role on As the World Turns and played Policewoman, Margo Hughes for the next 20 years, until the end of the show. 

Her stage credits include: Katrin in Mother Courage at Milwaukee Rep., Maggie in Cat on a Hot Tin Roof at Virginia Stage Co., May in How the Other Half Loves at Pennsylvania Stage Co., and Clelia in The Nerd at Capital Rep. She was a founding member of The Studio Three Group and a member of The Workshop Theater Group. With them, she has starred in Graceland, which went on to the New York Fringe Festival, Pineapple and Henry, Intellectuals and a premier production of Paul Weidner's translation of Tartuffe. Off Broadway: Where the Truth Lies at The Irish Rep., Sophistry at Samuel Beckett Theater, and My Big Gay Italian Wedding. Ellen's swan song to the stage was playing Truvy in Cape May Stages production of Steel Magnolias. Then she began to write.

Dan Becker

Daniel Becker MD ditched the idea of a Masters in Theatre in 1973 and became a physician. Since moving to the Hamptons he has returned to the stage and radio to perform in comedies, musicals, and dramas under the direction of Michael Disher, Steve Hamilton, Harris Yulin, Joan Lyons, Josh Gladstone, Bonnie Grice and others. He continues to practice medicine at hospitals in need across the country.

Quinn Jackson

Quinn Jackson is a New York based actor. Since graduating from the William Esper Two Year Meisner Training Program, Quinn has continued to take master classes in acting and movement and has performed in off-off Broadway plays in NYC as well as at Guild Hall in East Hampton. Most recently, she can be seen on NBC's The BlackList, and will be debuting as a lead in his first feature film releasing this October. Quinn is proud to sit on the board of the NeoPolitical Cowgirls and is passionate about creating space for stories and voices that need to be heard. Quinn is currently getting her MFA in acting at NYU's grad acting program (2023).

Erik Ransom

Erik Ransom is an award-winning, internationally produced playwright, lyricist, composer and performer based out of New York. Erik's magnum opus, GRINDR The Opera, won London's 2019 Off West End Award for Best New Musical, and has been produced across the U.S.  Erik originated the role of Rodney in the long-running Off-Broadway hit "My Big Gay Italian Wedding" and plays the recurring role of François in PopStar! TV's "Tainted Dreams". He wrote lyrics for the Off-Broadway Sci-Fi musical, "The Anthem" and for "Shooting Star", which recently ran at Hudson Theatres in Los Angeles. Other works include: Coming: A Rock Musical of Biblical Proportions and More Than All the World, a musical retelling of Marlowe's Edward II. Additionally, Erik starred in and wrote songs for the film, "Happy Yummy Chicken" featuring Taryn Manning, and served as lead comedy writer for The Celebrity Roast of Michael Musto, presented by Rosie O'Donnell and hosted by Bruce Vilanch. In January of 2017, Erik founded The Dead Playwrights' Society, a group that gathers monthly to read and discuss classic and contemporary plays. "The Tragedie of King John Falstaff" was first read as part of the newly-minted Future Dead Playwrights chapter of the Society.

Terrance Fiore

Terrance Fiore is a former business exec and marketing prof, who began acting onstage in 2002.  He is delighted to be returning to Guild Hall in this production of "Tragedie."  Terry appeared at GH last year in "The Summit" and earlier in a staged reading of "Detroit." Other favorite performances include "Love Letters" (with Pia Lindstrom and Tony Walton, dir.), "A Comedy of Tenors," "Clever Little Lies," "Other Peoples' Money," "One Flew Over the Cuckoo's Nest," "Galapagos," the stage adaptation of the Kurt Vonnegut novel, "The Diary of Anne Frank" at Bay Street Theatre, Tennessee Williams' "In the Bar of a Tokyo Hotel," "and 110 In The Shade." Terry has appeared in a range of dramatic readings and radio plays.  Film credits include "Dark Was the Night," which premiered at the Lincoln Center Scary Movie Festival.  Video: Grey Advertising's award winning "The 401K Project," which advocated for a reduction in gun violence. 
Event Sponsors
All Theater Programming is supported in part by Ellen Myers, Marders, the Daryl & Steven Roth Foundation, and funding from The Ellen and James S. Marcus Endowment for Musical Programming, The Harold and Mimi Steinberg Charitable Trust, Hess Philanthropic Fund, The Melville Straus Family Endowment, The Schaffner Family Foundation, and Vital Projects Fund, with additional support from Brown Harris Stevens, Saunders & Associates, and public funds provided by Suffolk County.
Become a Sponsor