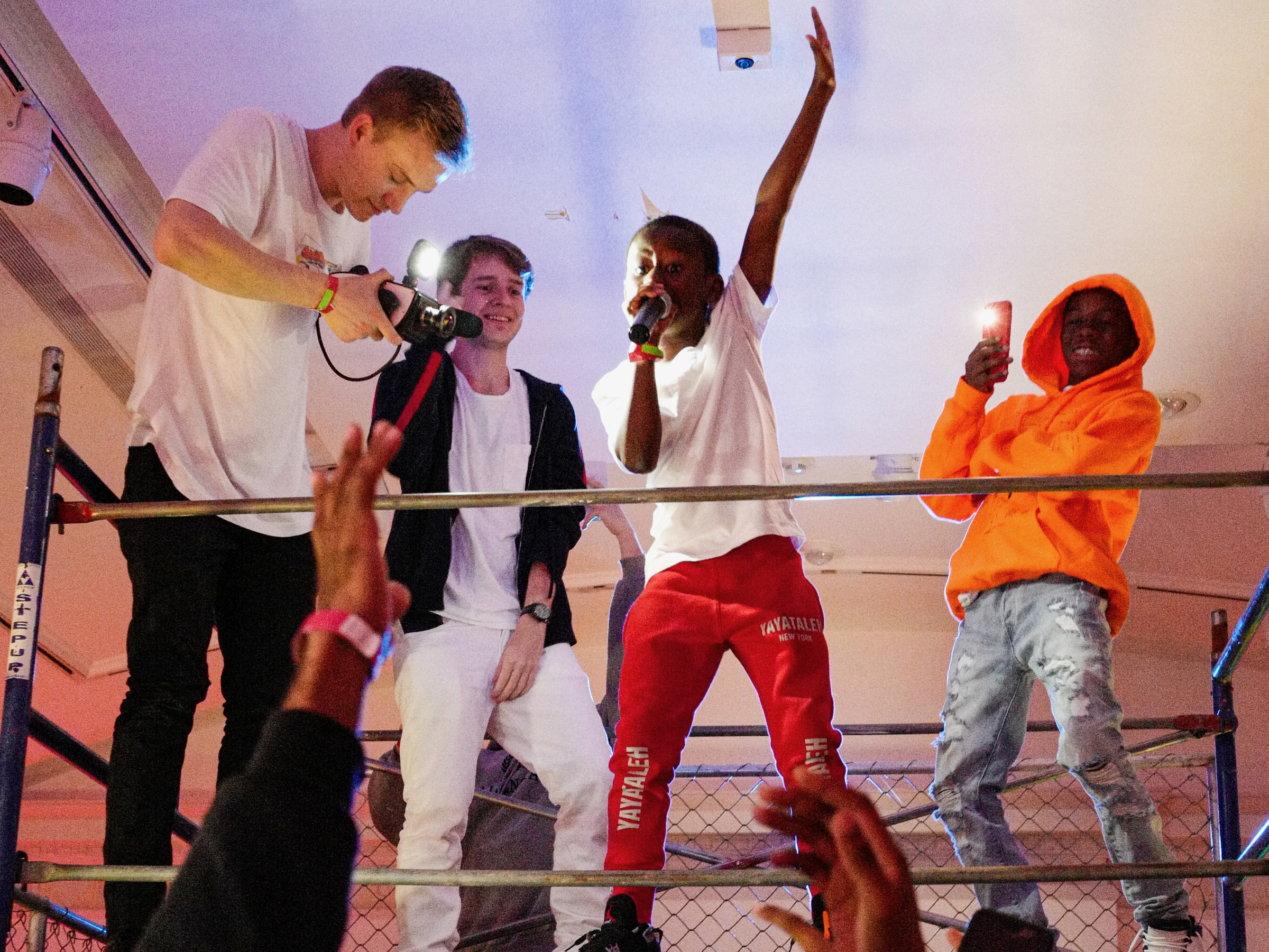 Overview
Guild Hall After Hours is a free series that engages the interdisciplinary nature of Guild Hall through live performance, food, music, and interactive happenings. Activating indoor and outdoor spaces on the Guild Hall campus, Guild Hall After Hours is the perfect start to a night in the Hamptons or an evening at the John Drew Backyard Theater. 
This Saturday's program is in response to the Guild Hall exhibition, Alexis Rockman: Shipwrecks. Taking inspiration from the artist and the works on the view, the night will feature a live sound-installation from artist, Cliff Baldwin, and participatory installation with artist, Aurelio Torres. Food and drinks are available for purchase from Guild Hall's new concessions, and can be enjoyed in our Minikes Garden.  
The evening is followed by a ticketed artist talk, Art and Cinema between artists Alexis Rockman and Carter Burwell, moderated by Guild Hall Executive Director, Andrea Grover, and a screening of Life of Pi in the John Drew Backyard Theater. 
Guild Hall After Hours are free and open for all to attend. Programs occur both within the building, galleries, and the Guild Hall gardens. Physical-distancing, limited occupancy, and mask coverings are enforced at all Guild Hall events.  
Cliff Baldwin

Cliff Baldwin is an artist, composer, designer, and filmmaker. He lives and works in Aquebogue, New York. 

His work is in numerous collections including The Museum of Modern Art, The Brooklyn Museum, The Walker Art Center, The Museum of The Art Institute of Chicago, The National Gallery of Canada, Stanford Library, UCLA Library, Serralves Museum, Portugal and The Museum of Rhode Island School of Design.

Baldwin founded and curated the large format artist publication, ¡AQUI! in 1983. From 1989-1995 he exhibited large scale installations and multiples with Fluxus artist Davi Det Hompson as Baldwin+Hompson, and has exhibited public sculpture in New York, Mexico City, and Stockholm since 1989. He taught graduate design at Pratt Institute from 1992-2000. Baldwin is the founder of the Aquebogue Contemporary Music Ensemble [ACME] a multi-instrumental group devoted to contemporary electroacoustic music. ACME performed at the Rites of Spring Music Festival from 2016-2019 on the East End of Long Island. 

Baldwin's films and video have appeared at the Kitchen, Galapagos Arts Space and Anthology Film Archives. His block-long urban video premiered at Richmond's InLight Festival in 2010. The Language of Light, his live urban projection was shown at InLight Festival/Richmond in 2012 and at the Parrish Art Museum in 2015. House of Fubb, his robotically fabricated pavilion was built at The Center for New Art at William Paterson College in 2017. He founded and curated the Harvest Arts Festival at the 1731 Jamesport Meeting House in Jamesport, NY in 2018.  In 2020 his ASTRI and LIGO-A-GOGO outdoor sound and video mixes debuted at the Custer Observatory in Southold, NY. His Damn Epic Pandemic live mixes have been streaming throughout 2020. 

Baldwin directs Aqui Editions, an online source for artists books and prints. An Aqui retrospective was exhibited at MoMA PS-1 Artbooks in Queens NY in 2019.  Baldwin has also been principal designer along with his wife Marta Baumiller, at Lampa LLC, a lighting design and manufacturing firm in New York since 1991.  

Baldwin's work is at: CliffBaldwin.com, Aquieditions.com, Lampa.com, Bandcamp.com, iTunes and Amazon. 

 

Aurelio Torres

Born in Montevideo, Uruguay, to a family of artists, Aurelio Torres was raised in New York City. His father, Horacio Torres, was an accomplished classically trained artist who died when Aurelio was a young teen in New York. His artistic training was in Barcelona, Spain, where he studied for several years with his uncle, Augusto Torres, another classically trained painter in the family and his father's eldest brother. Aurelio's grandfather, was the acclaimed Modernist, Joaquin Torres-Garcia. 

Aurelio's work infuses the aesthetic principles of classicism within contemporary settings. His painting typically depicts scenes from nature or portraits, and his sculptures most often interpret the simple, clean lines of wooden ships. 

From a young age, Aurelio has travelled extensively around the world. This has inspired his determination to create much of his work in natural, outdoor settings. His aesthetic sensibility, as evidenced in his work, is one of essential simplicity and natural, uncontrived beauty. 

He currently works and resides in East Hampton, New York. 

 
Event Sponsors
Education Programming supported by The Patti Kenner Arts Education Fellowship, Lucy and Steven Cookson, The Hearthland Foundation, the Helen Frankenthaler Foundation, Milton and Sally Avery Arts Foundation, and funding from the Lewis B. and Dorothy Cullman Endowment Fund, and The Melville Straus Family Endowment  

Guild Hall's museum programs are made possible by the New York State Council on the Arts with the support of Governor Andrew M. Cuomo and the New York State Legislature, the Helen Frankenthaler Foundation, an anonymous donor, Peggy J. Amster, Crozier Fine Arts, and funding from The Michael Lynne Museum Endowment, and The Melville Straus Family Endowment 

Alexis Rockman: Shipwrecks
Lead Sponsor: Angela Westwater, Sperone Westwater
Co-Lead Sponsors: Fiona and Eric Rudin, and The James Dicke Family
Additional support: Philip Aarons and Shelley Fox Aarons, James E. Cottrell and Joseph F. Lovett, and Hall Art Foundation
Become a Sponsor