GET DANCING: A Unique Evening of Contemporary Dance by Andy de Groat and Catherine Galasso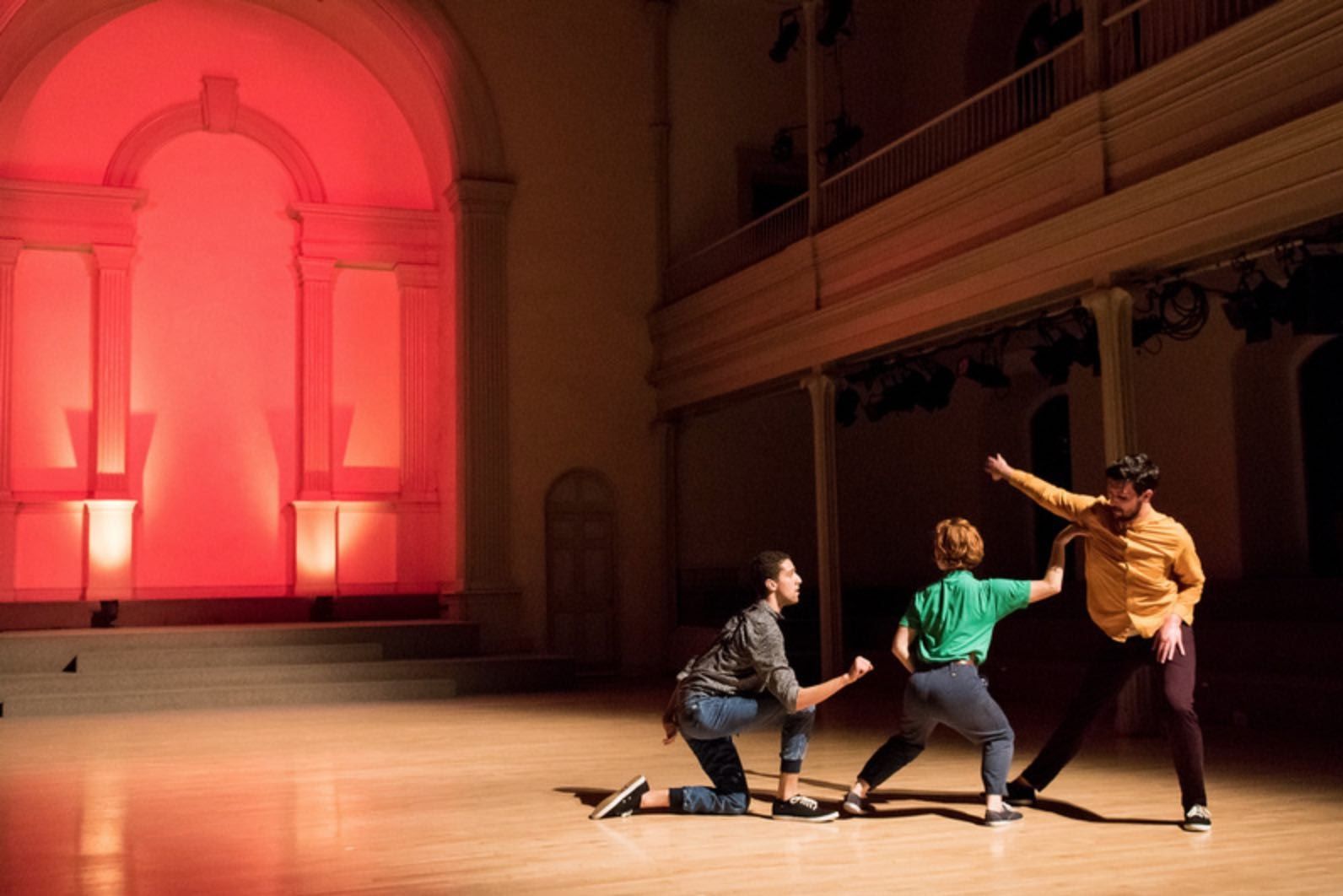 Overview
THIS PROGRAM WILL NOW TAKE PLACE INDOORS IN THE JOHN DREW THEATER. Guests attending any INDOOR John Drew Theater programs must show proof of FULL vaccination. At this time, only fully vaccinated guests are permitted to attend programs in the indoor theater.  Face coverings are now optional for fully vaccinated guests.
Click HERE for full COVID-19 information to review prior to your visit.
---
Part-tribute, part live-archive, part new work, GET DANCING is an evening of downtown dance history re-imagined. Presented in partnership with The Watermill Center, the program includes dances from the 1970s by the late choreographer Andy de Groat re-staged by Catherine Galasso, as well as Galasso's notes on de groat featuring original choreography and a contextualization of de Groat's legacy, revealing "an aesthetic of task lifted by beautiful music, of circles of the mind, of patience and poetry" (Wendy Perron, 2016).
Andy de Groat emerged as a choreographer in the 1970s. His early choreography places spinning and pedestrian movement within a complex framework, presented with a keen sense of timing, phrasing, and rhythm. He is known for numerous collaborations with Robert Wilson, including the choreography for the original Einstein on the Beach in 1976. de Groat and his company, red notes, were based in France for 30 years where he was nominated twice to the National Order of Arts and Letters. This collaboration with Galasso, created while de Groat was still living, was commissioned by Danspace Project, developed at The Watermill Center, and nominated for a New York "Bessie."
Galasso will once again re-stage de Groat's Fan Dance and Get Wreck, this time with local community performers from the East End, alongside Galasso's company dancers. The program also includes a film by Jon Meaney and Andrew Horn of de Groat's Rope Dance Translations (1979), as well as music by Catherine Galasso's father and frequent de Groat collaborator, the César Award-winning composer Michael Galasso, who is best known for his soundtrack for Wong Kar Wai's In The Mood For Love.
Run time: Approx. 70 minutes
FUNDING ACKNOWLEDGEMENTS
The creation and premiere of GET DANCING was made possible, in part, by the Danspace Project 2015-16 Commissioning Initiative, with support from the Jerome Foundation. Additional support provided by the Bossak/Heilbron Foundation, individual donors, and the 92nd Street Y. The project was developed through residencies at Robert Wilson's Watermill Center, the Centre Nationale de la Danse Pantin, Kaatsbaan International Dance Center in Tivoli, New York, East Village Dance Project, and through the Lower Manhattan Cultural Council's Extended Life Dance Development program made possible in part by The Andrew W. Mellon Foundation.
Andy de Groat

Andy de Groat (1947-2019) in the United States into a family of Dutch, Italian, French, German and English origins. While studying at the New York School of Visual Arts in 1967, he met the director Robert Wilson, joined his troupe as a performer, then dancer and choreographer for all productions from Deafman Glance in 1971, A Letter for Queen Victoria in 1974 to Einstein on the Beach in 1976, created for the Avignon Festival. In 1981, he received a grant from the Guggenheim Foundation in New York for his choreographic research. He created new works in succession for his company red notes, including several for Jean Guizerix, Wilfride Piollet, Jean-Christophe Paré, the Choreographic Research Group of the Paris Opera (GRCOP), the Scala in Milan, the Ballet du Nord (Roubaix), all five French national dance conservatories, innumerable workshops, and creations and repertory for Wah Loo Tin Tin Co., a Montaubanbased company of young performers. His work totals over sixty creations that have been presented in twenty countries and have periodically questioned the repertory and heritage of dance. His company worked regularly on lyrical productions starting in 1988, such as The Magic Flute (Mozart) with Robert Wilson at the Opera Bastille, Paris, The Rake's Progress (Stravinsky) with Alfredo Arias for the Aix-en-Provence Festival of Lyric Art and at the Operas of Lyon, Genoa and Montpellier, Aïda (Verdi) with Klaus Michael Grüber for the Amsterdam Opera. He was nominated Officer in the Order of Arts and Letters in 1985, and Commander in 2000.

Catherine Galasso

Catherine Galasso is an independent choreographer and director based in Brooklyn, NY. In addition to being presented by venues such as Danspace Project, La MaMa, SFMoMA, Bibliotheque Nationale in Paris and the Kohler Arts Center, Galasso also creates original contemporary dance works for underground bank vaults, dilapidated homes, and grand marble staircases. Galasso's work has been supported by New York State Council on the Arts, LMCC, BAX, Robert Wilson's Watermill Center, Headlands Center, Kaatsbaan and ODC Theater in San Francisco, among others. Galasso's Danspace-commissioned collaboration with choreographer Andy de Groat, "GET DANCING," was nominated for a 2016 "Bessie." She has received two San Francisco "Izzie" nominations, for her 2018 ODC Theater-commissioned "Alone Together," described by the SF Chronicle as "a treasure chest so packed with jewels that the lid won't stay down," and for her 2011 "Bring On The Lumière!" about cinema inventors the Lumière brothers. Galasso was born in New York and raised in Italy. She attended a fine arts high school in Venice and received a BA in film from Cornell University. Her parents were part of Robert Wilson's international theater troupe in the 1970s, and she grew up steeped in the avant-garde dance, theater and film collaborations of her father, composer Michael Galasso. Galasso's choreography for opera and theater was featured most recently in productions at Bard SummerScape and the Brooklyn Academy of Music.

The Watermill Center

Founded in 1992 by avant-garde visionary Robert Wilson, The Watermill Center is an interdisciplinary laboratory for the arts and humanities situated on ten acres of Shinnecock ancestral territory on Long Island's East End, offering year-round artist residencies and education programs. With an emphasis on creativity and collaboration, Watermill integrates contemporary artistic practice with resources from the humanities and research from the sciences to provide a global community with the time, space and freedom to create and inspire. www.watermillcenter.org
Event Sponsors
Theater Programming supported in part by the Helen Frankenthaler Foundation, Barbara Slifka, The Schaffner Family Foundation, 

Straus Family Foundation,

Brown Harris Stevens, Michael Balmuth, Blythe Danner, Lang Insurance, and funding from The Ellen and James S. Marcus Endowment for Musical Programming and The Melville Straus Family Endowment.

John Drew Backyard Theater
Special thanks to Marty and Michele Cohen, Ben Krupinski Builder, Hollander Design, and Groundworks Landscaping 
Become a Sponsor