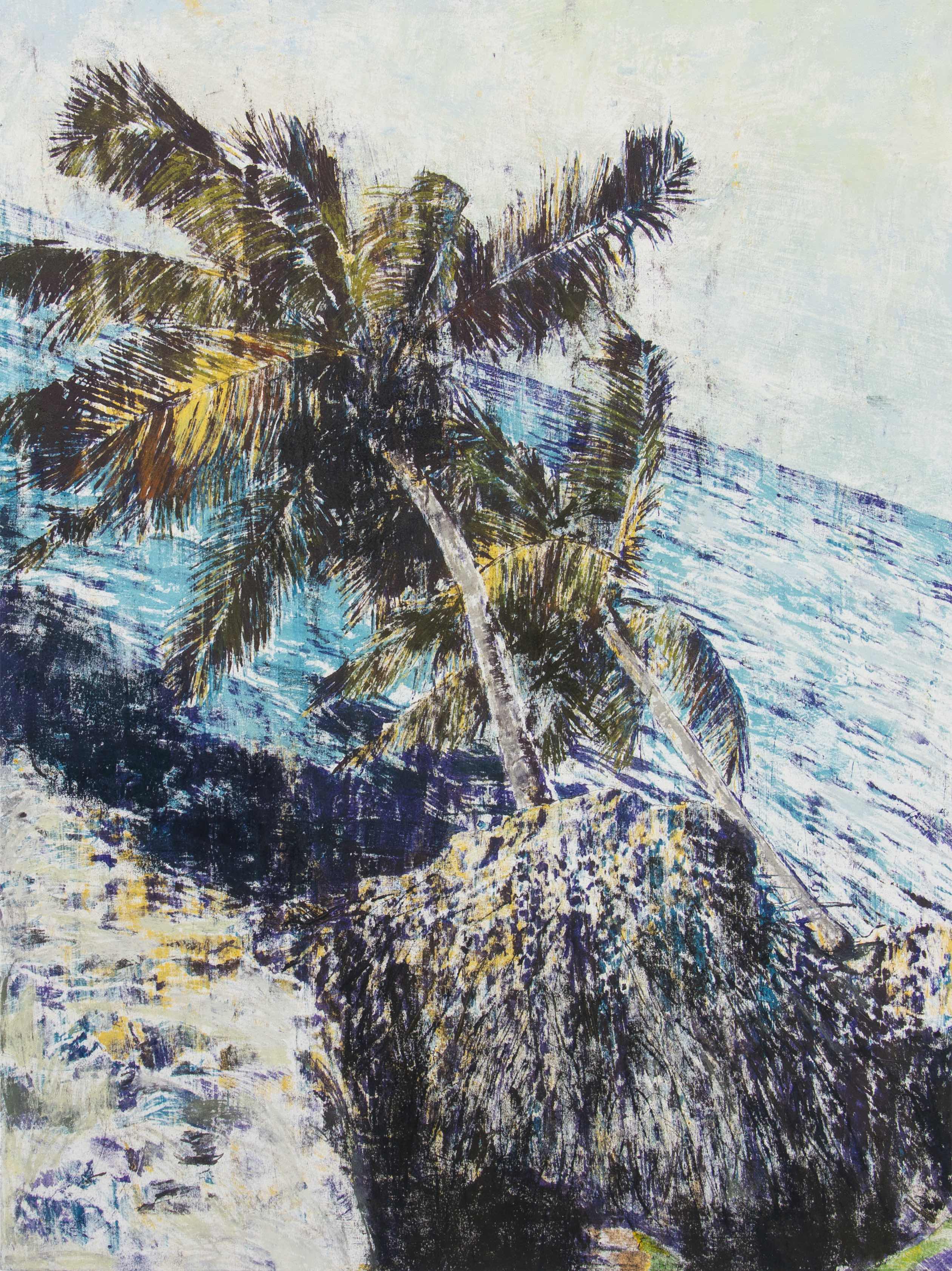 Overview
Members Opening Reception: TBD
Bilingual Gallery Talk with Enoc Perez: TBD
Gallery Talk with Enoc Perez: TBD
Moran & Spiga Gallery 
Curator: Christina Strassfield 
Enoc Perez is a  contemporary  Puerto Rican born multimedia  artist best known for his paintings and oil stick drawings. Perez's Guild Hall exhibition, Paradise, will explore the theme of natural and man-made calamities. Through large-scale paintings, Perez refers to the devastation that Puerto Rico experienced during the 2017 Hurricane Maria. Instead of focusing on the physical destruction, the artist paints bent, but not broken, palm trees to represent the hope that Puerto Rico will move forward and recover. Other paintings depict spontaneous memorials made up of candles, flowers and photos of the deceased. Paradise will be exhibited in Guild Hall's Moran and Spiga Galleries and will primarily be made up of works that have never been exhibited.  
Enoc Perez

Enoc Perez is a critically acclaimed multidisciplinary artist living and working in Brooklyn, New York. The artist moved to New York in 1986 where he completed a B.F.A. at Pratt Institute and then received an M.F.A. in Fine Art, from Hunter College. Perez's artworks sit in the collections of major museums including The Metropolitan Museum of Art, New York; The Whitney Museum of American Art, New York; The British Museum, London; Yale University Art Gallery, New Haven; New York Public Library; San Francisco Museum of Modern Art; Corcoran Gallery of Art, Washington DC; and The Museum of Contemporary Art, San Juan, Puerto Rico. Perez has been the subject of recent solo exhibitions at Dallas Contemporary, Dallas in 2018; UTA Artist Space, Los Angeles in 2017; and at the Museum of Contemporary Art North Miami, Miami in 2007. He has featured in important group exhibitions internationally including Dimensions Variables at Pavillon de l'Arsenal, Paris in 2015; City Self at MCA, Chicago in 2013; Caribbean: Crossroads of the world, The Studio Museum in Harlem, Queens Museum of Art, and El Museo del Barrio, New York; The Undiscovered Country at the Hammer Museum, Los Angeles in 2004; and Dear Painter, paint me… at Centre Pompidou, Paris in 2002. In 2020 he will be the subject of a major retrospective at Museo de Arte de Ponce.
Event Sponsors
All Museum Programming supported in part by The Melville Straus Family Endowment, The Michael Lynne Museum Endowment, Crozier Fine Arts, The Lorenzo and Mary Woodhouse Trust, an anonymous donor, and public funds provided by New York State Council on the Arts with the support of Governor Andrew M. Cuomo and the New York State Legislature. Free admission is generously funded by BNB Bank and Landscape Details.
Become a Sponsor