THEATER
2020: An Evening of Short Plays Directed by Bob Balaban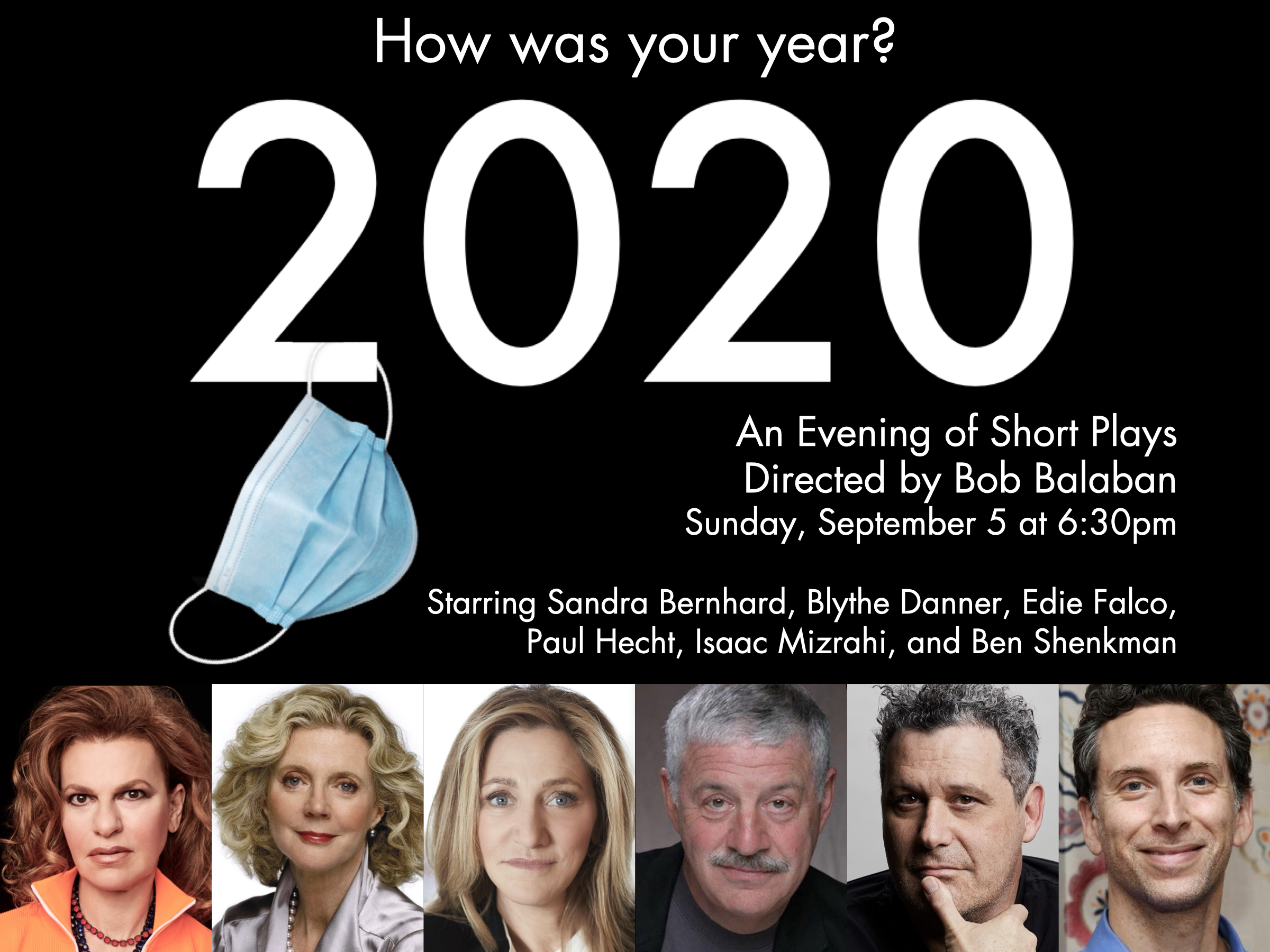 Overview
How was your year?
Back by popular demand! Join us LIVE in the theater, as some of America's best performers read short monologues from some of America's best playwrights musing on how we spent everyone's least favorite year, "2020."  Featuring Sandra Bernhard, Blythe Danner, Edie Falco, Paul Hecht, Isaac Mizrahi, and Ben Shenkman reading pieces by Jon Robin Baitz, Lynn Grossman, R.G. Masons, Anya Richkind, Paul Rudnick, and Sarah Ruhl. Directed by Academy Award nominee and Bafta Award winner Bob Balaban.
Run time: Approx. 1 hour
Tickets $50/$40 for Guild Hall Members
Not a Member? Click HERE to join today!
The Program
Day of Days by Lynn Grossman, performed by Edie Falco
The Character Actor by Sarah Ruhl  performed by Paul Hecht
All the Old Familiar Places by Jon Robin Baitz performed by Blythe Danner
Play Bills by Paul Rudnick performed by Isaac Mizrahi
Lenny T. by R. G. Masons performed by Ben Shenkman
Ms. Davy's 2nd Period Advanced Theater Now On Zoom by Anya Richkind performed by Sandra Bernhard
"MR. DAVY'S 2ND PERIOD ADVANCED THEATER NOW ON ZOOM" by Anya Richkind  was originally produced by The 24 Hour Plays on April 21, 2020.
---
THIS PROGRAM WILL TAKE PLACE INDOORS IN THE JOHN DREW THEATER. Guests attending any INDOOR John Drew Theater programs must show proof of FULL vaccination. At this time, only fully vaccinated guests are permitted to attend programs in the indoor theater.  Face coverings are required for all guests over the age of two.
Click HERE for full COVID-19 information to review prior to your visit.
Bob Balaban

Bob Balaban's directing credits include the long running off-Broadway play The Exonerated (Drama Desk award, Outer Critic's Circle award), The Blue Deep at Williamstown, and the world premiere of Lawrence Wright's play Cleo at Houston's Alley Theater.

He directed Susan Sarandon and Ralph Fiennes in HBO's Bernard and Doris (Emmy, Golden Globe and SAG nominations,) Lifetime's Georgia O'Keefe with Joan Allen and Jermey Irons (Emmy, Golden Globe and SAG nominations,) and created, produced, and co-starred in Robert Altman's Gosford Park (Academy Award, Bafta Award, SAG Award, Golden Globe Award).

Bob has appeared  in over a hundred movies including Midnight Cowboy, Close Encounters of the Third Kind, Absence of Malice, Waiting for Guffman, Moonrise Kingdom, Monuments Men, and Wes Anderson's soon to be released French Dispatch.

Sandra Bernhard

Performer, actress, singer and author Sandra Bernhard now appears as a series regular in season three of the immensely popular FX Television/Ryan Murphy show "POSE" reprising her role as brassy but caring Nurse Judy Kubrak, who works with H.I.V./AIDS patients, following a memorable season one guest appearance and hugely successful second season. Bernhard has also done a special guest appearance on Ryan Murphy's "American Horror Story: Apocalypse", highlighting a successful, decades long television career.
She is also currently in her fifth year hosting her weekly radio show Sandyland on SiriusXM's Radio Andy channel 102, for which she won a broadcasting Gracie Award.

A pioneer of the one-woman show, Bernhard brings a completely unique and raucous mix of cabaret, stand-up, rock-n-roll, and social commentary to her live stage performances. Just last year she celebrated the 10 year anniversary of her iconic annual holiday shows at Joe's Pub in New York City, while she also continues to tour throughout the country and overseas.

Extremely notable past live stage shows, which she has performed both on and off-Broadway, include Without You I'm Nothing, I'm Still Here, Dammit, Everything Bad and Beautiful, and #blessed.

Bernhard's film credits include The King of Comedy, for which she was awarded Best Supporting Actress by the National Society of Film Critics, Track 29, Hudson Hawk, Dinner Rush, and the live performance film Without You I'm Nothing. Past television credits include Two Broke Girls, Brooklyn Nine-Nine, Broad City, Difficult People, You're the Worst, The New Adventures of Old Christine, Will &Grace, The Sopranos, The Larry Sanders Show and Roseanne. Music albums include I'm Your Woman (Polygram, 1986), Excuses for Bad Behavior (Epic, 1994) and the world music album Whatever It Takes (Mi5, 2009). She has written three books: May I Kiss You on the Lips, Miss Sandra?, Confessions of a Pretty Lady, Love, Love and Love.

Blythe Danner

Blythe Danner earned a Tony award for her Broadway debut in Butterflies Are Free and received noms for her roles in Pinter's Betrayal, A Streetcar Named Desire, and Sondheim's Follies. Her most recent B'way appearance was in The Country House at MTC. She appeared as Beatrice in Much Ado About Nothing in Shakespeare In The Park, four plays at the Roundabout Theatre Co, and spent 20 summers at the Williamstown Theatre Festival, her most recent appearance in Lucy Boyle's The Blue Deep. She won 2 Emmys in Showtime's Huff and was nominated twice for playing Will's mother in Will & Grace. Her many film roles include Mr. & Mrs. Bridge with Joanne Woodward and Paul Newman, The Great Santini, Meet the Parents trilogy, I'll See You in My Dreams (Gotham nom), What They Had, and The Tomorrow Man with John Lithgow. She serves on several Environmental Advisory boards, also on Planned Parenthood's and raises awareness of oral cancer through her late husband's tribute on oralcancerfoundation.org, the Bruce Paltrow Fund. She is so happy to be returning to Guild Hall!

Edie Falco

Edie Falco is best known for her roles as Diane Whittlesey on the HBO series Oz, Carmela Soprano on The Sopranos, and in the title role of Showtime's Nurse Jackie.  For her television work she has received multiple Emmy, Golden Globe, and SAG Awards, as well as the American Film Institute's Award for Female Television Actor of the Year.  Falco made her Broadway debut in the Tony Award-winning play Sideman after appearing in its original off-Broadway production. For her performance, she received a Theatre World Award and Drama Desk Award nomination. She went on to make her London stage debut in the West End premiere of Sideman, and thereafter opened the London production The Vagina Monologues. Other Broadway credits include Frankie and Johnny In The Claire De Lune, 'Night Mother, and The House of Blue Leaves (Tony Award Nomination).  Off-Broadway she has appeared in The Madrid, This Wide Night, and The True.
For her work in the feature film Cost of Living, Falco received the American Film Institute's Best Actress Award. Her performance in Laws of Gravity earned her an Independent Spirit Award nomination for Best Female Lead Actor, and she received the Los Angeles Film Critics Association and New York Film Critics Online Award for Best Supporting Actress for her performance in John Sayles' Sunshine State.  Other film work includes A Price Above Rubies, Landline, Hurricane, The Funeral, The Addiction, Bullets Over Broadway, Freedomland, The Land of Steady Habits, Random Hearts and Judy Berlin.

Paul Hecht

Paul Hecht has been an actor for quite a long time. He made his debut as the Player in Rosencrantz & Guildenstern are Dead (Tony nomination 1968).Other Broadway appearances include :  Night & Day  with Maggie Smith and Invention of Love. (Tom Stoppard), 1776 (original company), the Rothschilds, Shaw's Caesar & Cleopatra and Pirandello's Henry IV ( both with Rex Harrison). Off Broadway: Harold Pinter's Moonlight,(American Premiere) the title role in Pirandello's Henry IV (Obie award 1990). Humble Boy at the Manhattan Theater Club, and also in the National Theatre of Great Britain tour. Around the country: Cyrano at the Guthrie (world premiere Antony Burgess translation). Marc Antony, (Julius Caesar & Antony and Cleopatra) American Shakespeare Festival, and in plays by Shaw, Shakespeare, Chekhov, Turgenev, Harwood, Kaufman-Ferber,, at the McCarter (Princeton), Canada's Shaw festival, N.Y Shakespeare Festival, John Drew East Hampton, Bay Street Sag Harbor, and the Berkshire Theater Festival.

He has been  in several episodes of Law and Order, the first episode of the original Miami Vice, and in films with Bette Davis, Chris Rock,  and Howard Stern.

He has appeared in many literary/musical programs: Every Good Boy Deserves Favour (Stoppard-Previn) and Façade (Walton-Sitwell) with the Philadelphia Orchestra, Histoire du Soldat conducted by Bob Kraft, the Vertical Repertory  in Brooklyn, the Newberry  Consort (Chicago), the Allentown Symphony, Dryden players (Princeton). With the early music group Parthenia , he performs a program of Shakespeare and Donne sonnets. He has recorded dozens of books (www.recordedbooks.com).

He served as the  NY Branch President of the Screen Actors Guild from 1991- 1995 and is a graduate of the first class of the National Theatre School of Canada. He is a regular volunteer at ARF and lives in the Springs with the lighting Designer Peggy Eisenhauer.

Isaac Mizrahi

Isaac Mizrahi has worked extensively in the entertainment industry as an actor, host, writer, designer and producer for over 30 years. He is the subject and co-creator of Unzipped, a documentary following the making of his Fall 1994 collection which received an award at the Sundance Film Festival. He hosted his own television talk show The Isaac Mizrahi Show for seven years, has written three books, and has made countless appearances in movies and on television. He served as a judge on Project Runway: All-Stars for the series' entire seven-season run.

Mizrahi has directed productions of A Little Night Music and The Magic Flute for the Opera Theatre of St. Louis. Annually, he directs and narrates his production of the children's classic Peter and The Wolf at The Guggenheim Museum in New York. He has performed cabaret at Café Carlyle, Joe's Pub, The Regency Ballroom and City Winery locations throughout the country.

Mizrahi has his own production company, Isaac Mizrahi Entertainment, under which he has several projects in development in television, theatre and literature. His New York Times Bestselling memoir, I.M., was published in February 2019.

For more information, visit HelloIsaac.com.

Ben Shenkman

Ben Shenkman received a Tony Award nomination for the play "Proof" and a Golden Globe and Emmy Award nomination for "Angels in America." Ben starred as Curtis Gates in "Damages," Jeremiah Sacani in "Royal Pains," Roger Gunn in "For the People," Roger Swindell in "Curb Your Enthusiasm," and Ira Schirmer in "Billions." He recently starred as Leonard Weinglass in Aaron Sorkin's feature film "The Trial of the Chicago Seven."
Event Sponsors
Media Partner: James Lane Post

Theater Programming supported in part by the Helen Frankenthaler Foundation, Barbara Slifka, The Schaffner Family Foundation, 

Straus Family Foundation,

Brown Harris Stevens, Michael Balmuth, Blythe Danner, Lang Insurance, and funding from The Ellen and James S. Marcus Endowment for Musical Programming and The Melville Straus Family Endowment.
Become a Sponsor