CREATIVE LAB: Wunetu Wequai Tarrant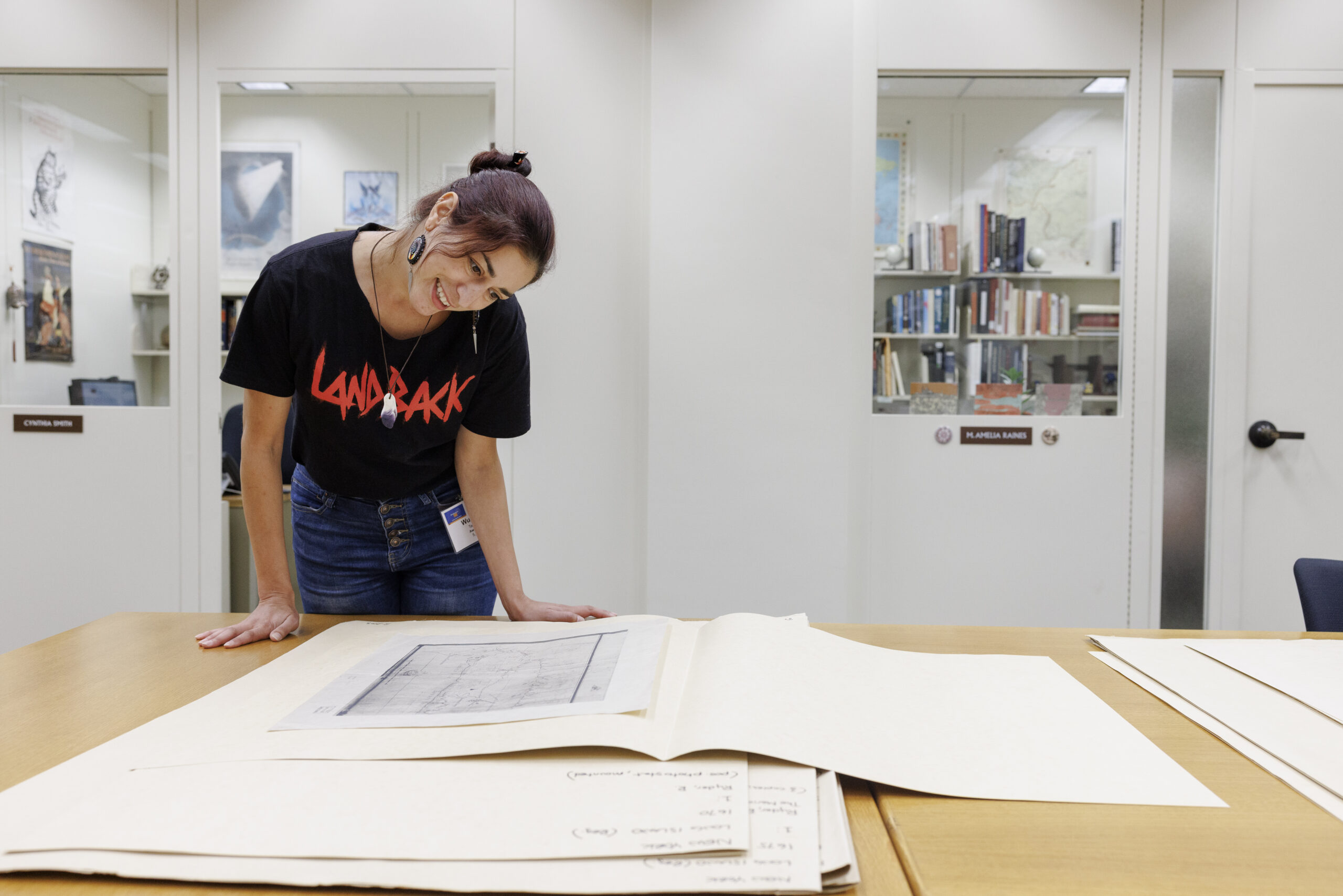 Overview
CREATIVE LAB is a series of interdisciplinary workshops designed and led by Guild Hall's Visiting, Exhibiting, and Resident artists. Each CREATIVE LAB invites participants to learn about an artists practice through both an open lecture, and participatory workshop.
This month's LAB is led by Shinnecock Linguist and Guild Hall Community Artist-in-Resident (GH CAiR), Wunetu Wequai Tarrant.  As part of her GH CAiR, Tarrant and her collaborator, Christian Scheider, are advancing the work of The First Literature Project, and the formation of Ayím Kutoowonk (She Speaks), a collective of four Indigenous Shinnecock women working toward the reclamation and revitalization of the Shinnecock language. The project proposes to support the language reclamation efforts through the preservation of Indigenous stories, culture, and language by utilizing immersive 3D, virtual reality, and holographic technology to create two immersive orations to be exhibited at Guild Hall in Spring 2024.
CREATIVE LAB is held in Guild Hall's Boots Lamb Education Center. Participants are asked to enter the building through the door on Pondview Lane.
Wunetu Wequai Tarrant

Wunetu Wequai Tarrant is a member of the Shinnecock Indian Nation, located on the East End of Long Island, NY. She grew up with her family on the Shinnecock reservation peninsula. Wunetu has been inspired by her grandmother and matriarch of the ThunderBird clan, Elizabeth 'Chee Chee' ThunderBird Haile, to promote cultural preservation and education. She received a Bachelor of Fine Arts degree from Alfred University in 2011, a Masters of Native American Linguistics and Languages from the University of Arizona 2020 and is currently a Linguistics Ph.D. candidate at the University of Arizona focusing on the reconstruction and revitalization of the Shinnecock dialect of Southern New England Algonquian.

Wunetu has worked closely with the Algonquian Language Revitalization Project on designing curriculum and activities for teaching Shinnecock and related dialects and continues to research best practices in language research and production of materials that will be accessible to community members and teachers regardless of linguistic education experience. She has continued to advocate for Indigenous students as the Julia & Bernard Bloch fellow (2019-2022) and special interest groups through the Linguistic Society of America.

Wunetu is a 2022 – 2024 Guild Hall Community Artist-in-Residence (CAiR). With support from the competitive Creatives Rebuild New York grant, Wunetu and filmmaker, Christian Scheider will spend the next two years developing the First Literature Project (FLP) work. The FLP aims to support the preservation of Indigenous stories, culture, and language by utilizing immersive 3D, VR, and holographic technology to create two immersive orations to be exhibited at Guild Hall in Spring 2024. Additionally, another component of this project will include a compilation of all materials utilized to help with Shinnecock language research to create a centralized database that will help with future research, as well as a video archive for the Padoquohan Medicine Lodge to document the interviews with Shinnecock Tribal members.
Event Sponsors
Creatives Rebuild New York (CRNY), a project of the Tides Center, is a three-year, $125 million investment in the financial stability of New York State artists and the organizations that employ them. Guild Hall's collaboration with Wunetu Wequai Tarrant, Christian Scheider, and The Padoquohan Medicine Lodge, was made possible through support from CRNY's Artist Employment Program, with additional funding from the Library of Congress,  the Long Island Community Foundation, and Kate Capshaw and Steven Spielberg.

Guild Hall's Learning + New Works programs are made possible by the New York State Council on the Arts with the support of the Office of the Governor and the New York State Legislature.

Additional major support comes from The Patti Kenner Arts Education Fellowship, the Lewis B. and Dorothy Cullman Endowment Fund, and The Melville Straus Family Endowment. 
Become a Sponsor