Community Roundtable: Apex Ape & The Changing Nature of Consumerism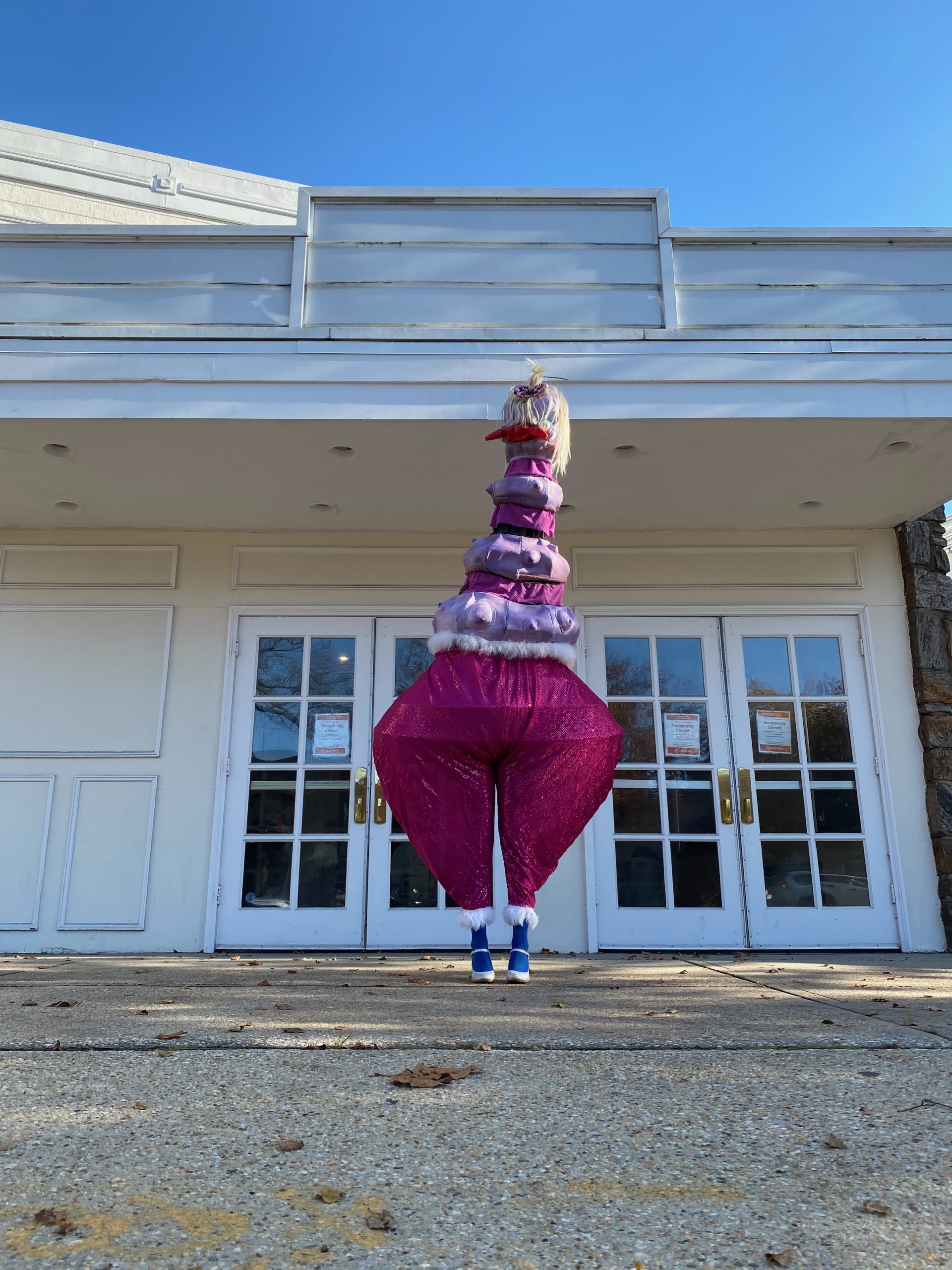 Overview
Join Guild Hall Community Artists-in-Residence, Brenna Leaver, Julian Alvarez, and Devon Leaver for a roundtable discussion on the changing face of the Hamptons. Topics will include the death of "mom & pop shops," the transformation of East Hampton's store fronts, local legends, and the future of our community.
The topics discussed and experiences shared will act as source material for the creation of the artists new short film, Apex Ape.
About Apex Ape
The Apex Department Store is an imposing white ziggurat and local landmark in Pawtucket, Rhode Island, built in 1969. In response to the advent of online shopping, the core of the Apex Department store slowly receded through the years, leading to its permanent closure in 2021. On a warm summer night in 1986, witnesses saw a massive albino ape scaling the side of the ziggurat. The merit of the building–whether nostalgic, or an eyesore–is highly contested, but nobody discusses what will happen to the Ape when his habitat is destroyed.
Apex Ape is an original creature and film compiling documentary interviews with local residents, and dramatic footage that captures the Ape's last dance before his home is demolished. Apex Ape will explore the death of brick and mortar, and the changing nature of consumerism through the lens of dead-malls and local legend. It will examine how the inability to adapt to a changing environment inevitably leaves stragglers in the lurch.
Brenna Leaver

Brenna Leaver is a multidisciplinary artist and creature creator who earned her BFA in Industrial Design at the Rhode Island School of Design. Brenna specializes in costume and creature design, furniture, wood and metalworking, and jewelry and metalsmithing. This skillset crosses over cinematically into animation and narrative performance. In 2018, Brenna toured the US and Canada performing and constructing creatures with the Big Nazo Creature Band. In 2020, she worked under designer Misha Kahn in the construction of his exhibition "Soft Bodies, Hard Shapes." One of her creations--a lonely cowboy creature named "Shave my Beard,"--won the RISD Industrial Design faculty award. Brenna's work has also appeared in Baxter St at CCNY, Electric Zoo, and the Museum of Natural History.

Role: Co-director of Apex Ape, Production Designer, Co-writer

Devon Leaver

Devon Leaver's films have appeared in the Sundance Film Festival, Hamptons International Film Festival, Take 2 Film Festival, Lone Star Film Festival, Museum of Contemporary Art in Miami, HBO, the Pollock Krasner House, the Louis Armstrong House Museum, and Baxter St at CCNY. Devon wrote and directed Galoot, an experimental film and month-long immersive solo exhibition that served as the culmination of Leaver's participation in YoungArts | Baxter St Residency Program. With her creative partner, Chloé Aktas, Devon co-wrote/produced an interactive film, Uncoupled, for Adaptive Studios and Eko, which was sponsored by Warner Music Group. Devon is also a session vocalist and voice actor. She has provided the voiceover for Major League Gaming and Activision Blizzard Entertainment Inc., McKinsey & Company, Class Solver, Crucial Music, and several independent audio dramas. She was both executive producer and voice actor for Vimeo Staff Pick Lance (in a Neckbrace), which premiered on day 1 of the 2020 Sundance Film Festival. She was nominated for the 2019 Audioverse awards for her role in the Still Lives radio drama (sponsored by Tapeable) and regularly enjoys breaking traditional storytelling boundaries.

Role: Writer / Producer

Julian Alvarez

Julian Alvarez is a Filmmaker and Photographer based in New York City. He has worked under the mentorship of National Geographic and LA Times photojournalists, and has traveled the world working in documentary and narrative film. As a graduate of Tisch School of the Arts, with a concentration in Directing & Cinematography, Julian has won awards for his technical achievements in undergraduate film. The short films Elliotland, and J1, on which Julian served as Director of Photography, went on to become finalists in the First Run Film Festival, New Faces New Visions, The Richard Harris International Film Festival, and the Indie Film Fest. You can often find Julian with a camera in hand.

Role: Co-director of Apex Ape, Director of Photography, Co-writer

Sam Hamilton

Sam Hamilton was born and raised in Sag Harbor. His love of the arts began in childhood, running around backstage at Bay Street Theater, co-founded by his parents, Stephen Hamilton and Emma Walton Hamilton. After graduating from the Ross School, he received his degree in Film Studies from Columbia University. Sam works as an assistant editor on documentary films and television shows, and is the Communications Manager at the new Sag Harbor Cinema. He most recently directed and edited Our Own Main Street Fire, a short documentary about the fire that burned down the old Cinema.

Role: Apex Ape Editor, Swing/Camera Operator
Event Sponsors
Education Programming supported by The Patti Kenner Arts Education Fellowship, Lucy and Steven Cookson, The Hearthland Foundation, the Helen Frankenthaler Foundation, Milton and Sally Avery Arts Foundation, and funding from the Lewis B. and Dorothy Cullman Endowment Fund, and The Melville Straus Family Endowment
Guild House Artist-in-Residence/ Community Artist-in-Residence:
Principal Sponsors: Lucy and Steven Cookson, and The Hearthland Foundation
Lead Sponsor: Bobbie Braun-The Neuwirth Foundation, Christina and Alan MacDonald, and Lynn and Bruce Surry
Co-Sponsor: Diamonstein-Spielvogel Foundation/Barbaralee Diamonstein-Spielvogel, and Judith Hope
Additional Support: Nina Gillman and Mary Heilmann
Become a Sponsor