COLLECT X Warren Neidich: Artists Are Essential Workers (Mask)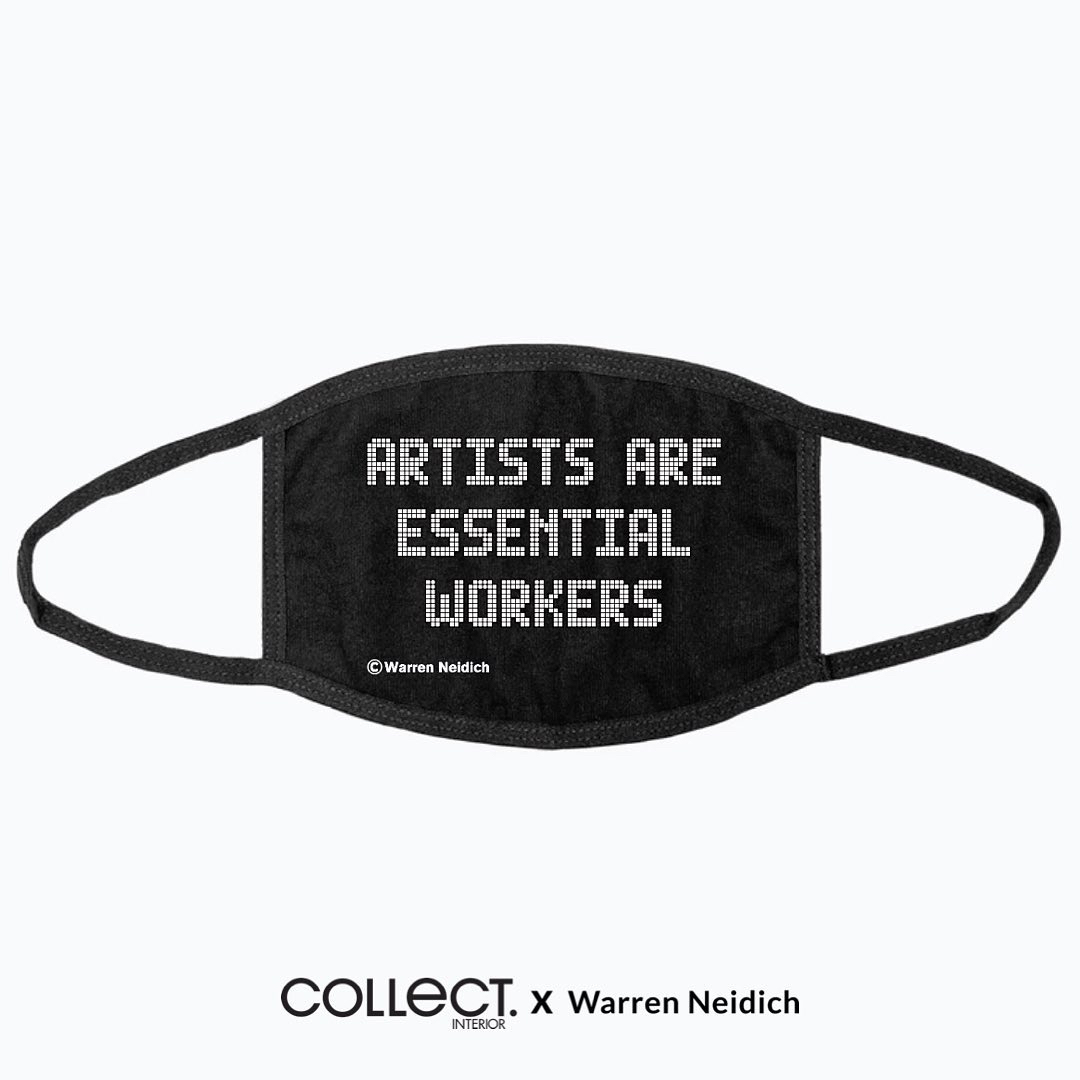 Overview
Warren Neidich and Collect Interior have joined forces to support creatives during the COVID-19 crisis by launching a limited edition of wearable cotton masks inspired by Neidich's art installation "Artists Are Essential Workers / Art is An Essential Service" (2020). The masks will be available to purchase exclusively through Guild Hall and Warren Neidich Studio. 50% of the proceeds from this collaboration will benefit Guild Hall in East Hampton. 
CLICK BELOW TO PURCHASE
Special Thanks to Elena Bajo for her collaboration in designing the mask. 
Collect Interior

Collect Interior,  founded by Stacey Alvarez is a contemporary lifestyle brand based out of New York City. The latest collection is designed to pay homage to 2 generations, the Non-Plan Planners and the Activists; who are rebels in their own way; who are icons, dreamers, lovers; and those who fight for equality across forefronts. Collect actively features limited-edition seasonal prints in collaboration with artists as part of their social good initiatives.

The brand believes in doing good, feeling good and looking good. Supporting gender equality and fluidity and aspires to philanthropic endeavors in the New York Community. The company is seen engaging in arts and has partnered with various artists thereby helping them showcase their work of art through their ethically made tees; offering the customers unique collectibles as wearable art. Their product range includes gender-neutral pima cotton tees in modern cut, future collections include sweatshirts and sweatpants to finish off the at-home comfort look and feel. Collect is a celebration of self-expression with elevated classics also known as the modern uniforms for today's rebel.

To learn more visit https://collectinterior.com/

Warren Neidich

Warren Neidich is an American post-conceptual artist, writer and theorist, who splits his time between Los Angeles, Berlin and East Hampton. Neidich has been exploring scientific and philosophical ideas in his art for the past 30 years.

He was a professor at Kunsthochschule Weißensee School of Art, Berlin and visiting scholar at Otis College of Art and Design, Los Angeles. Neidich is the founding director of the Saas-Fee Summer Institute of Art. 

To learn more visit https://www.warrenneidich.com/