Warren Neidich
Artists Are Essential Workers / Art Is An Essential Service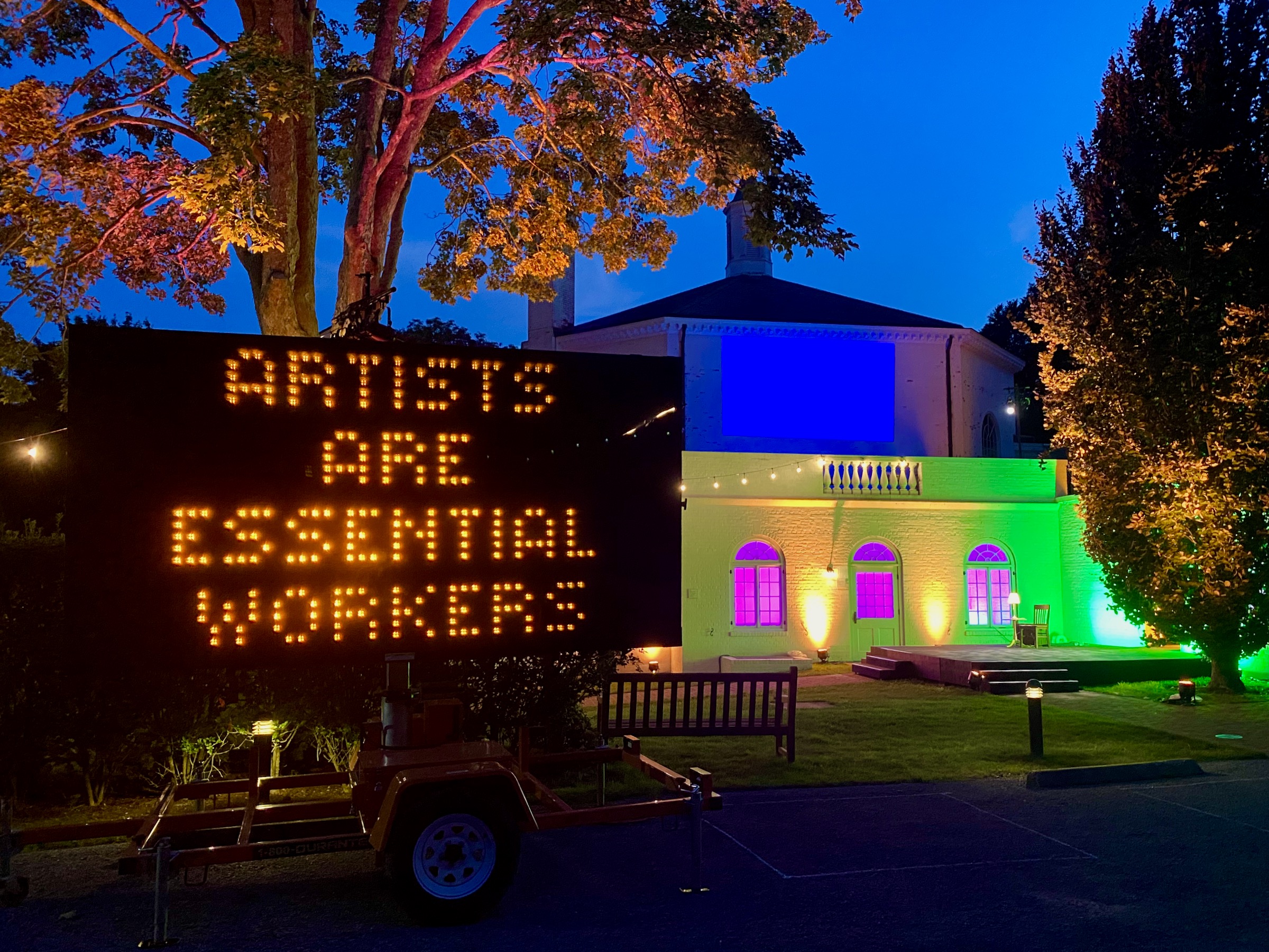 Overview
*** Artists Are Essential Workers/ Art Is An Essential Service will be installed at The Fireplace Project from September 25–27, 2020. 851 Springs Fireplace Road, East Hampton ***
Warren Neidich's new text based sculptural installation recently installed at Guild Hall Museum in East Hampton, New York, entitled, Artists Are Essential Workers/ Art Is An Essential Service is a poetic enunciation and reaction to and resulting from  the imminent catastrophe of the spirit in our moment of the Covid epidemic. Neidich's first act was that of transporting a 76 inch by 126 inch solar powered electronic highway bulletin board, used by municipalities for messaging passerby's, from the highway to the Guild Hall Parking Lot where its size and context produces an uncanny presence. As such the source of Neidich's announcement is obscure. Is this message something ordained by the powers in control or the result of another voice outside its dominion? By installing his work in the museum parking lot Neidich continues a trend he inaugurated in in his now famous Drive-By-Art exhibition of annexing formerly unused spaces for cultural provocation. His provocative message Artists Are Essential Workers, Art Is An Essential Service is a shout out to the artist community and museum culture at large, whose importance is always precarious but whose very existence has been put in jeopardy during the pandemic. Neidich is reaffirming the importance of cultural production in  this moment of nihilism. Neidich's piece is about asking a question: Can we imagine the healed human body without the healed human Spirit? Is it enough?  
Christina Strassfield, Museum Director/Chief Curator noted "Guild Hall was delighted to be the first stop on the tour of this important piece which brings attention to the important role Art and Artists play in our society.  The Sculpture  helped inaugurate our John Drew Backyard Theater's opening weekend. It will next be viewed at the Leiber Museum and we hope that it can travel to several other locations on the East End and perhaps return to Guild Hall for a final viewing."
"Warren Neidich conceived of  Drive-by Art earlier this summer which offered Artists the opportunity to showcase their work in an environment that helped alleviate some of the major Pandemic isolation we were all feeling." 
Warren Neidich

Warren Neidich is an American post-conceptual artist, writer and theorist, who splits his time between Los Angeles, Berlin and East Hampton. Neidich has been exploring scientific and philosophical ideas in his art for the past 30 years.

He was a professor at Kunsthochschule Weißensee School of Art, Berlin and visiting scholar at Otis College of Art and Design, Los Angeles. Neidich is the founding director of the Saas-Fee Summer Institute of Art. 

To learn more visit https://www.warrenneidich.com/
Event Sponsors
ll Museum Programming supported in part by The Melville Straus Family Endowment, The Michael Lynne Museum Endowment, Crozier Fine Arts, The Lorenzo and Mary Woodhouse Trust, an anonymous donor, and public funds provided by New York State Council on the Arts with the support of Governor Andrew M. Cuomo and the New York State Legislature.
Become a Sponsor