Carly Haffner: In The Woods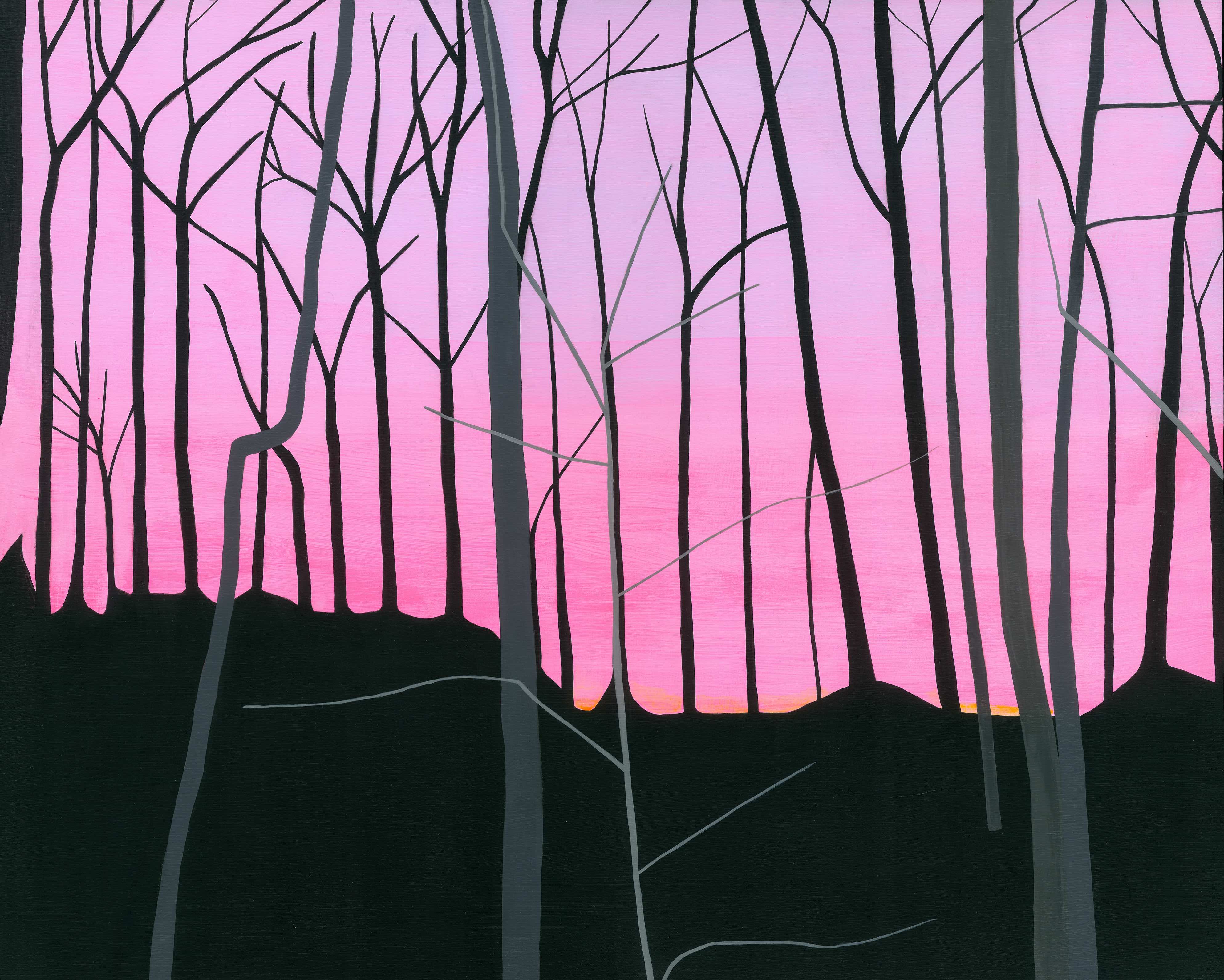 Overview
The 2019 Guild Hall Education Corridor Exhibition, Carly Haffner: In The Woods, will be on view from November 14 – February 23, with an
Opening Reception
on Thursday, November 14 from 6-8pm, open to all. The Guild Hall Education Corridor is a space adjacent to the Museum galleries that highlights emerging artists living and working on the East End of Long Island. Each year an artist is selected to transform the corridor space with their work and collaborate on programming with the Guild Hall Education Department.
This year, painter and sculptor, Carly Haffner has been chosen as The Guild Hall Education Corridor Artist. Haffner will be working closely with the Education Department and the Teen Arts Council to develop a set design element for the performances in the theater during the
Student Art Festival Opening Reception
, January 25, 2-4pm. She will also be hosting an evening of painting for adults and young adults,
Painting Trees with Carly Haffner
, February 20, 6-9pm.
The corridor exhibit, Carly Haffner: In the Woods, is a selection of Haffner's landscape paintings. Depicting the woods in her folk-art-inspired style with minimal lines and subtle color shifts, the viewer is guided through the landscape paying homage to another side of the 'Hamptons.' Turning the focus away from the sprawling beaches and farm fields to the residential landscapes of the year-round community: homes in the woods, yards with old cars, fishing gear, a vintage airstream, etc. Haffner chooses a narrative that carries much more weight for her and her community.
Haffner moved to Springs, East Hampton 36 years ago, and she is the only one of her family that still resides on the East End. A principal painting by Haffner, is one in which she depicts her family home on fire, metaphorically burning down what once was. Drawing attention to an experience that is far too familiar, she touches on the struggle of the local community in the Hamptons. As the region grows in popularity and the cost of living increases, it becomes harder to sustain a comfortable life and Haffner's view point suggests a concern, particularly for the future of the artist community, which has a deep historic legacy in the area.
In 2005, Haffner was one of five founding members of the Bonac Tonic art collective. A savvy way for artists to support one another, she and her colleagues were able to split the responsibilities and costs, exhibiting regularly at Ashawagh Hall in Springs East Hampton and the Markel Fine Art Gallery in Bridgehampton.
Haffner has a BFA from the California College of the Arts and an MFA from Hunter College, New York City and has exhibited at the Silas Marder Gallery, Bridgehampton and Ashawagh Hall, East Hampton.
Carly Haffner

Carly Haffner grew up in Springs, New York.  She received her Master of Fine Arts in 2009 from Hunter College in New York, NY and her Bachelor of Fine Arts in 2001 from the California College of the Arts in San Francisco, CA.

Her work has been featured in solo exhibitions at galleries such as Ripe Gallery in Huntington, NY and Werkstatte Gallery in New York, NY. Her work has been featured in group exhibitions at several local galleries including Ross School Gallery, Out East Gallery, Silas Marder Gallery and Mosquito Hawk Gallery.  She is the co-founder of Bonac Tonic, a collective of emerging artists based in the Hamptons.
Event Sponsors
All Museum Programming supported in part by The Melville Straus Family Endowment, The Michael Lynne Museum Endowment, Vital Projects Fund, Hess Philanthropic Fund, Crozier Fine Arts, The Lorenzo and Mary Woodhouse Trust, and public funds provided by New York State Council on the Arts with the support of Governor Andrew M. Cuomo and the New York State Legislature, and Suffolk County. Free admission is generously funded by BNB Bank and Landscape Details. All Education Programming supported by The Patti Kenner Arts Education Fellowship, with additional funding by an anonymous donor, Kate W. Cassidy Foundation, Lewis B. and Dorothy Cullman Endowment Fund, and The Melville Straus Family Endowment. Special Thanks to: Montauk Brewing Company, Amagansett Wine and Spirits, and Hampton Photo Arts.
Become a Sponsor