American Modern Opera Company's
Veils for Desire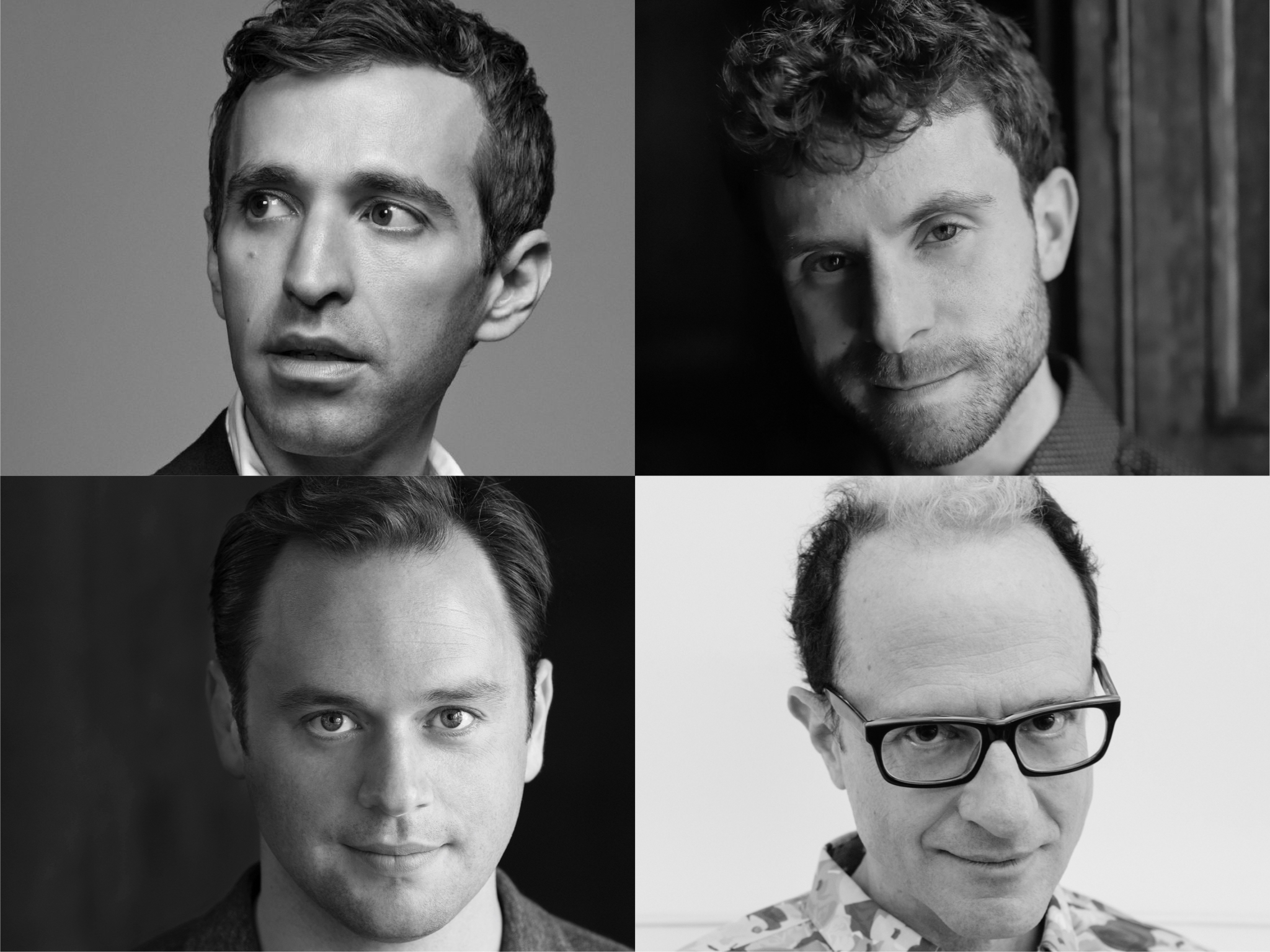 Overview
VEILS FOR DESIRE
AMERICAN MODERN OPERA COMPANY
Matthew Aucoin and Zack Winokur, Artistic Directors*
Jennifer Chen, Managing Director*
ANTHONY ROTH COSTANZO, countertenor
PAUL APPLEBY, tenor
MATTHEW AUCOIN, piano
with
WAYNE KOESTENBAUM, narrator
The history of music is full of gorgeous expressions of hidden desires, from Beethoven's longing for his "immortal beloved" to Tchaikovsky's tortured expressions of his sexuality. Veils for Desire, an inventive new recital program, is a gathering of music that "veils" or transforms unspeakable desires into new, mysterious forms.
The program includes music by Monteverdi, Matthew Aucoin, and Benjamin Britten, whose Abraham and Isaac, an unforgettable rendering of the Biblical story of a father commanded by God to slay his young son, serves as the program's heart.
AMOC singers ANTHONY ROTH COSTANZO and PAUL APPLEBY are joined by MATTHEW AUCOIN at the piano, as well as special guest WAYNE KOESTENBAUM, celebrated poet and scholar, whose playful, multi-layered texts – newly written for the occasion – will weave these works together. Join us for this intense, intimate journey!
BRITTEN  Abraham and Isaac (Anthony, Paul)
MONTEVERDI "Possente spirto," from L'Orfeo (Paul)
AUCOIN  This Earth (Anthony)
BRITTEN "Veggio co' bei vostr'occhi…", from Michelangelo Sonnets (Paul)
AUCOIN Selections from Eurydice (Anthony, Paul)
BACH "Ich will bei meinem Jesu wachen,"
from the St. Matthew Passion (Anthony, Paul)
AUCOIN  Tony: Ending the Life (Paul)
MONTEVERDI "Oblivion soave," from L'incoronazione di Poppea (Anthony)
Music is the ideal art form for the expression of unspeakable, liminal, and forbidden desires. Unlike words or visual images, musical notes do not – cannot – correspond exactly to objects in the world, and musicians have long taken refuge in this essential untranslatability. People suspicious of music's power – ecclesiastical authorities, for example, or parents of musically rebellious teenagers – have undertaken, time and again, to pin precise meanings to particular harmonies, intervals, and gestures; these efforts inevitably come to seem poignant in their futility: the notion of a particular interval as being "the Devil in music," for instance, or the idea that playing a Led Zeppelin song backwards might, must, unveil demonic messages. If we're being honest, musicians and non-musicians alike are powerless to identify or explain the source of music's cathartic intensity.
This concert program, Veils for Desire, features vocal music which expresses and embodies strange, unnamable desires. The poetic texts that the music brings to life are themselves mysterious and metaphorical, but the music often exceeds or redirects the poetry's intensity; often, the music gives voice to wilder and stranger feelings than the texts might suggest on the page.
Benjamin Britten's Abraham and Isaac, which opens the program, is a case in point. There are few religious parables in any tradition as disturbing as this tale of a father commanded by God to murder his young son. Britten's text, taken from the medieval Chester Mystery Plays, is powerful enough on its own, but the atmosphere of Britten's musical setting – alternately tender, solemn, and tortured – is not identical with that of the words. Especially at the moment before Abraham – nearly – strikes his son dead, the sheer loveliness of the music is unsettling; in fact, it always makes me feel queasy. What kind of religious transfiguration is this?
In my own music, I'm fascinated by the hidden wells of emotion that an ambiguous text can open up. This Earth is a setting of a passage from Dante's Purgatorio in which Dante and Virgil, having just emerged from Hell, arrive on the shore of Purgatory – which, in Dante, is a real place on our earth. In preparation for setting foot on holy ground, Virgil washes the soot of Hell off of Dante's body, and plucks a plant to clothe him. To Dante's amazement, a new plant magically springs up in the place of the one Virgil plucked. The tender scene of Virgil washing Dante, then this image of fecundity: the whole scene is a kind of awakening, charged with an erotic intensity.
The figure of Orpheus is a recurrent presence on this program, too. Orpheus, a singer of superhuman powers, is a mysterious, double-natured figure in Greek mythology; it's never quite clear if he's mortal or divine. I've always found the Orpheus story to be an unsettling image for the untrustworthiness of desire: Orpheus pines for his lost wife Eurydice, but as soon as he succeeds in bringing her back from the dead, he loses her. So what was it he longed for in the first place? In this program, we juxtapose Monteverdi's great aria "Possente spirto," from the opera L'Orfeo, with two selections from my new opera Eurydice. In the new piece, Orpheus is sung by two singers: a baritone (a role that's tonight being sung by our tenor, Paul Appleby), and a countertenor. This doubleness of texture reflects the doubleness of his nature, his mortal side and his divine side, both beautiful, neither one to be trusted.
Finally, we are thrilled to welcome a special guest to the AMOC family. The poet and performer Wayne Koestenbaum has for decades been a virtuoso in the art of illuminating the intricacies of human desire, and it's an honor to have his playful and inquisitive poetic voice as a guide through this veiled musical maze.
–Matthew Aucoin
Anthony Roth Costanzo

Countertenor Anthony Roth Costanzo began performing professionally at the age of 11 and has since appeared in opera, concert, recital, film, and on Broadway. 

Recently named 2019 Musical America Vocalist of the Year, this season Mr. Costanzo produced and starred in Glass/Handel, an operatic art installation, at Opera Philadelphia's O18 Festival and subsequently co-presented by National Sawdust and St. John the Divine in New York. He also returned to the English National Opera in his acclaimed performance of the title role in Akhnaten and appeared in concert with Les Violons du Roy in eight cities, the New York Philharmonic, Philharmonia Baroque at Lincoln Center, Boston Baroque, Mercury, and the NDR at the Elphiharmonie, and in recital presented by Celebrity Series of Boston. This summer he appears in concert at the Caramoor Festival, and next season his many engagements include his return to the Met for Akhnaten and appearances with Philharmonia Baroque, Les Violons du Roy, and The English Concert (on tour in Europe and the US).

Mr. Costanzo is an exclusive recording artist with Decca Gold, and his first album, ARC - a collection of arias by Handel and Phillip Glass with Les Violons du Roy – was released in September 2018 and was nominated for the 2019 Grammy Award for Best Classical Solo Vocal Album. 

Costanzo has appeared with many of the world's leading opera houses including the Metropolitan Opera, Lyric Opera of Chicago, San Francisco Opera, English National Opera, Houston Grand Opera, Opera Philadelphia, Los Angeles Opera, Canadian Opera Company, Glyndebourne Opera Festival, Dallas Opera, Teatro Real Madrid, Spoleto Festival USA, Glimmerglass Festvial and Finnish National Opera. 

In concert he has sung with the New York Philharmonic, Berlin Philharmonic, San Francisco Symphony, London Symphony Orchestra, Cleveland Orchestra, and National Symphony Orchestra, among others. He has also been presented in recital in Vancouver, Princeton University Concerts, Duke Performances, and at the Morgan Library in New York. He has performed at a wide-ranging variety of venues including Carnegie Hall, Versailles, The Kennedy Center, The Metropolitan Museum of Art, National Sawdust, Minamiza Kyoto, Joe's Pub, The Guggenheim, The Park Avenue Armory, and Madison Square Garden.

A champion of new work, Mr. Costanzo recently created roles in the world premieres of Jimmy Lopez' Bel Canto at the Lyric Opera of Chicago and Jake Heggie's Great Scott at the Dallas Opera. He has also premiered works written for him by Matthew Aucoin, Paola Prestini, Gregory Spears, Suzanne Farrin, Bernard Rands, Scott Wheeler, Mohammed Fairouz, Steve Mackey, and Nico Muhly.

Mr. Costanzo has begun working as a producer and curator in addition to a performer, creating shows for National Sawdust, Opera Philadelphia, the Philharmonia Baroque, Princeton University, WQXR, The State Theater in Salzburg, Master Voices and Kabuki-Za Tokyo. He played Francis in the Merchant Ivory film, A Soldier's Daughter Never Cries, for which he was nominated for an Independent Spirit Award, and Simon in Brice Cauvin's De particulier a particulier. He is the first countertenor to host a Met Opera Live in HD Broadcast. 

In 2012, Mr. Costanzo won first place in Placido Domingo's international competition Operalia. He is also a 2009 Grand Finals Winner of the Metropolitan Opera National Council Auditions. He won a George London Award, received a career grant from the Richard Tucker Foundation, and became the first countertenor to win First Place in the Houston Grand Opera Eleanor McCullom competition, where he also won the audience choice prize. He received a Sullivan Foundation Award, and won First Place in the Opera Index Competition, the National Opera Association Vocal Competition, and the Jensen Foundation Competition.

Mr. Costanzo graduated Magna Cum Laude and Phi Beta Kappa from Princeton University where he was awarded the Lewis Sudler Prize for extraordinary achievement in the arts and where he has returned to teach. He received his Masters of Music at Manhattan School of Music and won the Hugh Ross Award for a singer of unusual promise. In his youth, he performed on Broadway and in Broadway National Tours including A Christmas Carol, The Sound of Music, and Falsettos. He began his operatic endeavors playing Miles in The Turn of the Screw.

Paul Appleby

Admired for his interpretive depth, vocal strength, and range of expressivity, tenor Paul Appleby is one of the most sought-after voices of his generation.  A versatile artist, he is equally in demand on the world's leading concert, recital, and opera stages.

The tenor's dedication to performing in the great concert halls of the world has yielded collaborations with his frequent partner, Manfred Honeck, in performances of Berlioz's Te Deum with the Pittsburgh Symphony and a debut at the Ravinia Festival with Marin Alsop leading the Chicago Symphony Orchestra in Beethoven's Ninth Symphony.  This past season, he also made an Edinburgh International Festival debut in Handel's Samson with the Dunedin Consort under the baton of John Butt and performed Bernstein's Songfest, both at Carnegie Hall with Marin Alsop leading the Juilliard Symphony Orchestra and at the Glasgow Royal Concert Hall with Thomas Dausgaard on the podium of the BBC Scottish Symphony Orchestra.  Paul Appleby presented solo recitals at The Wigmore Hall and on Carnegie Hall's Zankel Hall stage. Operatic performances featured prominently in the second half of the 2018-19 season with the title role of Pelléas et Mélisande both at the Metropolitan Opera conducted by Yannick Nézet-Séguin and at Dutch National Opera conducted by Daniele Gatti; John Adams and Peter Sellars' Girls of the Golden West at Dutch National Opera led by Grant Gershon; Don Giovanni at the Metropolitan Opera with Cornelius Meister on the podium; and a debut at the Gran Teatre del Liceu in the title role of Candide conducted by John DeMain.

Paul Appleby made his Festival d'Aix-en-Provence debut in summer 2017 in a new production of Stravinsky's The Rake's Progress directed by Simon McBurney and created the role of Joe Cannon in the world premiere of John Adams and Peter Sellars' Girls of the Golden West at San Francisco Opera.  Later in 2017-18, Paul Appleby returned to Dutch National Opera revisiting McBurney's production of The Rake's Progress in its Dutch premiere conducted by Ivor Bolton.

A robust concert calendar in recent seasons has brought the tenor together with Philippe Jordan and the orchestra and chorus of the Opéra de Paris in Berlioz's Béatrice et Bénédict at the Palais Garnier, with Gustavo Dudamel and the Los Angeles Philharmonic in concert performances of Die Zauberflöte and Mozart's seldom heard Laut verkunde unsre, with David Zinman and the Bamberger Symphoniker for Elgar's The Dream of Gerontius, and with Jeffrey Kahane and the Los Angeles Chamber Orchestra for Beethoven's Ninth Symphony.

Operatic highlights of the recent past include new productions at Glyndebourne by Barrie Kosky of Handel's Saul conducted by Ivor Bolton and by Laurent Pelly of Béatrice et Bénédict conducted by Antonello Manacorda, The Magic Flute at San Francisco Opera led by Lawrence Foster and at Washington National Opera conducted by Philippe Auguin, Offenbach's The Grand Duchess of Gerolstein at the Santa Fe Opera, and a new production of The Rake's Progress directed by Axel Weidauer at Oper Frankfurt.  Paul Appleby's extensive performance history with the Metropolitan Opera includes The Rake's Progress, Belmonte in Die Entführung aus dem Serail, and David in Die Meistersinger von Nürnberg and the lead role of Brian in the North American premiere of Nico Muhly's Two Boys under the baton of David Robertson.

Profoundly committed to the art of song, the tenor made his Wigmore Hall recital debut in 2016 accompanied by Malcolm Martineau and has toured North America extensively with pianists Natalia Katyukova and Ken Noda.

Mr. Appleby's discography includes projects for Delos, Virgin Classics, Opus Arte, EMI's Juilliard Sessions, and Nonesuch.  Nico Muhly's opera, Two Boys, released by Nonesuch, was recorded live by the Metropolitan Opera, and DVD's of Glyndebourne's acclaimed presentation of Handel's Saul (2015) and Berlioz's Béatrice et Bénédict (2016) were released commercially by Opus Arte.  Delos released Dear Theo, the first album dedicated solely to works by American composer Ben Moore, featuring the song cycle from which the album takes its name accompanied by Brian Zeger, as well as the bonus track, Mr. Moore's widely performed setting of W.B. Yeats poem, "The Lake Isle of Innisfree."

Paul Appleby is a graduate of Metropolitan Opera's Lindemann Young Artist Development Program.  A recipient of an Artist Diploma in Opera Studies at The Juilliard School, he also has received a Master's Degree from Juilliard and a Bachelor's Degree in English Literature and in Music from the University of Notre Dame.

Matthew Aucoin

Matthew Aucoin (b. 1990) is an American composer, conductor, writer, and pianist. He is both Artist-in-Residence at Los Angeles Opera and co-artistic director of the American Modern Opera Company.

 Aucoin is currently at work on a new opera, Eurydice, which is a collaboration with the playright Sarah Ruhl. Eurydice has been co-commissioned by the Metropolitan Opera and the Los Angeles Opera.

 The role of Artist-in-Residence at Los Angeles Opera, created for Aucoin, fuses his work as composer and conductor. Aucoin has conducted LA Opera mainstage productions ranging from Verdi's Rigoletto to Philip Glass's Akhnaten; he has also conducted his own works, including the opera Crossing, and founded a new late-night concert series, AfterHours. In addition, Aucoin coaches the singers in LA Opera's Young Artist program, and advises the company on new music.

 Aucoin's orchestral and chamber music has been commissioned and performed by such artists as Yo-Yo Ma, Zurich's Tonhalle Orchestra, Salzburg's Mozarteum Orchestra, the Brentano Quartet, the Los Angeles Chamber Orchestra, the Orchestra of St. Luke's, tenor Paul Appleby, countertenor Anthony Roth Costanzo, and Chanticleer. Aucoin's operas include Crossing (2015), commissioned by the American Repertory Theater; and Second Nature (2015), a chamber opera for the young, commissioned by the Lyric Opera of Chicago. Crossing has gone on to productions at the Brooklyn Academy of Music and Los Angeles Opera; Second Nature has been performed all over the continent, including productions at the Canadian Opera Company and the Music Academy of the West.

 In addition to his work in Los Angeles, Aucoin regularly guest-conducts nationally and internationally. Last summer, Aucoin made his Santa Fe Opera conducting debut leading John Adams's Doctor Atomic, in a new production by Peter Sellars. He has also appeared with the Chicago Symphony, the Los Angeles Philharmonic, the Los Angeles Chamber Orchestra, the Rome Opera Orchestra, the Music Academy of the West, and Juilliard Opera, among others. This past season, Aucoin conducted and curated the San Diego Symphony's annual festival, entitled Hearing the Future.

 Aucoin is a 2012 graduate of Harvard College (summa cum laude), where he studied with the poet Jorie Graham, and a 2014 recipient of Juilliard's Graduate Diploma in Composition. Between 2012 and 2014, he served both as an Assistant Conductor at the Metropolitan Opera and as the Solti Conducting Apprentice at the Chicago Symphony, where he studied with Riccardo Muti.

Wayne Koestenbaum

Wayne Koestenbaum—poet, critic, novelist, artist, performer—has published nineteen books, including Camp Marmalade, Notes on Glaze, The Pink Trance Notebooks, My 1980s & Other Essays, Hotel Theory, Best-Selling Jewish Porn Films, Andy Warhol, Humiliation, and Jackie Under My Skin.  The Queen's Throat, praised by Susan Sontag as "a brilliant book," was a National Book Critics Circle Award finalist, and appeared this year in French translation.  His novel, Circus, was reissued in July 2019 with an introduction by Rachel Kushner.  New projects, forthcoming in 2020, include a book of short fiction, The Cheerful Scapegoat, and an essay collection, Figure It Out.  His essays and poems have been widely published in periodicals and anthologies, including The Best American Poetry, The Best American Essays, The New Yorker, The New York Times, The Paris Review, London Review of Books, The Believer, The Iowa Review, Cabinet, and Artforum.  He wrote the libretti for Michael Daugherty's Jackie O, which premiered at the Houston Grand Opera, and for Mohammed Fairouz's Pierrot, commissioned by Da Capo Chamber Players.  Koestenbaum has exhibited his own paintings in solo shows at White Columns, 356 Mission, and the University of Kentucky Art Museum, as well as in many group shows, most recently in New York at Essex Flowers, Gordon Robichaux, Klaus von Nichtssagend, and the Fashion Institute of Technology.  His first piano/vocal record, Lounge Act, was released by Ugly Duckling Presse Records in 2017;  he has given musical performances of his improvisatory Sprechstimme soliloquies at The Kitchen, REDCAT, Centre Pompidou, The Walker Art Center, The Artist's Institute, and the Renaissance Society.  He played the title role in Robert Ashley's opera The Trial of Anne Opie Wehrer at the 2014 Whitney Biennial and in 2016 at L.A.'s 356 Mission.  Koestenbaum's brief essay-films, originally seen on Instagram (@Wayne.Koestenbaum), are the most recent development of his interdisciplinary, multi-media practice.  His literary archive is in the Yale Collection of American Literature at Yale's Beinecke Rare Book and Manuscript Library.  He received a B.A. from Harvard and a Ph.D. from Princeton;  he won a Whiting Writers Award, and was a co-winner of the Discovery/The Nation Poetry Prize.  Formerly an Associate Professor of English at Yale and a Visiting Professor in the Yale School of Art's painting department, he is a Distinguished Professor of English, French, and Comparative Literature at the CUNY Graduate Center in New York City.

AMOC (American Modern Opera Company)

AMOC is an opera company on a new model. Led by Artistic Directors Matthew Aucoin and Zack Winokur, the company serves as the artistic home for seventeen of the most exciting singers, dancers, and instrumentalists of the rising generation. AMOC's artists are committed to reimagining what it means to make opera in the twenty-first century: unlike a typical opera company, which features a constantly-changing roster of artists in one particular theater, AMOC focuses on deep, long-term artistic relationships among its core members. The company's goal is to create a body of new, discipline-colliding music-theater works, conceived, developed, and performed by our artists.

AMOC's most recent season, just its second, included the premiere of With Care, a new work co-commissioned by ODC Theater in San Francisco and AMOC, created by dancer Bobbi Jene Smith in collaboration with Keir GoGwilt; a second, expanded Run AMOC! Festival at the American Repertory Theater in Cambridge, MA; performances of John Adams's El Niño, arranged specially for AMOC, at the Cloisters; and our first fully-staged chamber opera production, Hans Werner Henze's El Cimarrón, at the Metropolitan Museum of Art. 

In AMOC's first season, the company launched its inaugural Run AMOC! Festival at the American Repertory Theater in Cambridge, MA in December; held its first major teaching and performance residency at Harvard University in February; performed at the Big Ears Festival in Knoxville, TN, in March; and was Artist-in-Residence at Park Avenue Armory in April. Other recent engagements include appearances at the Rockport Chamber Music Festival and The Clark Art Institute in Williamstown, MA.

ARTISTIC DIRECTORS
MATTHEW AUCOIN, composer, conductor, pianist
ZACK WINOKUR, director, choreographer, dancer

 

MANAGING DIRECTOR
JENNIFER CHEN

 

CORE ENSEMBLE
JONNY ALLEN, percussionist
PAUL APPLEBY, tenor
DOUG BALLIETT, double bassist, composer
JULIA BULLOCK, soprano
JAY CAMPBELL, cellist
ANTHONY ROTH COSTANZO, countertenor
MIRANDA CUCKSON, violinist, violist
JULIA EICHTEN, dancer, choreographer
EMI FERGUSON, flutist
KEIR GOGWILT, violinist, writer
CONOR HANICK, pianist
COLEMAN ITZKOFF, cellist
OR SCHRAIBER, dancer, choreographer
BOBBI JENE SMITH, dancer, choreographer
DAVÓNE TINES, bass-baritone

PRODUCER
CATH BRITTAN

ARTISTIC ASSOCIATE
IAN ASKEW

BOARD OF DIRECTORS
KATHY SCHUMAN, president
MARTA MILLER, vice president
MATTHEW BIRD, treasurer
ADAM CHARLAP HYMAN, secretary

GENERAL REPRESENTATION
BILL PALANT, Étude Arts
Event Sponsors
All Theater Programming is supported in part by Ellen Myers, Marders, the Daryl & Steven Roth Foundation, and funding from The Ellen and James S. Marcus Endowment for Musical Programming, The Harold and Mimi Steinberg Charitable Trust, Hess Philanthropic Fund, The Melville Straus Family Endowment, The Schaffner Family Foundation, and Vital Projects Fund, with additional support from Brown Harris Stevens, Saunders & Associates, and public funds provided by Suffolk County. All Musical Programming supported in part by The Ellen and James S. Marcus Endowment for Musical Programming. Program support provided by Ellen Marcus.
Become a Sponsor