2020: An Evening of Short Plays Directed by Bob Balaban with Talia Balsam, Susie Essman, Paul Hecht, Isaac Mizrahi, Mercedes Ruehl, and Ben Shenkman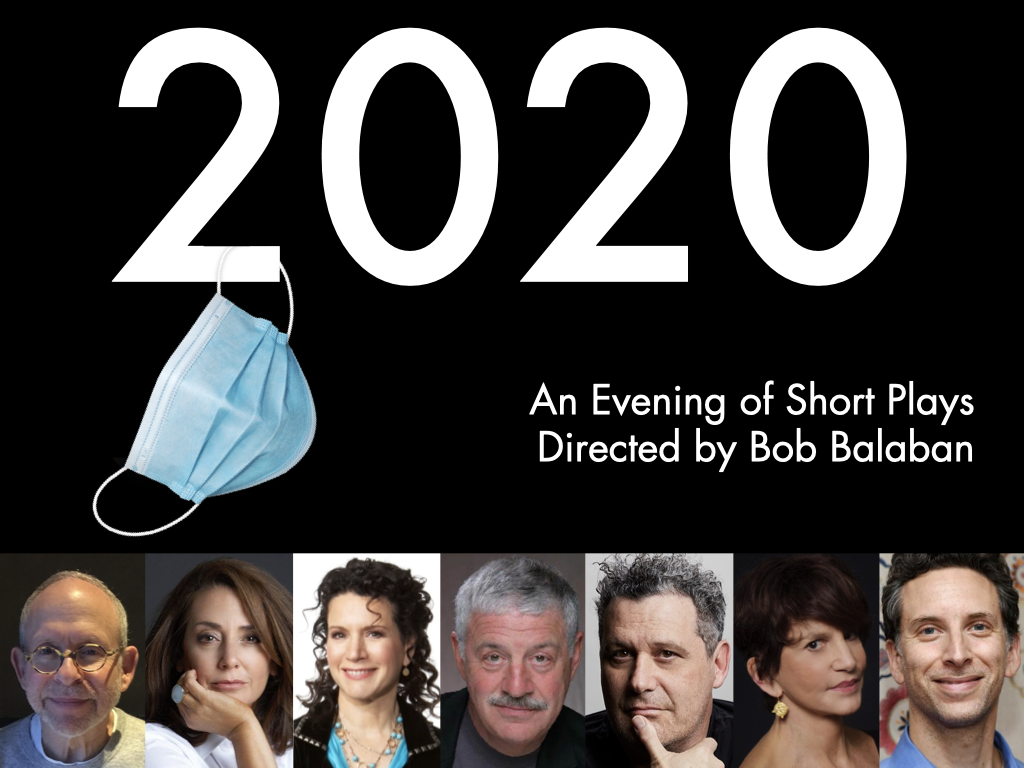 Overview
How was your year?
Join us LIVE in the John Drew Theater as we present short plays by some of America's best playwrights sharing musings on everyone's least favorite year, 2020. The evening features performances by Talia Balsam, Susie Essman, Paul Hecht, Isaac Mizrahi, Mercedes Ruehl, and Ben Shenkman reading new works by Jon Robin Baitz, Lynn Grossman, R.G. Masons, Simon Rich, Paul Rudnick, and Sarah Ruhl. This not-to-be-missed production is directed by Academy Award nominee, Bafta Award winner, and Guild Hall Academy and Board Member Bob Balaban.
Run time: Approx. 1 hour
Tickets: $100 per person / $50 for Guild Hall Members
Not a Member? Click HERE to join today!
Short Plays:
Day of Days by Lynn Grossman, performed by Talia Balsam
The Character Actor by Sarah Ruhl  performed by Paul Hecht
All the Old Familiar Places by Jon Robin Baitz performed by Mercedes Ruehl
Play Bills by Paul Rudnick performed by Isaac Mizrahi
Everyday Parenting Tips by Simon Rich performed by Susie Essman
Lenny T. by R. G. Masons performed by Ben Shenkman
---
THIS PROGRAM WILL NOW TAKE PLACE INDOORS IN THE JOHN DREW THEATER. Guests attending any INDOOR John Drew Theater programs must show proof of FULL vaccination. At this time, only fully vaccinated guests are permitted to attend programs in the indoor theater.  Face coverings are now optional for fully vaccinated guests.
Click HERE for full COVID-19 information to review prior to your visit.
Bob Balaban

Bob Balaban's directing credits include the long running off-Broadway play The Exonerated (Drama Desk award, Outer Critic's Circle award), The Blue Deep at Williamstown, and the world premiere of Lawrence Wright's play Cleo at Houston's Alley Theater.

He directed Susan Sarandon and Ralph Fiennes in HBO's Bernard and Doris (Emmy, Golden Globe and SAG nominations,) Lifetime's Georgia O'Keefe with Joan Allen and Jermey Irons (Emmy, Golden Globe and SAG nominations,) and created, produced, and co-starred in Robert Altman's Gosford Park (Academy Award, Bafta Award, SAG Award, Golden Globe Award).

Bob has appeared  in over a hundred movies including Midnight Cowboy, Close Encounters of the Third Kind, Absence of Malice, Waiting for Guffman, Moonrise Kingdom, Monuments Men, and Wes Anderson's soon to be released French Dispatch.

Talia Balsam

Talia Balsam has had memorable turns in Film TV and Theatre. In the television world, Talia is coming off a series regular role, opposite Sarah Jessica Parker, on HBO's Divorce. Prior to that, for seven years, Talia played 'Mona Sterling,' Roger Sterling's' wife, on Mad Men for AMC.  

Talia can currently be seen starring opposite Julianne Moore in Intersection which made its premiere at the 2021 Tribeca Film Festival. It is one of 13 short films that comprise the anthology, With/In, which were each shot during the Covid-19 pandemic. The film ruminates on themes of isolation as well as the value of family and human connection. Talia has received rave reviews for her lead role in Hilary Brougher's South Mountain which premiered with many accolades at SXSW. She can also be seen in Michael Angelo Covino's critically acclaimed The Climb which premiered at Cannes Film Festival and won the Heart Prize and Jury Coup de Coeur. 

Other film credits of Talia's include Ira Sach's Little Men, Don't Worry Baby, Return,  No Strings Attached, The Wackness, Cake Easters, and All The King's Men.

Talia's upcoming credits include What is Life Worth with Michael Keaton, Master with Regina Hall, and David Chase's The Many Saints of Newark.

Paul Hecht

Paul Hecht has been an actor for quite a long time. He made his debut as the Player in Rosencrantz & Guildenstern are Dead (Tony nomination 1968).Other Broadway appearances include :  Night & Day  with Maggie Smith and Invention of Love. (Tom Stoppard), 1776 (original company), the Rothschilds, Shaw's Caesar & Cleopatra and Pirandello's Henry IV ( both with Rex Harrison). Off Broadway: Harold Pinter's Moonlight,(American Premiere) the title role in Pirandello's Henry IV (Obie award 1990). Humble Boy at the Manhattan Theater Club, and also in the National Theatre of Great Britain tour. Around the country: Cyrano at the Guthrie (world premiere Antony Burgess translation). Marc Antony, (Julius Caesar & Antony and Cleopatra) American Shakespeare Festival, and in plays by Shaw, Shakespeare, Chekhov, Turgenev, Harwood, Kaufman-Ferber,, at the McCarter (Princeton), Canada's Shaw festival, N.Y Shakespeare Festival, John Drew East Hampton, Bay Street Sag Harbor, and the Berkshire Theater Festival.

He has been  in several episodes of Law and Order, the first episode of the original Miami Vice, and in films with Bette Davis, Chris Rock,  and Howard Stern.

He has appeared in many literary/musical programs: Every Good Boy Deserves Favour (Stoppard-Previn) and Façade (Walton-Sitwell) with the Philadelphia Orchestra, Histoire du Soldat conducted by Bob Kraft, the Vertical Repertory  in Brooklyn, the Newberry  Consort (Chicago), the Allentown Symphony, Dryden players (Princeton). With the early music group Parthenia , he performs a program of Shakespeare and Donne sonnets. He has recorded dozens of books (www.recordedbooks.com).

He served as the  NY Branch President of the Screen Actors Guild from 1991- 1995 and is a graduate of the first class of the National Theatre School of Canada. He is a regular volunteer at ARF and lives in the Springs with the lighting Designer Peggy Eisenhauer.

Susie Essman

Susie Essman has played the sassy Susie Greene for all ten seasons of the critically-acclaimed HBO comedy series, Curb Your Enthusiasm, and is in production for season eleven. Her hilarious bouts of withering sarcasm and uninhibited insults have become her character's trademark. 

The Los Angeles Times calls Susie, "The most lyrical purveyor of profanity on television.  She makes the entire cast of  "The Sopranos" look like rank amateurs.  It really is a gift."  

The New York Times called Susie "one of the most vivid characters in the show, whose off-color tantrums have become an audience favorite the way Kramer's clumsy entrances once were".

Susie's streetwise vernacular is perfectly suited for her life in Manhattan where she has been a veteran of the world of stand up comedy for thirty-seven years.  She has appeared in her own half-hour HBO comedy special, made numerous appearances on Broad City, The View, and The Tonight Show, to name just a few of her many television credits.  She has also acted in numerous films.     

Susie resides in New York with her husband and one-eyed Shih Tzu.

Isaac Mizrahi

Isaac Mizrahi has worked extensively in the entertainment industry as an actor, host, writer, designer and producer for over 30 years. He is the subject and co-creator of Unzipped, a documentary following the making of his Fall 1994 collection which received an award at the Sundance Film Festival. He hosted his own television talk show The Isaac Mizrahi Show for seven years, has written three books, and has made countless appearances in movies and on television. He served as a judge on Project Runway: All-Stars for the series' entire seven-season run.

Mizrahi has directed productions of A Little Night Music and The Magic Flute for the Opera Theatre of St. Louis. Annually, he directs and narrates his production of the children's classic Peter and The Wolf at The Guggenheim Museum in New York. He has performed cabaret at Café Carlyle, Joe's Pub, The Regency Ballroom and City Winery locations throughout the country.

Mizrahi has his own production company, Isaac Mizrahi Entertainment, under which he has several projects in development in television, theatre and literature. His New York Times Bestselling memoir, I.M., was published in February 2019.

For more information, visit HelloIsaac.com.

Mercedes Ruehl

Mercedes Ruehl has appeared in the films The Fisher King (Academy Award, Golden Globe Award, Los Angeles and Chicago Film Critics Association Awards), Married to the Mob, The Warriors, Big, Heartburn, Slaves of New York, Another You, Last Action Hero, Lost in Yonkers, What's Cooking?, The Amati Girls, Roseanna's Grave, Chu and Blossom, Zedya and the Hitman, Spooky House, More Dogs Than Bones, and The Minus Man. She has been seen on Broadway in Neil Simon's Lost in Younkers (Tony, Drama Desk, Outer Critics Circle, and Helen Hayes Awards), The Goat, or Who is Sylvia? (Outer Critics Circle Award, Tony nomination), The Rose Tattoo, The Shadow Box (Tony nomination), and I'm Not Rappaport. Her Off Broadway credits include Woman Before a Glass (Obie Award), Other People's Money (Clarence Derwent Award), The Marriage of Bette and Boo (Obie Award), Coming of Age in Soho, The Vagina Monologues, and Edward Albee's The Occupant. Ruehl's television credits include HBO's Indictment: The McMartin Trial, Gia, Hallmark Hall of Fame's The Lost Child and Loving Leah, El Jefe, Doubt, Star Spangled Banners, Showtime's North Shore Fish, Guilt by Association, and A Girl Like Me. She also made guest appearances on Entourage, Law & Order, Monday Mornings, Luck, Psych, and Frasier, among others.

Ben Shenkman

Ben Shenkman received a Tony Award nomination for the play "Proof" and a Golden Globe and Emmy Award nomination for "Angels in America." Ben starred as Curtis Gates in "Damages," Jeremiah Sacani in "Royal Pains," Roger Gunn in "For the People," Roger Swindell in "Curb Your Enthusiasm," and Ira Schirmer in "Billions." He recently starred as Leonard Weinglass in Aaron Sorkin's feature film "The Trial of the Chicago Seven."
Event Sponsors
Media Partner: James Lane Post

Theater Programming supported in part by the Helen Frankenthaler Foundation, Barbara Slifka, The Schaffner Family Foundation, 

Straus Family Foundation,

Brown Harris Stevens, Michael Balmuth, Blythe Danner, Lang Insurance, and funding from The Ellen and James S. Marcus Endowment for Musical Programming and The Melville Straus Family Endowment.
Become a Sponsor