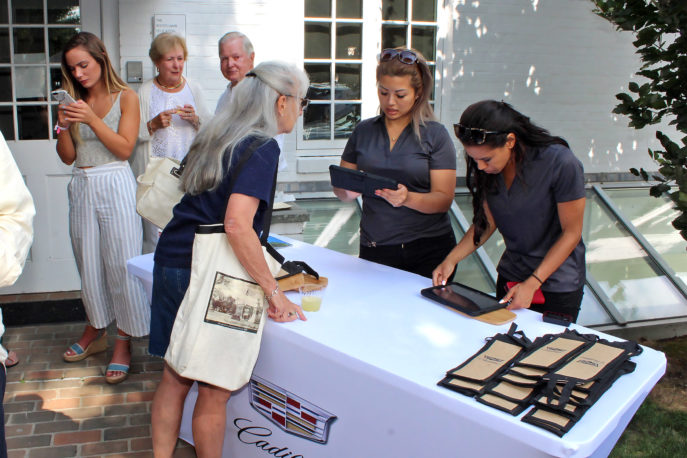 When you support Guild Hall as a corporate partner, you gain access to a unique and vibrant audience that has come through our doors to be inspired and entertained while enjoying a sense of community. With world-class performances, exhibitions, and education initiatives, Guild Hall is an ideal partner for a company looking to expand its philanthropic initiatives and strategic marketing to the Hamptons.  
Business Membership
Guild Hall invites you to join the prominent group of companies and entrepreneurs who support our mission of inspiring, enriching, and engaging a diverse Hamptons audience. Business Members enjoy a variety of benefits, including networking with other members and patrons, special discounts, access to our world-class programming, and the opportunity to link your business name with a vital and beloved Hamptons cultural destination. 
Demonstrate your company's commitment to the arts and become a Business Member!
Learn more about the benefits of becoming a Business Member.
Sponsorship
Guild Hall can provide your company with a unique and customized platform for partnership. We can provide exclusive access to the diverse audiences we serve by providing the opportunity to align your brand with the premier arts and cultural institution in the Hamptons. Our sponsorship packages offer flexibility and personalized benefits to maximize your branding experience.
To learn more about sponsorship at Guild Hall, please contact the Development Department at 631-324-0806 or by email.
Sample benefits may include:
On-site brand visibility, including product display, signage, and digital content

Distribution or sale of product and/or materials to our patrons

Personal interaction with Guild Hall audiences or specific patrons, including guest artists/performers

Tailored social media campaigns to support your company's involvement

Company logo and link on the Guild Hall website

Company logo on custom designed event invitations and various other promotional materials
We have opportunities to sponsor our benefit events, including the Academy of the Arts Achievement Awards Dinner, Golf Outing, and our Summer Gala. Many companies also choose to sponsor a program produced by our Theater, Museum, or Education Departments.
Advertisement
Guild Hall produces a number of materials throughout the year that offer advertising opportunities. We produce a Season Program Guide that becomes the handbook for the summer for our patrons. More than 20,000 copies are printed and distributed throughout the Hamptons. To learn more about advertising in our Annual Program Guide, email us or contact us at 631-324-0806.
In addition to our annual guide, we create printed books for each benefit event that reach a targeted audience. For more information on advertising in any of our event publications, please contact the Special Events department by email or by calling 631-324-0806 ext. 20.
Matching Gifts
Does your company match gifts? If so, let our Development Department know that you can supplement your employee's gift to make it go even further. Email us or call our main line at 631-324-0806.
Entertaining
Guild Hall is home to a world-class Museum and a state-of-the-art Theater. Located on Main Street in East Hampton, our venue can help you create a one-of-a-kind event experience. In addition to our Museum galleries and Theater, we have several areas where receptions can be held. To learn more about renting space at Guild Hall, please contact our main number at 631-324-0806 or email us with the subject line "Rental".
The Green Room
The Green Room offers a warm and intimate space for small, VIP receptions. Conveniently located next to our Theater, the room features expandable access to our Sculpture Garden.
Standing reception capacity: 60
Seated capacity: 35
The Boots Lamb Education Center
Our education room provides the flexibility of built-in audio visual equipment for ease of use for a presentation. The white, four-wall space can be transformed with lighting.
Standing reception capacity: 100
Seated capacity: 45
Presentation capacity: 60
The Cheryl and Michael Minikes Garden
This outdoor haven offers the privacy of being enclosed with the convenience of easy access. The Garden space can be used for a daytime reception area or transformed for a lovely outdoor evening affair.
Standing reception capacity: 150
Seated capacity: 75
The Frieda and Roy Furman Sculpture Garden
The Sculpture Garden has rotating exhibitions for many months of the year. Located off of the Green Room, this outdoor space can be used in conjunction with the indoor space to accommodate different sized groups.
Standing reception capacity: 150
The Lobby
The lobby at Guild Hall is a multiuse space that can easily be used for small, standing receptions. It allows easy access to our Galleries and Theater.
Standing reception capacity: 100